The truth stands that your golf driver, no matter who you are (male/female, beginner/pro, young/old, etc.) is the most rewarding club in your bag. It's the most important and the most satisfying without a doubt. So when this particular golf club doesn't perform, for whatever reasons, golfing turns out to be not-such-a-fun experience anymore.
And with so many golf club brands coming up with new, more advanced technologies every year, the best golf drivers for women today increase the prospect of hitting tee shots both successfully and consistently.
Now there are quite a few very high-performing options for female golfers too. And these surely are slow-swing-speed-friendly.
But then you have to first figure out YOUR reasons for buying a brand new driver. Do you want your drives to travel with greater accuracy? Or is it your priority to get them to go LONG? Or simply put, are you just looking for the most forgiving of women's golf drivers since mis-hits with you are quite common?
ALL OF THESE preferences are taken into consideration for this final, top list of golf drivers devised for female players.
Forgiveness Is the Most Important Characteristic
As far golf clubs for women are concerned, the majority of them are designed with tons of forgiveness. What this does is reduce sidespin, which means no more slicing or hooking your shots. So forgiving drivers, as a consequence, improve the accuracy of those shots.
But then this is a very broad term, right? In what form does a golf driver feature this 'forgiveness'? Through adjustability of loft and weighting (more on adjustability later). With an adjustable driver like this, you can change the flight path and trajectory of the ball, thus controlling how it travels through the air.
Another very crucial forgiveness-related component is the driver's sweet spot (the center hitting area). The larger the sweet spot, the lesser the chances of hitting outside of it (known as mis-hits or off-center shots). As a result, the golf ball finds that fairway!
Know the Shaft Material, Flex, and Length
All three – material, flex, and length – are what separate women's golf drivers from those built for men. For instance, female golfers perform better with lightweight graphite shafts. In fact, it's the standard shaft material for most drivers made for women.
Graphite is more lightweight than steel, which implies that it's so much easier to swing and control.
Moving on to shaft flex. Now you're naturally going to pick Ladies flex, correct? Well, not necessarily because both shaft material and flex depend on your swing speed.
Generally speaking, if your swing speed is below 80 mph, then go for Ladies flex (L), graphite shaft. But if it's more average-level (90-100 mph), choose Regular flex (R). And when higher than 100 mph, Stiff flex (S), steel shaft is perfect.
Senior golfers have their own Senior flex (S) – swing speed of 80-90 mph. And if your swing speed is higher than even 110 mph, Extra Stiff (X) is right for you then.
What about shaft length? Depends on your height. Most golf drivers made for female players have a basic shaft length that's an inch shorter than men's. The standard driver length for men is 45 inches and that of women is 44 inches (and 43 inches if you're Petite).
So get to know your correct shaft length based on your height and then follow a golf club shaft length chart.
Driver Weight Also Matters
The shaft decides the weight of the golf club – more lightweight graphite vs heavier steel. Those with slower swing speeds often go with lightweight graphite since the material allows you to swing faster for generating greater clubhead and ball speed, thus adding extra yardages.
Then the weight is also dictated by the clubhead size. A larger clubhead, needless to say, increases ball speed and distance (so you can hit your shots with more authority).
Loft Angle Should Also Be Taken Into Account
A higher loft means getting the ball airborne becomes easier. And most female golfers struggle with launching the ball off the ground. That's why drivers constructed for women are lofted between 12 degrees and 15 degrees. And when you launch higher this way, even the carry and overall distance increase.
But if you're a fast-swing player, then the loft of your choice should be between 8 degrees and 11 degrees. Because when your swing speed is high, you can, on your own, produce more backspin for getting the ball airborne. Hence, the need for less loft.
Look Into Clubhead Design and Technology
Clubhead shape plays a major role as far as generating speed is concerned. If you want to maximize clubhead speed, the clubhead should be oversized (460cc) with perimeter weighting (mass placed at the back for greater mis-hit forgiveness).
Many top brands like TaylorMade also infuse an aerodynamic crown into the clubhead design/shaping for increasing speed and distance.
And one last thing, make sure that the clubhead of the driver you select suits your eye. Meaning its aesthetics shouldn't mess with your vision and confidence.
Find Out the CG (Center of Gravity) Placement
Center of gravity (CG) and launch angle go hand in hand. Even loft determines launch and I've covered that area very clearly earlier. Now it's time to talk about how CG affects the launch angle of your shot.
Low, deep CG positioning in a driver gets the ball to launch high enough more effortlessly. I say 'high enough' because too much height will jeopardize the distance potential of your shot while too low or shallow launch also fails to maximize distance by hitting the ground very quickly.
Choose An Adjustable Driver
Agreed that adjustable golf drivers are more expensive but then when you can adjust the loft settings, you get to optimize an important factor like ball trajectory. An increase in loft closes the clubface to hit straighter shots (anti-slice fix). Whereas a decrease in loft opens the clubface, thus minimizing the chances of producing hooks.
Then there are adjustable/movable weights as well. In this case, you can adjust the CG itself (move it toward the front, on the sole) to keep in check your slicing or hooking tendencies. Meaning you get to adjust the clubhead bias, fade or draw.
Another option is to shift the weight toward the back, so spin and trajectory can be customized. To be more specific, less spin and lower ball flight.
How Much to Spend?
For both women and men, premium golf drivers can be as expensive as $300 to $500. These are often equipped with advanced technologies for really boosting your swing speed, clubhead speed, and, ultimately, the distance.
So does that mean budget-friendly, more affordable drivers are no good? Those that cost anywhere between $50 and $150 are at least designed with speed-enhancing, and forgiving aerodynamic clubhead and larger sweet spot. Although that's pretty much it, so no fancy or more advanced features are included here.
Best Women's Golf Drivers
1. TaylorMade Women's Kalea Golf Driver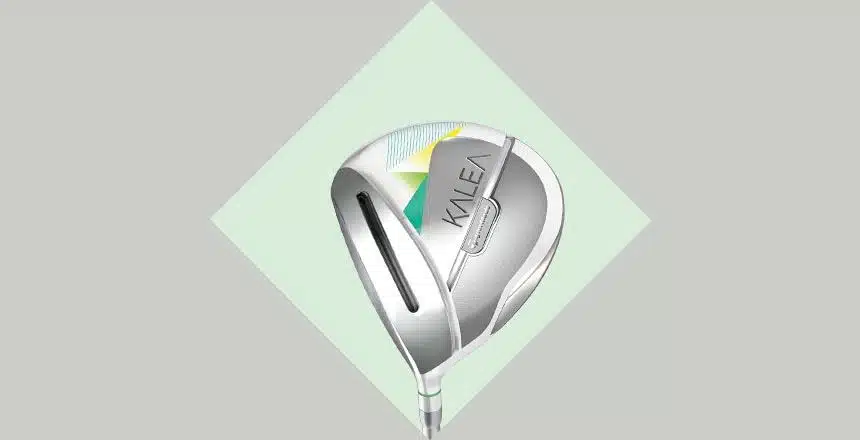 Pros
Lightweight, distance driver for slow swing speeds
Speed Pocket improves distance and launch
Low-kick shaft gets the ball higher with more ease
Slim Tech graphite shaft – ladies shaft flex
Cons
No loft adjustability
Paint chips rather quickly
When a driver is as light as TaylorMade Kalea, controlling it, especially if your swing speed is slow, is extremely easy. Plus, those extra yardages are also automatically produced. As for accuracy, the TaylorMade Women's Kalea Golf Driver is high-lofted, so those frequent misses are sure to improve as well.
To be honest, it's a highly recommended driver for female players, whatever their golf handicap. So don't hesitate to switch to Kalea from a heavy and/or outdated driver. It's high-launching, lightweight, and also incredibly forgiving. So no more struggling with ball flight, off-center shots, and other such common concerns.
Thanks to TaylorMade's very own Speed Pocket (more flex, hence faster rebound), ball speed is protected across every impact point. And extra ball speed always converts to added distance just like that!
2. Cobra Golf Women's Radspeed XB Driver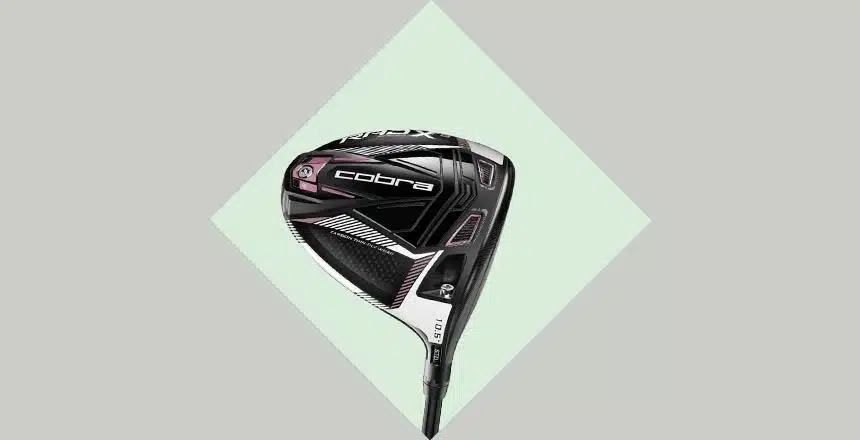 Pros
Speed-optimized Radial Weighting (fixed and adjustable)
Lighter shaft and thinner crown for slow swing speeds
Massive, oversized clubhead inspires confidence
High loft for easy high-launching opportunities
Arccos Connect technology (app) tracks shot-by-shot performance
Radpseed Xtreme Back (XB) Driver by Cobra is specifically constructed for golfers who wish to achieve consistently long, stable drives no matter where on the clubface they hit. Thanks to the oversized head and 20 grams of mass placed at the back (most of this weight is fixed, 6 grams is interchangeable) and 8 grams (all fixed weight) positioned at the front.
It's the most forgiving golf driver for beginners for this very reason – that it preserves the ball speed and flight path on off-center strikes while also keeping your long-game spin relatively low.
Technologies like Radial Weighting (the strategic positioning of the mass I described earlier), CNC-milled Infinity Face (expanded impact surface), and T-Bar Chassis (optimizes performance) infuse some excellent value for money into the whole Cobra experience.
3. Callaway Big Bertha REVA Women's Driver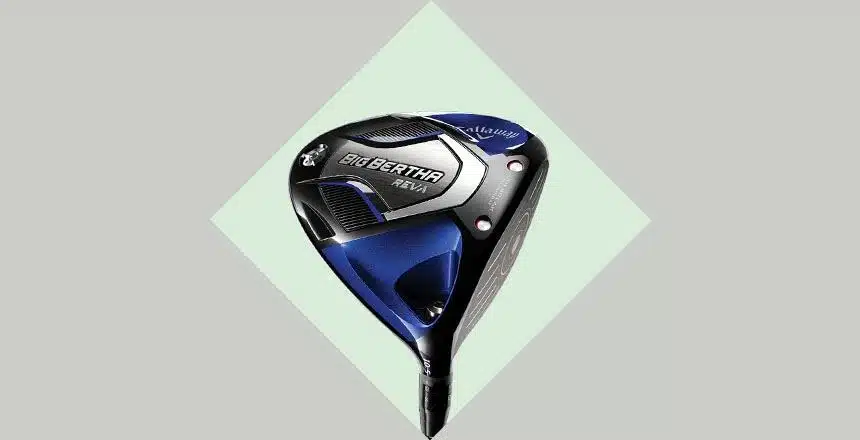 Pros
High-launch driver with a more expansive impact area
Jailbreak bars (more face flex) add more forgiveness
Light crown (increases MOI), light shaft (increases swing speed)
Internal draw-biased weighting promotes straighter shots
Cons
Unusual, unconventional shaping can be disappointing
Callaway's Big Bertha range of golf drivers are surely forces to be reckoned with. Big Bertha B21 is a part of the top list of best golf drivers for beginners. And now Big Bertha REVA has been shortlisted as the best anti-slice driver for women.
Not only does this Callaway golf driver unleash explosive distance but the thing also eliminates major concerns like big misses and slices. This high-launch driver features super-low forward center of gravity (CG) positioning, which reduces spin.
This type of construction really works when it comes to improving distance, ball flight, and consistency. That just means your tee shots find that fairway! And that's the primary goal of Big Bertha REVA anyway, with its large clubhead and its internal draw-biased weighting (thus, anti-slice performance).
4. Pinemeadow Golf PGX Offset Driver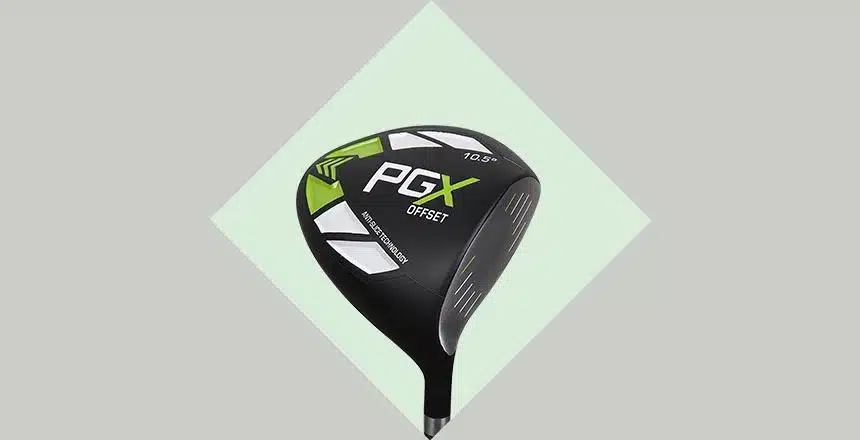 Pros
Offset, draw-biased driver produces straighter shots
Oversized head (max. forgiveness) yet light, easy to swing
Very attractive matte black finish
Cons
No adjustability at all
Not the most durable either
Here's another driver with an offset clubhead. Pinemeadow PGX Offset is one of the best golf drivers of all time mainly because of this offset, draw-biased, anti-slice setup. The clubface squares at impact, and that means straighter drives down that fairway with a big chunk of forgiveness.
The lightweight design is also very practical for most women golfers since it unlocks maximum off-the-tee distance without trying too hard. So that's a solid performance despite the inexpensive price tag.
What is also quite appealing, and contributes to the popularity of Pinemeadow PGX Offset, is its clean, sleek, and smooth black matte finish with white and green trimmings. And even though there's no loft adjustability or movable weights, the driver instills confidence in you, which is much-needed if you're a beginner and/or high handicapper.
5. TaylorMade SIM 2 MAX Driver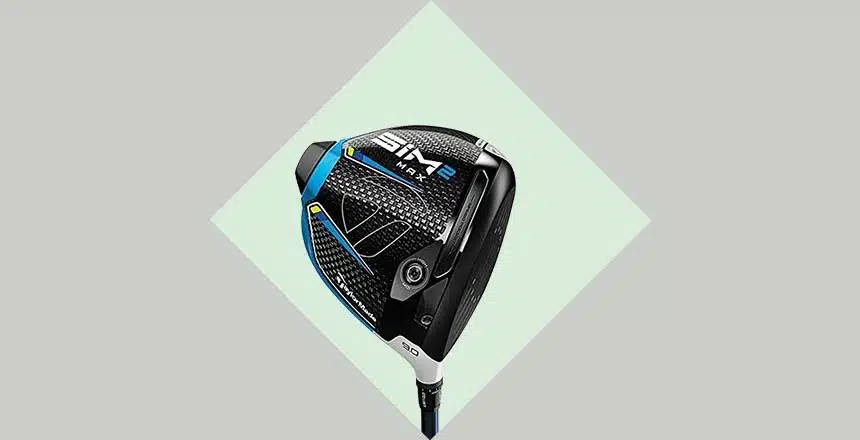 Pros
Lightweight, forged driver built to last for many years
Faster clubhead speed through advanced aerodynamics
Speed Injected Twist Face improves ball speed even on mis-hits
Speed Pocket technology also maximizes forgiveness
Cons
Some find the shaft too light
You know, there's a reason why TaylorMade SIM 2 MAX appeared among the top TaylorMade drivers of 2021. This golf club is even better than Callaway's Epic Flash Driver (also known for its large sweet spot and tons of forgiveness).
SIM 2 MAX by TaylorMade yields so much forgiveness and distance that it sort of justifies the higher cost. Yes, it helps you gain extra 15-20 yards the most effortlessly. But that's not even what I liked the most about it. What was truly surprising, in a good and wonderful way of course, was the impressive off-the-tee distance boost even on off-center shots.
So if you're a beginner and/or high handicapper looking for a driver that actually assists when it comes to increasing carry distance, this one is specifically made for you.
6. Callaway Golf Mavrik Driver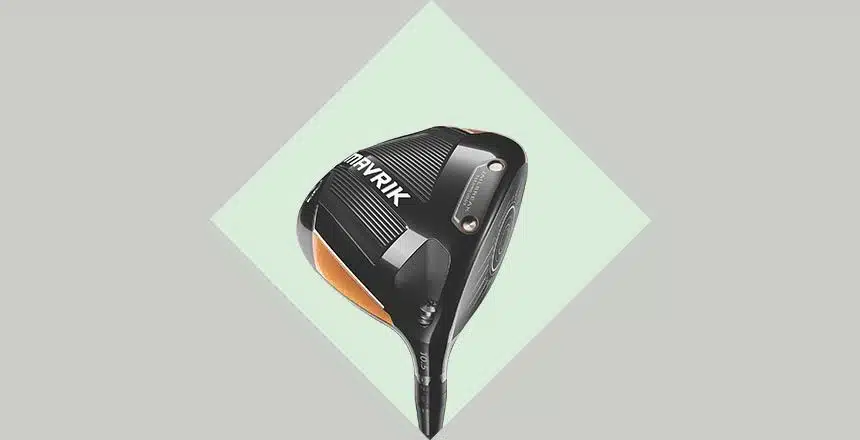 Pros
Highly forgiving, easy-to-launch driver
Flash Face gets the ball to jump right off the clubhead
Cyclone Aero shaping increases clubhead speed
Jailbreak bars also boost ball speed
Deeper, more solid sound at impact
Not just Callaway Mavrik but Mavrik Max and Mavrik Subzero are all some of the best Callaway drivers of all time. But it's the standard Mavrik model that seems to be the most fitting choice for golfers with a slower swing speed. So that could be women, beginners, seniors, and the like.
Ladies shaft flex and 12-degree loft, this configuration is perfect for those who want to purchase a driver that's looong and extremely forgiving. It's got Flash Face and internal Jailbreak bars, both designed by Artificial Intelligence, for boosting ball speed. This has never been done before by Callaway or any other top golf club brand.
And since Mavrik Standard is an adjustable club, all kinds of players can benefit from its A.I.-designed features. But mostly it's high handicappers and beginners that appreciate this particular model more since it gets their shots airborne more easily. Plus, you also get a higher launch, straighter ball flight, and longer distance.
7. TaylorMade SIM MAX Women's Driver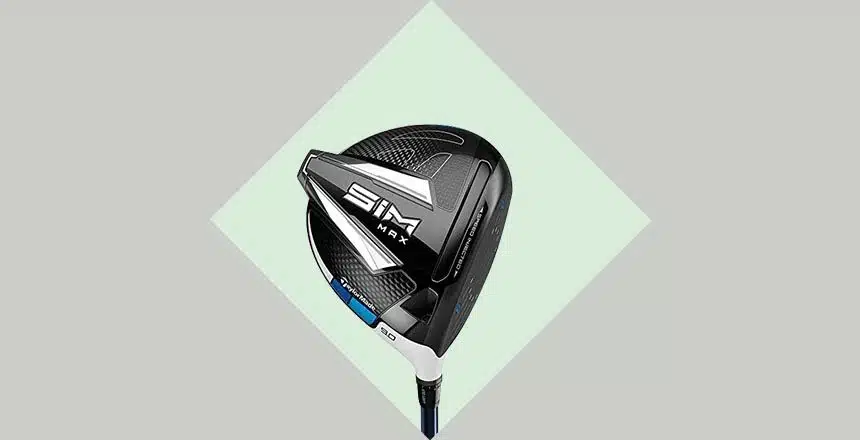 Pros
Speed Pocket for greater clubhead speed
Speed Injected clubface also adds forgiveness
Low CG, high loft produces distance-boosting launch angle
Loft adjustability (2-degree) optimizes trajectory
Lightweight, high-performing Aldila shaft
Cons
No negative feedback so far
By default, this TaylorMade SIM MAX Driver becomes a premium choice with the inclusion of Aldila NV 45 Shaft. Aldila shafts are so much easier and smoother to load. They hit higher off the tee in comparison to plain stock shafts.
As for this driver, it's very manageable and light because of the shaft. So much so that your slicing tendencies are bound to disappear eventually. Because you will be able to properly align and square up the clubface at impact. Despite being a female senior player, your drives are destined to travel a good 175 yards straight down that fairway.
SIM MAX by Taylormade is powered by Speed Pocket, just like SIM 2 MAX reviewed earlier. This pocket area placed behind the driver's face increases flexibility, thus enhancing forgiveness.
It's known as the best ladies driver for high-handicap golfers but it also works like a charm for mid-handicappers since it adds extra distance along with increasing accuracy.
8. AGXGOLF Ladies Magnum 460cc Driver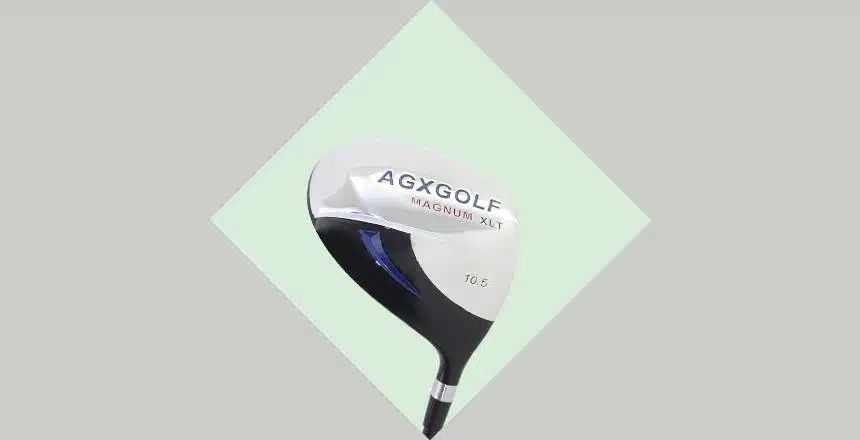 Pros
Very forgiving driver with an oversized clubhead
Graphite-shafted, thus lightweight to swing/control
Slight offset squares the clubface at impact
Low CG placement for Tour-preferred high launch
Available in Petite and Regular sizes
Cons
Poorly weighted golf club
If you're under 5'3", this Petite-sized golf driver, Magnum 460cc Driver, by AGXGOLF is the one to buy. Petite women's golf clubs are just as good as their Regular-sized counterparts, it's only that Petite means the shaft length is an inch shorter than standard. So in the case of a driver, that would be 43 inches (since 44 inches is the average driver length for women).
The clubhead is slightly offset, which is another piece of great news because offset means anti-slice performance. Your drives then are just decreed to take on a literally straighter flight path.
But then even if you get the Regular-sized version of this, that also is capable of generating very accurate, higher shots. All because of the oversized 460cc clubhead. A larger sweet spot means more forgiveness and that means higher and longer tee shots.
9. Majek K-Series Senior Women's High Launch Driver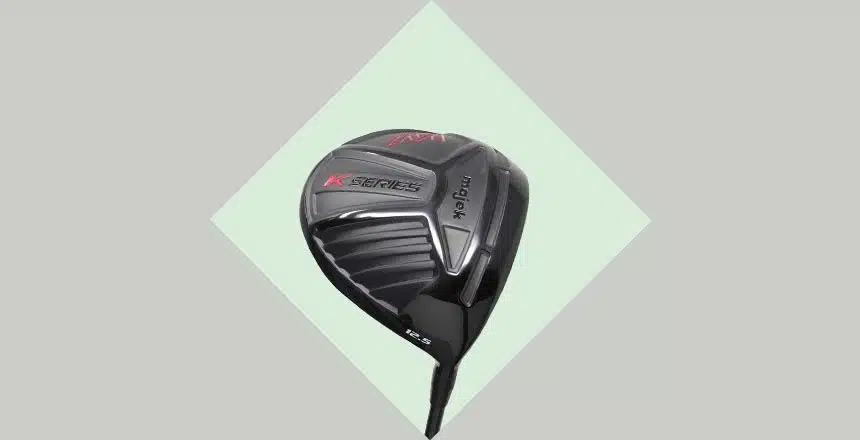 Pros
High-launch driver increases ball flight
Extra-thin clubface boosts clubhead speed
Perfectly balanced with lower CG for higher launch
Lightweight graphite shaft ideal for slow-swing players
Cons
Not for experienced or even average-level golfers
Call it the best golf driver for distance, best women's golf driver for beginner or senior players, call it whatever you like, the truth remains unchanged that this is a high-launch driver. And when that's the case, maximizing ball flight and speed are only inevitable.
And then there's the lightweight graphite shaft, even more perfect for slow-swing female golfers, be they young or old. Moreover, the CG is located lower to promote a higher launch and faster ball speed for extra distance coverage.
This Majek K-Series Driver features a thin clubface. Now, what does that do? It amplifies the trampoline effect at impact, hence maximizing the "smash" factor. And let's not forget about the wonderful affordability of golf clubs manufactured by Majek, which is perfect if you're a senior or beginner golfer not wanting to spend a fortune on her clubs.
10. PowerBilt TPS Blackout Women's Driver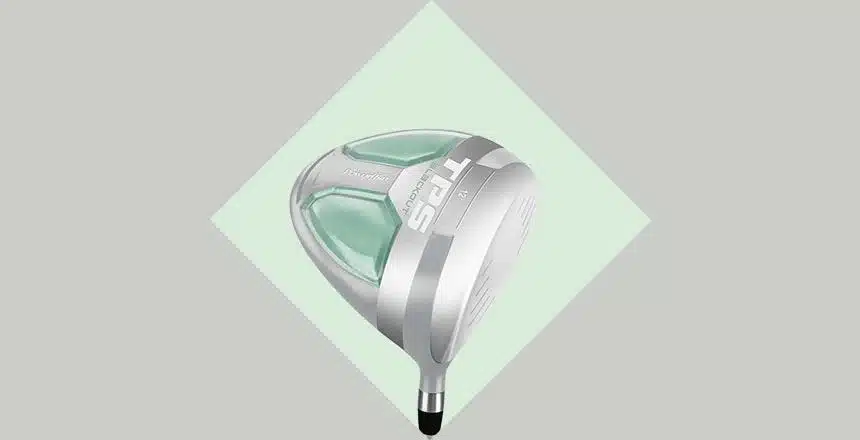 Pros
Oversized 460cc volume of clubhead means more power
A larger sweet spot, so the driver is highly forgiving
Dual sole weighting keeps the club well-balanced
High loft means better off-the-tee accuracy
Cons
Not as "mainstream" as the other drivers
Expect exceptional performance with PowerBilt TPS Blackout Women's Driver. It's one of the best golf drivers for the money – lightweight feel, long yardages, and the ability to promote a faster swing speed.
The oversized 460cc clubhead is encouragement enough to keep heading to the golf course to strike the ball with greater authority. All thanks to the massive hitting area i.e. larger sweet spot, forgiveness on mis-hits is a given.
And combine that oversized 460cc clubhead with aerodynamic head shaping. The latter minimizes drag, something that slow-swing golfers are often plagued with, to maximize ball speed. And that, in turn, improves launch, carry distance, and overall total distance.
Why Do Women Golfers Use Different Drivers Than Men?
The average swing speed of female golfers is 65 mph (155 yards driving distance) and that of men is 90 mph (225 yards driving distance). This means most women have a slower swing speed in comparison to male golfers, hence the difference in distance achieved.
So it only makes practical sense to design women's golf drivers to be more lightweight, more flexible, thus much easier to swing for gaining those missed 'extra' yards off the tee.
What Is the Best Driver for An Average Woman Golfer?
TaylorMade SIM MAX Women's Driver ranks among the topmost game improvement drivers for mid-handicap and high-handicap golfers (so for beginners and average players). For many, it's responsible for improving distance and accuracy with its highly forgiving technologies such as advanced aerodynamics, Speed Injected Twist Face, and Speed Pocket.
What Is the Standard Driver Shaft Length for Women?
The standard length of a driver for men is 45 inches. For women, it's an inch shorter because of their comparatively smaller stature, so that's 44 inches as the standard ladies' driver shaft length.
What Is the Best Women's Golf Driver for Beginners?
Callaway Golf 2020 Mavrik Driver features Jailbreak technology, which comes to the rescue of every beginner by promoting faster ball speed. Plus, this golf driver is fitted with a lighter clubhead (carbon crown) that increases forgiveness and MOI. And hence, it's slow-swing-speed-friendly, perfect for beginners.
What Loft Should A Ladies Driver Be?
A higher loft angle is more suitable for the slower swing speed (below 80 mph) of most female golfers. To be more specific, a loft between 12 degrees and 15 degrees. To be even more specific, 12-13 degrees.
Naturally, you can choose a higher loft than 12-13 degrees if your swing speed is really low, meaning if it's a REAL struggle getting the ball airborne.
On the other hand, if your swing speed is around 90-100 mph (that's fast enough), select a relatively lower-lofted driver (10.5 degrees then would be perfect for you).
It's pretty clear that now even women golfers have a wide range of drivers to choose from. More often than not, these are distance-focused with tons of forgiveness built into them. Along with innovative technologies to increase swing speed, clubhead speed, ball speed, and distance.
Female players, at least the majority of them, have a slower swing speed (under 80 mph), which is why they require a driver that's more lightweight (graphite shaft), more flexible (Ladies flex), and more forgiving (oversized clubhead, larger sweet spot, lower CG, higher loft, adjustability, etc). It's really as simple as that.