Divider space is limited but this seems to be more than enough as one of the best Sunday golf bags. These types of bags are precisely more lightweight and compact because of that. So the upside to less storage is convenient carry. Basically, these "Sunday" kind of golf bags are hybrids that feature a stand and sufficient room to enjoy a casual game of golf.
If you're a serious golfer, you'd be better off choosing from this list of top TaylorMade golf bags. But then these lightweight, compact Sunday bags can be your secondary choice for those easygoing rounds of weekend golf with your buddies. It's perfect for situations where you're not going to carry more than 6-7 clubs and no extra gear either.
So let's get to know the top choices of this category…
Why "Sunday" Golf Bag? And What Is It Really?
It's basically just a golf bag designed to be more lightweight, compact, portable, and easier to carry. No "special" features or anything just basic storage space for a few golf clubs, some golf balls, and tees and that's it.
But the more modern Sunday golf bags of today also come with a stand and greater functionality yet they're compact-sized and lightweight.
As to why is it called a Sunday golf bag, that's because the compactness i.e. limited storage space of the bag doesn't allow a full set of 14 clubs. So that lets you fit in only a few golf clubs, which golfers generally do when teeing off on Sundays (caddies take the day off on Sundays).
So a lightweight golf bag and fewer clubs to carry equal to less burden on the shoulders. Your par 3 and driving range sessions now have the perfect companion!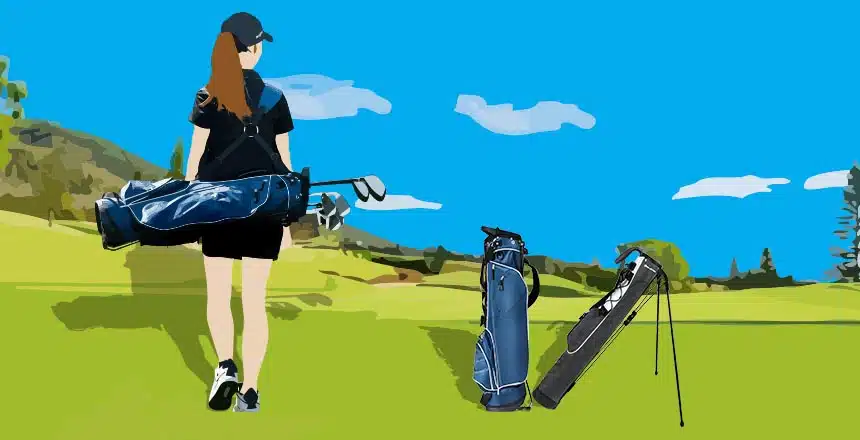 How Do I Know What Type of Sunday Golf Bag to Buy?
Just keep in mind these 7 non-negotiable factors at the time of buying…
Lightweight Design
If your Sunday golf bag is heavy, it just then defeats the whole purpose of buying a bag like this. Every such bag needs to be light in weight, most preferably 3 pounds or lighter, which is why it's the most convenient and easiest to carry.
Built to Last
A very lightweight golf bag doesn't necessarily have to be the least durable. As long as materials like advanced-grade nylon and polyester are used for construction, you just don't have to worry about how long the golf ball will last. These are tough, wear-resistant, weather-proof fabrics responsible for quality craftsmanship as well as long-term durability.
Golf Bag with Stand
Now, this choice is all yours whether you want your Sunday bag to come with a stand mechanism or not.
Some prefer it for stability but then not every stand system on these types of golf bags is made to be sturdy. While others don't really care for one probably because they don't carry as many golf clubs, so don't have to think about keeping the clubs in an upright position at all times.
How Many Dividers/Pockets?
You're not dealing with full-blown, legitimate golf bags or even hybrid golf bags here, right? These are "Sunday" golf bags, which means you'll be accommodating fewer clubs (6-7, nothing more). In that case, 2-3 dividers are quite sufficient to keep everything well organized. Along with a few additional pockets for stuff like your golf balls, tees, etc.
To ensure your Sunday golf bag stays perfectly organized, follow our expert tips on how to organize a golf bag for maximum efficiency.
Needless to say, choose something with more capacity if you don't carry light. So you may want to re-check how many dividers and storage pockets the golf bag includes.
Comfortable, Padded Carry Strap
Nothing less than a comfortable, padded shoulder/carry strap will do. Only then does the whole experience of using a Sunday golf bag makes sense. More often than not, curved-shaped straps feel more comfortable. And also those equipped with lots of padding of course.
And the same rule applies to carry handles, if the golf bag has any.
Travel-Friendly
Only if the golf bag is lightweight and compact can it be extremely portable and travel-friendly. Hence, Sunday bags just fit the bill. But there are some additional travel-friendly features that might also help. Such as lockable zips, padded cover, and the like.
Affordability
These kinds of golf bags are supposed to be moderately priced and not too expensive. Usually, they cost not more than $100. And that's all because the bags are smaller, thus they accommodate a lot less of your golfing gear in comparison to cart bags that can fit a whole 14-piece set and more (that explains their much higher cost of course).
Sunday Golf Bag Reviews – Top 10 Lightweight Golf Bags!
1. CaddyDaddy Ranger Carry Sunday Range Travel Bag (Top Selection)
Pros
Golf travel bag accommodates 8-9 clubs
Made of tough, durable 1680D nylon
Adequate club protection through padded top/opening
Padded shoulder strap, easy-grip handle, lockable pockets
Cons
Club well too deep
Unfortunately, no stand legs
Great value for money, that's what you get with a brand like CaddyDaddy. As for CaddyDaddy's Ranger Carry Sunday Range Travel Bag, it's an extremely durable thing made using 1680D nylon. You can load the bag with 8-9 golf clubs for your Sunday golf or when traveling on an airplane. The best part about it is that it's tough with a padded, wide top.
The padding is much-needed of course for protecting your expensive clubs (hence, travel-friendly once again). And it also helps with the golf clubs making less noise while you're walking with the bag. Even the base of the bag is well-built with its molded construction and the 5-inch hard-lined tube diameter that provides stability.
Just below 3.5 pounds in weight, lockable zippers, 3 pockets, well-cushioned shoulder strap, convenient carry handle, and ample space even though the golf travel bag is compact-sized. Just the perfect Sunday or travel companion for enthusiastic golfers!
2. Sunday Golf Lightweight Sunday Golf Bag
Pros
Very lightweight yet highly functional Sunday bag
Comes with a stand and carry handle + strap
Velour-lined valuables pocket included
Oversized golf ball pocket also added
Cons
Shoulder strap carry tips the bag to one side
The lightest of the lot, weighing only 1.95 pounds, is this Sunday Golf Bag by Sunday Golf. You can pack 6-7 golf clubs in here very comfortably for your casual weekend rounds of golf. It comes with a velour-lined valuables pocket, so you get to store your phone, keys, wallet, etc. too.
Personally, I walk 18 holes and, at such times, carrying or rather hauling a heavy bag around is no fun time when all I'm looking for is to just let loose with my golfing buddies. If you can relate, then a lightweight, compact weekend golf bag like this is just perfect.
Even 6 golf clubs won't feel like too many in the bag. But I side with the carry handle more than the shoulder strap, the former feels like a more comfortable, convenient, and secure way to go about the entire 18-hole round of golf without your clubs falling out.
3. Orlimar Pitch and Putt Lightweight Stand/Carry Golf Bag
Pros
Very, very lightweight (just 1.95 pounds)
Accommodates max. 10 golf clubs
Retractable stand system for support (easy club access too)
Cons
The stand is tricky to work with
Storage pocket and shoulder strap are small
Trust me when I say that you're not going to find anything more economical and, simultaneously even, sturdy as this Orlimar Sunday Stand/Carry Golf Bag. All that this super-lightweight bag (only 1.95 pounds on its own) does is store your golf clubs. So you can just grab them when you like and hit the golf course! Plus, there are plenty of color options!
As to how many clubs can this Pitch and Putt Golf Bag hold, the brand says 6-7 but you can quite easily fit and manage even 10 golf clubs in there. Even with 10, the bag is very easy, light, and convenient to carry.
And let the legs or stand of this golf bag open fully and naturally, so the bag is held up indefinitely. Otherwise, the legs tend to slowly collapse. And of course, there are going to be a few more trade-offs given the cheaper price of this golf bag. Such as just a single and small storage pocket and a short shoulder strap.
4. Titleist Carry Bag – A Branded, Premium, Traditional Sunday Golf Bag
Pros
Golf bag can fit around 8-10 clubs easily
Double straps for more comfortable carry
Just weighs 2.1 pounds, thus perfect for walking
Full-length apparels pocket (+ 3 more pockets)
You'd be kidding yourself if you actually believe that any other golf bag here or anywhere else has better construction, quality, functionality, and even appearance than this Titleist Sunday Bag. The only thing that's majorly lacking here is a stand, that's about it.
This traditional Sunday golf bag can very comfortably hold up to 8-10 clubs. And it's built with a few storage pockets along with dual shoulder straps.
Yes, it's super-lightweight because the bag weighs only 2.1 pounds. And despite the lightweight design, you get all the storage space you need and expect from a compact-sized weekend or travel golf bag like this.
5. Tangkula Golf Stand Bag
Pros
3-way top Sunday golf bag with stand
Dividers keep clubs separated and organized
Made of wear-resistant, tough polyester
Extra-comfort backpack-style shoulder straps
Cons
Not the most stable stand or foot support
Nothing beats the sheer comfort of carrying your golf clubs the most easily during your round of golf. And with this Sunday stand golf bag's backpack shoulder straps, you get that extra comfort. It's even got a convenient side handle for quick, on-the-go carry. And just by the way, the bag also works on a golf cart.
The construction consists of wear-resistant polyester, which has proven to be quite sturdy when it comes to postponing wear and tear for the longest time. As for the weight, that would be 3.5 pounds (hence, light enough and portable enough).
Moving on to space, the 3-way top allows you to comfortably store 10 golf clubs for Sunday golfing sessions or travel. Additionally, you get 4 zippered pockets, which every golfer knows always come in handy.
6. JEF WORLD OF GOLF JR1256 Pitch & Putt Sunday Bag
Pros
Very lightweight, easy-access golf bag
Adjustable, comfortable shoulder sling
Stand included for stability and easy club selection
Sturdy base made for all types of terrain
Cons
Only accommodates 6 clubs
Let me be genuine and tell you that this very lightweight, well-made Pitch & Putt Sunday Bag holds just 6 clubs, no more. And if you think you can add more, then be ready to deal with the rubber grips getting stuck together in the bottom. As a result, pulling your golf clubs out of the bag is going to be very difficult.
In that case, stick to fitting only 6 clubs, alright 8 will also do if you don't have a problem with the golf clubs getting stuck. That said, everything else about this Sunday bag is quite impressive, even its long-lasting durability. And the fact that there's a 6-club-capacity means it's ideal for driving range sessions where you only carry a specific set/number of golf clubs.
The sturdy base and stand legs add stability, no doubt. Then there's the shoulder carry sling too that you can adjust accordingly, along with a grab handle for quick, on-the-go portability. Once again, perfect for driving range, putting green, chipping green, etc.!
7. TOURBON Vintage Golf Club Carry Bag
Pros
Very lightweight, durable canvas/leather construction
The top and bottom are thickly padded for club protection
Shoulder strap is also padded, with a side grab handle
Storage pockets for balls, tees, etc.
Bag cover included
Cons
No stand legs, only a carry bag
One look at TOURBON Vintage Golf Club Carry Bag and you just instantly know that it's super-light and made of premium leather and canvas. This material combination is what gives the bag its vintage, premium look. And also justifies the expensive price tag!
As light as 2.7 pounds, the Sunday bag is made for those who play golf just once or twice a week. Hence, the need for a bag that you can simply pick up and take with you to the course. The golf bag is so easy and lightweight to use and carry that you might end up golfing more than ever!
Lucky for you, it holds up really, really well, even in the rain. The material is such that it doesn't absorb water. And the bag comes with a cover in which you can stuff some pleasant add-ons like a towel, hat, or even 2 cans of beer. Recreational golf just got better it seems!
8. PING Moonlite Bag 2013 Carry/Sunday Golf Bag
Pros
2-way top for proper club separation
Full-length dividers hold a full set of clubs
Adjustable, ready-to-go shoulder strap
Only weighs around 2.5 pounds, easy to carry
Cons
It's a carry bag, so no stand legs
If just what you need to fit into your PING Sunday bag is a full set of golf clubs, go ahead and do that with this one. It's just a basic weekend or travel golf bag but with the exception that it actually accommodates a whole set of clubs while also staying lightweight so you can walk your 18-hole round of golf the most comfortably.
The bag on its own weighs around 2.5 pounds, thus lightweight enough indeed. It offers the largest capacity so far, comparatively speaking. And it's also among the more expensive Sunday golf bags, for good, valid reasons of course.
The carry bag fits in plenty of other essentials too, like your rangefinder, water bottle, etc. You even get a very comfortable, adjustable, and padded shoulder strap. And the design of this strap is such that it's always in the 'ready' position, hence no need for you to bend down in order to lift your bag. Just a stand that's missing!
9. Thorza Sunday Golf Bag
Pros
Very functional, stylish Sunday golf bag
Made of waterproof, high-quality leather
Lightweight, rectangle-shaped, thus easier to carry
Zippered storage pockets and adjustable shoulder strap
Cons
Tendency to tip over/forward
Another very visually appealing, premium, and versatile leather Sunday golf bag. This one's rectangle shape is perfect for 9-hole or 18-hole carry/walking. You can store 8 golf clubs in here, 4 in each compartment. So that's a decent way to keep your precious golf clubs well separated and organized, and it helps with easy, quick access too.
One large storage pocket for your balls, tees, gloves, grips, and whatnot, along with another pocket at the top to keep your phone, keys, wallet, etc. Both of these pockets are zippered by the way.
Personally, and aesthetically speaking, I really like the color combination. It all looks quite classic, vintage, and traditional. More importantly, the height of the bag is more than sufficient to accommodate the full length of your golf clubs. And let's not also forget that this golf bag easily fits on a cart in case walking is a bother.
10. RAM Golf Pitch and Putt Lightweight Golf Carry Bag
Pros
Basic, lightweight Pitch and Putt golf bag
2 dividers at the top for club separation (easy access)
Automatic, sturdy pop-out legs
Another best pitch and putt golf bag ideal for the driving range. That means it's not going to accommodate more than 3-5 clubs. And that, in turn, implies that carrying the bag during play is going to be super easy and convenient for you.
It has a stand, so you don't have to worry about the carry bag or your expensive golf clubs rolling in the dirt. And this stand is quite sturdy and durable. You get great value for money in case that's what's on your mind.
Agreed that it's not feature-packed but that's not the purpose anyway with a Pitch and Putt Golf Bag. Rather it's more suited for comfortably holding 3-5 golf clubs. In fact, this is quite a steal as it also comes with an automatic pop-out stand along with a comfortable, adjustable shoulder strap.
Who Should Buy Sunday Golf Bags?
Do you spend a lot of time on the driving range? What about your par 3 golf sessions, are they more frequent too? If yes and yes, then Sunday golf bags are specifically made for you. In such scenarios, it's best to leave your full-sized golf bag at home and go for something lighter, more compact, and hence so much more comfortable and easier to carry.
How Many Golf Clubs Can Fit In A Sunday Golf Bag?
No more than 6-7 golf clubs can be accommodated in a Sunday bag. If you're an average golfer, then a maximum of 8 clubs are what you need anyway. This includes 2 woods, 1 long iron or hybrid, 2 mid-irons, 1 short iron, 1 wedge, and 1 putter.
Do not stuff extra golf clubs in there for no reason at all, you're only just going to make your bag heavier unnecessarily. It makes no sense to carry a Sunday golf bag with 14 clubs. Remember that it has only but just a single strap!
How Tall Are Sunday Golf Bags?
Based on most Sunday golf bag reviews, the ideal height should be 31 inches or more.
Can You Put A Sunday Golf Bag On A Cart?
You can place your Sunday bag on a cart but that would be defeating the whole purpose of using a Sunday golf bag. The point is to eliminate 'cart' from your round of golf by making the golf bag so much more lightweight, portable, comfortable, and convenient to carry.
That's It Then, Should You Buy A Sunday Golf Bag Finally?
Not every active golfer likes to lug around a heavy bag. Quite surprisingly, many of them prefer carrying something light yet made using high-quality, wear-resistant materials. And if you're one of them, lucky for you, this article consists of top 10 reviews of the best "Sunday" golf bags.
They are suitable for carrying 6-7-8 golf clubs. Plus, on their own, the bags don't weigh more than 3-3.5 pounds! Whether or not you want a stand is all up to you. And then you also have the choice of buying a golf bag with more dividers and pockets in case you want to carry a little more stuff.
Whatever your demands, these, no doubt, are more affordable options than your standard cart or stand golf bags!