Golf is one of those sports and hobbies that look easy on the outside as they actually are. This starts with your drive – which is already supposed to be the easiest shot on the course.
Newcomers tend to have a slower swing speed and slice the ball more often. We all remember that soul-crushing feeling when witnessing the ball curving to the right before our eyes. The distance is also where many struggle in their lessons. It can be the result of off-center hits, a bad launch angle, or too much spin rate.
This can get even worse with the wrong driver, dampening the last motivation you have and driving you away from this beautiful game. Luckily for you, most popular club sets have a driver designed to solve those common problems.
These models focus on correcting your slice, maximizing the distance, and increasing your confidence by providing more forgiveness. Some even feature an adjustable hosel to help you find the best setup. Without further ado, here are the best golf drivers for beginners you should pay attention to as an inexperienced golfer.
Buying Guide Drivers for Beginners & High Handicappers
1. Design
The goal here is for your golf driver to maximize your swing speed, which carries your shots longer and straighter even when those shots are hit off-center.
With a driver, you know it's a good choice for you if it also gets the ball airborne and then down that fairway easily. But this only happens when the sweet spot is enhanced, meaning a larger clubhead size.
I'd also like to mention that reduced clubhead drag is also tantamount when it comes to driving LONG. And all these targets can be met with the help of a higher loft, along with a larger clubhead of course (more on clubhead size and loft below).
2. Forgiveness
Forgiveness takes form when your drives are both LONG and, at the same time, ACCURATE. With a forgiving golf driver, you can actually expect a grand-sized sweet spot, lower sidespin, and the ability to hit the ball the most easily with the club.
So even if the golf ball and the sweet spot of your golf club do not make contact, it's not such a big deal (frequently produced mis-hits are indeed forgiven).
To make the concept of forgiveness loud and clear, I'm going to break it down for you. This way, I hope to explain more specifically what forgiveness in a driver looks like.
Clubhead Size
460cc – the max. legal limit approved by the USGA for a driver clubhead.
A bigger head = a bigger sweet spot = more literal space for the golf ball to make contact with that sweet spot. And all of this simply means a longer carry distance. So don't even think of going smaller than the 460cc clubhead size if your swing speed is below average.
Loft
Simply put, a higher loft (at least 10.5 degrees or higher) produces more backspin and less sidespin. And it's this extremely forgiving combination itself that gets the golf ball up in the air easily, so it can find that fairway also rather easily.
A lower loft, on the other hand, increases sidespin and minimizes backspin – something that beginners do not benefit from.
And then there are drivers with an adjustable loft (mostly, this is between 9 degrees and 13 degrees), which also works by the way.
MOI, CG, and Launch (all linked together!)
Learn all about MOI in detail if you want to know more than what's discussed below.
Whenever a mis-hit is produced, the clubhead automatically twists more. And that's how accuracy and ball speed take a hit. But when this clubhead resists twisting, its MOI shoots up. And as a result of this, off-center strikes are able to retain more ball speed to fly longer and straighter.
But then what is it that determines the MOI rating? It's the CG, Center of Gravity placement (point of balanced weight) of the golf club. When CG is positioned at the back, it increases MOI. And that, by default, gives you a higher launch for making the ball go longer and straighter.
3. Shaft
Now this, club shaft is also divided into three different parts…
Shaft Flex
Shaft flex options include Regular, Stiff, and Xtra Stiff, along with Senior and Ladies. Senior and Ladies are more flexible than Regular, and Regular is more flexible than Stiff and Xtra Stiff.
Now if you choose very stiff, it will reduce launch and push your shots to travel slightly toward the right. Only experienced golfers with a fast swing speed are able to turn that around in their favor. As for beginners and even high handicappers, Regular is perfect for their slower swing speed.
You have to understand that, for a slow swing speed, the shaft MUST flex to its maximum capacity in order to produce the desired outcome in terms of both trajectory and distance.
Shaft Material
The same rule (more flex for slower swing speed) applies to the shaft material. With lightweight graphite, swinging the golf club becomes much easier, as opposed to steel shafts that are mainly reserved for professional golfers.
Shaft Length
Moving on to the length of the shaft, should you go with a longer shaft just because it gives you more distance? Well, that it surely does BUT, at the same time, the added length equals less control. And then there's the whole disadvantage of not being able to hit the sweet spot with a longer shaft.
The standard driver shaft length for men is 45 inches and for women 44 inches.
4. Adjustability Technology
Modern golf club manufacturers are constantly making the game of golf easier for you. And the proof of that – these two phenomenal adjustability features…
Adjustable/Fixed Weights
The idea is to adjust the weights that are connected to the clubhead sole by simply sliding them into a different position. However, this adjusting and sliding around the weights into a position that works for YOUR swing speed and handicap is a bit confusing if you're new to the game.
I mean what combination of MOI, CG, etc. to choose is undeniably confusing for a beginner who may not even know what such jargons mean, let alone try to make each one of them work in your favor.
Then how about fixed weights instead? These you move or replace to a fixed location, which certainly makes things easier.
Adjustable Loft
For your driver to be a highly forgiving golf club, the loft must be higher (10.5 degrees or more). And the latest technology in this arena is an adjustable loft. So you don't really have to settle with any particular number; merely just unscrew the shaft from the clubhead and rotate it for increasing or decreasing the loft angle (between 9 degrees and 13 degrees).
5. Value
You can't possibly think you've made the right decision by just buying the BEST golf driver. Because this "best" golf driver is actually a high-end, premium piece of equipment curated only for golfers with advanced skills. So why spend all that extra money on a club you won't even be able to use to your advantage since you're a beginner and/or high handicapper!
Rather, choose the most forgiving driver since it's the easiest to hit and will help you find more fairways for sure.
It would be a complete waste of money to purchase the latest, best golf driver. Rather opt for older models, partly because they're also comparatively much cheaper than the new ones.
Best Golf Drivers For Beginners & High Handicappers
1. TaylorMade Stealth
Pros
Slight draw bias to counter slicing
Stylish premium look
Innovative carbon-faced design
Excellent sound and feel
Good for high launch
Amazing forgiveness
Cons
Expensive
Not much stock shaft customizability
Since its launch, the Stealth lineup from TaylorMade has generated huge buzz in the professional and enthusiast community. You join the hype too with the draw-biased HD variant. It helps prevent unwanted slices – a plague among amateurs and high handicappers.
At first glance, the flashy red and black combination immediately captured my attention. TaylorMade spends much of its marketing effort boasting this unique red carbonwood face. They strategically arrange 60 layers of carbon sheets on it to boost the ball speed and forgiveness.
I didn't anticipate liking it on the course as much as I did. My launch angle was higher, and the spin rate was slightly lower, reflected in the longer carry distance. It was easier to draw with the Stealth HD as TaylorMade has shifted the sweet spot toward its heel. I even didn't run into any problems making a cut with it.
The Stealth HD produced a pleasingly explosive sound. I thought the carbon would mute it a little but ended up loving it even more than TaylorMade's previous titanium heads.
The stock shaft material is Air Speeder graphite from Fujikura. It is super light and does a good job complimenting the club head. The Stealth HD feels solid in the hands and powerful enough with off-center hits.
That said, not every newcomer will be able to fully take advantage of this driver. Look for another option if the higher spin and launch aren't your thing. The high price tag is also a big barrier that budget-conscious players may want to consider.
2. Callaway Big Bertha B21
Pros
Light feel
Easy to hit
Built-in slice-busting mechanisms
Produce straight and consistent ball flights
Adjustable hosel
Better priced than premium models
Cons
Not for those who hook the ball
Fewer shaft configurations to choose from
The Big Bertha B21 is another driver good at fighting slicing. But this time around, you won't have to strain your wallet as much.
The triangular head of the Big Bertha B21 reminds me of the Fusion set yet with greater visual appeal and balance. At dress, it offers a powerful look with the red pinstriping and V aim point. The metallic blue also coordinates well with the red accents. There isn't any offset, however, as you might expect from a draw driver.
The driver comes with a stock RCH 65 shaft. During the swing, the whole club feels balanced and stable. The feedback passed on to my hands at impact was minimal. But that was also my expectation from a forgiving face.
Callaway equips the Big Bertha B21 with an adjustable hosel, but there are no interchangeable weights. Even if you constantly produce slight draws, this draw-biased club won't even make it worse. It creates straight ball flight, making it easy for me to keep the ball on the fairways.
Beginners will be thrilled to find out that they won't need to compensate for slices by aiming toward the left side anymore. In addition to internal weighting, Callaway relies on the low spin to bust those misplayed hits. It is the result of the low and forward center of gravity (CG).
A small issue I ran into was playing on a windy day. The high launch angle seemed to make the ball more affected by the wind. The suggested retail price isn't really affordable. Still, it can be easier for you to grab a good deal out of the Big Bertha B21 driver and save some money compared to the TaylorMade Stealth, for instance.
3. Callaway Rogue ST Max D
Pros
Premium material and construction
Comfortably create a draw shape
Easy to launch higher
Stable feel
A high degree of forgiveness
Cons
A bit expensive
Sit closed at address
The Big Bertha B21 is already an awesome representation of Callaway. And if you prefer even more forgiveness, check out the Rogue ST Max D.
The Max D variant has the largest club head in the Rogue ST family, inspiring more confidence for players behind the ball. I like the appeal of the Stealth HD more, but the premium black finish still gives the Rogue ST Max D a classy look.
The most distinctive part of this driver is the Tungsten Speed Cartridge in the back. By placing a weight low into the clubhead, it provides a high moment of inertia (MOI) and speeds up off-center hits. Besides weighting, Callaway also utilizes a classic slice-busting upright setup.
I immediately sensed the impact of the tungsten weight on my backswings. Yet the Rogue ST Max D still feels stable and solid at impact. Make sure you like the quiet woodsy sound it makes, though. It was pleasant enough for me, but certainly, this isn't everybody's cup of tea.
It was easy to hit the central zone with a satisfying pop. The feedback of shots towards the toe or heel wasn't harsh but so obvious. All my shots had a draw shape and great ball speeds. Higher handicap players would love to have this driver because its higher launch angle can help them get the ball off the tee.
Callaway positions the Rogue ST above the Big Bertha B21, so be ready to stomach a big chunk of money off your budget. There is no doubt this isn't the most workable driver you can buy. The grip can also be too tight, and in my case, the driver sits too closed at address.
4. Ping G425 SFT
Pros
Reasonably priced
Adjustable hosel
For fast swinger
Easy to add distance to the ball flight
Great at correcting slices
Tremendous forgiveness
Cons
The feedback could be better
Uninspiring look
With one of the strongest slice-fighting abilities on the market, the G425 SFT is a good solution for newcomers who are struggling with their strikes.
It can be hard to tell the SFT apart from other G425 models. They all feature matter crowns, and the shape sits somewhere between a circle and a triangle.
Even with my mishits, the G425 SFT still felt solid and stable. The feedback was decent with quite a low-pitched sound. But it didn't change very much whether I struck off center or had a pure shot.
The combination of low spin, great forgiveness, and ball speeds really impressed me. Compared to the Max version, the SFT turned my swings into lovely push draws. In some cases, the ball flight was on the borderline of hooks.
The G425 SWIFT's center of gravity plays a large part in this. Ping pushes it toward the club's heel with a fixed 23g tungsten weight, making it more efficient at impact. The booming sound was gratifying, and overall, the driver helped unlock more distance. The adjustable hosel is a big plus too. You can adjust the lie and loft to fit your spin and launch preferences.
I'd be lying if I said the G425 is geared towards a wide range of players. If you aren't a fast swinger or generate plenty of spinning, this driver won't do much for you. Additionally, it doesn't come with an adjustable weight like the G425 Max.
5. Titleist TSi1
Pros
Lightweight
Suitable for moderate swing speeds
Clear sound feedback
Increase distance without giving up accuracy
Adjustable hosel
Cons
Pricey
Not the most forgiving
Titleist has made it very clear that this driver is designed for "moderate players". There isn't a universal definition, but if you have a swing speed of 90mph or lower, you belong to the TSi1's target market.
At dress, this driver looks clean with small logos on the sleek, high-contrast black-and-white crown. Its club head has a volume of 460cc, but the TSi1 weighs much lighter than other drivers.
By having the CG moved towards the face's center, the TSi1 produced higher ball speeds than the standard variant I have tried before. This and the small weight will work wonders for those who want to add extra distance to their hits.
This design doesn't mean you would have to make a trade-off between distance and accuracy. The TSi1 still offers a draw bias, but it isn't strong enough to straighten severe slices.
This driver isn't as loud as other drivers, but its metallic pop is still powerful and throaty. Additionally, I could clearly hear the differences between the sweet spot and the heel and toe sections (which make the sound a little duller).
Keep in mind that forgiveness isn't a top priority with the TSi1. In no way would I suggest that this is an unforgiving driver. However, you may want an alternative to fixing all your poor contact or swings.
6. Wilson Staff D9
Pros
Great value for the money
High ball flight
Fairly low spin
Big sweet spot
Solid contact and impactful sound
Cons
No draw bias
No adjustable hosel
What makes the Wilson Staff D9 stand out from the rest of the pack is its attractive price. As amazing as other options are, their price tags may put off a lot of beginners. Not everyone can afford to splurge on a high-end club that they may not need in the short term.
At first glance, I was worried by the flat look on its face. Looking closer, it was just that the curvature in the face was visually less noticeable than other drivers.
The sound the Wilson Staff D9 produces is consistent across its face with stable and solid contact. This dull thud is a massive step up from other mid-range drivers I have tested.
The large sweet spot is an advantage of this driver. Even if you aren't that experienced in making consistent hits, it can make you more confident in hitting the middle of the clubface. My 9.0º driver generated relatively slow spin and high ball speeds. I had no big complaints about the roll-out and the distance it flew down the fairway.
I do have to point out that the Wilson Staff D9 won't help you much with your tendency to slice the ball. You will be disappointed if you are looking forward to adjusting your hosel as well. After all, this is just a general-purpose driver that does well for a wide range of golfers.
7. Cleveland Launcher XL
Pros
Sleek finish
Premium features at a competitive price
Extreme forgiveness for high launch
Adjustable hosel sleeve
Generous clubhead size
Cons
Many may find the sound not satisfying
Spin a bit high
This is my fun choice. Get this if you want to focus on your gear and more on your experience on the course.
It is hard to understate the big size of this clubhead, especially the length from the back to the front. Looking over the ball, I could see the whole loft. This design can give a big boost in confidence to high handicappers as they stand at address.
The Launcher XL has the highest MOI among all Cleveland drivers. Together with the big clubface, you will have an easy time sending your drives to the middle of the fairway. It will also put the effect of your off-center hits to a minimum. Less time for worrying about your mistakes and more time for getting the hang of golf.
Another benefit of the huge footprint is the increased perimeter weighting, meaning more stability. Cleveland added the extra weight deep and low into the clubhead. I was surprised by the ball speed the Launcher XL gave me, which was a few mph higher on average than other drivers. As a result, the carry distance was significantly longer too even though the mid-spin wasn't that low.
The hosel sleeve is adjustable between 9.0° to 12.0°. Each 0.5° increment gives you a chance to tune your launch angle when it is too high or too low.
The sound at impact was loud and fairly high-pitched. This can be a deal-breaker if you love the muted sound and its powerful feel. That said, this different sound can suit plenty of golfers too.
8. Cobra Air-X Offset And Straight Neck Drivers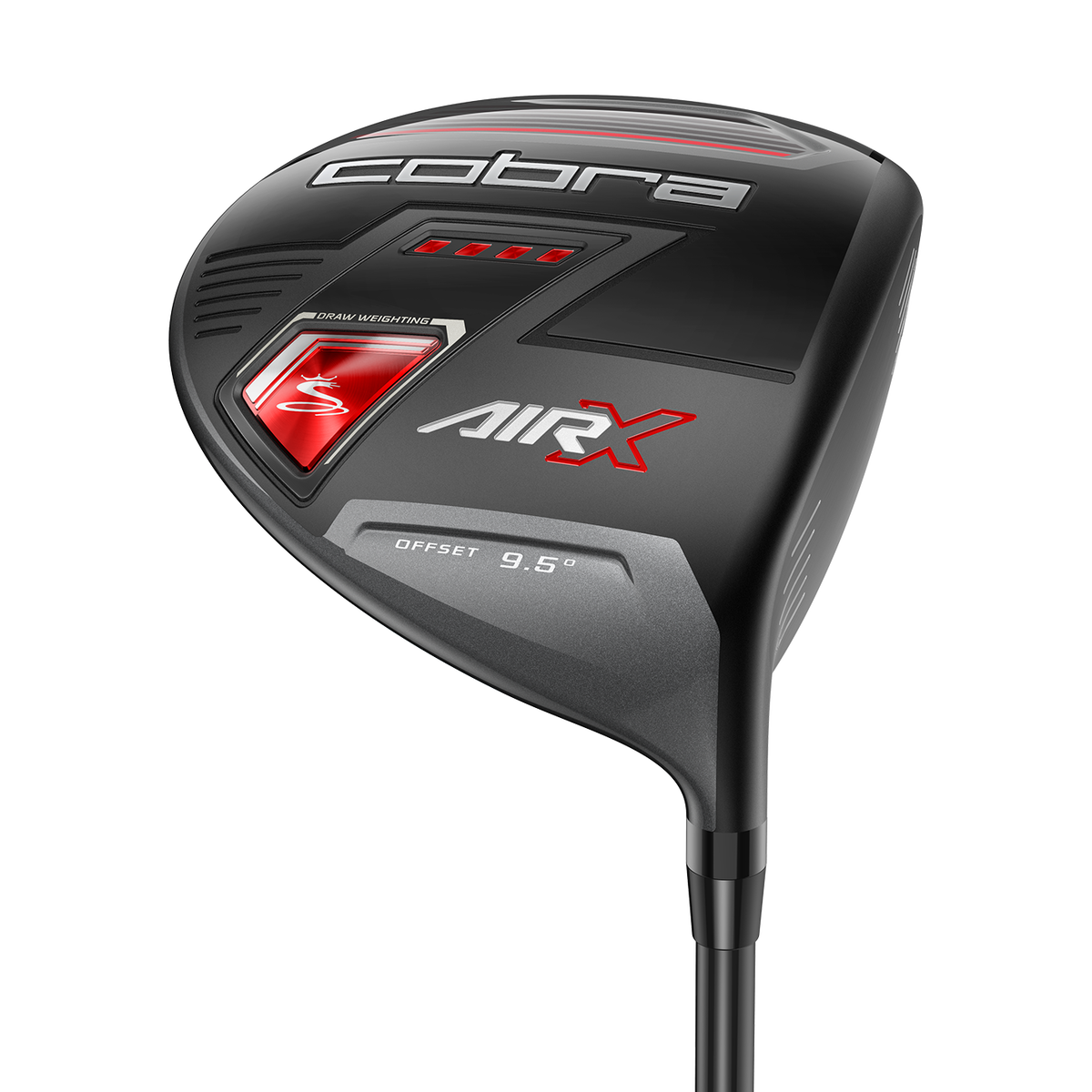 Pros
Forgiving and lightweight
Solid sound and feel
A decent slice-buster
Available in both straight-neck and offset designs
Great for slow-moderate swing speeds
Able to add some distance
Cons
No strike location feedback
No adjustability
The Air-X lineup of Cobra has two drivers with a similar design: Offset and Straight Neck. You can see them as two variants of the same model built for players prone to slicing. The deal is even better if you have a moderate swing speed and want to save some bucks off premium drivers.
The main differences between the two versions are quite self-explanatory. The Straight Neck model has a more traditional design and doesn't feature any offset. Otherwise, it and the Offset are almost identical.
These large drivers both look great aerodynamic-wise from all angles. You can have a glimpse at their carbon construction through the crown. They feel balanced and have stable and powerful contact.
The Air-X is the lightest driver Cobra has to offer. It should be music to the ears of those who are struggling with launch and distance.
Due to the non-offset hosel, it doesn't come as a surprise that the Straight Neck version produces slightly less draw bias. The heel weighting alone can assist you in correcting your left-to-right ball flight. But the Offset model will make your strong slice more manageable.
Don't expect feedback on strike location, however. It is basically non-existent with consistent sound across the face. It only becomes a bit duller when you get very close to the edges.
All FAQs Answered Below!
What Is The Best Driver For A Beginner Golfer?
If you are new to the game, look for a big clubface and a large sweet spot. These forgiving drivers can help make the ball fight pretty straight and stay in the fairway even when your hit is off-center.
What Degree Driver Should A Beginner Use?
The higher the loft, the better job it does in correcting your slice. Stick with 10.5° or 12° clubs for the time being. After getting comfortable with your ball flight, you can adjust the hosel or switch to another driver.
What Is A Good Golf Drive Distance For A Beginner?
According to the USGA's 2020 Distance Report, the average driving distance for amateur male golfers was 216 yards. The highest handicapper averaged 177 yards, most of which was done by drivers. You should feel proud if you just started out and can already hit a 170-plus mark.
What Shaft Flex Should A Beginner Use?
There is no rule saying beginners can't use a stiff shaft. But the best golf drivers for beginners should have a regular flex. It is generally better when your swing speed is still low, providing your shots with greater accuracy and power.
Is Graphite Or Steel Shaft Better For Beginners?
In general, only experienced and those with a high swing speed can take advantage of a steel shaft. Graphite is more flexible and can make up for some of the distance you are lacking. Graphite shafts are also easier to swing and can dampen the vibrations that annoy many first-timers.
This Round of Golf Is Done!
It would be naïve to think that all golf drivers are built for distance and just distance alone. The ones that are such are labeled as forgiving drivers, which is exactly what beginners and high handicappers should get.
Swinging this big stick hard only to feel and hear its greatness when you strike dead-center is on every golfer's goals-to-be-achieved list. It's easier said than done of course. But with the right driver at your disposal, getting there surely becomes less and less improbable.