What do hybrid golf clubs do really? Well, first of all, their design is actually a combination of woods and irons. The forgiveness of woods and swing mechanics of irons. So that means if you have a hard time hitting your fairway woods or irons, which most beginners and high handicappers in golf do, then hybrids can come to your rescue.
Benefitting from the best hybrids for beginners and high handicappers is a must when you want to replace challenging-to-hit long irons. These hybrids inspire so much confidence plus they're so incredibly forgiving on mis-hits, even seniors use them!
So it's no surprise that the options are not limited in any way. Let's take a look then, shall we?
1. Cobra Golf 2020 Men's Speedzone Hybrid – The Best One!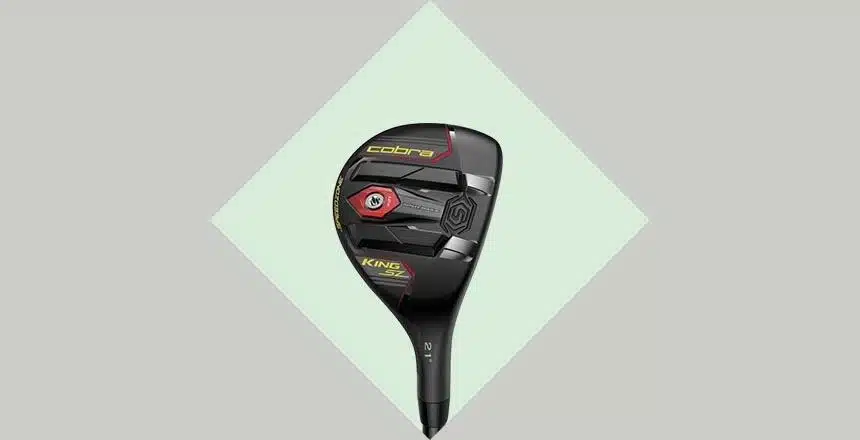 Pros
Refined aerodynamic shaping for longer, straighter flight
Easy to hit higher because of back weighting
Greater ball speed, thanks to Dual Baffler Rails
Cons
Slightly muted sound at impact
Adjusting to the feel takes a while
If you're a high-handicap golfer, you're most likely going to love everything about Speedzone by Cobra. This hybrid's actually one of the first-rate performers simply because it brings to play so much forgiveness. And with that, ultimately, so much more distance. And this is regardless of how high your golf handicap is!
The brand decided to invent and add Dual Baffler Rails (for stability as well as speed). In simpler words, these exclusive rails allow the hybrid to just glide through that turf the most effortlessly, no matter the lie.
Add to that Cobra Speedzone's improved speed-boosting aerodynamic shaping. So your shots from the fairway and tee are full of unprecedented speed and performance.
And obviously, it is a hybrid made for the new golfer, the high-handicap golfer, so the center of gravity or CG is concentrated back and low. The result – a higher trajectory that lands oh-so-softly into those greens!
2. Callaway Golf 2021 Apex Hybrid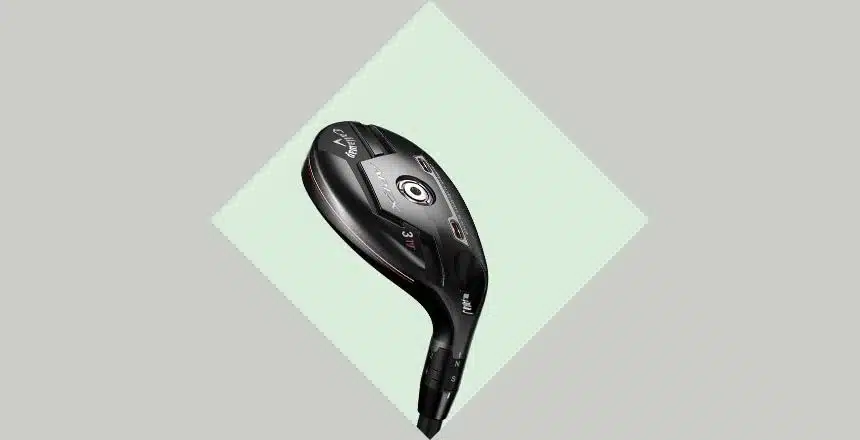 Pros
Easy-to-launch hybrid with massive tungsten weighting
Jailbreak bars produce more speed
Face Cup flex creates more forgiveness
Adjustable hosel means you can optimize trajectory
Cons
Takes some getting used to
Welcome to the Callaway Apex Hybrid review. Consider this one as the second-best option for high handicappers and beginners, after Cobra Speedzone of course. Apex is installed with some really "forgiving" features, such as Callaway's very own Face Cup and Jailbreak technologies.
Both are responsible for creating greater speed, irrespective of where on that clubface you hit. Jailbreak does it by increasing vertical stiffness close to the sole. And Face Cup advances forgiveness throughout the face (and improves the consistency of the spin rate) by enhancing torsional stiffness.
Then there's the hosel adjustability and low CG combination. And that just means if you struggle with getting your shots airborne and getting them to launch higher, this is just the thing you need.
3. TaylorMade SIM 2 MAX Rescue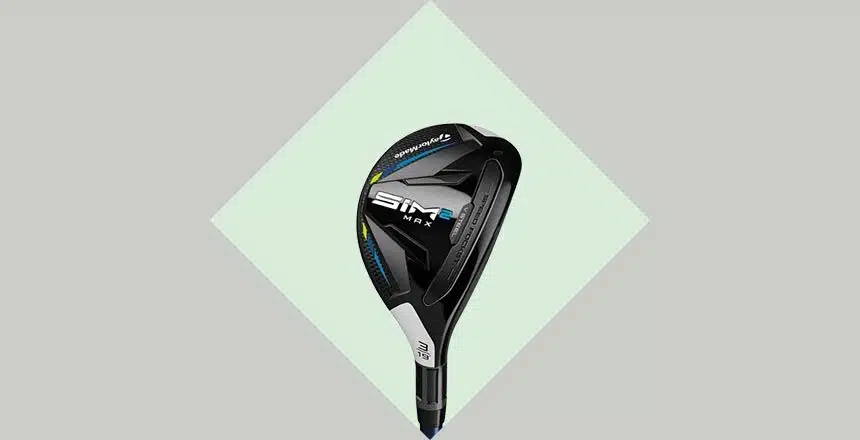 Pros
New shaping with low CG increases forgiveness
High-strength Twist Face corrects mis-hits
Speed Pocket also preserves ball speed on off-center shots
Cons
No hosel/loft adjustability
Demands a little bit of practice
There's a reason why "Rescue" is a part of the name of TaylorMade SIM 2 MAX Hybrid. It really does rescue high handicappers, beginners, and even the average or ANY golfer out of the rough. And comparatively speaking (compared to TaylorMade SIM 2 Rescue), SIM 2 MAX Rescue launches straighter, higher, and longer.
But one thing I'd like to add here, which may come off as a minor drawback, SIM 2 MAX is more geared toward better golfers who desire workability and precision from their hybrids. Nevertheless, you get greater mis-hit forgiveness as well with this model, which is why it's a suitable choice also for slow-swing and high-handicap players.
The incredible distance of SIM 2 MAX is brought forth through TaylorMade's exclusive Speed Pocket technology. It enhances face flexibility to boost ball speed all across that face. Pair that up with the brand's Twist Face technology, and you get some serious forgiveness that seems to work in the favor of golfers more inconsistent with their strikes.
4. Callaway Big Bertha B21 Hybrid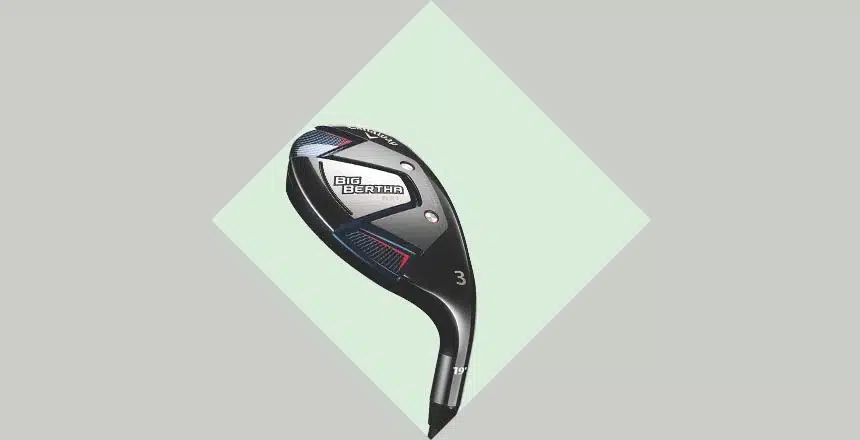 Pros
Offset keeps the ball in play, even when mis-hit
Thick topline, wide sole sparks confidence
Easy launch, thanks to precisely shaped tungsten weighting
Increased ball speed with Jailbreak and Flash Face
Cons
Offset, since noticeable, can be off-putting at address
Most likely you've heard a lot about Callaway's Big Bertha B21 model. Big Bertha B21 is a part of Callaway's top drivers and Callaway's top irons as well. And now the hybrid version is much the same, meaning equally easier to hit (even from low rough) and goes so much farther than most of its competitors.
Just like the driver and irons, Big Bertha B21 hybrid has some additional offset for promoting a straighter, anti-slice ball flight. Both high handicappers and beginners, but mostly high handicappers, struggle with slicing their shots. So, in such sticky situations, B21 is surely worth the money. Plus, it's an extremely forgiving and distance-boosting hybrid.
The sole of the golf club is injected with tungsten weighting to eliminate even those struggles dealing with trajectory and launch. And let's not forget about ball-speed-boosting Jailbreak bars that Callaway has been praised for time and again.
5. TaylorMade SIM MAX Hybrid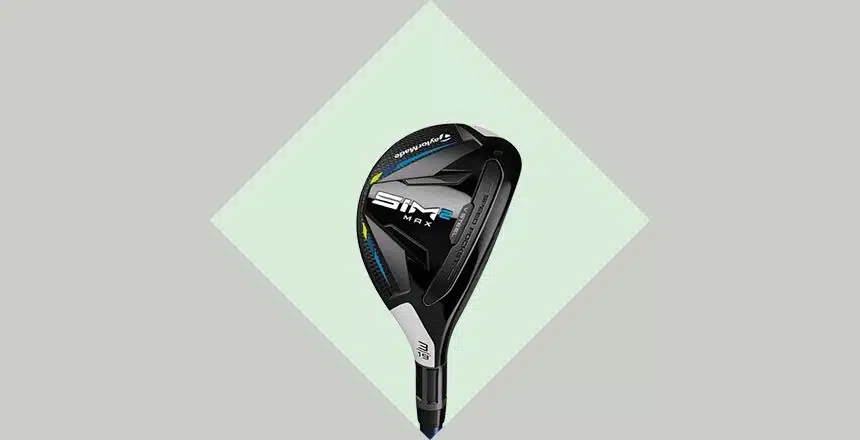 Pros
Faster ball speed (high-strength steel face)
Easy, high launch with low CG
V-shaped sole improves turf interaction
Twist Face technology boosts forgiveness
Cons
No headcover included
A bit too heavy for senior golfers
No doubt about TaylorMade SIM MAX being a highly forgiving golf club but what it does better is gain those extra yardages you've been meaning to as a beginner. It's the best hybrid for beginners who want to increase ball speed.
The V-shaped steel sole of SIM MAX (and even SIM 2 MAX Rescue reviewed earlier) is the very reason why golfers get through all types of lie. Meaning no matter the lie, you're sure to gain extra distance.
Twist Face technology is also added to correct your inherent mis-hit tendencies. To put it down more simply, straighter shots ALL THE TIME!
6. Cleveland Golf Launcher Halo Hybrid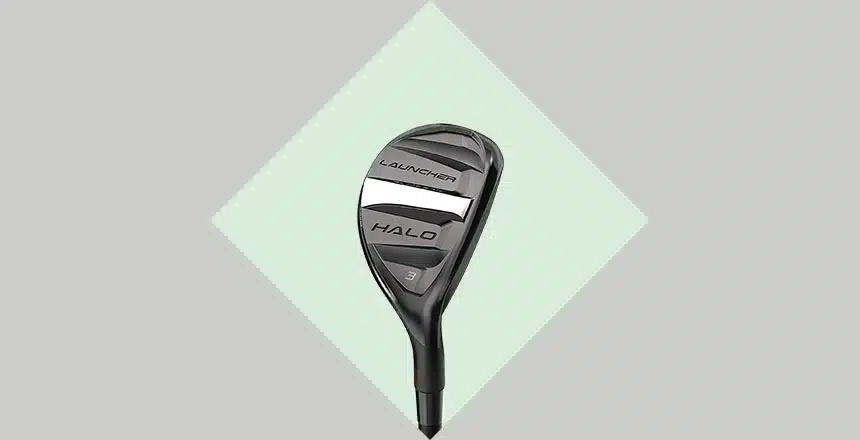 Pros
Hi Bore Crown (lower CG) produces low spin
Turf interaction is smooth, friction-free due to guiderails
Lightweight and very forgiving for slower swing speeds
Cons
New crown design (stepped) can be distracting
Not the most workable
Substitute your long irons with this low spin, high launch hybrid by Cleveland. The Launcher Halo Hybrid seems like the perfect golf club for achieving a distance between 180 yards and 195 yards just like that, even if you're a beginner, high handicap, or senior golfer.
If you go with the 19-degree 3-hybrid (the one I'm reviewing of course), you don't have to worry about swinging hard. Obviously, choose the Regular shaft flex for that (or Senior if you're a senior golfer), not Stiff. You'll see how the golf ball just jumps right off at impact to cover the distance required for filling in the gap between your 4-hybrid and 5-wood, for example.
Even the quality of Cleveland clubs is pretty amazing. The clubface is constructed using high-strength steel, which takes care of increasing ball speed as well through a larger impact surface.
It's a hybrid that even seniors find the easiest to hit. And it gets through those annoying roughs with nothing but maximum ease.
7. Wilson Golf Staff D9 Hybrid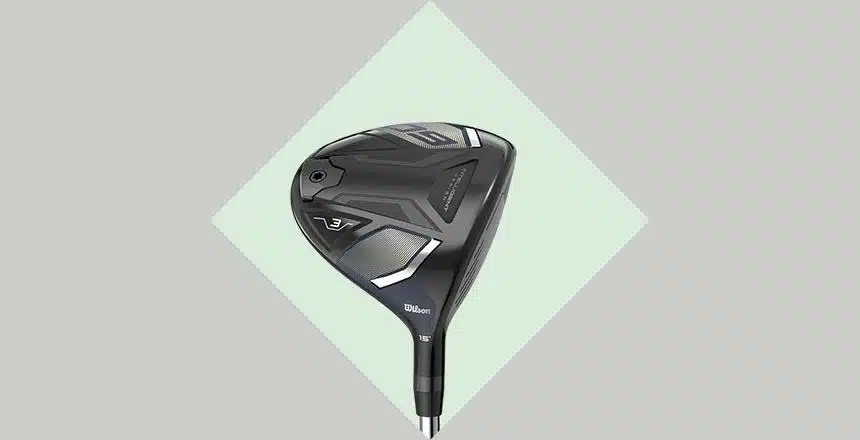 Pros
Fast feel and speed from the thin, hot face
Clubhead shape promotes a faster swing speed
Squares up at address for easy, high launch
Spectacular-looking, just like a high-end hybrid
Cons
Unfortunately, no adjustability
This is no typical hybrid that's for sure. Wilson Golf Staff D9 Hybrid is one that features precise clubhead shaping that optimizes weight, so you can more effortlessly swing faster to increase clubhead speed, and, ultimately, distance.
It's a confidence-inspiring hybrid perfect for high handicappers and beginners. The brand's exclusive VFT (Variable Face Technology) gives you a higher launch and ball speed. And this happens even when you miss the center, the sweet spot.
Premium steel material is used for construction. To be honest, this is exactly the same material Titleist also uses but the price of Wilson is so much more affordable.
8. Cobra F9 Men's Speedback Hybrid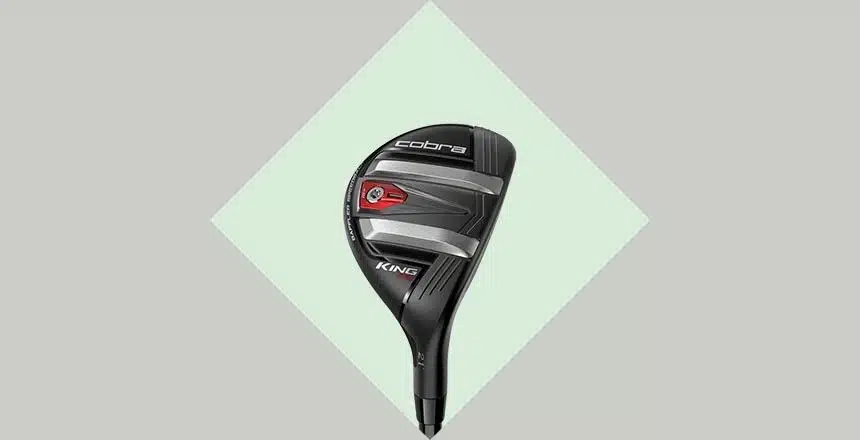 Pros
Larger clubhead (speed) and improved alignment (accuracy)
It makes hitting from the rough easier
Interchangeable, adjustable weight promotes a higher launch
With Cobra Connect, you can track performance
Cons
Not made for maxing out distance
You will certainly not regret purchasing Cobra F9 Speedback as your "rescue" hybrid. It really knows how to get you, a beginner and/or high handicapper, out of inconvenient situations every single time. It offers a bit of forgiveness and distance but it's more popular for its ability to hand out precision and accuracy, thanks to the improved alignment.
Moreover, the fixed weight can of course be changed in order to optimize ball flight. Most slow-swing and high-handicap players love how this hybrid performs from the rough and fairway. Be it the perfect position or when in trouble, relying on Cobra F9 Speedback is never a risk or mistake.
So look forward to crushing the ball with a great feel when using this graphite-shafted, Regular-flex hybrid.
9. Adams Golf Tight Lies Hybrid Club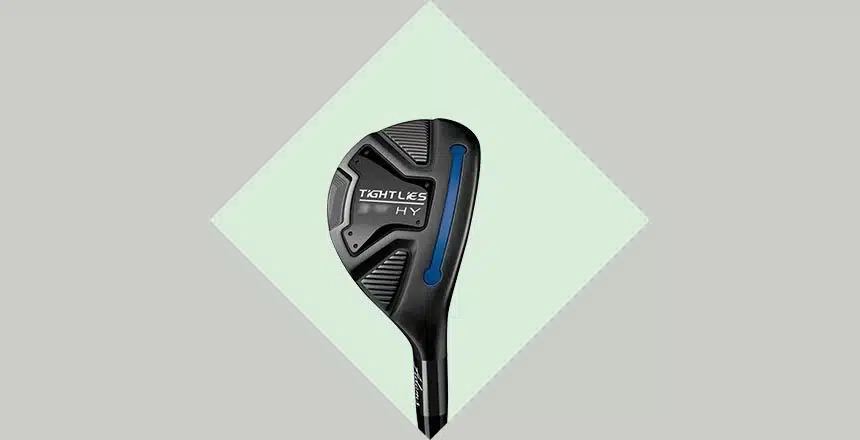 Pros
Low-profile hybrid produces easy, high launch
Ghost Slot Technology boosts forgiveness and distance
A larger impact area means less mis-hit consistency
Sole design improves turf interaction from any lie
Cons
No loft options
Weighting is very different
Adams Tight Lies Hybrids and Fairway Woods are value-priced golf clubs on the market. And there's just no downplaying or refuting that fact. The Tight Lies Hybrid you know is geared toward high handicappers and beginners because it's just too easy to hit because of the low profile.
The lower profile means the club sits low to get the golf ball airborne (i.e. out of the rough) with better spin very effortlessly. Tight Lies, after all, derives its name from the very fact that these golf clubs allow you to hit approach shots (long and solid) into those greens.
So if you struggle with your long irons as well as hybrids, this is the perfect lightweight, easy-to-hit hybrid for you.
10. Callaway Mavrik Pro Hybrid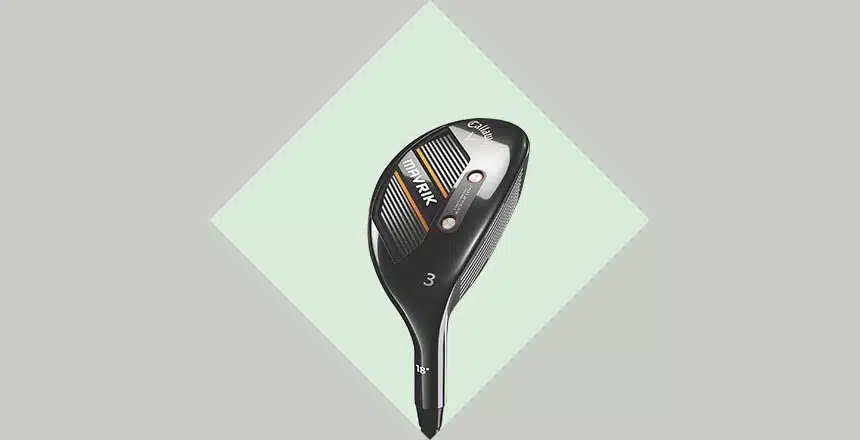 Pros
Enough face flex to add more forgiveness
Jailbreak technology for higher ball speed
Low CG + high MOI, hence an easy-to-launch hybrid
What's not to love about Callaway Mavrik Pro! The distance it produces is great, it's incredibly easy to hit from the long rough and fairway, and once you get through that phase of learning how to hit this hybrid, which was one of the best hybrid golf clubs for high handicappers 2020, you can easily achieve 200 yards off that rough.
Yes, it's built for high handicappers and beginners who want to upgrade their performance. It's also among the best-feeling hybrids. And you know what that means, don't you? No trouble at all hitting a fade or draw!
Callaway is the brand here, so what does that imply? It means you get the brand's very famous Jailbreak and Flash Face technologies for increasing ball speed. Easier launch along with a ball flight that's highly penetrating – some more benefits that appeal to high-handicap, beginner type of golfers.
And of course, the CG positioning is low, and that not just promotes an easy, high launch and boosts carry distance but it also delivers soft landings. This is exactly how a hybrid is supposed to perform after all!
Should You Use Hybrids As A Beginner?
In comparison to fairway woods, hybrids are definitely, 100-percent easier to both swing and control. These golf clubs are precisely crafted for paving the way for hitting long-range approach shots more effortlessly. If Tour players prefer hybrids over long irons simply because the former is so much easier to hit, then beginners need this even more.
So if you're a beginner, you should also be opting for a hybrid if…
You hit irons very poorly from the rough.
You just can't hit your 3-iron, 4-iron, or 5-iron.
You cannot achieve par 3's using the lowest-numbered iron in your set.
You want to hit tee shots that find fairways more consistently.
You don't want any other fairway wood except 5-wood.
How to Choose the Best Hybrid for Beginners / High Handicappers
One thing is crystal-clear here that as a beginner and/or high handicapper, you're constantly slicing the ball (high-handicap golfers do it more). This implies that your swing is most likely not straightened out.
Therefore, you should be looking for a 3-hybrid, for instance, that's more proper to hit than its 3-wood counterpart. So here's how to select the right hybrid for YOUR swing…
1. Forgiveness
Sweet spot and forgiveness don't necessarily go hand in hand. However, a larger sweet spot and forgiveness do. And forgiving hybrids are naturally designed with a massive sweet spot, so even those incessant off-center strikes of yours see the light of day.
Another component that determines the level of forgiveness is the clubhead size. Now when you compare a hybrid to a beginner-friendly driver, the latter has a bigger head for greater mis-hit forgiveness. So set out looking for hybrids that at least have a relatively larger clubhead like that.
With extra forgiveness, your likelihood of maximizing distance potential does indeed reduce. But the upside to using such extremely forgiving hybrids is that they keep your shots on a straighter path. You may not hit the longest but at least those shots have a much higher chance of following a straight flight.
2. Shaft – Flex, Material, Length
Higher shaft flex creates that perfect launch angle, which consists of the golf ball leaving the clubface right at impact. But then you don't want excessive flex because that just launches the ball too high (or too left, for a right-handed player). On the other hand, very little shaft flex means very low launch angle or the ball traveling too toward the right.
But then, as a beginner and/or high handicapper, you can't afford to overestimate your swing speed, right? Normally, when you're new to the game of golf and your handicap is higher, your swing speed is below average for sure. In that case, more flex in the shaft works for you!
So that would be Regular flex instead of Stiff. This much flex is bound to produce an optimal launch angle along with gaining additional yards.
Moving on to shaft material now. Another factor that helps a great deal in allowing the clubhead to get to the golf ball at impact with a slower swing speed is the lightweight graphite shaft material. Steel is an option sort of reserved for fast-swing, more skilled/experienced players, and low handicappers.
What about the shaft length of hybrids? Did you know that hybrids are generally shorter than drivers? So don't rely on your driver shaft length when choosing a hybrid.
Your hybrid must be 1/2-inch or 1-inch longer in comparison to your next iron. Hence, the conclusion that not all hybrids have the same shaft length. So choose a length that fits between the fairway woods and irons you own.
3. Loft Angle
Driver loft matters, right? Much in the same manner, so does the loft of hybrids. And much the same way, you get multiple loft angle options. 3-hybrid, 4-hybrid, and 5-hybrid – all have different lofts, which means each one offers a different carry distance.
As in the case of irons, a 3-iron produces more distance in comparison to a 4-iron, and 4-iron farther than 5-iron. So even hybrids work like that. Generally, the loft angle range of hybrids is between 19 degrees and 26 degrees, thus they're so much easier to hit/control/launch than woods from the fairway and rough.
At this point, you also have to think about what your priorities are. Meaning if you want to focus more on distance and distance alone, then go for a lower loft angle. Because a higher loft will launch the ball higher and more easily but won't give you too much carry distance.
Now let's talk about loft spacing. Your hybrid or hybrids are going to be replacing those difficult-to-hit long irons, correct? So in case you're swapping out your 3-iron from brand A, then pick a 3-hybrid from the same brand.
But then what if you want to purchase from another manufacturer? If that's happening, then the loft of the hybrid replacing your long iron should NOT be the same as any other iron of your set. There should be at least a 10-yard difference in distance from one golf club in your bag to the next.
4. Center of Gravity (CG) – Ease of Hitting
Just imagine swinging a bulky golf club fitted with a larger head. That's sure to mess with your entire swing if you're already a slow-swing and less experienced or skilled player.
Now, this has a lot to do with the center of gravity of your golf club. A larger clubhead combined with a lower CG placement equals producing more consistent swings. As a matter of fact, it also keeps your shots from slicing, which is great news for high handicappers.
The Center of gravity directly affects factors such as forgiveness, speed, launch, and spin. In some clubs, you can actually adjust/displace this CG weight. A lower center of gravity, in most scenarios, is the most suitable for beginners and high handicappers simply because it pushes the golf ball higher with less spin. Hence, straighter shots and you hit better.
5. Adjustability
Customization of the loft and lie angles is as much a part of hybrids as it is of drivers. But then these types of adjustable golf clubs cost more.
So you decide if, because of this adjustability, being able to hit precise, tight shots more easily is worth the extra cost or not. Although most beginners and high handicappers could use adjustable features for improving their swing and making their game easier.
6. Cost
Most golfers prefer spending more money on clubs like their driver, irons, wedges, and putter, not so much on hybrids. Just a few hundred dollars then!
But then hybrids, since they're only now being subjected to advanced, modern technologies for hitting solid shots and improving your game, are becoming more and more expensive to buy. Although there are affordable or inexpensive options too, they may be rare. And if not that, then things like quality, performance, adjustability, etc. are slightly compromised.
At such times then, you can choose between a brand new hybrid or a used one. The latter, needless to say, costs less. And obviously, the downside to buying a used hybrid is that it doesn't feature the latest, most advanced technology. But then it's a great way to spend less, so you end up not exceeding your budget.
Which and How Many Hybrids Should High Handicappers Carry?
High-handicap golfers can actually replace the driver with a hybrid since the second one simply just glides through long grass. Hybrids are also perfect for reaching greens from a longer distance.
But then, more often than not, high handicappers use hybrids to swap out their long irons, not fairway woods. Because hybrids very neatly settle into the gap between woods and irons.
So here's the most beneficial hybrid / fairway wood setup for a high handicapper…
5-wood
3-hybrid (20-degree loft)
4-hybrid (23-degree loft)
5-hybrid (26-degree loft)
Here's another way to look at it. If your set consists of 2-iron, 3-iron, and 4-iron, then swap them out and keep the 5-iron, 6-iron, and 7-iron.
Now it goes without saying that YOUR setup depends on YOUR confidence levels and personal preferences. If hitting your 5-iron, 6-iron, or 7-iron is a struggle, meaning if you can't hit any of them consistently, replace with hybrid. Simple solution indeed.
Why Are Hybrids Easier and Long Irons Difficult to Hit?
How do golf hybrids work? If you look closely at a hybrid, you'll instantly notice that it has some additional mass at the back of the face. And this makes the clubface thinner, as is the case with fairway woods.
Now, since the weight of the club has been redistributed into the sole, more weight is placed behind and under the golf ball at impact. Consequently, you get the ball airborne much more easily.
Now let's talk about the structure of long irons. These are thin with a very flat clubface. And that requires YOU to get the golf ball up in the air, with no assistance from the club of course because of the flat face. Enter the hybrid to solve this problem!
On top of that, there's the lightweight graphite shaft for promoting faster swing and clubhead speed. Another prerequisite for lifting the ball off the turf using a lower loft!
Long irons, on the contrary, demand a higher clubhead speed for getting the golf ball airborne, thus they're more suitable for mid-handicap and low-handicap players that seem to have the much-needed confidence of hitting down on that ball rather than struggling to lift it off the ground and into the air.
Which Hybrid Is the Easiest to Hit?
The easiest hybrid and golf club to hit is 3-hybrid. This particular club's center of gravity is positioned farther behind its face, so you can produce the most optimal launch and trajectory the most effortlessly (pretty much the same as when you hit 3-iron).
What Are the Differences Between Hybrid and Driving Iron?
The whole charisma of the best driving irons is that they work like golf irons that higher-swing golfers love and prefer to play over traditional, lower-lofted irons. But hybrids work in a way that generates a higher launch with greater spin in comparison to driving irons, and hybrids are more forgiving too. Therefore, perfect for beginners and high handicappers.
What Are the Differences Between Hybrid and Fairway Wood?
Both have a similar loft. Even then, why don't they produce the same type of ball flight? That's because hybrids have a smaller head for a more penetrating but lower flight than woods.
Also, hybrids feature a narrower sole, so you can hit more solid shots, irrespective of the lie. In short, a hybrid is a more versatile golf club even though it has the same loft as that of a fairway wood.
Enough Said, Time to Make A Decision!
Having the right set of golf clubs in your bag is of the utmost importance. But then "right" here means what is right FOR YOU. That said, almost every beginner and/or high handicapper benefits quite a lot from forgiving, easier-to-hit hybrids. After all, they do make you a better player.
Hybrids, on the whole, inspire confidence. Their lightweight graphite, more flexible shafts allow you to swing more easily and comfortably, despite your under-average swing speed.
So feel free to experiment with different hybrid profiles and shapes to ultimately find one with which you can hit the most solid shots with a higher trajectory.