Let's start by talking about your golf driver – this particular club is used not even 14 times throughout your round of golf. On the other hand, your irons are used on each hole (more than just once sometimes).
Now let's move on to talking about how not all golf irons are created or manufactured in the same manner. So there are two different types of construction – one is forged and the other is cast.
The gap that separates the two has drastically reduced over the years than what it used to be in the past. Meaning there were more differences between forged and cast irons back then. Irrespective of that, differences still do exist between forged vs. cast irons.
Time to get to know your golf irons better so you can make a more well-informed decision when it comes to selecting a set or even individual irons that are more suited to your style of play!
What About Wedges, Forged or Cast?
Many golfers, especially low-handicap players, prefer carrying forged clubs in general. And this extends to golf wedges too. But then the cast design is not the inferior choice in any way. With wedge construction, every type of wedge gives you the required bounce, spin, and feel for hitting a wide range of shots.
Nevertheless, cavity-back or cast wedges seem like the more popular option among average-skilled golfers since they improve short-game performance by making the overall wedge game easier.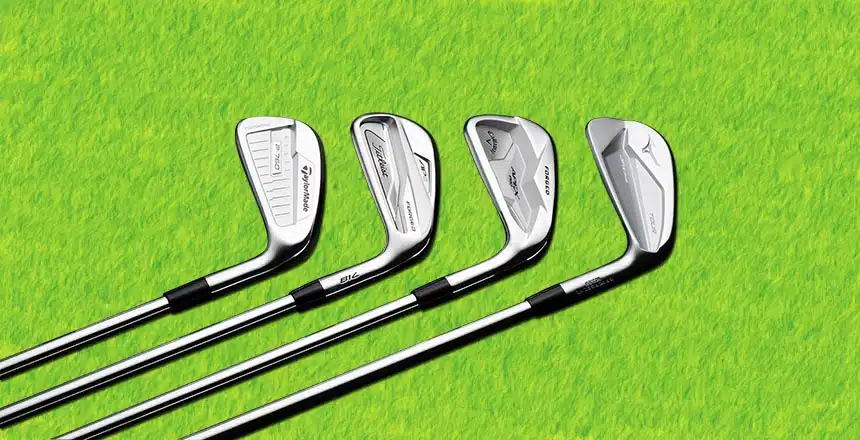 What Does It Mean?
Forged irons or players' irons have a more traditional design since they have been around for the longest time. In fact, forged is better than cast in multiple ways. But first, let me talk about how these irons are manufactured.
A solid metal piece is used for creating forged irons, and you'll see how this differs from cast when I talk about that later. Now, this solid piece of metal is then stamped to form the required, correct shape and loft. For example, Mizuno does Grain Flow forging so the metal grains continuously flow from the club's heel to its toe.
What forging, in general, does is enhances consistency from one golf iron to another for more desirable distance control while also delivering a pure vibrational feel at the time of impact (better clubhead feel).
Then it only makes sense that forged irons are more expensive since the process of forging itself is quite extravagant and complicated.
Who Should Use Forged?
The feel factor here with the forged design is better indeed, right? In that context, forged irons in golf are more suited for skilled/experienced players. When you're a better golfer, you automatically are more inclined toward buying forged irons. So that would also mean forged irons work in the favor of low and mid handicappers.
Personally, I like to play my game using feel, not so much pure power. That's why forged irons are better for me too. Even those wanting to hit draws and fades prefer doing so with the forged construction.
What Are the Benefits of Playing Forged Irons?
Once again, the amazing feel plus solid, traditional feedback of forged irons is the greatest advantage. And why is that is because the metal used for construction is actually softer steel with more carbon. That's how you get a higher level of workability from forged, also thanks to the packed-in grains for the same.
Forged irons usually have a muscle-back or blade construction. They are compact-sized with sleek lines. And since softer steel is used because of the forging process, the clubhead bends easily and it also becomes easier to adjust the loft and lie angles. You know what this means, right? That forged irons are perfect for you if you want to buy a custom-fit iron set.
Ultimately, it's the feedback, responsiveness, and feel that speak the loudest with forged irons. And the fact that they hand over exceptional ball control because of their more compact, smaller head size.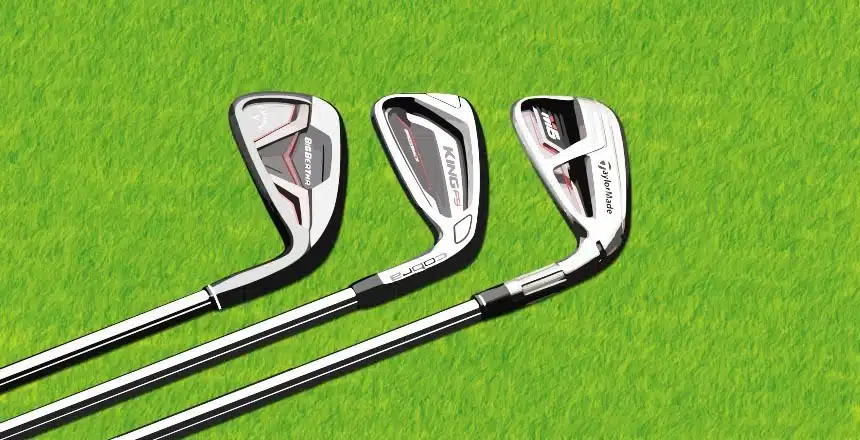 What Does It Mean?
The manufacturing process of cast golf irons involves pouring molten metal into a pre-formed mold. Forged uses solid metal, not liquid. Now you see the difference?
And the reason why cast irons are made this way is that the whole molten metal being poured into mold allows the manufacturers to incorporate additional components, such as cavities and perimeter weighting. After all, molten metal is pliable, which suggests you can pour it quite easily into different shapes of molds.
Well, of course, cavity-back irons (these are cast indeed) are a more recent innovation than their more traditional forged sibling. And there's just no debating which type has a more forgiving effect on your iron shots – that would be cast for sure!
Game improvement iron is what cast iron is more popularly known as. And if you were to figure out how so many high-handicap golfers have acquired a mid-handicap, you'll soon come to understand that it was because of cast irons.
Compared to the forging process, designing cast irons is both cheaper and easier. Hence, the more affordable price tag of these types of golf irons.
Who Should Use Cast?
That would be high handicappers, beginners (both male and female), seniors, and, to a certain extent, even mid handicappers. Since cast irons are so forgiving, those with weaker skills (slow swing speed, high handicap, etc.) benefit the most.
What Are the Benefits of Playing Cast Irons?
When your iron set consists of cast irons, look forward to some serious game improvement. These cavity-back golf clubs feature perimeter weighting – more forgiveness and accuracy on off-center shots.
Furthermore, cast irons also feature wider soles. That means greater mass is very thoughtfully positioned low, hence lower, deeper center of gravity (CG). And all of this gives you the most effortless higher launch and longer carry distance.
Also, you have no idea how many times I've relied on this wider sole myself for allowing my golf club to just slide smoothly through turf on those cringe-worthy fat shots.
The beauty of cast irons when they're being manufactured is that the shape and design can vary quite massively for the sake of boosting performance. So you can hit your shots from just about anywhere with a higher ball speed that generates more launch and distance. No matter the turf you know.
Forged Irons versus Cast Irons – Differences You Need to Know
So how do you decide which type is more suitable for distance control, durability, feel, low/high handicap, etc.? One thing's for certain is that forged irons are the best for feel and distance control while the cast variety performs better when it comes to long-term durability and boosting distance.
Now let's talk about all of this in a little bit of detail below.
1. Feel
Generally, you get a better feel/feedback during impact with forged irons. But that doesn't take away anything from cast irons, which also offer a great feel. Feel, after all, comes more from the club shape (more compact size in the case of forged) and also from weight arrangement (forged construction has a less dispersed placement).
2. Distance
Unlike popular opinion, the manufacturing process of golf irons (forged or cast) bears no relation to how much distance the golf ball travels. But a forged construction does have a weaker loft in comparison to the cast counterpart. So if you take a 6-iron (forged), you'll see that its loft is the same as that of a 5-iron (cast). Likewise, a cast iron with a loft of 40 degrees, for instance, produces an identical distance as a forged iron also lofted 40 degrees.
3. Distance Control
Much in the same manner, the manufacturing process does not have any direct influence on launch/impact (be it cast or forged). Not unless there's a clubface that springs at the time of impact. The unfavorable springing effect mostly occurs in the case of cast irons – the casting process consists of tiny air bubbles that might cause the clubface to spring.
But with forged, the grains of the metal are more firmly bound, more packed-in. Therefore, much better distance control.
However, these differences do not matter so much since they're only minor. Also, what's the point when you're missing the center on that forged iron! By default then, there will be more inconsistent distance control than when you meet the center on a cast iron.
You are dealing with game improvement irons vs players' irons. Game improvement or cast irons are equipped with perimeter weighting and a wider sole. Both of which are responsible for making these golf clubs very, very forgiving on mis-hits. And that means easier, higher launch and longer distances.
4. Forgiveness
On the other hand, players' irons or forged irons prioritize feel and distance control more than they provide impunity to your off-center strikes.
5. Durability
Which type is more expensive? Because whichever one that is, it's also the more durable. Nope, that's not the case here. Forged irons may be more expensive because of the complicated forging process they have to go through. BUT then they're made using 'softer' metal, hence more prone to rusting and getting all dinged up.
Even discoloration happens faster and more noticeably with forged irons than cast. However, don't mistake that for the grooves of forged irons wearing out. They are still pretty wear-resistant and worth your money when maintained well; it's just that in comparison to cast irons, forged is slightly weaker in the department of shelf life.
6. Launch/Spin/Trajectory
It's the weight placement, groove depth, and loft angle of a golf iron that affects factors like launch, spin, and trajectory. So no matter what they say, whether your irons are forged or cast, it doesn't really matter in this case.
1. Callaway Golf 2020 Mavrik Iron Set
I always have something really amazing to say about Callaway, all the time. Probably because it's my own personal favorite. And also because Callaway has a way of bringing to all types of golfers, even those new to the game, the best of the lot.
In this case, the brand gives you the best of both worlds – a highly forgiving cast or cavity-back construction with Artificial Intelligence and urethane microspheres that combine to produce a forged-iron-like feel and sound. These microspheres, quite surprisingly, absorb vibrations while also holding the forgiveness-enhancing tungsten weights in place.
Mavrik irons are one of the most recent releases by Callaway for mid-handicap and high-handicap golfers. In comparison to their predecessor, Rogue irons, Mavrik offers a way better feel, along with exceptional ball speed of course that comes right off that A.I.-designed clubface (360 Face Cup).
2. TaylorMade SIM MAX Irons
Cavity-backs are great for forgiveness and distance but not so much for feel, feedback, and sound. So mainly for that, more skilled players choose the forged or blade construction, right? But what if I told you that TaylorMade SIM MAX is the closest a cast or cavity-back iron can come to behaving like its forged counterpart, in some ways?
With a brand like TaylorMade, worrying about ball speed as well as forgiveness makes no sense at all because the brand, above everything else, prioritizes those very factors. And what they've also done with SIM MAX is added a nice feel to it. It's not uncommon for many to mistake SIM MAX as a forged model, maybe that's why it's such a popular choice.
So who are TaylorMade SIM MAX irons made for anyway? Because of its ECHO vibration dampener and larger sweet spot, the irons are geared toward enhancing the playability of average golfers.
And let's not forget about all of the brand's most phenomenal technologies. Namely, Speed Bridge, Speed Pocket, and Progressive Inverted Cone Technology. So that's explosive distance with tons of forgiveness – thus, ideal for beginners and high handicappers as well.
3. Cleveland Golf Launcher UHX Iron Set
The extra forgiving cavity-back design of Cleveland Launcher UHX Irons proves that these are cast, game improvement irons indeed. But are they any good? What's so great about this whole Cleveland experience is that the progression to the utility-type long irons from the cavity-back short irons is seamless.
So if you're only just new to the game of golf and how irons work, then you're bound to face zero issues. On the contrary, you can actually capitalize on scoring accuracy with the shorter irons while also "blessing" your longer shots with all the forgiveness they demand.
Cleveland Launcher UHX consists of super game improvement irons if you ask me. Perfect for a high-handicap, weekend golfer who wants nothing but his/her clubs to be extremely forgiving.
Even mid handicappers benefit a great deal from the compelling turf interaction as well as the crisp contact which has to occur in order to produce more short-iron and less long-iron spin.
Best Forged Irons In Golf
1. TaylorMade Golf P790 Iron Set
If you really don't have a problem with splurging on your golf irons, then TaylorMade P790 is just the set you've been looking for.
These are sleek-looking forged blade irons that have a lot in common with the brand's Tour Preferred MB irons – the same offset flow, hosel length, sole chamber, and sole radius. BUT with better, more efficient weight distribution and clubhead shaping.
The loft is stronger but then the forged clubhead construction and muscle-back composition make sure that all your shots feel flushed. However, the spin rate you get is low, which really shouldn't be that much of a concern with more experienced players who know how to hold the greens.
All in all, TaylorMade P790 is quite a forgiving set of forged irons that take your shots straight and high. And these dots anyone will be able to connect after getting to know the features involved here – hollow-bodied construction, SpeedFoam and Speed Pocket technologies, low-profile tungsten weighting, and Progressive Inverted Cone Technology.
2. Callaway Golf 2019 Apex Smoke Irons Set
The unparalleled forged players' distance irons, Callaway Apex Smoke is a combination of distance, feel, and also shot-making. It's the ultimate thing for better golfers in my opinion. I, for one, am in love with the whole design and even the color of Apex Smoke (it's got the brand new platinum chrome finish!).
Since the construction is forged, the feel just HAS to be great with an abundance of feedback at impact. The remarkable brand has also somehow infused the forged clubhead with urethane microspheres.
It's actually the first time a forged iron is built with these kinds of urethane microspheres that boost feel and sound without interfering/messing with distance and ball speed.
3. Wilson Staff D7 Forged Golf Iron Set
Wilson made a very wise decision when they came up with the D7 set of forged golf irons by blending Tour visual appeal with maximum forgiveness. These irons are also quite popular for the inclusion of the brand's Power Hole technology.
What this does is, and it's optimized for all the forged clubheads, increases contact time and face deflection. And that makes energy return more efficient to boost ball speed and distance. Wilson D7 is for all those golfers who appreciate forgiveness but not the offset that is often the leading force behind it.
You can achieve consistent ball speed and also consistent spin. Generous stopping power is a part of the whole Wilson D7 experience. So you get a strong ball flight with more than enough green-holding spin, even in the case of low-face or off-center strikes.
A traditional, solid feel is a must since you're dealing with forged construction here. However, be ready to feel those mis-hits too, quite unfortunately. But then mostly low-handicap, fast-swing, and more skilled players opt for forged iron, so missing the sweet spot is highly unlikely. In that case, enjoy the crisp sound as well!
FAQs About Forged/Cast Golf Irons
Are Forged Irons the Better Choice for Beginners?
If you're a beginner and/or high handicapper, then only cast irons can make those commonly hit off-center strikes disappear, in a way. Your mis-hits don't disappear per se but the effect hitting off-center has on factors like distance, ball flight, etc. certainly gets significantly minimized.
Also, forging golf irons is a difficult and expensive process that results in a better feel and feedback. And in case you didn't know, feel/feedback are crucial elements for more skilled players who don't really prioritize things like forgiveness and distance because of their faster swing speed and low handicap.
Are Forged Irons Easier or Harder to Hit?
Forged or players' irons, undoubtedly, are slightly more challenging to hit in comparison to cavity-back or cast irons. With forging, the iron is formed using a single, solid piece of steel. Thus, there's not much flexibility there for making the golf club as highly forgiving as molten-metal-poured cast iron.
So if your concern is to hit your golf irons more easily, DO NOT choose forged. Rather go for cast irons because of their more malleable construction that makes way for forgiveness technologies, lower CG, urethane microspheres, inserts, weights, etc.
Pro-level golfers, however, want nothing but forged clubs simply because the entire forging process creates highly reliable and stable grooves that do not give rise to any vibration or imbalance in the clubhead.
What Golf Handicap Are Forged Irons Suitable For?
If you've got this far, in the article I mean, then you may be able to deduct that forged irons are the best for low-handicap golfers. But then does that mean high handicappers shouldn't be using forged irons? Well, that depends.
Do you, as a high handicapper, need golf clubs that boost distance by bringing more forgiveness (mis-hit correction) into the picture? There's a reason why the easiest-to-hit golf irons are perfect for beginners. And that's probably the same reason why cast or cavity-back irons (also beginner-friendly) are better suited for high-handicap golfers.
Why Do Pros Use Forged Irons?
Now that you know what are forged irons in golf, it's easy to discern that the forged construction leads to a better feeling golf club. Naturally then, more skilled and experienced players veer toward forged irons (mostly blades or players' irons).
The concentration of weight behind the clubface center, compact size and sweet spot, etc. are more in tune with a highly proficient skill-set as well as a low handicap.
Are Vokey Wedges Forged or Cast?
These would be cast wedges, quite surprisingly because Titleist-manufactured Vokey wedges in golf are the most commonly spotted during PGA Tours.
But then how can such high-performing wedges be cast, not forged? Vokey isn't forged because you can get the golf club in plenty of different combinations of loft and grind.
And when so many different configurations are available, you can't expect the manufacturer to also make the wedges using a single piece of metal. Rather it has to be melted and then molded into different combinations.
So Cast or Forged Irons, Which is the Best Choice for You?
It may not be impossible but it's definitely very difficult to tell in a single glance whether the clubheads of the irons are forged or cast. And I'm strictly talking about those new to the game; Tour-level golfers will tell you that very easily! When the clubhead has bumps and lumps, know that it's a cast iron because that's what happens when you shift the weight around in order to make the golf club more forgiving. As for forged irons, these have a more traditional, streamlined design without any extra design elements.