The game of golf is a sport mainly classified as elite. Even athletes and sports fans, in general, appreciate the luxury of this game. And all that glamour is surely brought about by Tour-grade players and their attractive personalities such as Tiger Woods (and many more of course). And women, in this particular arena, aren't far behind either.
There are way too many LPGA players that have knocked it out of the park, in terms of performance, professionalism, and personality. These are the ones that attract and encourage more and more women to start playing golf without feeling like it's only a "man's" game.
So here's a list of the most talented, hottest female golfers in the limelight for all the expertise and charm that they bring to the game!
Top Female Golfers On Planet Earth!
1. Lexi Thompson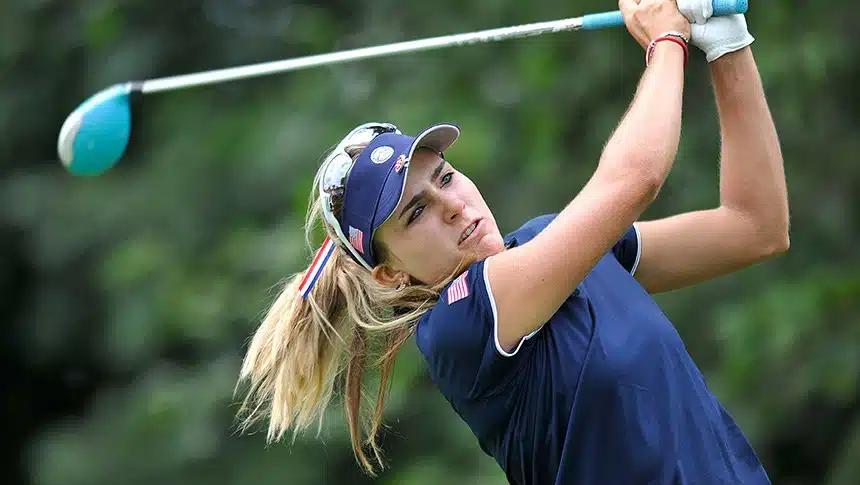 First of all, let's just acknowledge the fact that Lexi Thompson began her career as a professional golfer when she was just 15 years old. And naturally, she even won her LPGA tournament at a very young age, the youngest LPGA winner indeed.
This American personality is successful and there's no doubt about it given that she's earned more than $10 million over the long span of her career. And she certainly is the most beautiful person as well, both in appearance and disposition.
Follow Her on Instagram: lexi
2. Cheyenne Woods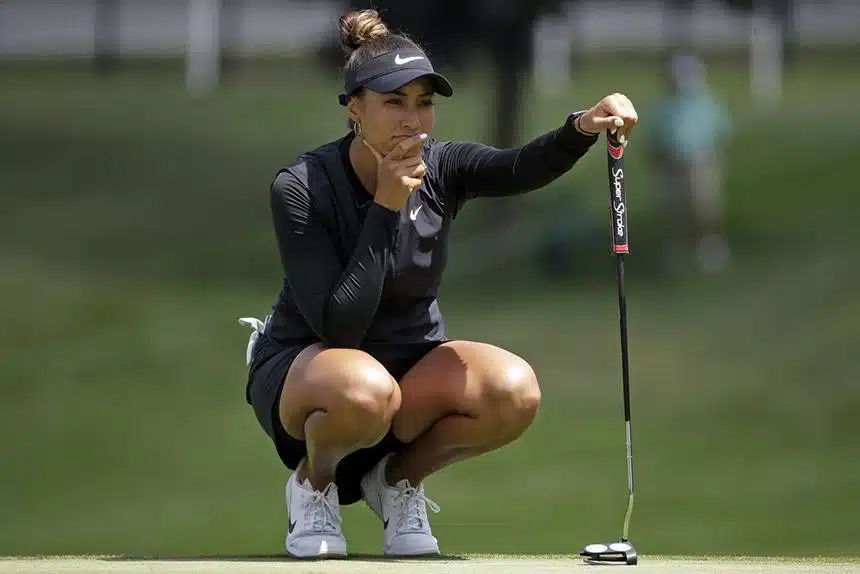 The last name 'Woods' sounds familiar, doesn't it? Tiger Woods' niece indeed, Cheyenne Woods has definitely carved out a name of her own. She won two professional tournaments in a row – Arizona 5A State Championship in 2006 and then again in 2007.
From the time she became a professional golfer, Cheyenne Woods has proved time and again that she deserves to be recognized as a female player on her journey toward nothing but more accomplishments and success.
And of course, the good looks run in the family!
Follow Her on Instagram: cheyenne_woods
3. Blair O'Neal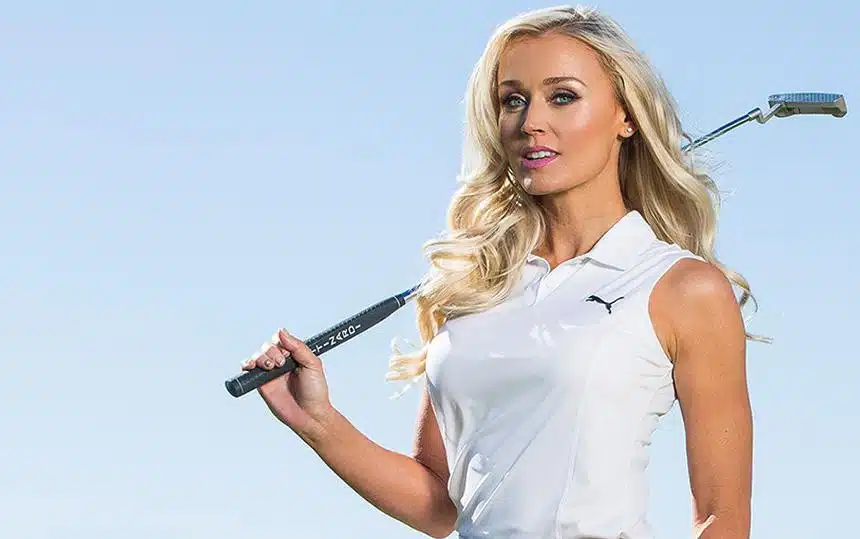 Her resume includes TV personality, professional golfer, and model. Her unassailable appeal has certainly attracted a lot of attention, which is directed toward both her golfing skills and how glamorous she looks.
Blair O'Neal has co-hosted quite a few shows, and that list includes School of Golf and Best Lessons Ever.
She started playing golf at the age of 11, so it's obvious that he junior golfing career itself was full of fame and success that got her into Arizona State University (through scholarship no less) where she played for 4 years in their golf team.
Follow Her on Instagram: blaironealgolf
4. Lily Muni He
All these wonderful women seem to have started playing golf from a very, very young age. And the Lily Muni He is no exception. At the age of just 5, she got into the game of golf and turned pro at 18. And as a professional golfer, she won the LPGA Q-Series and Prasco Charity Championship.
And how can we forget about her Nike endorsements!
Her presence on social media and dazzling photoshoots are like the cherry on the cake (the cake being her very successful participation in prestigious golfing events).
Follow Her on Instagram: lilymhe
5. Lucy Robson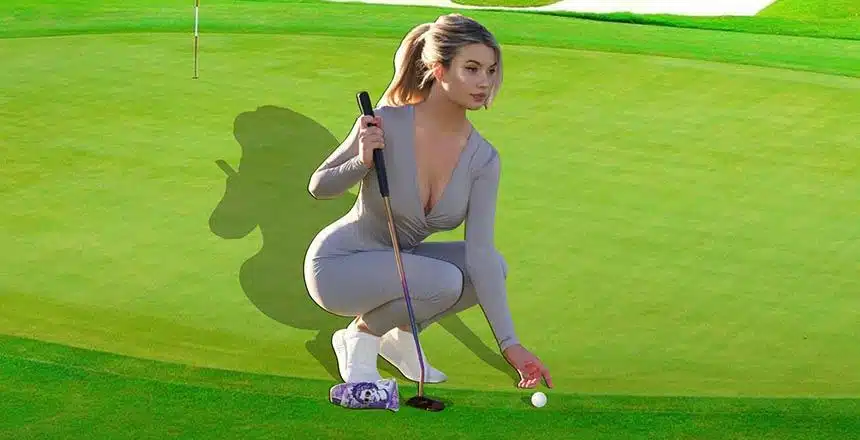 Lucy Robson, a British golfer, has amassed a huge following on her Instagram page because of her celebrity personality. Even though not a professional player, Lucy Robson played for the University of South Florida and Cal Poly Mustang.
Her aura as a golfing personality/celebrity is surely sensational because of her background of having played golf back in college, and for her stunning looks of course.
Follow Her on Instagram: lucyrobson
6. Sandra Gal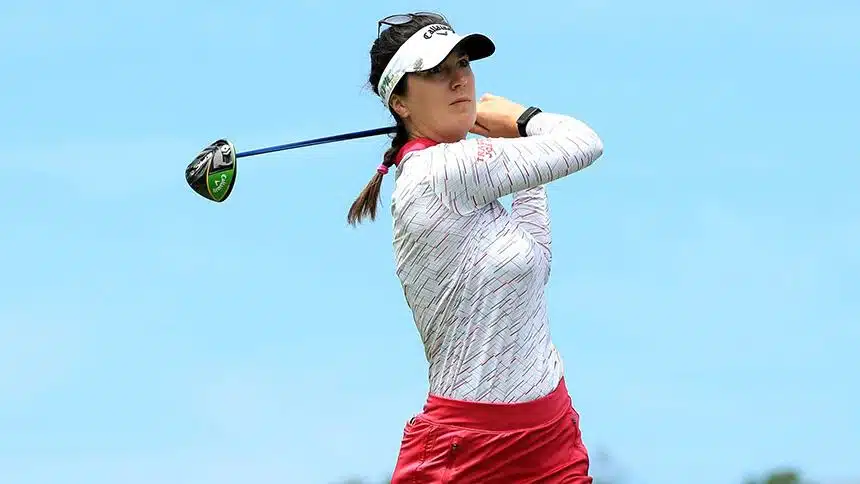 This Gal (bad joke I know!) has been an LPGA Tour player since 2008. And no doubt, this German golfer has turned quite a few heads at quite a few championships ever since. And by turning those heads, I'm referring to her having finished at a position like 3rd at a major golfing event like the U.S. Women's Open (back in 2012).
Her other noteworthy accomplishments include T19 at Evian Championship (2013), T25 at Women's British Open (also 2013), T12 at LPGA Championship (2012), and T15 at the 2011 ANA Inspiration event.
So you see how Sandra Gal's not just a charismatic personality but also a very well-deserving professional golfer who is also among the most experienced female players on that list of LPGA Tour golfers.
Follow Her on Instagram: thesandragal
7. Holly Sonders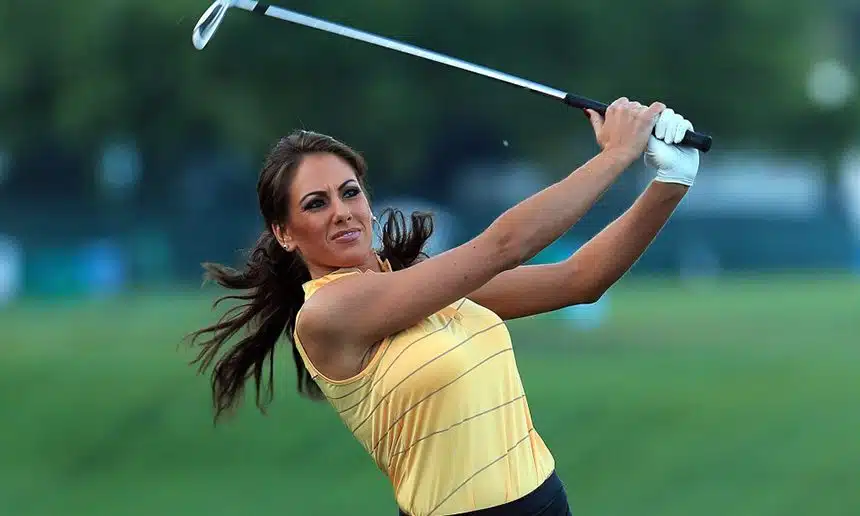 She was an athlete back in her college days and played for Michigan State University's golf team. Holly Sonders then soon got hired by Golf Channel as their TV presenter and after accomplishing that milestone, became a part of Fox Sports.
No doubt, her expertise and sensational looks certainly paved the way for success, fame, and glory.
The list of the most acclaimed female professional golfers simply just has to include Holly Sonders who, you won't believe it, won that title of Big Ten even before she graduated from college, and this was in 2007.
And over the past few years, her social media (particularly Instagram) presence has certainly attracted a massive audience.
Follow Her on Instagram: holly.sonders
8. Nelly Korda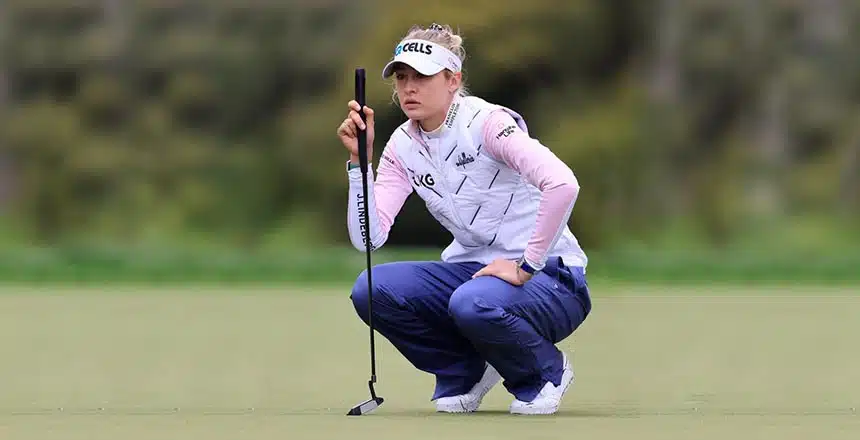 Remember Petr Korda, the Czech tennis player who bagged the Australian Open title in 1998? And before that, won the runner-up position at the French Open in 1992?
So Nelly Korda is this former professional tennis player's one of the two daughters (the other is Jessica Korda, also a very stunning LPGA Tour player). Looks like their genes scream both athleticism and stunning looks!
Nelly Korda participated in the Junior championships and turn pro on the 2016 Symetra Tour. With 6 LPGA wins, 1 Symetra Tour win, and 1 Ladies European Tour win, this American professional golfer is sure to see her career graph rise only higher and higher in the coming years. After all, she is just 23 years old!
Follow Her on Instagram: nellykorda
9. Paige Spiranac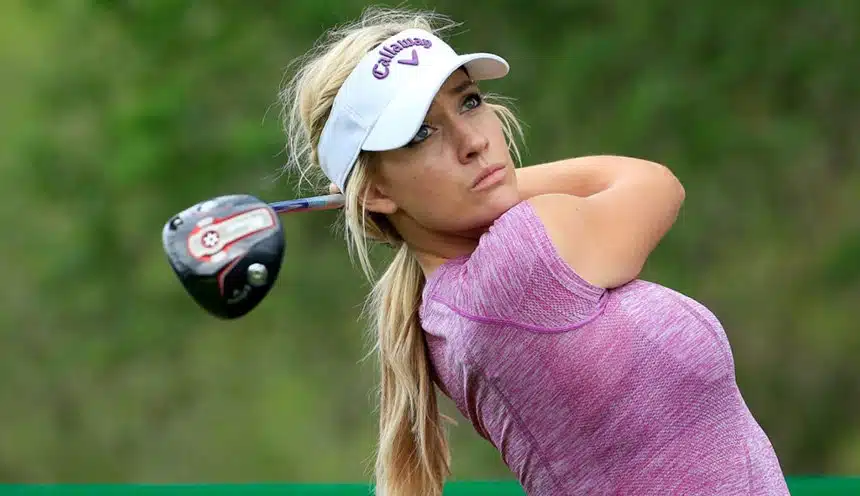 She's smart, athletic, and a truly charming media influencer/personality. Paige Spiranac has been a part of the golfing arena since 2015. Her talent as a professional female player in golf is only progressing higher, and not the other way around for sure.
Very few golfers, let alone women golfers advocate for social causes. So it's such a surprise to know that Paige Spiranac promotes the anti-bullying campaign that is a part of The Cybersmile Foundation (she's the very ambassador of this particular organization!).
Follow Her on Instagram: paige.renee
10. Jessica Korda
Apart from the seriously stunning and athletic genes that run in the family (daughter of famous tennis player Petr Korda and sister of LPGA player Nelly Korda), Jessica Korda's own professional career as an LPGA Tour golfer has achieved great heights.
She has bagged as many as 5 professional titles, and she's only just 25 years old!
11. Brooke Henderson
When the standard shaft length of women's drivers has been 43 inches to 45 inches, Brooke Henderson has been using a 48-inch length her whole LPGA Tour career. That is why she's known for choking down on her golf clubs. And for her aggressive power and style!
Brooke Henderson, 10-time LPGA winner, is a professional golfer indeed (she's Canadian). She was the youngest winner, at 18, of the KPMG Women's PGA Championship.
12. Michelle Wie West
LPGA Superstar Michelle Wie West, an American professional female golfer, qualified for the USGA amateur championship when she was only 10 years old. The same, meaning also the youngest, for when qualifying for LPGA Tour!
Certainly among the most influential women golfers, here's Michelle Wie West (with her decade-long expertise and gorgeous avatar) on Callaway Live!
13. Natalie Gulbis
Another LPGA Tour player indeed, Natalie Gulbis, a Californian-based golfer, has been into tournaments (winning tournaments I should say) ever since she was 7 years old. She actually played golf with boys during her high school years! No doubt, a fantastic player!
What also marked her presence in the world of golf was the number of times she appeared on popular American reality TV shows. And also when she appeared on the Sports Illustrated Swimsuit Issue magazine in 2012.
14. Paula Creamer
Winning 10 professional titles in golf is no joke! And that's Paula Creamer!
At the Evian Championship in 2014, she finished 7th. At the Women's British Open in 2012, she finished T3. As the LPGA Championship in 2005, she finished T3. At the 2013 ANA Inspiration, she finished T13. And in 2010, first place at U.S. Women's Open!
One of the most accomplished female players of all time. One of the highest-earning women athletes too! Several endorsements have also been obtained by her. All thanks to her great triumphs and attractive presence and personality.
15. Sharmila Nicollet
A professional golfer and swimmer, Sharmila Nicollet (part-Indian, part-French) is another very popular personality.
Because of multiple reasons – playing golf from the age of 11, winning her very first tournament at the age of 15, acquiring over 70 medals as a professional swimmer, and her impressive fitness regime that contributes to her stunning, athletic physique.
16. Belen Mozo
Our first female Spanish LPGA Tour player on the list, Belen Mozo joined the professional league in 2011. And during these actual golfing years of her life, she earned over a million dollars!
And her Instagram feed is all about golf swings and bikini shots!
17. Anna Rawson
When you're Australian and into sports, there's no denying that you look like a model, be it female or male. And that's exactly what Anna Rawson looks like and also is. She appears not just on the golf course and LPGA Tour events, but also magazine covers and advertisements.
A TV presenter too, Anna Rawson has bagged multiple wins, Jack Newton International Junior Classic being one of them.
18. Maria Verchenova
She became the first Russian woman to compete in the 2016 Olympics and also in the European Ladies Tour. She's the first Russian full-time member of the latter. And at the Rio Olympics, she actually set a 62 course record.
Now let's see the level of play she unpacks this new year with her well-deserved qualifications and model-like tall and golfer-like athletic physique!
19. Beatriz Recari Eransus
This Spanish golfer has won the 2005 French Amateur Championship and two other major championships in 2004 (European Team Championship and Spanish Amateur Championship).
Her golf swing instructions on Instagram are surely worth admiring, and so are her remarkable talent and incredibly striking good looks.
20. Sidney Michaels
Californian babe Sidney Michaels established her roots in the game of golf from the year 2010 onwards. She actually played golf back in college (University of California).
And in her professional career, she made quite a huge sum of money during the LPGA Futures Tour (2011). And just a year later, that is in 2012, she advanced into a full-time LPGA Tour member.
21. Kathleen Ekey
Kathleen Ekey has no use for petite-sized ladies golf clubs, her overall tall physique is surely a memorable sight. And so is her professional gameplay style as an LPGA Tour player.
She turned pro in 2009, and this is when she became a part of the Futures Tour. And finished in the top position of their money list – Tour Player of the Year indeed!
Also, this American golfer (married by the way) has the most beautiful smile!
22. Courtney Harter
Symetra Tour player and model Courtney Harter was born in Florida where she started golfing at the age of 10. She has played on not just the LPGA Symetra Tour but also the Ladies European Tour.
Her exceptional looks and fit physique are the results of all the hard work she puts into exercising and doing yoga. And of course, also being a sports fanatic!
Conclusion
Every sport, fortunately or unfortunately (depends on how you see it), has its own sexiest men and women. To be honest, it's not just a woman thing because there are The Hottest Men In Golf as well.
The whole sport of golf is quite a privileged one. But even though it's not as popular and widespread as, for instance, football, there are many celebrity-like personalities featuring on magazine covers and in advertisements. And these are not just good-looking golfers but also remarkably talented players.
And since when is being both smart and charming-looking a bad thing! One aspires to look and feel fit, healthy, and attractive only when these kinds of real-life examples motivate you to do so!