There's one thing you must always think about whenever you head to the golf course – what to wear. And no, this isn't because the golf course is a fashion runway. This is because most golf courses worldwide have some sort of dress code that all guests and players need to follow.
So, before you head to the golf course for the first time, you have to make sure that you wear the right clothes. If not, you might be refused entry, especially in some of the fancier clubs with more strict rules.
Figuring out what to wear on the golf course can be hard. It's important to find the right balance between comfort, function, style, and adherence to the rules.
And to help you out, we've made this comprehensive guide to golf course dress codes, why they exist, and some of the most common rules present on golf courses.
Read on to learn more.
What Is the Golf Dress Code?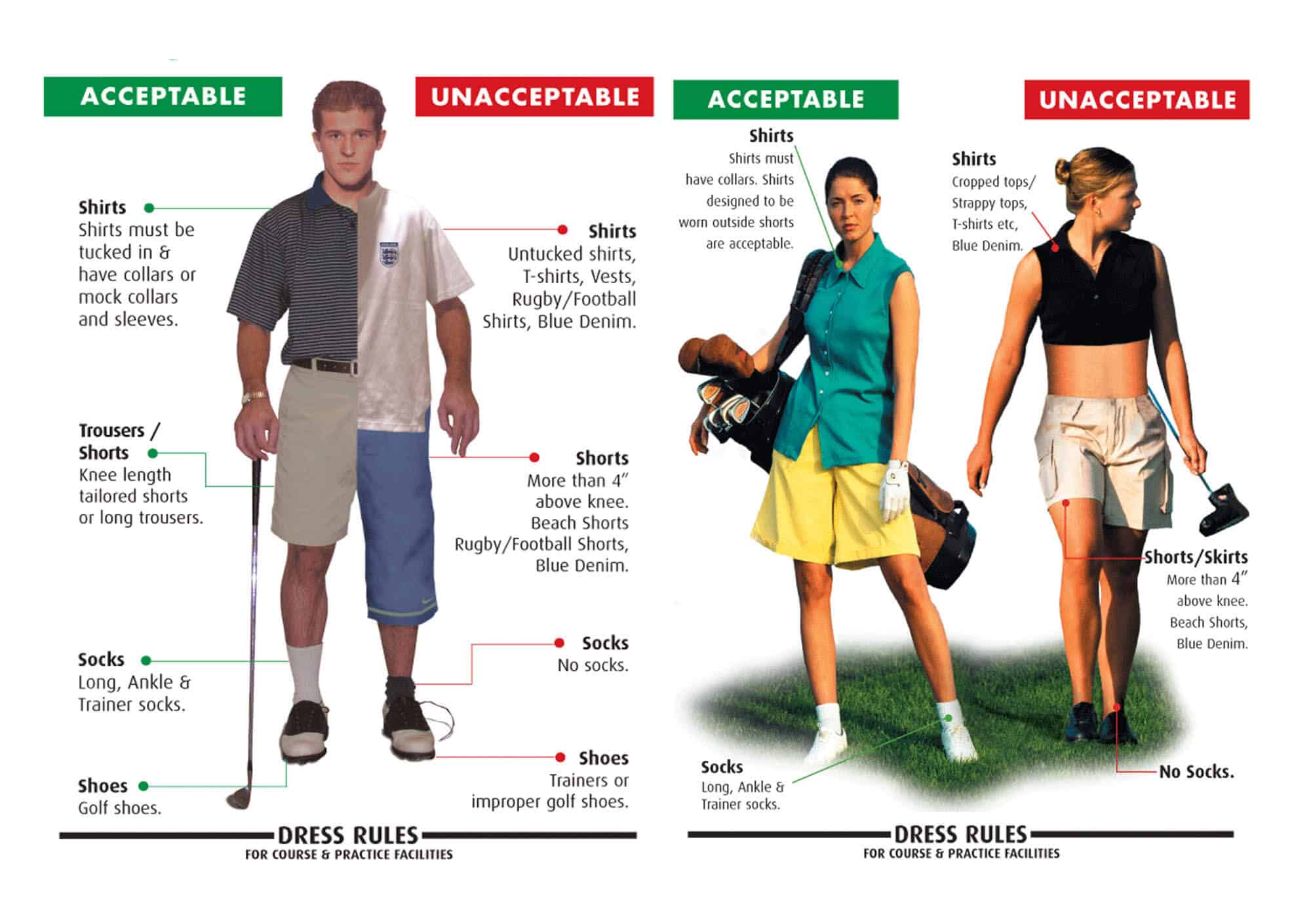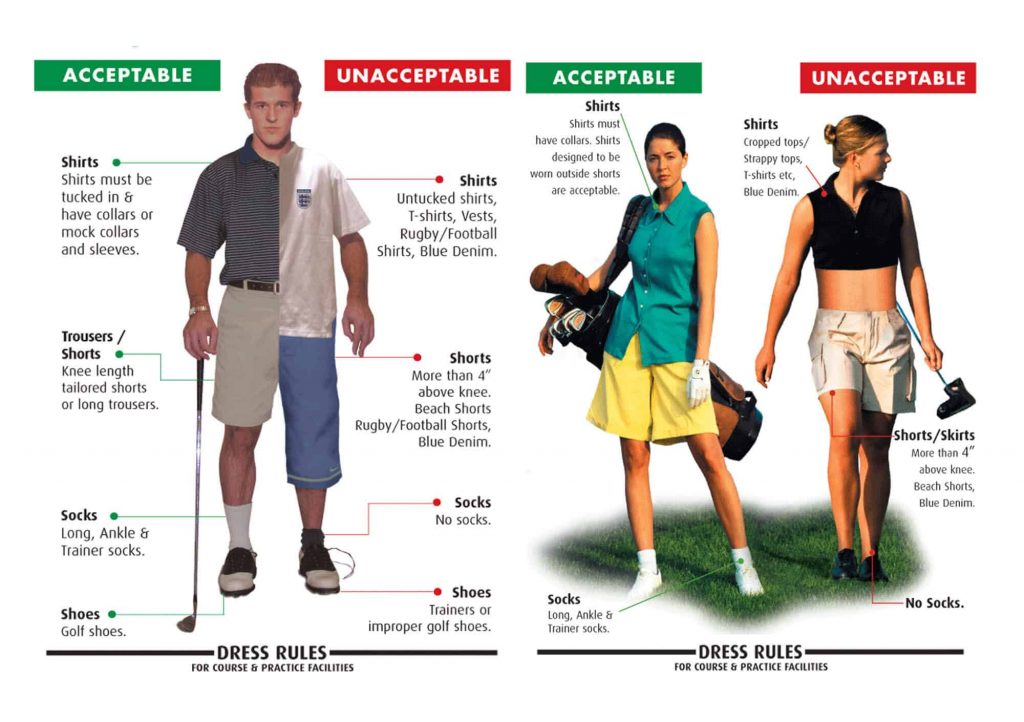 The golf dress code is basically a set of rules that relate to what you have to wear on the course. For example, some courses require guests and players to be in slacks, a polo shirt, and specific golf shoes on their course. On the other hand, there are some courses that will allow shorts for men and skirts, shorts, and dresses for women.
Most golf courses have a dress code. That said, there isn't a standard dress code for all golf courses. Every course may have its own rules. And while some only have dress codes for players, others have dress codes for everyone on the course.
For example, if you plan to watch a Masters Tournament at the famed Augusta National Course, then you need to follow their dress code, or you won't be allowed entry.
While some golf courses may have outdated clothing regulations, it's important to follow them if you want to play. In most cases, if you aren't compliant with the dress code, you'll either have to buy clothes at the club (which can be expensive) or go back home and change.
Do All Golf Courses Have Dress Codes?
Every golf course has its own dress code. Additionally, different tournaments and competitions may also have their own rules. For example, here's a look at the PGA Golf Management Tournament rules and regulations on clothing.
While this might seem austere, these are the rules of the tournament that all players need to follow. In fact, even your local municipal golf course may have a dress code that you need to follow if you want to enter the course.
Some courses won't mind female players wearing sleeveless tops, shorter skirts, shorts, or golf dresses. However, other courses require all players to be in polo-style shirts, crewnecks, or turtlenecks with adequate sleeves.
Most of the time, the dress code can vary based on the climate. For example, hotter areas will generally allow for players to wear shorts and lighter shirts on the course. However, it's best practice to never assume the dress code at the golf course.
If you're unsure about the things that are and aren't allowed on the course, don't hesitate to give them a call. Most courses are happy to let guests know about their dress code as it shows the establishment that the guest respects the rules.
Additionally, this ensures that you won't end up going to the golf course wearing the wrong outfit.
Why Do Golf Courses Have Dress Codes?
Golf is a very old sport with a lot of traditions and a rich history. And a big part of this tradition is wearing presentable and neat clothes on the golf course and having proper etiquette.
This is to ensure that the deep traditions ingrained in golf are kept alive and to instill a sense of professionalism and respectability in the sport.
That said, there are definitely some rules that people consider outdated. And while many people don't believe in dress codes for golf anymore, it doesn't seem like this is going anywhere. So, if you want to play golf, it's best to stick to the dress code.
What Are the Clothing Rules for Golf?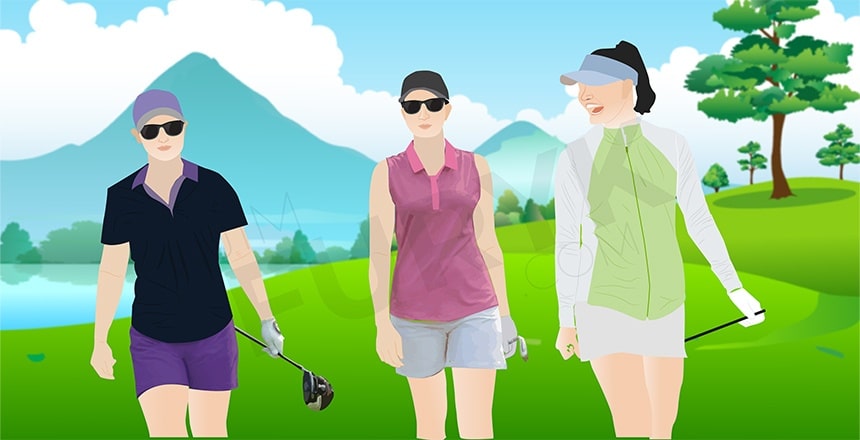 Aside from every golf course having its unique dress code, there are different rules for male and female golf attire. So, it can be hard to figure out what to wear when playing golf, which is why it's very important to call the course beforehand and ask about their dress code.
That said, there are some general guidelines that many golf courses follow in terms of dress codes.
For tops, most courses will require a collared shirt, polo shirt, or a turtleneck when on the course. Some courses in warmer climates will allow sleeveless tops for women, but this can vary from course to course. So, the safest top option would be a nice polo t-shirt that's light and comfortable.
For bottoms, the rules can vary greatly. Some courses allow slacks and shorts for men and slacks, shorts, skirts, and dresses for women. However, there are a fair amount of golf courses out there that only allow players to wear slacks or khakis on the course and won't allow them to wear anything else.
A great rule of thumb to follow would be that golf clothing needs to look professional and respectable. Again, it's best to call the golf course beforehand, but if you weren't able to do that, try to find the balance between comfortable and professional when choosing an outfit to wear on the golf course.
What Shoes Should I Wear for Golf?
When it comes to footwear, most golf clubs and courses require that you wear golf shoes. Additionally, they also require soft spikes on the shoes. This means if you have golf shoes with metal spikes, then you won't be allowed on the grass as the metal spikes can damage the ground.
There are many golf shoes on the market with soft spikes. Top sporting brands like Adidas and Nike have a pretty good collection, but many other brands can offer high-quality golf shoes that are comfortable, stylish, and adhere to most course dress codes.
What Should You Not Wear on the Golf Course?
A great way to gauge if your outfit is appropriate for the golf course is to ask yourself if anything you're wearing is inappropriate. If there is a piece of clothing that you feel isn't appropriate, or you won't feel comfortable wearing it on the course, then it's probably a good idea to avoid wearing it.
Some general rules include that sleeveless shirt, halter tops, and similar tops aren't allowed on the course. While many courses allow shorts and skirts, some require the clothing to reach the knee or not be too high above the knee.
If you wear shorts and skirts too short on the course, you might not be allowed on, which goes for men and women.
With that in mind, you also won't be allowed to wear denim pants or sweatpants on the course. This also means that you won't be able to wear a leather or denim jacket as well, so if it's a cold day, we recommend wearing a sweater and burning a cardigan instead.
Why Is the Golf Course Dress Code So Strict?
Golf is a very old sport. And part of its history is an etiquette that all golfers have to follow on the course. Some of these are unspoken rules, such as not being too loud or chatty, while others are taking their shot and not acting rude on the course.
However, some are a bit more concrete, like the different dress codes of various courses.
Many golf courses implement a dress code simply because it's expected of a high-quality course nowadays. In fact, there's a high chance that if you call up your municipal golf course, they will also have a dress code, though it might not be as strict as the ones of other golfing clubs.
Golf dress codes have been a part of the sport for many decades and will remain a part of it for a long time coming. So, while it may be annoying to have to call the course and make sure that you're following the dress code, it's all a part of the experience of heading to the golf course for 18 holes of fun.