To most weekend golfers becoming a 'Scratch Golfer' is a dream. To these golfers, it represents that they are at the top of the amateur game and have achieved a very high level of competency with their golf.
Much like the aspiration of being called a black belt in a martial art, it has a significant level of prestige and status. 
However, what is a scratch golfer, how many are there, and how do you become one. In this article, we will aim to answer all these important questions.
Keep reading to check if your understanding of what is a scratch golfer and if it matches the USGA definition. 
What Handicap Is A Scratch Golfer?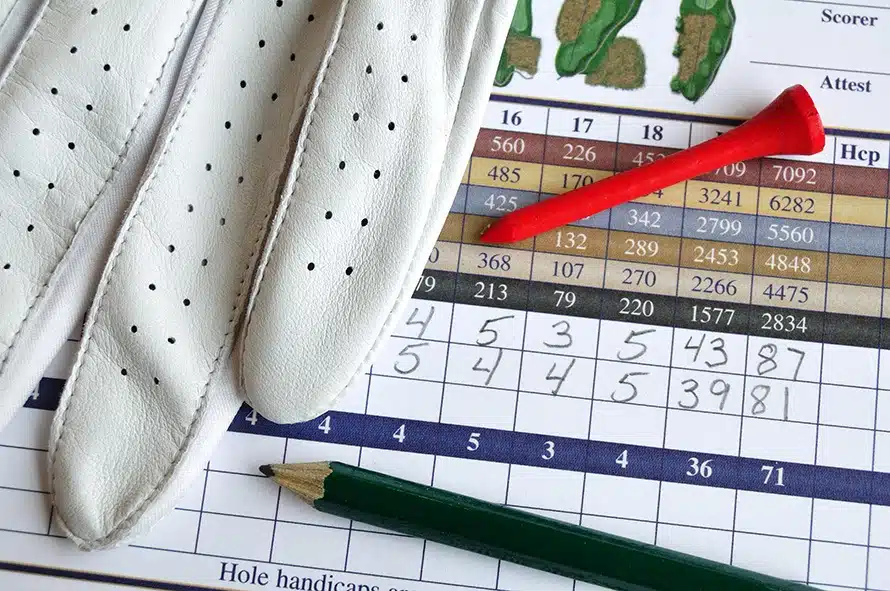 To the majority of golfers, the term scratch golfer refers to your handicap index. A scratch golfer is a player with a handicap of zero. They can play any golf course and generally shoot to level par.
The handicap is the way golf officials measure a player's ability to score around a golf course. If you are a zero handicap (or scratch golfer), you should shoot a score to level par around the golf course.
For example, Pebble Beach is a par 72, which means a scratch golfer would be expected to take 72 strokes to complete their round. 
If you are a newer golfer, you might have a higher handicap and take more shots to complete our round of golf. 
USGA rules have an upper limit of 36 handicap for men, and a handicap of 40 for women. So, with these handicaps, they would be expected to score 36 over par, or 40 extra shots over par for the female golfer.
The more you practice over time, and the more competent you get at the game, the lower your handicap will reduce. Eventually, you too might become a scratch golfer. 
It is worth noting that the handicap system doesn't stop at zero, it also goes below zero. In this case a golfer is so good they need to add shots onto their round to make it fair for the other players.
When Sergio Garcia turned professional his handicap was +7, that is seven shots below scratch!
What Is The USGA Definition Of A Scratch Golfer?
We've explained our definition of a scratch golfer but what's the official line? The USGA Definition of a Scratch Golfer is as follows:
A player who can play to a Course Handicap of zero on any and all rated golf courses. A male scratch golfer, for rating purposes, can hit tee shots an average of 250 yards and can reach a 470-yard hole in two shots at sea level. A female scratch golfer, for rating purposes, can hit tee shots an average of 210 yards and can reach a 400-yard hole in two shots at sea level.
Therefore, you will see that there are specific criteria in achieving the status of a Scratch golfer, but how do you become a scratch golfer? Keep reading and we will give you our top tips.
How Do You Become A Scratch Golfer?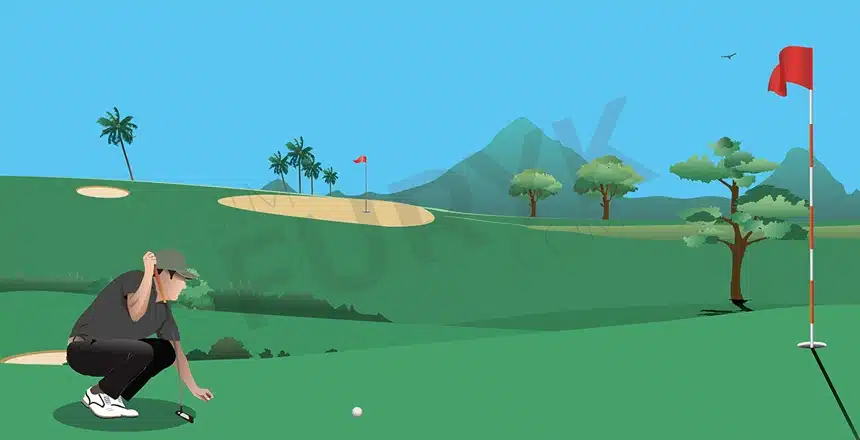 In our experience we have five top tips to get down to a scratch handicap:
Natural Ability. Whether we like it or not, to be a top performer in any type of sport you will need a level of natural ability. This doesn't mean you need to be the next Rory McIlroy, but you will need to have good hand, and eye coordination. It will also be helpful if you have a good level of physical fitness. It's always recommended to start golf at an early age, but not always required. Take world golf Hall of Famer Sir Nick Faldo, he didn't start playing until he was 18 years old but still went on to win many major golf tournaments.
Coaching. The best golfers in the world, and the top amateur golfers, have all taken lessons from a trained golf coach. This isn't cheap, but like anything in life, if we get the best advice and direction, we will get better results. Golf is not different, if you want to be a scratch golfer you will need a lesson along the way.
Practice. To be an excellent golfer, and to play off scratch you will need to put in a lot of practice. Golf is a difficult game that requires a high level of technique and feel in your shots. The more you practice the better you will perform. Some amateur scratch golfers practice more than they play, for them, this is the only way to improve their game.
Good Temperament. In golf, like many other sports, your ability to stay calm is key to being successful. Top scratch golfers can keep a cool head even when they are playing badly or have just hit the worst shot of their life. This can be especially difficult if you've spent a lot of time practicing, but playing sensible shots, even when your mind is racing, and the red mist has descended. Try and model the likes of Tiger Woods who was known as 'The Ice Man' on the course for never letting anyone see his emotions and staying calm.
Will Power. This is linked to practice, if you want to achieve this very difficult goal of becoming a scratch golfer you will need to have strong willpower. The ability to keep pushing through to your golfing goal despite the dips and disappointments of playing bad shots, or having a bad round is very important. Top scratch golfers have strong willpower, and a positive attitude, which gets them back out onto the course or practice ground each week, they are determined to achieve their goals despite the setbacks.
Golf is a game of skill, but it is also a game of luck. You can be playing badly during a round but might find that your scores are still very good. If you follow our five top tips and keep practicing as much as you can, you will soon be on your way to becoming a scratch golfer.
As Golfing Legend Gary Player once famously said, "The harder I practice, the luckier I get."
FAQ's
How Many Scratch Players Are There?
According to USGA stats, the number of golfers who have achieved the status of a scratch golfer is very low. In the United States, they estimate that only 1.85% of male golfers are scratch golfers and only 0.69% of female golfers. This means that if you do eventually achieve scratch golfer status you are in a very select group of golfers.
What Is The Difference Between A Scratch Golfer And A Pro?
Firstly, before we talk about playing ability, a scratch player is an amateur, and a pro golfer is a professional. This means that the pro golfer has made golf their profession and can legally play for competition money.
The scratch golfer, as an amateur golfer, has restrictions placed on the amount they are allowed to win in prizes.
When we get onto playing ability the pro golfer is statistically a better player than the amateur scratch golfer.
There have been reports and studies which have determined that on average throughout a round a pro golfer gains shots over the scratch golfer which means they will shoot a lower score.
In a study completed by Peter Sanders, he found that the biggest shots gained by a pro over a scratch golfer were in driving accuracy and distance.
On average they had a 5.5 shot difference throughout a round. This is the reason that scratch golfers shoot level par around a golf course, and a pro golfer can easily shoot under par.
Do You Need To Be A Scratch Golfer To Turn Professional?
It is worth noting that you don't need to be a scratch golfer to turn professional. You only need a handicap of 4.4 and lower for a man, and 6.4 and lower for a woman to become a pro. Ian Poulter famously turned professional when he had a handicap of only 4. It goes to show that you don't always need a zero handicap!
What Score Is A Scratch Golfer?
A scratch golfer, with a handicap of zero, should be scoring level par around the majority of golf courses they play.
There will be some which are set up a little easier, and in these cases, the scratch golfer would expect to score under par. Since they have managed to get their handicap to scratch they have shown a high level of consistency to regularly shoot a low score.
How Long Would it Take to Become a Scratch Golfer?
They say it takes 10,000 hours to achieve mastery in something. Golf however is slightly different. As Rob McGarr wrote in Today's Golfer golf isn't as straightforward as improving every day, it's a very complex game. If you are committed to becoming a scratch golfer you should be practicing or playing golf every day.
You will also need to be taking lessons from a trained golf coach. Those that can sustain this level of dedication might reach scratch golfer standard in two to three years, for others that are less committed, it could take longer, if at all.
Who Is The Oldest Scratch Golfer?
One of the oldest scratch golfers is a player called Ian Hutcheon. Ian is 80 years old and still plays off scratch, he practices or plays golf every day.
A top Scottish amateur in the 1970s, Ian never turned pro but played in many amateur events such as the Walker Cup.
What Percentage Of Golfers Are Single-Digit Handicap?
According to the latest golf data, only 1.2% – 2% of golfers in the world are scratch golfers, which means if you get to the level of scratch, or a handicap of zero, you are in a very small minority in the world of golf. A standard you should be proud to achieve.
Conclusion
We need to be open and honest, some players may never become scratch golfers. But why, I hear you ask, surely if you keep playing over time you should just become better.
There are so many aspects which make it difficult to play golf to a consistently high standard.
Golfers not only need to consider their technique, but they also need to contend with the course conditions, is it wet, windy, or extremely dry.
The greenkeepers might have also set the course up to be extremely difficult, with fast greens and long rough.
Also, how you feel physically can have an impact on how well you play. So, the next time you don't play your best, don't be too hard on yourself.
It's an extremely difficult game, even the PGA Tour professionals have bad days. I hope this article has helped explain what is a scratch golfer, comment below, what handicap do you play off?