The TaylorMade P790 model is one of the best TaylorMade golf irons ever made for all types of players. This particular TaylorMade iron was a total game-changer when it was launched.
The technology embedded into P790 is more advanced in comparison to TaylorMade P770 irons. The former offers a combination of high forgiveness and performance, while the latter is more mishit forgiveness-oriented.
But both versions have been repeatedly tested and compared with each other- TaylorMade P770 vs P790. Here is my opinion on which option is preferable!
TaylorMade P770 vs P790 Comparison
TaylorMade P770 Iron Set
TaylorMade P790 Iron Set
For mid to low handicappers
For mid to high handicappers
Mid spin
Less spin
Mid launch
Low launch
High ball speed
High ball speed
Shaft: only steel
(KBS Tour 120 S)
Shaft: graphite and steel
(Graphite: Mitsubishi MMT)
(Steel: Dynamic Gold VSS)
Hollow back construction
Hollow back construction
Players blade iron
Longer blade length players iron
Choose P770 if you prefer irons with a higher loft angle and a smaller clubhead.
Choose P790 if your handicap is mid-level, mid-to-high, or high.
TaylorMade P770 vs P790 Comparison
Both TaylorMade irons, just like the best TaylorMade drivers, are equipped with phenomenal technologies that increase forgiveness and distance.
With P770 irons, these have a more compact design. So they produce a higher launch and more spin, with extra workability power. As with P790 irons, they're better suited for forgiveness, speed, distance, and the like.
Choose P770 if you prefer irons with a higher loft angle and a smaller clubhead.

Choose P790 if your handicap is mid-level, mid-to-high, or high.
TaylorMade P770 has a more compact, smaller clubhead and a thinner topline. As for TaylorMade P790, this particular golf iron is thicker but works like a game improvement iron. This means, in simpler words, the latter is more forgiving on mis-hits than the former.
TaylorMade P770 Irons – Complete Review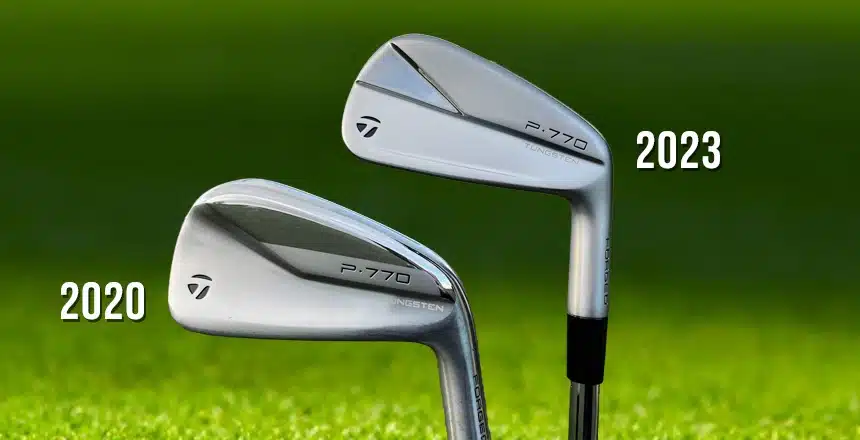 P770 is all about boosting not only distance to its maximum limits but also delivering additional accuracy. It's all because of the forged hollow body construction of the clubface, which also promotes a faster swing speed. SpeedFoam (super-light urethane) is injected into the clubhead as well to improve feel, distance, and forgiveness.
The design of TaylorMade P770 is inspired by that of P760, its predecessor. But the P770 has a longer length and is also equipped with forgiveness-enhancing tungsten weighting. Speaking of off-center forgiveness, the Progressive Inverted Cone technology – the sweet spot – addresses mis-hits, while the strong loft and low offset shape your shots.
TaylorMade P770 features a comparatively smaller clubhead size than the P790. So it's safe to say that P770 is less forgiving than P790. But I wouldn't say that's entirely the case because P770 is also integrated with forgiveness, speed, and distance-maximizing technologies like Speed Pocket and Progressive ICT. Consistent performance no matter where on the clubface golf ball contact is made!
As for the loft angles throughout the TaylorMade P770 Iron set, they're more geared to offer a solid sensation on impact. Thus, regulating properly the trajectory of your every shot.
Pros
Made for mid to low handicappers
Stainless steel, forged clubface for max. forgiveness
Tungsten weighting delivers explosive distance
TaylorMade's Speed Pocket increases ball speed
Improved, consistent accuracy throughout the iron set
Cons
Compact design, hence not the most forgiving irons
However, if you have a mid-to-low golf handicap, you should be going for the more compact design of the P770 irons. They hand out good distance and workability on the turf. Heavy hitters, more often than not, choose such irons with a thinner topline and smaller clubhead since long irons are relatively more challenging to hit, and are less workable too.
TaylorMade P790 Irons – Complete Review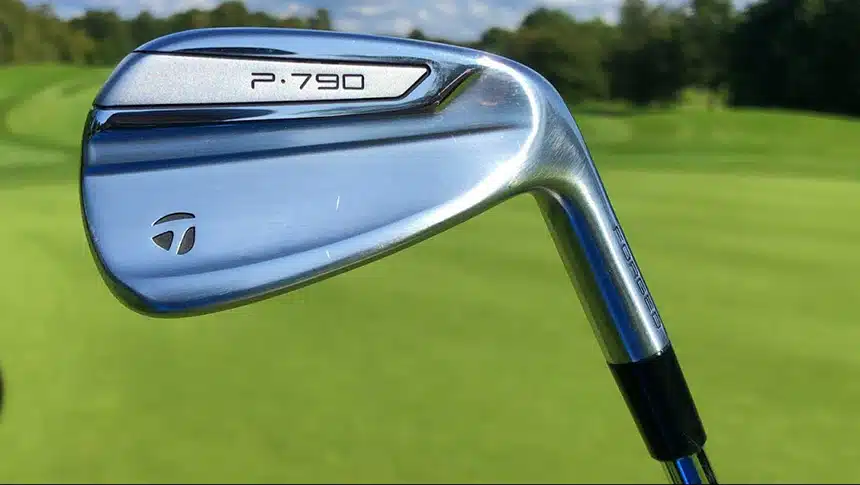 Once again, TaylorMade designs a set of golf irons for single-digit handicappers but this one is not as compactly shaped as its predecessor, the P770 irons. Even mid-to-high handicap players can use the sleeker P790 for preserving speed and distance, hence avoiding the harsh effects of mis-hits.
TaylorMade P790 is built with many new features in comparison to P770. The already ultra-light urethane SpeedFoam is made even lighter with an even thinner topline. In addition to that, tungsten weighting is the cherry on top for creating greater forgiveness, stability, and speed.
Comparatively speaking, P790 comes with a bigger sweet spot to enhance performance even more. Plus, you get to choose between a steel or graphite shaft, whereas P770 is only steel-shafted.
Back to the extra forgiveness that P790 yields, you can finally launch your shots higher more effortlessly and get them to land on fairways and greens more softly.
Pros
Made for mid to high handicappers
Lighter SpeedFoam, thus easier to swing
Tungsten weighting here too produces a higher launch
Also features Progressive ICT to improve mis-hit speed and accuracy
A blend of solid feedback and added forgiveness
Cons
Too light for heavy hitters
TaylorMade P790 you instantly know is more suitable for mid-to-high handicappers, plus the added versatility and sleeker look make the irons seem even more appealing to golfers, both pros and weekend or amateur players.
TaylorMade P770 vs P790 – What's the Difference?
When you take their features into consideration, P770 and P790 seem quite similar, and they are to a certain extent in terms of their performance characteristics and physical appearance.
The same technologies – SpeedFoam, forged hollow body construction, Speed Pocket, tungsten weighting, Progressive Inverted Cone, and more – are a part of both P770 and P790 irons. Hence, it's only logical for the pricing to be on similar ground as well. Both TaylorMade iron sets have a premium price tag, meaning both are a bit on the more expensive side.
So if you're a beginner, amateur, or recreational golfer, you might want to spend a little less and buy the best irons for beginners instead. These definitely are much easier to hit and more affordable too.
But that doesn't mean there are no differences between P770 and P790. So here are the factors that produce differences between the two TaylorMade golf irons:
1. Design and Appearance
The decision on which iron set, the TaylorMade P770 or P790, looks better is highly subjective as it depends on personal preference. Personally, I like both of these clubs.
The P770 irons have a more compact design with a thinner top line and less offset. Many lower handicap golfers and pros prefer this sleek, traditional look. They are designed to appeal to golfers who value precision and control, and their look reflects this.
The P790 irons, on the other hand, have a slightly larger design and a bit more offset. This design is often appealing to golfers who value forgiveness and distance, as the larger design can instill confidence at address.
2. Distance

The thin forged 4140 clubface with its soft carbon steel construction is yet another common element in the comparison of P770 and P790. As a result, the factor of distance, more or less, also remains the same. Except that P790 hits slighter longer than P770, and that's because the loft there is lower.
P790 has a loft angle of 30.5 degrees while that of P770 is 33 degrees. The former will and does fly slightly further, and with a good amount of spin. But this difference in distance is only seen if you have a mid-to-slow or slow swing speed. With high swing speeds, however, the loft angle difference can be easily overlooked.
3. Forgiveness
The P790 model is an improved version of the P770, which means more evolved technology is outfitted into the descendent. The body of the P790 has shrunk even more and is outfitted with more functionality. And this is despite the sweet spot of P790 being relatively larger than P770.
A bigger sweet spot equals more forgiveness. Thus, TaylorMade P790 irons are more forgiving on mis-hits in comparison to TaylorMade P770 irons.
At the same time, P790 features a longer blade, thus even more off-center forgiveness. But then don't underestimate the performance delivered by P770. These irons too are quite forgiving despite the smaller, more compact sweet spot.
The P770 model, when compared to traditional Players' irons, is a lot more forgiving on off-center shots. Even when you talk about better workability, overall speaking, P770 is slightly more versatile as well.
4. Workability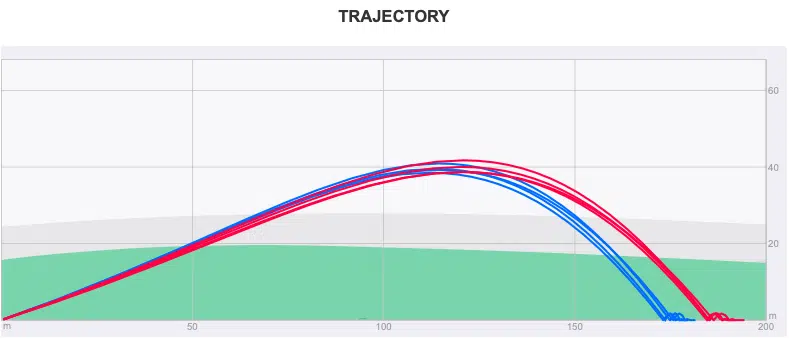 Does P790 feel better in the hands than P770? Not necessarily because it's the P770 version that provides your hands with more feedback. Along with a higher spin, thus it's better suited for lower-handicap players. Or those aiming for game improvement!
With that in mind, the P790 model is not equally effective since it doesn't make way for more draw or fade workability. Nor does it leave wiggle room for controlling the trajectory and height of shots.
5. Feel
Both TaylorMade irons feature this technology known as SpeedFoam. It's extremely lightweight urethane foam infused into the clubhead to maximize speed, accuracy, and overall stability. Thus, you don't have to make do with any additional weight here just because you want to boost any of those important factors.
Feel has a lot to do with feedback as well. In that department, P770 is better as it lets you have greater feedback. Thanks to the shorter length and smaller sweet spot. But, either way, painful vibrations are not felt in the hands, which is just superb.
TaylorMade P770 vs P790 – FAQs
Are TaylorMade P790 and P770 Irons Forgiving?
TaylorMade P790 irons are highly recommended for beginners and high handicappers precisely because of how forgiving they are. The sweet spot of P790 is bigger (60 percent bigger) in comparison to the sweet spot of its predecessor, P770.
And when you compare TaylorMade P770 irons to traditional Players' golf irons, P770 does stand out as the more forgiving set of irons. So, overall, these golf irons by TaylorMade are primarily positive as far as off-center or mis-hit forgiveness is concerned.
TaylorMade P770 and P790 Suit What Golf Handicap?
The P770 version is better for mid-to-low handicap players, while the P790 option seems more fitting for mid-to-high handicappers.
Nonetheless, as long as you like the feel of the golf club, irrespective of your handicap, it will and does adapt to your style of play and game.
Bottom Line
Based on my experience, here are the primary differences between the TaylorMade P770 and P790:
Design and Appearance: The P770 has a more compact look with a thinner top line and less offset than the P790. This makes them more appealing to better players who prefer a classic look.
Size: The P770 is slightly smaller than the P790. The P770 targets low-to-mid handicap golfers who prefer a more compact clubhead, while the P790 is a bit larger, providing more forgiveness, making it suitable for a wider range of handicaps.
Forgiveness: The P790 is generally considered to be more forgiving due to its larger size and the presence of SpeedFoam technology that allows for better distribution of weight around the clubface. The P770, while still offering decent forgiveness, is less so than the P790.
Feel: The P770 is often reported to have a softer feel, a feature generally preferred by better players. This is due to the more compact design and less use of SpeedFoam.
Performance: Both clubs provide excellent performance, but they differ slightly. The P790 might offer a bit more distance due to its design and use of SpeedFoam. The P770, while it may not deliver the same level of distance, offers better players more workability and control over their shots.
I've used both of these clubs. Personally, I prefer the P770 due to its superior feel, workability, and control.
However, for those with an average handicap, the P790—with its larger clubhead, enhanced forgiveness, and increased distance brought by SpeedFoam technology—can provide improved performance and consistency.
Of course, the most suitable final choice is still yours.