What the best TaylorMade golf irons do is only reiterate the undeniable truth that the brand manufactures some of the most outstanding golf equipment for all types of players – from drivers and putters to golf balls even. The part about TaylorMade products being suitable for all kinds of golfers is actually the #1 reason for the popularity of their discoveries and innovation.
When buying irons, getting the ones that you need and can make the most of in order to hit straighter, longer shots is something that can NEVER be overstated. When you have the correct, or should I say beneficial, setup of golf irons, you can and rightfully should gain not only more confidence of course but also an increase in your distance potential and even in your level of control you have on your irons shots (blades or cavity-back irons?)
With TaylorMade, you get a wide range of golf irons to choose from because they cover, like I already said before, all sorts of players. So more skilled golfers can choose the blade-style irons while for max. forgiveness, nothing works better than TaylorMade's game improvement irons.
Time to take a look at what this top brand has to offer.
1. TaylorMade SIM MAX Irons
Pros
Speed Bridge really feels very forgiving on mis-hits
Increasing ball speed is more effortless with Speed Pocket
Sweet spot is quite massive for more speed and distance
ECHO Damping makes harsh vibrations go away
Cons
Takes a few rounds to get used to
I may have golfed for the most part of my life but I was a beginner AND high handicapper once and that's when I realized how helpful the most forgiving golf clubs can be. And this truth continues to intercede even now in my day-to-day "dealings" with golf. So I can tell you the most confidently that highly forgiving TaylorMade SIM MAX is more than just fine.
Apart from handing out such a great deal of forgiveness, these golf irons also boost distance. And I don't see why anyone, especially high handicappers, can't achieve distance gains when TaylorMade's exclusive Speed Bridge and Speed Pocket are a part of the mix. These technologies know how to max out ball speed even if you can't do that on your own.
In the areas of feel and weight, I'd say that the former, since TaylorMade SIM MAX has a cast-iron construction, is smooth, clean, and also quiet without those unwanted vibrations at impact.
And in terms of weight, you can actually choose between lightweight graphite and heavy steel. Although graphite is a more fitting choice if you're a beginner and/or high handicapper. Believe me, no one can deny that these are great irons!
2. TaylorMade Golf P790 Iron Set
Pros
Hollow-bodied construction for fast speed off the face
Speed Foam produces groundbreaking distance
Lightweight design, responsive feedback, and higher launch
Cons
Slightly more geared toward low-handicap golfers
Let's get into the specifications of this one right away because they're the most useful tools to judge how great the TaylorMade P790 Iron Set really is. Firstly, these golf irons, with their forged hollow construction, are injected with TaylorMade's game-changing Speed Foam technology, along with tungsten weighting that also promotes higher forgiveness.
The compact clubhead is also a very good indicator of how TaylorMade P790 is all about forgiveness and distance. Thanks to Speed Pocket of course. And then there's Speed Foam that dampens vibrations as well for giving you that perfect feel and sound before your shot goes straight and long (and this happens on a consistent basis indeed).
You can choose the shaft material and flex of your choice. Even the configuration of the iron set can be selected based on your personal needs and preferences.
3. TaylorMade Golf M6 Iron
Pros
Highly forgiving with HYBRAR vibration damper
Much lighter shaft, thus you can swing easily
Off-center strikes are exonerated, thanks to Speed Bridge
Ball flight is penetrating, which means a higher launch angle
Cons
Too light to always translate into explosive distance
Longevity worries and complaints are not uncommon
I know what it's like to be hitting iron shots with TaylorMade M6. The level of control and the highly contented feel you get with this TaylorMade iron is unmatched by any of their other creations. M6 is also quite popular because of the inclusion of Speed Bridge, hence a more well-received game improvement iron.
With Speed Bridge, TaylorMade gives you the chance to unlock the speed and distance you desire. In fact, this particular technology also reduces vibrations for an even more satisfying feel. And these unwanted vibrations are further minimized with the help of HYBRAR (this is an advanced compression damper). In short, the feel is soft and solid throughout.
And what about those common low-face strikes you might be guilty of producing? Mis-hits shouldn't be a concern AT ALL because of the fluted hosel as well as a 360-degree undercut. Together, they bring the Center of Gravity lower for increasing the launch angle. And with a higher launch, ball speed and distance are sure to receive some encouragement too.
4. TaylorMade M4 Iron Set
Pros
Mass redistributed, which boosts distance
Optimized heel/toe weighting makes the irons more forgiving
RIBCOR and Speed Pocket for high-speed iron shots
Stronger loft angles also increase the distance
Cons
The shine tends to wear off quickly
Very hard bounce
Distance loss if your swing speed is below average
Just because I'm now a professional, experienced golfer doesn't mean I refuse to acknowledge when golf clubs are super-expensive. But then keep in mind that you're paying this exorbitant price for everything nice in the case of TaylorMade M4. The best part about it is that these golf irons appeal the most to mid-handicap golfers.
Most suitable for mid-handicappers means the perfect combination of everything – distance, forgiveness, control, and feel. It's the RIBCOR component that makes it all possible. Many things are made possible with RIBCOR actually, such as more energy transfer to the golf ball for more accuracy and distance and an upgraded feel and sound.
RIBCOR also produces tighter shot dispersion. So it's alright now even if you miss your irons shots both right, left, or across the board, more consistency is sure to become a part of the M4 experience. But with a more traditional feel and look of course!
5. TaylorMade SIM 2 MAX OS Iron Set
Pros
Makes off-center shots also travel straight and long
Crisp, soft, vibration-free feel with ECHO Damping
Inverted Cone Technology in clubface makes it more forgiving
Oversized clubhead with stronger loft for easy launch
More ball speed and better consistency due to Speed Pocket
Cons
Stock grips, so not enough control and power transfer
Golfers who need a significant amount of assistance from their equipment, in this case their golf irons, should choose TaylorMade SIM 2 MAX OS. You could be a senior golfer, for example, and still not have any complaints. And that's because SIM 2 MAX OS are much easier to hit for distance gains. This applies to mis-hits also by the way that also travel straighter along with longer.
The feel is crisp and soft, which is all due to TaylorMade's polymer blend ECHO Damping System that hands out the forged-iron-like feel.
To be honest, you don't really need a professional golfer to point out that a golf iron built with a more forgiving, faster clubface and an oversized clubhead is inevitably going to maximize distance and elevate your performance. Something that you might need the most if you happen to be a senior golfer lacking in strength and speed!
6. TaylorMade Golf M2 Iron Set
Pros
Ball speed preserved on mis-hits, thanks to Face Slot
Higher launch and longer distance with Speed Pocket
Lighter design lowers CG, so shots travel straighter
Solid feel and sound with classy aesthetics
I could go on and on about how TaylorMade M2 is the best for golfers with a swing speed under average. And I say this because of how flexible the clubface is just to make your mis-hits feel less punished. More forgiveness is such an organic part of the experience because of the brand's phenomenal Speed Pocket technology.
Traditional, classy aesthetics – shallow blade height and thin topline for a more compact appearance. I would like to add that this type of composition surely knows how to make TaylorMade M2 stand out from the rest of the brand's golf iron line-up.
The ability here to achieve a decent level of ball speed and launch angle is why M2 is often chosen by average players as well. But then average players should NOT expect much in terms of control, despite this being a bladed iron.
Nevertheless, the updated features, like the thinner leading edge and shallower design, are what make TaylorMade M2 such a fantastic golf club. And that never goes unnoticed or under-appreciated!
7. TaylorMade SIM MAX OS Irons
Pros
You can hit much longer, thanks to Speed Bridge
Low-face shots are less penalized, thanks to Speed Pocket
Wide sole shaping improves turf interaction
ECHO Damping System gives you a vibration-free feel
Cons
No major complaints recorded so far
There did come a time in my life too when I seriously considered switching to TaylorMade SIM MAX OS Irons. So believe me when I say that a huge difference will make its presence felt.
The oversized sweet spot on the clubface should and does help with keeping your iron shots in that fairway with a distance gain of extra 15-20 yards easily. And no need to swing fast and hard to get there either!
Even the task of shaping your shots is something that happens with minimal effort. With TaylorMade's Progressive Inverted Cone Technology, you can make the golf ball travel straighter with more consistency. It's the very feature that places into your hands ultimate control.
Rest all remains the same, as you can predict at this point. Such as Speed Bridge for greater ball speed, ECHO damper for a vibration-free feel, and low CG for a higher ball flight.
8. TaylorMade Golf 2018 MCGB Men's Iron Set
Pros
Face thickness of irons makes them the fastest
Highly forgiving with Speed Pocket technology
Geocoustic engineering dampens vibrations for a soft feel
Tungsten weighting for higher launch conditions
Cons
Don't expect an advanced, Tour-level feel
TaylorMade 2018 MCGB Irons are the best game improvement irons OF ALL TIME. And this is coming from someone who's been a Callaway guy his whole life. I don't use the word 'best' fast and loose, which means that whenever I do happen to use it, I genuinely mean serious improvement and playability.
With mis-hits being more accepted, there's no denying that these irons are much easier to hit. Oh, and did you know that CGB actually stands for Center of Gravity Back?
The older version of this was TaylorMade R7 CGB, so this one's the upgraded model with a larger clubhead for letting you make mistakes when whacking the ball while also not punishing or exaggerating those common mistakes (low-face or off-center shots).
With a larger clubhead size, you can boost ball speed and overall performance despite missing the "sweet spot." The whole set, from my viewpoint, is quite unique because of the incorporation of Face Slots and Speed Pocket. In fact, Speed Pocket is a part of the wedges of the set too for optimal ball speed.
Why Choose TaylorMade Golf Irons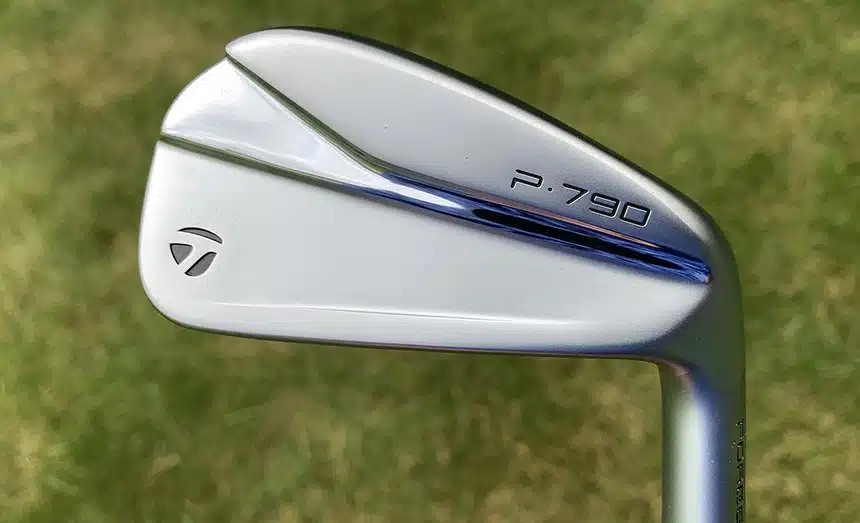 What you see below are reasons why I recommend beginner, intermediate, and even professional golfers to choose golf irons designed by TaylorMade…
1. TaylorMade Is A Top Brand
It would be naive and wrong to say that TaylorMade is not among the top contenders in the golf industry. Competing with other top brands like Callaway, Titleist, Wilson, etc. Even though TaylorMade has a more limited offering in comparison to some of these other brands in terms of their collection of golf irons, TaylorMade irons are still very popular.
Being less expensive, comparatively speaking, and also high quality at the same time is why TaylorMade golf clubs (irons, drivers, putters, etc.) are so well-received by all kinds of players.
I've been a professional golfer for as long as I can remember and I can say for certain that no other golf brand out there spends as much money as TaylorMade on developing and testing new technologies. Even their Tour presence is pretty strong.
2. TaylorMade Is A Reliable Brand
With TaylorMade, you get to buy almost every kind of golf iron you desire. Even the price range is very diverse to suit YOUR budget. In terms of reliability, I mean both performance-wise and as far as the quality and longevity of the golf clubs are concerned. Performance is certainly faster and better overall. And TaylorMade gear is bound to last for many years.
The brand's main focus is speed because, with more speed, you can increase your distance potential. And that is never a bad idea. This explains how nowadays a 5-iron can go as long as a 7-iron. All thanks to brands like TaylorMade and even Callaway for bringing into the picture high-speed golf irons. Irons that are suited for every sort of golfer!
Be it a game improvement iron or forged iron, you can rely on TaylorMade to provide you with enough options. And irrespective of what you pick, phenomenal technology and fine craftsmanship are a part of the experience. Why else do you think the brand has bagged Tour players like Tiger Woods, Dustin Johnson, and the like!
And you don't necessarily have to be a pro-grade golfer to choose TaylorMade. Many of their golf irons feature special technologies that benefit golfers like beginners, high handicappers, seniors, etc. Things like an oversized clubhead, lightweight graphite shaft, low CG positioning, etc. (more on TaylorMade technology below).
3. TaylorMade Is A Technologically Advanced Brand
Here's what TaylorMade is responsible for coming up with…
Speed Pocket: Patented by TaylorMade, Speed Pocket lets the clubface flex accordingly to increase ball speed even on low-face or off-center iron shots. It also increases the launch angle and improves the consistency of your shots.
Speed Bridge: Yet another game-changing technology developed by TaylorMade that unlocks explosive distance by making its golf irons extremely forgiving. As a matter of fact, Speed Bridge also improves feel and sound.
Speed Foam: When a TaylorMade golf iron is Speed Foam injected, this automatically implies that it's sure to produce a more forgiving route that maximizes playability and distance.
ECHO Damping System: In terms of physics, think of this as an energy-channeling structure that absorbs and thus eliminates harsh, unwanted vibrations during impact. The result of this kind of advanced geometry is to give the golf club a soft, shock-free feel.
HYBRAR: Advanced HYBRAR compression damper is incorporated into a few TaylorMade irons for also filtering out vibrations on the clubface that take form at impact. This means a solid, soft feel on your every shot.
Face Slots: What these do is preserve the ball speed each time you fail to hit the sweet spot. For example, when your shot is struck from the toe or heel, your ball speed doesn't get compromised. Take your off-center iron shots with complete impunity!
Progressive Inverted Cone Technology (ICT): In simple words, ICT broadens the sweet spot to make the golf irons more forgiving. And then this unique positioning of ICT also reduces sidespin, so your mis-hits can un-punishingly go straighter.
RIBCOR: It's put in place for more energy transfer to the golf ball for the sake of improving both accuracy and distance. And RIBCOR does it by stiffening the clubhead perimeter, so a more rigid form is created for enhanced feel and sound. RIBCOR also reduces toe flexibility to enable tighter, more controlled shot dispersion.
Frequently Asked Questions About TaylorMade's Golf Irons
Does TaylorMade Manufacture Good Irons?
TaylorMade is responsible for manufacturing some of the best irons for almost every kind of player – beginner, intermediate, and advanced.
For beginners and amateurs, the selection (mostly game improvement irons) consists of golf irons that offer the much-needed correction on shots that are poorly struck. As for the blade-style irons designed by TaylorMade, these are perfect for pro-level players in that they deliver more workability.
Which TaylorMade Irons Are the Best for Average Golfers?
Hands down, that would be TaylorMade M2 Irons because they offer the best of both worlds – forgiveness through Speed Pocket AND solid feel and sound through Geocoustic technology. Average players desire a combination of sound, feel, and ball speed, which you get with TaylorMade M2.
Which TaylorMade Irons Are the Most Forgiving?
The most forgiving TaylorMade irons are certainly the SIM 2 MAX OS Irons. TaylorMade SIM 2 MAX OS features aerodynamics and shaping that generate greater ball speed. That's because of the larger sweet spot (more forgiveness on mis-hits), wider sole (improved turf interaction), and slight offset (higher launch).
Which TaylorMade Irons Are the Best for High-Handicap Golfers?
The most fitting for a high handicap is TaylorMade SIM MAX. Prioritizing distance is a must for high handicappers. So thanks to Speed Pocket and Speed Bridge, you can effortlessly produce more ball speed on shots that are poorly struck.
Even the launch angle receives a boost because of the 17-percent thinner clubface of SIM MAX.
Which TaylorMade Irons Are the Best for Mid-Handicap Golfers?
If your handicap is in the middle-ground between high and low, you should consider buying TaylorMade M6 Irons. The control, feel, distance, and sound are all well-balanced in terms of performance. Simply put, all factors get enough attention for improving your all-around performance. And this is because of TaylorMade Speed Pocket and Speed Bridge technologies.
Final Verdict – The Best TaylorMade Iron EVER MADE!
There's A LOT of praise that revolves around TaylorMade SIM MAX Irons. And as far as I've witnessed too on the golf course, these golf irons are more commonly spotted. I think it's largely because they offer mis-hit correction and improve distance while also taking care of feel and sound, promoting straighter shots, maximizing face flexibility, and absorbing shock/vibration at impact.
Ask just about any beginner, amateur, high handicap, recreational, and even professional golfer, and they won't deny just how much of an excellent choice SIM MAX really is. The fact that you can also launch and control your irons shots the most easily while of course achieving distance gains despite hitting off-center is a pretty rare and special occurrence.