The mid-handicap player is one who is the most likely to feel baffled when buying golf irons in particular because they can use almost every conceivable option but only with a limited rate of success. The problem arises when you take into account the fact that not all mid handicappers are equally skilled in terms of feel, control, and distance.
If your golf handicap is between 8 and 18 and you're noticing steady, stable improvement, then your priorities would be control and feel. But then if improvement on a consistent basis is not a part of your mid-handicap game, what matters the most is forgiveness.
Then there are irons that also hand out the best of both worlds. And these are certainly the better choice for in-between golfers!
1. Callaway Golf 2021 Apex DCB Iron Set
Cons
No sand wedge included
More forgiving, hence less spin and playability
I've always been a Callaway-biased golfer and, believe me, I have my reasons for it. If you're a mid handicapper, I'm certain you would agree with me too. Because Callaway's Apex technology did what no other golf club manufacturer was able to do. Callaway Apex DCB Set consists of game improvement irons, cavity-backed and forged.
The forged, cavity-back composition with mid-sized sole aids your mid handicap with easy, smooth turf interaction. The game-changing Flash Cup Face (designed by Artificial Intelligence by the way) is what delivers the best of both worlds – more control AND more distance.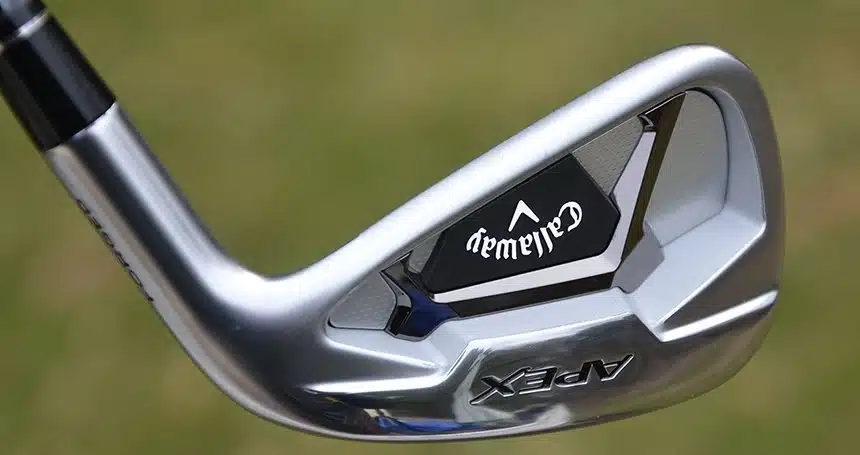 Appearance-wise, the irons are like the more serious-looking ones that Tour players with a low handicap carry. But the performance is mid-handicap-friendly of course. This is also partly because of the standard True Temper Elevate ETS (stock) shaft. The lightweight structure here surely knows how to promote a faster swing speed.
To be honest, Callaway Apex DCB, because of its forged construction, is fit for all kinds of golfers. This bigger sole width and deeper cavity back yield optimal turf interaction as well as easy launch. So just because you're in the middle doesn't mean you have to choose between either end of the spectrum – you can be your own golfer with Callaway!
2. TaylorMade SIM 2 MAX Iron Set
Pros
Sweet spot is massive for 'pure' iron shots
Cavity-back design keeps mis-hits under control
Extremely low CG, so ball launches higher more easily
No more harsh vibrations with ECHO Damping System
TaylorMade's Speed Pocket increases ball speed
Cons
Not the best feel because of a very 'springy' face
Another set of superb game improvement irons, but this one is by TaylorMade. Its offset (OS) version made it to my list of Best TaylorMade Irons, which was a more appropriate choice for golfers with a slower swing speed (since it had the extreme 'offset'). As for just SIM 2 MAX, its hotter and thinner clubface also secures max. speed and distance.
I won't be lying to you if I said that I've experimented with quite a few TaylorMade game improvement irons like these simply for their magic-like ability to "bless" my iron shots with more forgiveness. Hitting TaylorMade SIM 2 MAX is also very, very easy, so it's not that difficult anymore to maintain a straighter ball flight.
Incontestably, the offset here is more moderate in comparison SIM MAX OS. Even in comparison to other game improvement irons, the mid-level offset is better in that it doesn't push the golf ball toward the extreme left.
The whole golf club design is such that it's more inclined toward increasing shot height. And this is especially true of the short irons included in the set while those mid irons have a more forgiving character. [Read our full reviews]
3. Mizuno Golf JPX921 Hot Metal Iron Set
Pros
Sweet spot is wide open to keep mis-hits from doom
Very lightweight Chromoly shaft enhances control
Despite stronger lofts, you still get a higher ball flight
Expect Tour-grade sound and feel with Stability Frame
Cons
Not the most forgiving if that's what you need
Getting fitted for them might produce better results
If you didn't already know, Mizuno has Hot Metal, Hot Metal Pro, Tour, and Forged in the JPX921 series of golf irons. And each one has something unique to offer.
The most compact lot is the Tour set, the most pertinent for shot-shaping is Forged, while Hot Metal as well as Hot Metal Pro give you the best of both worlds. So now you know why Mizuno JPX921 Hot Metal is more commonly used by mid-handicap golfers?
If your golf handicap is more of a lower number than higher, then you should seriously consider upgrading to these irons because of the combination of a stronger loft and a lower-positioned sweet spot. With such a well-engineered construction, your iron shots travel both higher and farther.
Actually, to be completely honest with you, Mizuno JPX921 has a timeless design. This just means that even when your handicap moves from being a double-digit number to a single digit, you can still continue using these golf irons. All due to the advanced technology incorporated by Mizuno – CORTECH face (ball speed and distance), Harmonic Impact head (feedback and feel), Chromoly construction (accuracy).
4. Cleveland Golf Launcher UHX Iron Set
Pros
V-shaped sole for rock-solid iron shots
Long irons with offset are very forgiving
Short irons with cavity-back provide more control
High-strength face with variable thickness = explosive distance
Cons
Scratch-prone matte finish
Ball flight shaping is a bit deficient
The previous selection was the best for mid-to-low handicappers while this one's more well-equipped to handle a mid-to-high handicap. What I'm saying is that you should look forward to boosting distance through the generous forgiveness Cleveland Launcher UHX is capable of granting.
The longer irons of the set are easier to strike plus you even get more short iron control. Now let me compare UHX to Cleveland Launcher CBX. Both models designed by the brand have their lofts stamped in the sole's bottom. So Cleveland is one of the very few brands remaining that still realizes the importance and relevance of stamping the golf club loft.
The cavity-back construction of Callaway UHX is much larger, and that's only in the set's long irons of course. So your mis-hits are the most likely to still succeed as farther, straighter iron shots (also thanks to the 'offset' in the long irons).
But then this enhanced sweet spot design is progressively reduced as you make your way to shorter irons. And that is a good thing because it means the feel becomes more control-biased just so that you can knock the ball close.
5. Srixon Golf ZX5 Irons
Pros
Very forgiving irons with a premium forged feel
Very playable too, thanks to the muscle-back design
Wider sole improves turf interaction
Lightweight, speed-boosting UST Mamiya Recoil 95 shaft
Cons
Solid hits travel well over the mark
At the risk of sounding pedantic, let me first clear out (to those who might not know) that Srixon ZX5 Irons are muscle-backs and not cavity-backs. Cavity-back irons are hollow and thick while muscle-back or blade irons are more solid and thin. And it's the latter that makes the golf club a better choice for mid handicappers who want more playability/flexibility.
But then despite being muscle-backs, Srixon ZX5 Irons are adequately forgiving. And this is all because of the extra mass placed right behind that impact location. So you can have all the shot-shaping upper hand you demand during gameplay.
The relatively thinner topline and also the small offset are great in that they boost your level of confidence during address. Furthermore, the brand's aim behind including Main Frame technology is forgiveness. So it's not just the additional mass that maximizes ball speed on off-center strikes.
6. Wilson Staff Model CB Men's Golf Irons
Pros
Tri-Brace Stabilizer transfer more energy for more speed
Tungsten-weighted irons improve consistency
Muscle-back-like feel even with cavity-back forgiveness
Cons
Not the best for golfers who lack consistency
Wilson has surely designed incredible golf irons. And the proof of that – this pure, soft, and almost forged-iron-like feel. The thing is that Wilson V6 irons made it so big that the brand thought of coming up with another nearly identical set for a more Tour-grade experience but with a little bit more forgiveness on off-center shots.
You get to make the most of the stability-enhancing tungsten weighting that lowers CG for increasing launch angle. Moreover, the forged clubface transforms the feel into one that's more blade-like but with maximum consistency and forgiveness often a part of cavity-backs.
In fact, it's this forged carbon steel construction of the face itself that makes these irons so popular among mid-handicap golfers.
7. Cobra Golf 2020 King Forged Tec Iron Set
Pros
Cavity-backed irons – easier to hit, more distance
Forged PowerShell face takes the ball higher easily
Foam microspheres for a softer feel
Tungsten weighting makes the clubs more forgiving
Cons
Minimal offset, so not for all mid handicappers
As a mid handicapper, you know yourself to be a comparatively better player. If that's true, then your skill-set demands something that's both powerful and forgiving. Enter Cobra King Forged Tec. These irons are in no way a disappointment as far as quality, craftsmanship, and performance are concerned. It even looks like a low-handicap golf iron!
Being a better golfer, you're also highly likely to appreciate the much-needed distance boost as well as maximum playability for your different types of shots (mainly for hybrid shots and full-swing shots, thanks to the shape and length of these irons).
What's unique is the Diamonized Black Metal (DBM) technology. Never heard of before, this high-tech Cobra process, which consists of a black finish embedded into the clubhead, builds up wear resistance.
I also think that the forged, aerospace-grade steel used for the construction of the cavity-backed (highly forgiving) clubhead is very persuasive, in terms of both performance and durability.
And being a mid-handicap player doesn't mean not producing mis-hits AT ALL. You're still quite likely to hit off-center. So to correct those, the brand has included tungsten weighting that re-positions the CG to magnify accuracy and distance. So it's not just the traditional muscle-backed construction with its hollow core that controls distance and playability.
8. Callaway Golf 2020 Mavrik Pro Individual Iron
Pros
Clubface flexibility enhances ball speed
Tungsten weighting produces Tour-grade precision
Vibration-absorbing urethane microspheres (pure feel)
Cons
It is a Players' iron (not exactly game improvement)
If you're less of a mid-handicap and more of a low-handicap golfer, then choose no other golf iron except Callaway Mavrik Pro. This is not an iron set, rather it's an individual iron that features everything Callaway is best known for.
The compact shaping, first of all, is the best for mid-to-low handicaps simply because it infuses more control into your iron shots than any other Callaway Mavrik model. With Flash Face designed by Artificial Intelligence, it's in your hands how much spin and ball speed you want to generate. That's the more control advantage you get with this individual iron.
If you choose any of the long irons, then expect nothing but impressive speed and launch. While the mid irons are engineered to take factors like spin consistency and speed to whole new heights. And then the short irons are built for optimizing precision so as to improve your shot-making abilities.
Mavrik Pro here, with its traditional shaping and also the clean lines, is comparatively more playable than any other Mavrik iron, even Mavrik MAX.
What Is A Mid-Handicap Golfer?
Mid handicappers in golf are those players whose handicap is between 7-8 and 17-18. That way, you're breaking 90 with a score of around 83 to 90 or shooting in the 80s each round. But then there's no official or any definitive level here, which just means the lack of consistency to break 90 or shoot in the 80s.
This is just a rough definition that has now become the general classification of a mid handicap, so you know where you stand.
How Do Mid Handicapper Irons Help YOUR Game
Priorities change when your handicap moves from high to mid. You now are quite capable of avoiding at least some mistakes you once made when your golf handicap was high (below average that means). But then does that mean buying muscle-back or blade irons (also known as Players' irons)? Well, that route is not for you either until you do better than a mid handicap.
As a mid-handicap golfer, you don't really need to put yourself through the struggle of getting used to hitting traditional muscle-backs. Especially when advanced technology in golf has made it possible to achieve your goals without having to rely on conventional methods. Why use a more concentrated, smaller sweet spot for no reason at all!
Enter mid handicapper golf irons a.k.a game improvement irons that make it possible and much, much easier for you to shoot more greens. They also help build confidence because now with these irons, you can also hit more accurately (after all, you know where your golf ball is going to go). And hitting it closer equals making more birdies and pars. And finally, that's how a mid handicap gets lowered down to a single digit.
So with mid handicapper irons, this is the upper hand you're sure to achieve.
Getting the golf ball airborne and higher with very little effort on your part.
Getting the golf ball to travel longer and straighter even when mis-hit.
Getting the golf ball to land very softly on the greens.
Choosing Golf Irons for Mid Handicappers
What Type of Iron Design (Clubhead)
The clubhead is either cavity-back or muscle-back (blade). With cavity-back irons being the most forgiving, muscle-backs are mainly for a single-digit golf handicap (Tour players and low handicappers). Now let me tell you a little about how and why cavity-backs are a better choice for mid handicappers.
Firstly, cavity-back irons feature perimeter weighting.
It's just a hollowed-out version of a blade iron with the spare metal or mass placed around the perimeter or edges of the club (at the back of course). This means more weight is added behind the golf ball on shots struck off-center.
On the other hand, most part of the weight on muscle-back irons is behind the more compact sweet spot. So you end up losing A LOT in the case of a mis-hit (also, the shock your fingers have to bear because of this is literally unbearable).
So why choose players' irons when you can easily opt for the perimeter-weighted cavity-back design with its larger sweet spot!
Secondly, cavity-backs are outfitted with a wider sole.
Now, this brings the center of gravity lower, which allows the additional weight of the club to get under/behind the ball much more easily to initiate a higher ball flight. And this, obviously, applies to off-center shots as well.
The extra sole mass is what 'bounces' off the turf rather than grounding into it, unlike golf irons with a thin sole. But then as a mid-handicap golfer, you don't really want the sole to be too beefy; something moderately fat or wide is more than enough. Therefore, make it a point to avoid super max game improvement irons.
And the third and final characteristic here is an offset hosel.
Surely cavity-back golf irons would not be as forgiving as they are without an offset hosel. Offset is when the hosel/neck of the clubhead is front-positioned. This keeps the clubface a little behind the neck.
As for what offset does, it compels the center of gravity to be placed farther from the golf club shaft. And the farther that is, the higher the launch angle. In simpler terms, if getting the ball airborne is challenging for you, then more offset allows you to literally elevate height the most effortlessly.
Now you don't need offsetwith muscle-backs and blades because low handicappers don't seem to struggle with launch and ball flight. Simply because they can square that clubface (a prerequisite for high launch indeed) without much difficulty. With offset, ball flight becomes more draw-biased, thus compromising the club's playability. That means hitting fades purposely is not an option anymore for a low handicapper with forgiving, offset irons.
What Shaft Material and Flex
Beginners and high handicappers choose lightweight graphite plainly because they're easier to swing. Low handicappers, on the contrary, go for heavier, stiffer stainless steel because that material can handle their faster swing speeds. Plus, the additional weight of steel gives you a much better feel.
Now it's only natural to assume that graphite boosts distance by boosting your swing speed, which is perfect if your actual swing speed is sub-par. Whereas steel is better for the rest – this includes mid and low handicappers. Likewise, Regular flex is the most commonly picked.
Ladies (L) shaft flex – swing speed of below 60 mph and distance of below 100 yards achieved.
Senior (A) shaft flex – swing speed of 60 mph – 70 mph and distance of 100 yards – 130 yards achieved.
Regular (R) shaft flex – swing speed of 70 mph – 80 mph and distance of 130 yards – 155 yards achieved.
Stiff (S) shaft flex – swing speed of 80 mph – 90 mph and distance of 155 yards – 175 yards achieved.
Extra Stiff (X) shaft flex – swing speed of 90 mph and distance of 175 yards achieved.
Avoid Pro, Tour, or Tour Preferred
These are all engineered for professional, low-handicap players. Even though your golf handicap is now in the middle, stay away from Tour and Pro golf irons because they are not so great for forgiveness as they are highly playable.
Here's what TOUR and PRO equipment is capable of doing when you're a highly skilled and developed golfer.
FAQs About Mid-Handicap Golf Irons
What Is the Difference Between Irons for Mid Handicappers and Low Handicappers?
Golf irons for mid handicappers are cavity-backed (game improvement irons) while those for low handicappers are muscle-backed (blades or players' irons).
If a mid-handicap golfer uses blades, he/she is sure to find their mis-hits fail horribly even though you get excellent control and feel with them. Cavity-back irons, on the other hand, are extremely forgiving, which makes your off-center shots feel less punished.
What Is Considered To Be A Mid Handicap In Golf?
If your handicap is between 8 and 18, you're a mid handicapper. Generally, this implies that you're capable of breaking 90 and shooting in the 80s, but not every single time of course.
What's the Final Word Then.
It's not impossible to find golf irons for a mid handicap. You just have to put in some extra time and effort into doing so. And choosing the right thing involves prioritizing not just distance and forgiveness but also control, feel, and overall playability.
Mostly, you should select from game improvement irons. These are adequately forgiving, more so than players' irons for sure. While their spin rate seems to be too less, which is what sets them apart from super max game improvement irons.