Maybe it's time to purchase a new set of golf irons because your old ones are really putting you and your game at a huge disadvantage. Or you just simply want to know what's the big deal about blades vs. cavity back irons. Whatever your reason or reasons for being here, you can rest assured knowing that I've described both types of irons very elaborately.
But first, you have to assess your performance with irons. Are you a golfer looking to gain some extra speed and distance with a significant level of forgiveness? Or are you the kind of player who instead is more focused on improving shot-shaping control?
Choosing the right golf irons is all about taking such factors as distance, control, dispersion, etc. into consideration. So let's find out which of the two, blade or cavity back, is more suitable for game improvement and which for already accomplished players.
Blades and Cavity Backs – An Overview
Made of cast iron, cavity backs are more affordable than forged blades. In the case of cavity-back irons, additional materials become a part of the design just to boost clubhead speed and ball speed and, ultimately, distance. So, naturally, they're also a lot more forgiving.
On the flipside, blades go through the complicated (hence, costlier) forging process where only a single piece or chunk of metal is used. The clubhead, in this case, is compact and that helps to maximize playability/workability but with minimal forgiveness.
Cavity-Back Irons (or Game Improvement Irons)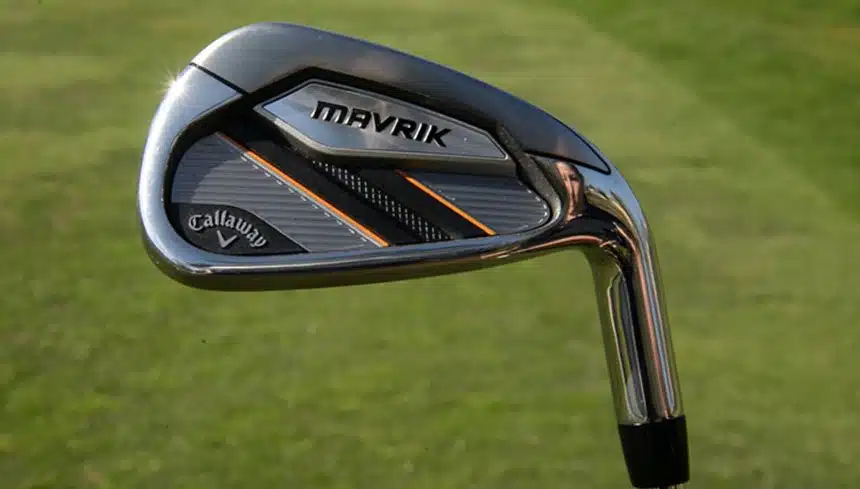 Ask any high handicapper and he/she will surely tell you how extremely forgiving cavity backs really are. Even beginners as a matter of fact prefer using the best cavity-back irons during the process of developing their golf swing.
The design here consists of a larger clubface, more offset, and a thicker sole. What I'm trying to say is that these types of irons feature quite a generous (thus, very forgiving) sweet spot, along with perimeter weighting. So wait a second, does that mean you get to now hit not only longer but higher and straighter too? That's right!
When the sweet spot is larger, the golf club, be it driver, wood, or iron, becomes so much easier to hit, which translates into more yardages.
To be honest, cavity backs, back in the days, were bought simply because of how cheaply priced and easiest to hit they were. But now, in this day and age, the casting process has transformed into a new, economical method that 'shapes' these irons. So the weight has been shifted to the edges or perimeter of the clubhead.
As a result, the MOI (moment of inertia) increases to enhance mis-hit forgiveness to its maximum limit.
Who Are Cavity-Back Irons Made For?
If you're a high-handicap or even mid-handicap golfer, then you're most likely to appreciate the enhanced forgiveness, powerful launch, and ball speed and distance boost set in motion by cavity backs.
And the fact that now even some pro-level players and low handicappers are choosing these irons says a lot about how much the cavity-back technology has evolved.
Everything to like about cavity-back irons:
Perimeter-weighted, so off-center strikes are excused
Easier to hit in comparison to blades
More offset, therefore higher launch
Thicker sole means club slides through turf very easily
Straighter flight, more speed, and longer distance
What's not to like about cavity-back irons:
Very limited playability and feel due to perimeter weighting
Even feedback on mis-hits feels dampened
Blade Irons (or Muscle-Back Irons)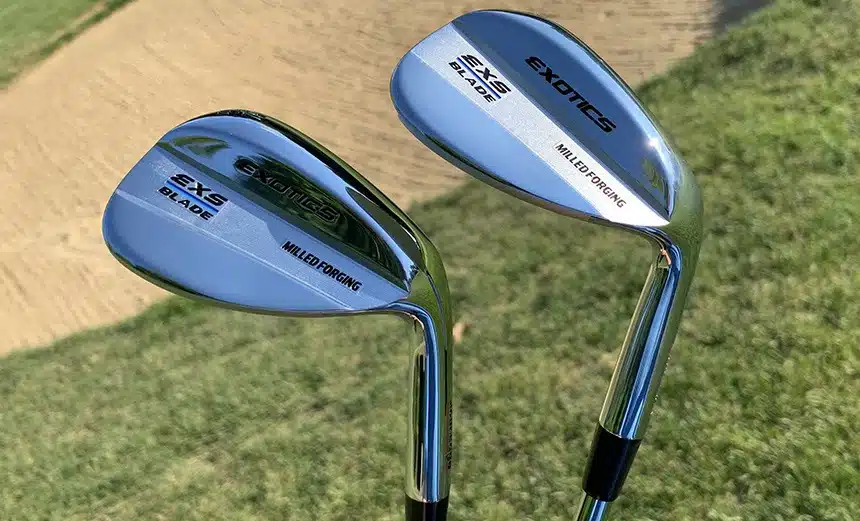 The traditional blade design has been a part of the game of golf since its beginning. The clubhead of blades or muscle backs is compact, small with little offset. The whole structure is traditional with a sole and topline that's thinner. And the weighting placed behind the clubhead, as is the case with cavity-back irons, is far less in blades.
But you know not all "modern" blade golf clubs are like the original ones that used to be very thin, thus extremely difficult to hit. But then as time went by, brands started to realize that shaping the clubhead was possible so as to enable easier shot-making by just placing more metal mass low and at the back of the hitting surface. That's where the term 'muscle backs' comes from.
Consequently, this is how you get the freedom to work your shots into draws and fades whenever you like.
Who Are Blade Irons Made For?
You often see better players and low handicappers playing muscle-back irons. Because only these kinds of golfers know how to hit blade irons to manipulate their shots easily to make them curve.
And they don't really demand extreme forgiveness since their higher set of skills almost never produces off-center strikes. So the limited forgiveness presented by blades is not a problem if you're a highly advanced player.
Tour pros also prefer blade irons because these force swing consistency, which is such a favorable characteristic for that level of play.
Everything to like about blade irons:
Reduced offset allows shot-shaping (fades and draws)
Smooth feel and crisp feedback
Nicknamed 'Players' irons for their extra control
More sleek and neat, unlike chunky cavity backs
What's not to like about blade irons:
A small sweet spot, thus not very forgiving
Demands a consistently fine-tuned swing (not easy to hit)
Comparison of Blade and Cavity-Back Irons
DESIGN
One look at a cavity-back iron against a blade iron and you'll instantly notice that the former has a larger clubface and thicker sole. Generally speaking, the bigger the head of iron, the more forgiving it is.
The CG and MOI in cavity backs is pushed back and around the perimeter or sides. And this is deliberately done so that off-center strikes (off the heel or toe) are forgiven. More forgiveness = more distance automatically.
On the contrary, striking the outer toe or heel of a blade iron, you get only minimal forgiveness. And not just that, mis-hits with blades also feel pain in the hands because you actually feel those harsh vibrations.
But then more trained/skilled golfers don't have to worry about this since they almost always hit that sweet spot. And then with the bladed iron, there's also the shot-shaping control and workability for fades and draws.
DISTANCE
Pro-grade players and low handicappers really know how to hit their irons LOONG. But this skill has not yet been acquired by a beginner or average golfer. So to make up for that lack of speed and skill on your part, there's the cavity-back iron with its larger sweet spot that takes even off-center hits longer through increased ball speed.
The center of gravity (known as CG) in cavity backs is positioned lower, which makes it much easier for you to get the ball to launch higher. And a higher launch, in turn, boosts both carry distance and total distance.
Many golfers also prefer cavity-back irons because these produce a straighter ball flight for maintaining optimal accuracy and distance even for those times when you end up with strikes off the toe or heel.
FEEL & CONTROL
My personal opinion, and I'm sure most Tour and highly skilled golfers like me would agree, is that nothing else feels as rewarding as flushing that blade iron off the sweet spot. That pleasant feedback and buttery smooth, soft feel, cavity backs don't even come close.
But then this desirable feel and feedback are not to be expected if you hit off-center. Mis-hits, unfortunately, will produce unwanted, harsh vibrations and sound. If you ask me, this is not such a drawback as it is indicative of the fact that blades are specifically engineered to deliver more shot-shaping control that better players demand.
So if you're a less experienced golfer using a blade iron, you're most likely to end up with excessive sidespin. Instead, choose forgiving, distance-boosting cavity backs.
Frequently Asked Questions (FAQs)
Are Cavity Backs and Game Improvement Irons the Same?
Cavity backs are basically irons with their weight redistributed to the toe and heel from the back of the clubface. And it's this 'perimeter weighting' along with a lower CG that infuses additional forgiveness into these irons and also promotes a higher, straighter ball flight.
And if this isn't game improvement technology, I don't know what is. Cavity-back irons, in that case, do indeed belong to the generic game improvement irons category.
What About Players Distance Irons, Are They Cavity Backs?
Players distance irons may not have an oversized clubhead and profile like super game improvement irons but they're still cavity backs. And that's because of the flexible clubface and low CG, both of which accelerate ball speed as well as boost distance.
This brings to mind hybrid irons. Because technology is now so advanced, top golf club manufacturers have managed to combine the best features of both types of irons. Meaning blade-like compact shape and cavity-back-like hollowed-out back. So workability is as much part of the experience as increased forgiveness and distance.
Are All Blade Irons Forged?
Every blade iron is forged because that's precisely how it's manufactured. The process involves forging the metal into a blade-like shape. And in these types of irons, the weight is placed behind the clubface with a smaller sweet spot.
Are All Blade Irons Muscle Backs?
The weight, or muscle if you may, in blades is positioned at the back of the clubface. Hence, all blade irons are muscle backs.
Do Blades Hit Longer Than Cavity Backs?
If you strike the ball solidly, then the extra spin that blades are most likely to produce can be optimally utilized for shaping shots and attacking pins. But if you struggle with squaring the clubface at impact, then that additional spin proves to be detrimental in terms of distance.
But then, generally speaking, cavity backs are more suitable for promoting higher, straighter, and longer shots more consistently.
Are Blades Really More Difficult to Hit?
Let's talk about cavity backs for a second to understand why blades are so hard to hit.
With a cavity-back iron, the clubhead is larger plus there's perimeter weighting. So the latter makes sure that twisting on mis-hits is prevented. But then this doesn't happen with blades, therefore poor or off-center strikes with them feel worse. And that's exactly why blades are so much more difficult to hit than cavity backs.
Are Cavity Backs Easier to Hit?
The traditional blade design is what lead to the invention of cavity backs. Original blades lacked that easier-to-hit feel and extra forgiveness, which is a part of cavity-back irons now. And just because cavity backs are so much easier to hit, they're the most fitting choice for beginners and intermediates and even weekend/recreational golfers.
The bulkier design, hollowed-out bottom section, and larger sweet spot of cavity-back irons all combine to make them extremely forgiving and able to produce more distance.
The End – So Should You Play Blades or Cavity Backs?
Cavity backs are better simply because they're cheaper and, in comparison to blades, are a lot more forgiving and easier to hit. Perfect for the majority of golfers and average players indeed. Even for beginners and high handicappers!
But then if you're a better or professional player, in such a case you're also most likely to also prefer the traditional blade-style iron, choose muscle backs. They may be slightly more expensive but you pay that extra price for the soft, buttery feel, solid impact, and more shot-shaping control and playability.