Caddies for casual golfers carry their clubs and sometimes even offer a few useful tips here and there about the golf course. But this is not what a professional caddie does. I mean, of course, they carry clubs and all but these guys also know and do a lot more than that.
Caddies for Tour players are like their coaches, in a way. They advise which golf club to play, they know just how far the green is from the player (no matter the position of the latter on the course), and more duties that will be discussed in this post.
But the main topic of discussion here is how much do caddies make on PGA Tour?
Since a caddy, no doubt, is an important part of the team of every professional player, he/she earns a salary and a part of the winnings of the golfer.
Now allow me to break it down…
What Do Caddies Do?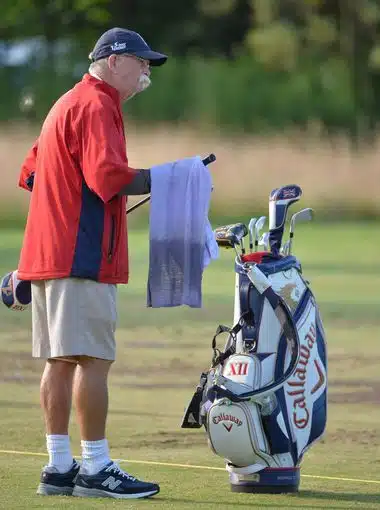 The main task here is for the golf caddy to carry the player's bag during his/her round of golf. And then come the additional duties…
Cleaning golf clubs and wiping golf balls after each shot. And also keeping the equipment and other belongings organized.
Providing information and expert advice with regards to yardages, green readings, etc. This way, players are able to achieve accurate results.
Assisting with errant shots.
Pulling out pins and replacing them after the completion of different holes.
Fixing ball markers after the golf ball is done landing on the green.
Caddies are also responsible for raking sand bunkers and traps, replacing divots, displacing grass from the turf, and simply just keeping a sharp, attentive eye on the way the golfers' round is progressing.
No doubt then that PGA caddies are greatly involved in determining the success of Tour players.
How Much Do PGA Caddies Make – How It Works
The standard salary of PGA Tour caddies is anywhere between $1,500 and $3,000 per tournament. And on top of that, caddies get a certain percentage of the winnings of the players. So that's 10-percent of the winnings of the golfer who actually bags the title, 7-percent if the golfer finishes in the top 10, and the rest is 5-percent.
Now, obviously, the agreement between player and caddy concerning the payment can be negotiated. Sometimes a golf caddy is willing to accept a higher salary per week and not as much from the players' tournament earnings.
Then the hotel and travel costs are also subject to negotiations where the golfer might agree to cover even those costs of the caddy.
PGA Tour caddies also make more money through sponsorships. This means the caddy will have to represent the brand by, for example, wearing a hat with the brand's logo on it.
How Much Do Amateur Caddies Make – How This Works
How much do caddies make at country clubs? At private country golf clubs, you'll see many young caddies working part-time during the summer or otherwise (it's surely a high-paying part-time job). So how much do caddies make an hour?
Whatever or whoever the caddie is here, he/she can easily make anywhere between $20 and $28 per hour. Or around $100-$149 per 18-hole round of golf. The same for a shift of about 5 hours, known as a "loop." And if the golf caddie works an extra loop, which is another 18-hole round or approx. 5 hours of golf, the pay gets doubled for that day.
The salary here includes the standard fee that the club is paying along with tips handed out from players. And of course, how much the caddie makes, in this case, is based on which club it is (the flat fee per loop offered by most country clubs is around $15-$45) and how many players' bags he/she carries (on an average, 1-2 bags, $25 per bag).
And if the private country club is a huge deal or a higher-end resort, the pay per loop can easily increase to $100-$300.
But Not All PGA Caddies Earn the Same Salary
If you think PGA Tour caddies make the same amount of money, more or less, you're wrong. So hear this out.
The FedEx Cup 2019 winner was Rory McIlroy, right? And his caddy was Hairy Diamond, who acquired $1.5 million (the $1 million alone came as a bonus from FedEx).
And the caddie of the golfer who took the 150th position (Johnson Wagner) in the same FedEx Cup 2019 tournament earned $100,00 (half was his base salary and the other half was the commission he earned). As for Johson Wagner, he seized a good $667,792.
Here's another record-breaking example of Phil Mickelson's caddie (his brother) who made $200,000 when Mickelson won the 2021 PGA Championship. And if you want to know how much does Tiger Woods caddy get paid, here's all you need to know about Joe LaCava (who has been his caddie since 2011).
The Position of Golf Caddie Has Surely Evolved
Back in the days, a caddie's role/responsibility was quite dry and monotonous. The caddie just had to carry the players' bag, clean his/her clubs, replace divots, read putts, and scout the golf course.
But now the caddie's role has certainly changed. More, interesting duties have been added. Caddies now work very closely with PGA Tour players and members, they're a part of the inner circle or professional team of the golfer. Driving their golf carts, controlling the crowd, etc. are added to the job description of a golf caddie.
Highest Paid Caddies
Now here's the top 10 list of the 2020 yearly payout of PGA Tour caddies…
| CADDY | YEARLY PAYOUT | PGA TOUR PLAYER |
| --- | --- | --- |
| Jimmy Johnson | $502,851 | Justin Thomas |
| Jonathan Jakovac | $486,825 | Collin Morikawa |
| Austin Johnson | $472,600 | Dustin Johnson |
| Paul Tesori | $417,595 | Webb Simpson |
| Adam Hayes | $374,625 | Jon Rahm |
| Tim Tucker | $353,801 | Bryson DeChambeau |
| Kesslar Karain | $346,500 | Patrick Reed |
| Josh Cassell | $343,470 | Daniel Berger |
| Marc Kelly | $330,100 | Marc Leishman |
| Albin Choi | $278,085 | I'm Sung-jae |
Tiger Woods' caddie, before Joe LaCava of course, was Steve Williams (for 12 years). In the year 2007 alone, Williams made $1.4 million.
Needless to say, that's not all he earned working with Tiger Woods. During those 12 years, Steve Williams ended up making a whopping $9 million. And this is based on that 10-percent cut from the golf legend's $88.8 million winnings during that course of time.
And then you have Ricky Elliott, Brooks Koepka's caddie, who took home $200,000 after Koepka secured the U.S. Open title of 2017. The prize money for the golfer was $2.16 million, which is how his caddie earned $200,000 (i.e. 10-percent of the total winnings).
And this 200,000 is definitely higher than what almost every American makes working for an entire year. Elliott made that in a week!
Golf Is Indeed A Rich Person's Game!
So this was all about the standard or base PGA caddie salary. Along with how much amateur caddies make at a country club or something like that.
To be honest, be it a part-time or professional PGA Tour caddy, the job and its pay both are terrific. The money is great, the rewards are great, and so are the duties and responsibilities.
On top of that, you get to work on a golf course! And that could be one of the best ones in the country or world.