We all know who Lexi Thompson is – one of the most celebrated golfers that's for sure. She leads the pack of LPGA women players and the most unbelievable and impressive part about it all is that she achieved this well-deserved success and recognition just in her early 20s.
As of the current year, which is 2022, Lexi Thompson is 27 years old and has already bagged countless professional golf tournament wins and achievements. Plus, she's accomplished many milestones in her career.
No doubt that Lexi Thompson's true love for the game of golf and her dedication toward being such an inspiring athlete has encouraged a lot of women to take up golf. And to believe that they too can grow and win titles in a sport that, for years, was considered to be just a man's game.
About Lexi Thompson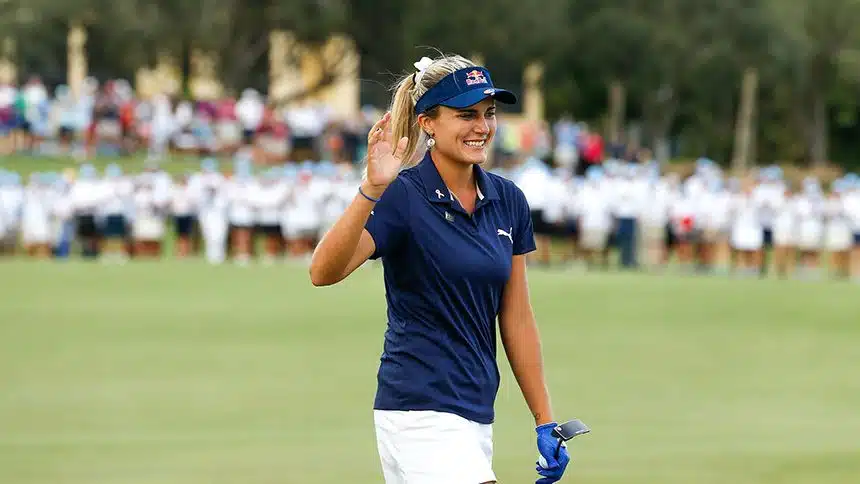 Lexi Thompson was only 12 when she entered the national-level golf scene (in case you didn't know, she's American – born in Florida in 1995). And guess what, it took her only 4 years after that to win the grand LPGA Tour (yes, she was really just 16 years old then!).
Surely among the top female contenders in the world of golf, Lexi Thompson, even now in her 20s, continues to be quite a competitive player.
We know her as Lexi but that's only short for Alexis (Noel) Thompson. The youngest to have ever won the LPGA Tour (her resume now boasts of a total of 11 LPGA Tour wins) plus the second-youngest to win the Ladies European Tour. She also secured the Kraft Nabisco Major Championship in 2014 – her first Major victory ever!
And Now, 17 Things You Probably Don't Know About Lexi!
You will not take more than just a few minutes to realize just how talented and successful Lexi Thompson is when you look at all that women are currently achieving in the game of golf. Her professional career started more than a decade ago, during which time she's accomplished just so many Tournament wins, including the 2014 Major Championship.
But these are all well-known facts, right? So here are quite a few interesting things you may not know about this very talented and dedicated American Tour pro!
1. Lexi's not her full name, it's actually Alexis Noel Thompson.
2. Not many also know that this 1995-born Florida native was home-schooled during her formative years. A "regular" childhood was not her thing since she became a part of golf, at the national level, just at the age of 12.
Her parents, who were crazy about golf themselves, realized her remarkable potential and thought it was best to nurture it. This is why she was home-schooled, so she could spend more time in the day practicing at the golf course.
Everything indeed has its pros and cons. The latter for Lexi, at the time, was the friends from elementary school that she lost.
3. Lexi's older brothers, Curtis Thompson and Nicholas Thompson are also PGA members. So she does indeed have a family of golfers!
4. Guess what sport she loves, apart from golf of course? Ice hockey! Her favorite team is Florida Panthers.
5. Lexi Thompson was 12 years old (yeah, that's right!), only 12 when she got into the Women's US Open in 2007. And till 2014, the youngest to actually qualify at that level of golf!
6. Along the same lines, Thompson was the youngest LPGA Tour and LET (Ladies European Tour) winner. She was only 16 years old then, then being 2011.
And 3 years later, in 2014, Lexi became the second-youngest Major Championship winner. The second woman golfer to have bagged a Major title (Kraft Nabisco Championship, what's now known as the ANA Inspiration) at the age of just 19.
7. Going back to 2010, during the Curtis Cup of that year, she was undefeated. She won 4 matches then and drew one. And only a week after that, Lexi Thompson turned professional.
8. This American golfing star has participated in the annual Solheim Cup of 2013, 2015, 2017, and 2019, representing the USA of course.
9. What about sponsorships? There's an entire list of top brands – Cobra Golf (Puma), Bridgestone, Bentley, Rolex, and Red Bull.
10. You can tell that the Thompsons are a normal family because her father and brother Curtis actually caddy for her. At least it seems like they share a close bond with one another.
11. And of course, talented, gorgeous, and athletic Lexi Thompson has appeared on the covers of Fitness & Power and Golf Digest. She's one of the most brilliant and hottest female golfers after all.
12. Her LEXI brand launched in 2020 consists of a host of products that revolve around not just golf but also fitness and skincare.
13. What's in Lexi Thompson's golf bag? All Cobra-manufactured clubs of course, with the exception of a Scotty Cameron putter.
14. Do you know about Lexi's dog Leo? The breed is Havanese-Poodle and he's just the cutest and most adorable dog you've ever seen. She takes him along everywhere, including at her professional events.
Thompson once said that it was because of her dog that she got her solid form back during the latter part of 2018 (she's had her ups and downs indeed, just like any other Tour-level golfer).
15. Lexi Thompson knows to what extent she inspires younger women to take up golf. She realizes the full potentiality of her image and reputation as a role model. And Lexi takes on that role very seriously. In several interviews, Thompson has stressed the importance and utmost need of accepting and loving yourself.
As a professional athlete, she believes that one should leave the sport better in comparison to when they started.
16. This may be true for many golfers that they truly and genuinely love the game because it's so challenging. And Lexi Thompson thinks no differently. She agrees that the game, and everything that comes along with it, is sometimes too much to handle but getting through all of it, even the negative aspect, is something she has learned to do over time.
Thompson is very welcoming not just of her strengths but also weaknesses because no golfer or person is ever perfect she says. Lexi has also added that every single day there's something different about her game, swing, and even the weather. And it's this very challenge itself that keeps her going and growing.
17. She's golfed with Donald Trump, this was before he became the President. Trump played golf with Lexi and her pro-level brothers at the West Palm Beach located golf course.
Conclusion
Lexi Thompson is surely one of the best female golfers of our time. Her professional career as an American LPGA Tour player spans over a whole decade. And during this time, she's won several LPGA Tour titles and one Major win.
But all these things are already out there, which is why I've discussed some less-known details about her professional life as well as some of her personal interests.
For example, that she comes from a family of golfers, that she was home-schooled, that she has a dog named Leo, that she's teed off with Donald Trump, and