Long story short, with a 7-wood golf club, you can gain easy distance down massive par 4's and launch as high as your ankle height out of the turf.
And if you're an avid or regular golfer, then this particular club is just the best and even much-needed alternative to those super-challenging-to-hit long irons.
Now of course, easy-to-hit hybrids are also suitable long-iron replacements. But for some or the other reason, if you don't like using a hybrid golf club, then how about a 7-wood to get your shots to launch straighter and higher!
So let's get to know everything about it!
7-Wood – What Is This Golf Club?
Needless to say, it's a fairway wood that's higher lofted in comparison to the rest of the members within the group. Meaning the loft is higher than the loft of 3-wood or 5-wood.
And a higher loft automatically translates into the golf club being much, much easier to hit, which is probably just what you need if you struggle with your long irons or even your hybrids.
Larger clubhead and sweet spot (with a slightly shorter shaft length) are what contribute to making this club the most forgiving and easiest fairway wood to hit from any type of lie. And this includes hitting from the rough and hard ground!
7-Wood – When to Use It?
When a wood can be hit from any type of lie, it becomes a highly versatile golf club indeed. You can finally get out of tough spots and find those greens even from a far distance. And you can't put a price on that!
So here are some of the most common situations in which you can roll out and rely on your 7-wood!
If your task at hand is clearing obstacles like water hazards, trees, etc.
If you're around 200 yards from within the green on that fairway or if the green is a great deal of distance away from the rough.
When facing a narrow/tight fairway off the tee.
If you absolutely want your shot to land softly and more accurately in comparison to 3-wood or 5-wood on that green.
When in the fairway bunker and the lie is decent enough.
Therefore, it's the type of fairway wood and golf club that permits, "freely" and "easily" permits you to hit all kinds of shots the most creatively. Thus, increasing the scope of your game of golf.
7-Wood – Why to Use It?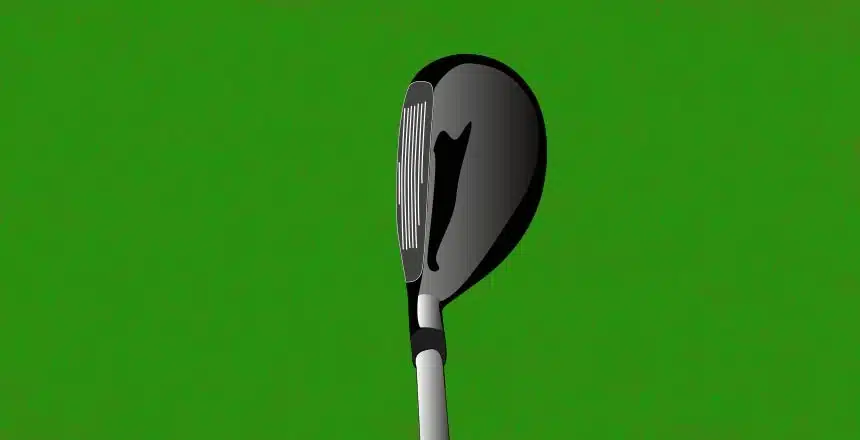 If you're under the impression that 7 woods are mainly engineered for golfers with a slow or below-average swing speed, then I have a bone to pick with you.
Agreed that it's mainly older golfers that need all the help when it comes to getting the ball airborne. I mean these best senior-friendly hybrids do launch the golf ball higher the most easily. BUT don't you think there's a reason or probably reasons (plural) why some of the world's top players (who they are is mentioned further down below) also carry a 7-wood in their bags?
Reason #1 – More Versatility
No other fairway wood is as versatile, in terms of consistency and height, as the 7-wood. At the same time, if your 4-iron or 3-iron is not filling that gap that'll solve your turf interaction problems, no other option is better than a 7-wood.
You can genuinely rely on this particular golf club in the tightest of situations. And if the club features hosel adjustability, then even more beneficial because of the 'extra' versatility there.
Reason #2 – Tighter Shot Dispersion
It's not always about distance, right? For some golfers, the struggle has more to do with finding that fairway with more consistency or regularity. You want a better opportunity for reaching the par-5 in a way that doesn't involve your shots going in all directions.
And in order to achieve more consistency, shorter is indeed better. Shorter shaft length that is!
7-wood shaft, in comparison to that of 5-wood, is half an inch shorter (in most cases at least). After all, haven't we seen Tour players' shorter-length drivers for the sole purpose of tightening dispersion?
Reason #3 – Obviously, Higher Launch Angle
Simple and straight, if you can't get your golf ball to launch easily or high enough, then it only makes sense to ditch fairway woods that come with a strong loft for one that's higher-lofted specifically so that the club gets the ball up in the air more effortlessly.
The feeling, from that fairway, of hitting towering shots because of the increased loft is truly very rewarding. This additional loft, just by the way, is also very useful for situations that involve deep rough and the like.
7-Wood – Do You Really Need It?
What if you're not a regular golfer, then do you need to buy a 7-wood?
Even if you're a recreational golfer, this club ultimately fits the bill because, as a recreational golfer, you're most likely to hit down, much like when you hit an iron. Hence, generating greater spin unnecessarily.
So, irrespective of whether it's a hybrid, wood, or iron, a higher loft is better in every which way for achieving that launch, spin, and distance you have in mind for improving your golf scores.
7-Wood – Which PGA Tour Players Use It and Why?
Not just for senior and women golfers, the 7-wood has been whipped out by PGA Tour players like Bubba Watson and Dustin Johnson as well. No more do these professional golfers look any less worth their salt when spotted carrying beyond 3-wood and also 5-wood.
The list actually also includes Adam Scott, Ian Poulter, Tyrrell Hatton, Max Homa, Jason Kokrak, and Louis Oosthuizen. To be honest, nobody, even a pro, really cares about the "stigma" as long as the golf club can yield a boost in performance.
And now that manufacturers and brands are installing hotter faces on their fairway woods for greater ball speed, 7 woods are gaining even more popularity among Tour-level players.
And to be honest, golf balls of today don't produce that excessive spin they once did some decades ago, which means your 7-wood (due to its extra loft) can actually get the ball high up in the air more easily and then also bring the golf ball down, just like that, more vertically. Thus, faster stops on that green!
Then you also have to factor in that PGA Tour greens are now getting faster too!
7-Wood Distance
Ladies 7 wood golf club distance is somewhere between 120 yards and 170 yards. As for male golfers, it's between 170 yards and 230 yards.
How far can you hit the golf ball also matters here of course. Along with how low or high you tee the ball, how soft or hard the turf is, etc. The level of rollout too determines the 7 wood distance.
7 Wood Golf Club Loft
In most cases, the loft of 7-wood is 21-22 degrees for men. As for women, a typical ladies 7 wood golf club loft can be even 27-degree high. The latter, needless to say, allows you to get the ball airborne and launch higher more easily. Plus, it then also lands softly on the green.
In comparison to that, a 15-degree 3-wood or 18-degree 5-wood, because of the relatively lower loft angle, delivers a combination of decreased ball flight + increased rollout. In simple words, to control distance around that pin is more challenging with 3-wood or 5-wood than 7-wood.
How Do You Hit A 7-Wood?
Now that you know it's not just for oldies, this golf club can really help in lowering your scores, along with making way for better performance. Long irons give you a lower trajectory and shorter distance in comparison to 7-wood, which means the latter is the better option indeed for improving both ball flight as well as distance.
So now let's get to the part where I tell you how to hit this slightly more user-friendly, easier-to-control golf club…
The ball position for 7 wood is only a bit forward, not far ahead though, of center. Don't bring it near your front foot because that will affect turf interaction and ball flight.
A well-balanced stance, just like when you're hitting a hybrid, and a smooth golf swing rhythm/sequence but with that shallow divot.
With this club, you can actually achieve a higher launch as well as a solid strike more easily and consistently. So keep in mind that your shoulders have to be square and golf alignment done right when hitting your 7-wood.
How Do You Hit A 7-Wood Off the Tee?
No doubt, it's easier to gain more shot control on that fairway with 7-wood (large clubheads of golf drivers can seem a bit intimidating surely). So when on tight fairways, the higher 7 wood golf club loft offers more control and less ball spin. Therefore, straighter shots just like that!
So the increased loft angle yields greater launch, which also translates into your shot covering additional distance vertically but the on-course distance is minimized. Hence, you should be teeing up the golf ball just like you do when using a driver. Visible only halfway through on the crown top or clubhead.
You know the ball is too high when you swing it under, so the golf ball pops upward.
Because of the higher loft angle here, tee the ball closer to that ground. This allows, at the time of impact, for an optimal trajectory to be produced.
As for the ball position of 7 wood off the tee, place it in the center (i.e. hindrance-free). No obstacles get in the way and that means easy roll on the ground.
And in those rare or unexpected situations where you want to generate a higher ball flight, position it inside your lead foot for increasing the height. Roll will be reduced for sure while distance stays the same.
Lastly, for penetrating shots, you ought to be hitting the golf ball slightly and with a swing that's slow and controlled. And one more thing, do not step up that tee with a 7-wood to avoid hang-ups in your other shots.
7-Wood – What Golf Club Does It Replace?
What golf club does a 7-wood replace? If this higher-lofted fairway wood is not in handy, your next best option would be a 3-hybrid to get the same outcome. Or 5-hybrid (it strikes higher and farther) or 5-wood (some yardage loss is inevitable here).
And then you also have 2-iron that can be a good 21-degree 7-wood alternative. And the most suitable one for a 24-degree 7-wood is 4-iron. 3-iron also works in place of a 7-wood with a loft of 22-23 degrees.
Is Using 7-Wood and 3-Hybrid the Same Thing?
Comparatively speaking, 7 wood clubhead is larger than that of 3-hybrid. And this bigger head size gives you a more convenient address position. Plus, the added loft means extra flexibility/versatility (thus, hitting shots more easily out of the rough).
So if you have to choose between 3-hybrid and 7-wood, go with the higher-lofted golf club unhesitatingly (most golfers do!).
What Is the Average Distance of 7-Wood?
7 wood golf club distances include the following.
For women, the average range is between 120 yards (minimum) and 170 yards (maximum).
For men, the average range is between 170 yards (minimum) and 230 yards (maximum).
How Should 7-Wood Be Placed In Your Golf Stance?
The ball position for 7 wood is where it's visible only halfway through the clubhead. Do not tee up the ball higher than this placement unless you want the golf ball to pop upwards, which will happen for sure when you swing that ball from under.
For fairway woods in general, the golf ball should be positioned just inside the left heel (if you're a right-handed golfer). This particular placement creates the perfect angle of attack (shallow) for sweeping that ball right off the tee or turf at impact.
What Is the Difference Between 7-Wood and 3-Hybrid?
The ultimate 7 wood vs 3 hybrid comparison.
7 wood clubhead is comparatively lighter. Now the upside to this is that the more lightweight head (than 3-hybrid) works in the favor of those with a slower swing speed. So you can hit 185 yards more easily and even get the ball to softly land on the course.
While the downside – such a light clubhead weight is not for golfers who prefer swinging heavy.
So it's obvious that 7-wood, in comparison to 3-hybrid, is easier to control, hit, and manage.
The chances of achieving consistency in your shots are greater with 7-wood than with 3-hybrid.
Long par 3s and short par 4s (off the tee) are the best situations for using 7-wood whereas 3-hybrid distance is just like the off-the-tee distance can you hit with your driver.
For covering yardage gaps (between 3-wood or 4-wood and 4-hybrid) and, at the same time, not losing yardages is possible with 7-wood. On the other hand, 3-hybrid is most appropriate for striking better on-the-rough shots.
7-wood and 3-hybrid can be adjusted, so the length in both cases is closely the same.
What Is the Difference Between 7-Wood and 4-Hybrid?
Here are the dissimilarities between 7 wood vs 4 hybrid.
If your swing speed is steep with divots, select 4-hybrid. But if you produce sweeping swings, choose 7-wood. Since the loft of both golf clubs is different, there's a difference in swing speed as well.
Distance coverage and overall shots are better off the rough with 4-hybrid.
It's also more suitable for sand traps and relatively easier to hit long par 3s off the tee.
But simply put, the longer shaft length of 7-wood means that the golf ball will fly higher, with more distance covered vertically. Also, these high shots even stop faster on those greens accompanied by that perfectly soft landing.
7-wood then, needless to say, is more preferred by beginners as it delivers more consistency in terms of direction, distance, and trajectory than 4-hybrid.
However, the comparatively shorter shaft length of 4-hybrid brings more accuracy to the game. So if you're confident hitting your hybrids, you can easily fill yardage gaps with a 4-hybrid.
When the weather is windy, it's the 4-hybrid that works better as your rescue golf club.
In general, hybrid or wood, both are effective clubs if your swing speed is mid-level. Nonetheless, you hit better (thus, fewer bad shots) with woods than hybrids.
What Is the Difference Between 7-Wood and 5-Wood?
And now, let's compare 7 wood vs 5 wood.
A 21-degree 5-wood can easily achieve a distance of about 250 yards (minimum of 175 yards is guaranteed).
As for 7-wood, it comes in handy when filling gaps you can't fill using your irons. In such scenarios then, 7 woods hit consistent shots between 140 yards and 160 yards (of course, distance is also based on the swing speed you're able to generate).
Both are suitable for teeing off on those par 3s. Although slight ball flight variations are sure to come up.
Speaking of ball flight, 5-wood and 3-iron create the same low-trajectory, penetrating flight. While 7-wood is more moderate but with a high (modifiable) arc.
Long story short, opt for 5-wood in case you happen to be a long hitter. With 7-wood, greater ball spin is more likely.
At the end of it ALL, if you're convinced that the best 7 wood golf club seems like a more beneficial option as your long-iron replacement, then here are some of the top recommendations…
What's the Final Say Then?
That if you're chasing more precision and control, it's best to learn the right way to master your long irons. But if what you want is a more enhanced performance, no matter the lie, then befriend the 7-wood. Plus, this higher-lofted fairway wood is also more forgiving on mis-hits. And with it, you can even launch the ball higher more easily.
In my opinion, doesn't matter how old you are, if you really struggle with long irons, and even hybrids as a matter of fact, a high-quality, high-performing 7-wood is the perfect alternative. It's so much easier to hit for sure!