Rory McIlroy, like this professional golfer needs an introduction!
Born in Northern Ireland, he has been a part of many PGA Tours and European Tours. Has won 4 Major championship titles – U.S. Open in 2011, PGA Championship in 2012, Open Championship in 2014, and then again the PGA Championship in 2014.
So we have followed his professional career and witnessed his 4 major wins, that he got hold of by the age of just 25 (belongs to the Tiger Woods and Jack Nicklaus league after all!). And now, in this post, we'll get to know more about his personal life. Who is Rory McIlroy's wife? What is their relationship like?
Rory McIlroy and Erica Stoll
Erica Stoll, formerly a Florida native, is from New York. And she met the two-time PGA Tour champion when working for PGA itself. So Stoll knows all about golf, hence they have a shared interest indeed. It was in 2012 that they first met, during the Ryder Cup.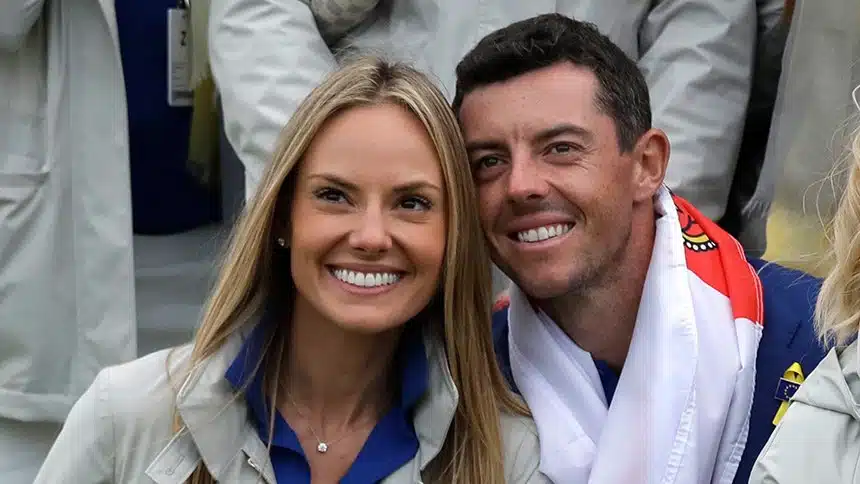 McIlroy, the four-time Major title winner, thought he was teeing off at 12:25 p.m. when he was actually supposed to be teeing off at 11:25 a.m. This means the golf champion slept in, which means he had to be escorted to the golf course by the police.
For the same reason, Erica Stoll, who was then working with the PGA, also helped with the "rescue." And he managed to reach the course only 10 minutes prior to his match.
And then 5 years later, the two tied the knot. Their wedding took place in Ireland, at one of the finest hotels there called Ashworth Castle. And as you can imagine, the guest list was all star-studded indeed – Coldplay's Chris Martin, Niall Horan from One Direction, and even Ed Sheeran and Stevie Wonder performed at their grand wedding.
3 years after the couple got married came the birth of their daughter, which happened in 2020 (on 31st August). They named her Poppy Kennedy McIlroy.
Poppy Kennedy McIlroy, born August 31st, 12:15pm. She is the absolute love of our lives. Mother and baby are doing great. Massive thank you to all the staff at Jupiter Medical Center and Dr Sasha Melendy for their amazing care ❤️❤️❤️ pic.twitter.com/IwFeGf8rod

— Rory McIlroy (@McIlroyRory) September 3, 2020
Erica Stoll – What Do We Know About Rory McIlroy's Wife?
Erica Stoll loves sailing, you know when she's not watching the very popular American dating show known as The Bachelor. And also when she's not accompanying her champion husband around the world for his competitions. Despite that, Erica Stoll prefers to maintain a safe distance from the media and limelight.
McIlroy once said during an interview with The Independent, and this was just before he got hitched to Stoll, that she has been with him at his many tournaments but they really try to keep their appearances together low-key. And that's because Erica Stoll herself has a very low-key personality who doesn't like to share her personal life all that much.
When Did Rory McIlroy and Erica Stoll Get Married?
The wonderful celebrity couple got married in the April of 2017, 21st April to be more precise. And it was a grand, fancy, star-studded wedding indeed. The guest list included Niall Horan (from the band One Direction), Chris Martin from Coldplay, and American music legend Stevie Wonder.
The lavish wedding, which took place at the top hotel Ashworth Castle in Ireland, was also attended by Padraig Harrington (3-time Major champion) and Paul McGinley (former skipper of the Ryder Cup).
And 3 years later came their first child, a daughter they named Poppy.
What Is Erica Stoll Like?
She prefers staying away from the limelight even though her husband, Rory McIlroy, is such a celebrated golfer. Her under-the-radar personality and appearances say a lot about her.
Even her account on Instagram is private. McIlroy himself has told the media that his lovely wife prefers just being in the background doing her thing while he's doing his on the golf course.
"Not the kind to broadcast stuff," he says. And that is nothing but the truth since she's such a low-key person.
He also said at this interview that Erica Stoll has brought so much "normality" into his life and everything he does. Her presence is very calming and serene not just when she's around him but around everyone. Stoll's very comfortable being in the background and not drawing too much attention to herself and her life.
McIlroy believes this very thing has had a deep impact on his life since it allows him to be one person when he's out there and another when he's at home.
Where Do They Live?
Rory McIlroy and Erica Stoll live in Miami, Florida where they own a house worth $8.5 million (12,800 sq. ft.). It has 7 bedrooms with a gaming room, a recording studio, and more!
Both have an Ireland home as well, a comparatively smaller one with 4 bedrooms. The Ireland house is actually situated in a village known as Hollywood.
How Many Kids Do They Have?
The happy couple had their first child in 2020 (on 31st August), a daughter – Poppy Kennedy McIlroy.
Papa bear McIlroy is the one who announced some days after his daughter was born about her arrival through social media. And he also thanked the hospital and their doctors (Jupiter Medical Center in Florida).
How Much Is Erica's Net Worth?
When she worked at the PGA, Erica Stoll made a pretty good income. And around a million dollars is her net worth.
EndNote
Those who play, watch, or know anything about the game of golf definitely know who Rory McIlroy is. But many also want to know more about such exceptional, high-achieving PGA Tour players. And they say there's a woman behind every successful man. So for Rory McIlroy, that would be his wife Erica Stoll.
And they go way back, they first met in 2012 during the Ryder Cup. Stoll is a very successful personality on her own, though she likes to keep her media presence/appearance low-key.