So what if Lee Westwood hasn't yet won a single Majors title! This English golfer has surely had his ups and downs, including an unpleasant divorce which led him to relocate back to England from Florida. But it was soon after that he met his future wife, Helen Storey, who also became his caddie.
Who is Lee Westwood's caddie is as important as knowing how she got to fill in the shoes of Billy Foster, his previous long-time caddie of 10 years. So let's get to know the real story!
Lee Westwood's Caddie – His Wife Helen Storey!
Lee Westwood, the English professional golfer, has secured victories on both the PGA Tour and European Tour. He was awarded the European Tour Golfer of the Year in 1998, 2000, 2009, and then in 2020. So, no doubt, Westwood ranks as one of the best players, although he hasn't yet won any Major championship titles (he came close as the runner-up thrice!).
So who is this now 48-year-old golfer's caddie? Well, that would be his wife, Helen Storey. It was in 2018, for the Ryder Cup, that his wife took over as his caddie. And when she's not it, the position is taken up by his 20-year-old son Sam.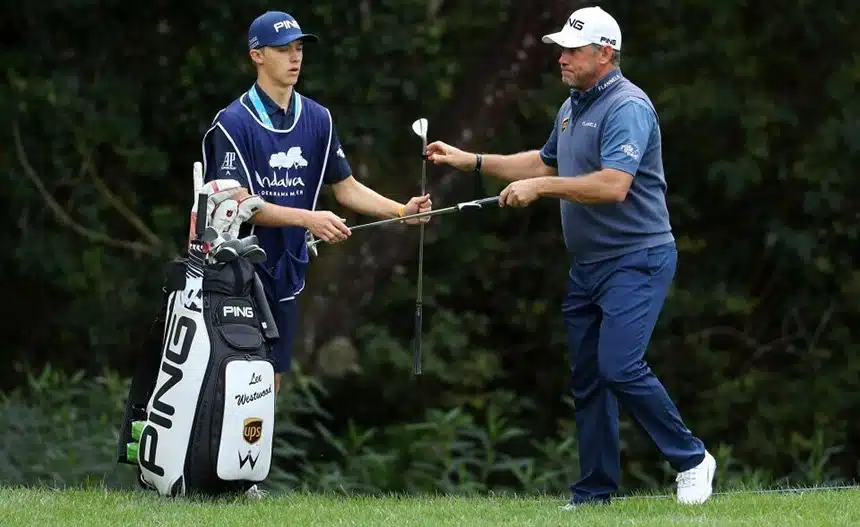 Sam was on Westwood's bag for the Ryder Cup and Masters in 2021. And that same year, father and son also played together at Augusta in March where Lee Westwood finished in the second position. Sam was again on the bag recently during the Honda Classic event.
Westwood says that it's always a "negotiation" when he has to choose between his son Sam and his wife Helen as his caddie at certain competitions and tournaments. The latter seems to be his permanent caddie since she's taken up his bag at so many events.
Storey, back in 2018, replaced Westwood's regular caddie at the time, Billy Foster. He had worked with the professional golfer for quite a few years. A whole decade! With Billy Foster, Lee Westwood bagged 13 victories and also recorded eight top-3s in Major tournaments. He reached the #1 position as well with Foster.
So Who Is Lee Westwood's Wife?
Helen Storey, his current wife, and Lee Westwood met back in 2015 after his first marriage ended. She's from Newcastle, a sports fitness consultant.
And it is believed that Storey brought a lot of luck into Westwood's professional career. She has been taking up his bag regularly, which is such a strange coincidence since he's been succeeding in the golfing arena for the past few years. And this includes his Abu Dhabi HSBC Championship win in 2020.
Bryson DeChambeau (8-time PGA Tour winner), during the Players Championship of 2021, referred to Helen Storey as Westwood's 'secret weapon.' He said that Storey plays a huge role in Lee Westwood's recent success streak. She's level-headed and steady like a rock!
The pair lives together in Edinburgh and practices at Close House.
The Story of Helen Storey, Lee Westwood's Wife
Helen Storey's a fitness consultant/instructor who has regularly been on the links with her husband Lee Westwood since 2018. When he secured his Arnold Palmer Invitational win in 2021, she was there alongside him.
Then when Westwood won the first tournament after Malaysian Open in 2014, which became his 26th win from the time his career as a professional golfer began in 1993, it was Storey who was by his side once again in South Africa.
And Helen Storey knows more than a thing or two about golf. Handy with ladies' golf clubs, there's a video of hers, shot by Lee Westwood himself, where she's striking a pretty decent approach shot on par 3. And she didn't forget to pick up the tee, says Westwood.
You can surely keep up with her Instagram updates where she shares all about her fitness and gym life, along with regular, everyday snaps.
Helen Storey 'Revived' Lee Westwood's Golf Career
Westwood turned pro in 1993 but he bagged his first pro title in 1996. And since then, winning tournaments on 5 different continents was the highlight of his professional career. He was almost there during the 2010 Masters when he entered its final day. But then he finished second to Phil Mickelson.
It was in the year 2010 that Lee Westwood ended his first marriage (with Laurae Coltart, they got married in 1999). And then came the exit of his long-term caddie Billy Foster. Westwood was looking for someone who would bring more autonomy into play by his side.
So he asked his girlfriend at the time, Helen Storey, to take up the vacant position. And she did!
Lee Westwood, when interviewed about this, said that Helen keeps him in a really good mood and knows exactly what to tell him to get him to perform better. And this partnership between them on the golf course just clicked! Because after Storey became the caddie, Westwood broke his winless streak of 4 years and also significantly improved his play.
Commonly Asked Questions!
Is Lee Westwood's Caddie His Wife?
Helen Storey, Lee Westwood's wife, is his caddie as well. It's a husband-and-wife caddie partnership indeed, which Westwood admits is great fun!
When Did Lee Westwood and Helen Storey Start Dating?
The couple began seeing each other in 2015. Graham Wylie played cupid in this scenario. Wylie, Westwood's mate, is hitched to Storey's sister.
Why Wasn't Helen Storey the Caddie for Lee Westwood During the 2021 Ryder Cup?
In 2021, Lee Westwood announced that it was his son that would now take the position of the caddie. We can think of it as a fun way for a father to spend time with his son, right? He said that he wanted to play at Augusta with Sam, his son.
Westwood had revealed in 2019 that Sam gives him plenty of extra incentive for breaking back into the top 50 golfers list and also for qualifying for the tournament. And the father-and-son partnership also seemed to do great things to Westwood's game.
And That's A Wrap!
The two caddies Lee Westwood can always rely on – his wife Helen Storey and son Sam. Westwood, a European golfing professional, has had 25 wins on European Tour, been a part of 10 Ryder Cups, and secured a few PGA Tour titles as well. He has also ranked as #1 in the top world rankings.
But who carries his golf bag during these competitions and tournaments? His wife Helen Storey! And when she's not it, the caddie is his son Sam.