Women's golf clubs are specifically designed to facilitate consistent "sweet spot" contact and allow players to concentrate on enhancing their golfing skills. A prime example is the women's driver, which features a large clubhead, a deep and low center of gravity (CG) weighting, a large sweet spot, and a lightweight graphite shaft. These types of clubs can significantly lower scores, but how do you determine which sets include such easy-to-hit clubs?
Our top recommendation for female golfers just starting out is the Strata Women's Complete Golf Club Set. This set includes all the essentials for a top-notch golfing experience, such as a driver, irons, hybrids, putter, and carry bag. The graphite shafts provide improved weight distribution and make it easier to swing and achieve more distance. Additionally, the set is affordable, so you don't have to sacrifice quality for cost.
If you're looking for a value-driven golf club set, you can find reviews and recommendations on the best women's golf clubs sets below. If you're a petite female golfer, you can also explore the best petite women's golf clubs for a better fit and performance.
1. A Complete Set or Individual Golf Clubs?
Buying golf clubs in a set, as opposed to individual golf clubs, is better (and by that, I mean cheaper and less confusing) if you're a beginner. A complete starter set, for example, includes only the most appropriate golf clubs that smoothly and evenly progress from one club to the next, so you can form a more consistent swing pattern.
2. What Should Be Included In the Set?
Typically, full starter sets include anywhere between 8 and 10 golf clubs. There are 12-piece and 14-piece sets too, but you don't need those unless you're an advanced or more experienced player.
As for what should be included in the set – driver, woods, hybrids, irons, wedges, putter, and golf bag. Now let's break it dow.
Woods and Hybrids – Make sure the driver loft is above 11-12 degrees if you want to make the task of getting the golf ball airborne easier. With this extra loft on driver and woods, you also pave the way for distance gains. As for hybrids, they are definitely so much lighter and easier to hit in comparison to long irons
Irons – Cavity-back irons all the way through! – Cavity-backs have perimeter weighting and we've already established earlier that golf clubs that are perimeter-weighted are more forgiving on off-center shots.
Wedges – Two wedges are better than one! – That would be a pitching wedge (PW) and sand wedge (SW). The former allows you to achieve the required spin as well as punch your every shot deserves.
Putter – Generally, mallet putters work the best for golfers new to the game. And why that is – simply because these types of putters save strokes by boosting factors like balance and stability.
3. Get Fitted for Your Golf Clubs
First, you have to get measured for the correct length of golf clubs based on your height and wrist-to-floor measurement. Here's all you need to know about the standard length and size of golf clubs, which also covers how to properly measure golf club length (Petite, Regular, or Tall size).
Now, fitting also includes shaft material and flex. Ladies-flex, needless to say, is the most suitable for female golfers with a slow swing speed. And the majority of ladies golf clubs are equipped with a graphite shaft – graphite because it's lightweight, hence much easier to swing (promotes a faster swing speed) when your swing speed is average or below average.
4. Forgiveness & Clubhead Speed
A larger clubhead size automatically brings into your game of golf plenty of off-center or mis-hit forgiveness. With a larger clubhead (460cc), the sweet spot is also bigger, right? And when that's the design, no matter where on the clubface the ball strikes, important factors like ball flight, trajectory, and distance don't get compromised.
Mis-hits are quite common among beginners, female or male. So it always works in your favor if speed-boosting forgiveness is a part of the mix through a larger clubhead size. That way, solid contact is established.
5. What's the Golf Bag Like
Is it a cart bag, stand bag, or hybrid? What do you prefer?
With cart bags, you get more space. But they can be only used with a golf cart. Stand bags, on the contrary, are lighter and designed with carry straps for easy, comfortable transportability.
Then you have the hybrid version – a combination of cart and stand. This type of golf bag is suitable for both when you're riding or walking. It's basically a carry bag, just like cart, with pop-out legs, just like stand.
6. Choose A Good Brand
But this hugely depends on how much golf you play. If the answer is frequently, then spending more money on Callaway ladies golf clubs (a high-end brand indeed) makes complete sense.
But if not, then too there are plenty of other brands available that may or may not be as popular as Callaway, Wilson, TaylorMade, Cobra, etc. but they're still in the limelight for their more affordable, starter-level golf club sets.
7. How Much Are You Willing to Spend
Once again, Callaway is definitely going to cost you more, BUT it's also going to last for a much longer time in comparison to cheaper-priced golf clubs. And it's most likely that if the club is higher priced, it also features some of the most advanced technologies. That means a more forgiving golf club.
But then there are golfers who just play recreationally/occasionally. So if you're one of them, no point in spending so much money. Rather buy an inexpensive set that gets the job done quite decently without emptying your wallet.
Best Golf Clubs For Women 2023
1. Callaway Strata Women's Complete Golf Club Set – #1 Choice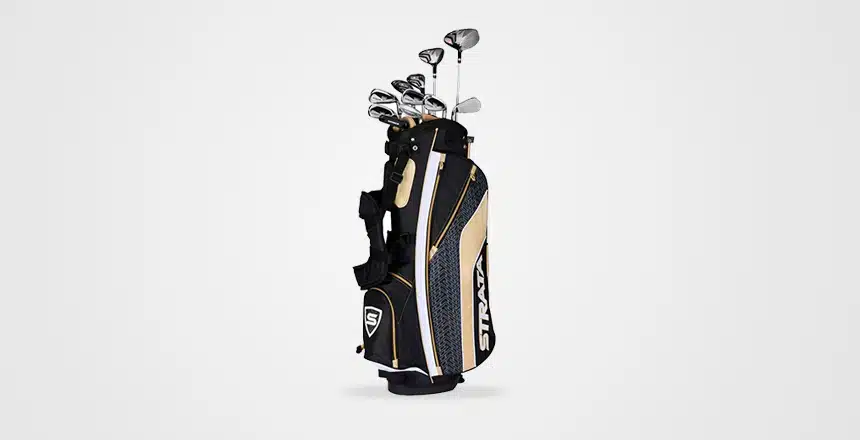 Pros
Beginner-friendly, forgiving woods
Extremely lightweight (graphite) shafts
Mallet putter also corrects off-center shots
Lightweight stand bag with backpack-style carry straps
Cons
Average quality, could be better
If you've been looking for a complete set of ladies' beginner golf clubs, Callaway is the brand that gets you in the game. Callaway Strata (16-piece, 14-piece, or 11-piece set, available in different colors and both left-hand and right-hand orientation) is a top-performer, no doubt about that.
The high performance through extreme mis-hit forgiveness is the best part about Callaway Strata. It's a beginner-friendly, full set for serious or avid female golfers. Even the hybrids are fun to work with in that they're so very easy to hit, much like the super-forgiving, lightweight driver, because of the huge sweet spot and aerodynamic clubhead shaping.
The irons and wedges also offer the perfect combination of control and forgiveness. And lastly, there can't be a mallet-style putter like this – it's equipped with accuracy-boosting visual alignment aid!
Here's a more comprehensive review since this is a beginner set that, for certain, is reasonably priced.
Moreover, a "complete" set means a lightweight golf stand bag is included too!
2. Wilson Women's Profile SGI Set – Great for Beginners & Intermediates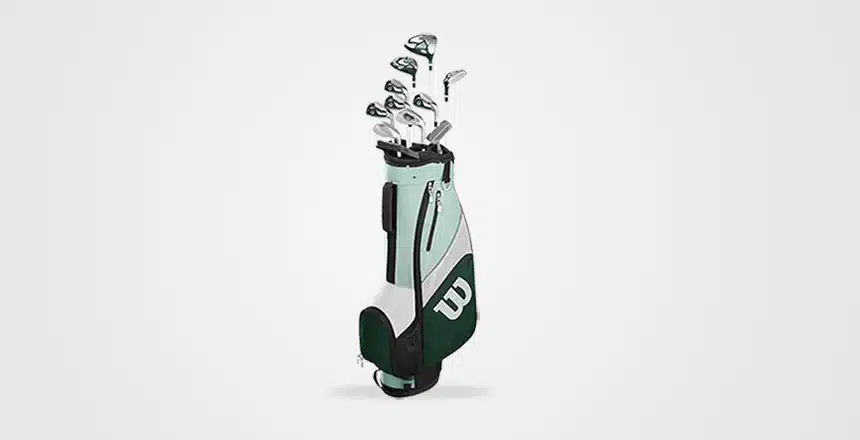 Pros
Game improvement technology best for beginners
Graphite shafts fitted with all-weather, soft grips
Large sweet spot and high loft on driver boost distance
Perimeter-weighted irons enhance accuracy
Sand wedge (better control) and cart bag (with shoulder strap) included
Cons
Blade putter is not very forgiving
Every single golf club a part of the Wilson Profile SGI Set for ladies is beginner-friendly, with the exception of the blade putter (a lot less forgiving indeed).
Beginner-friendly means you're looking at lightweight graphite, thus easier-to-hit shafts, high loft angles and large sweet spots for better accuracy and more of that much-needed forgiveness, and perimeter weighting to improve both launch angle and distance.
Just take the stainless steel irons, these have a cavity-back structure (straighter, higher, longer shots) with perimeter weighting (fixes severe mis-hits). Even the sand wedge, thanks to its lightweight design and wide sole, launches your short-game shots easily with more control and feel around those greens.
You can get the 'Regular' set, or 'Petite' or 'Tall.' Playing golf clubs that fit more accurately to your physical stature definitely makes you a better player because then the clubs become so much more effortless to hit.
3. TaylorMade Golf Kalea Complete Golf Set – "Premium" Golf Club Set for Women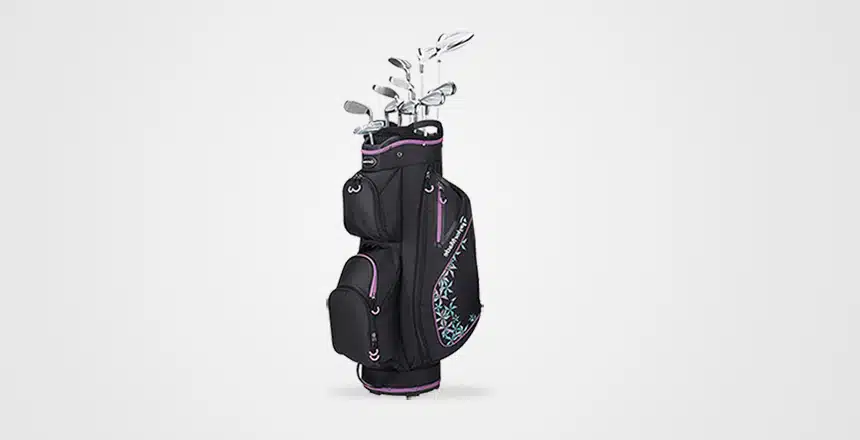 Pros
Easy-to-hit, lightweight golf clubs
Easy launch and max. clubhead speed
Added forgiveness through Speed Pocket
Premium, softer-flex shaft for square face at impact
Premium Spider putter improves forward roll and confidence
The 'Kalea' range of golf clubs, engineered specifically for women, prioritizes important factors like easy launch, lightweight design, more forgiveness, and greater distance.
You get three color options to pick from, and every version includes a driver, woods (3-wood and 5-wood), hybrids (5-hybrid and 6-hybrid), irons (7-iron to sand wedge), and putter (mallet-style, hence very forgiving).
The weight, length, and even loft angle of each golf club are perfect for you if you're looking for more forgiveness and playability.
The standout characteristic in the case of TaylorMade Kalea for women is the brand's exceptional Speed Pocket technology. Resting in the sole, this particular feature increases ball speed, no matter where on the clubface the contact is made.
High launch plus being able to square that clubface more effortlessly at impact should be expected from this high-end Callaway set. Furthermore, the high-end quality extends to the putter as well by the way – it's a premium Spider putter specifically crafted for women.
4. Wilson Women's Complete Golf Club Packaged Sets – Best for More Experienced Women Golfers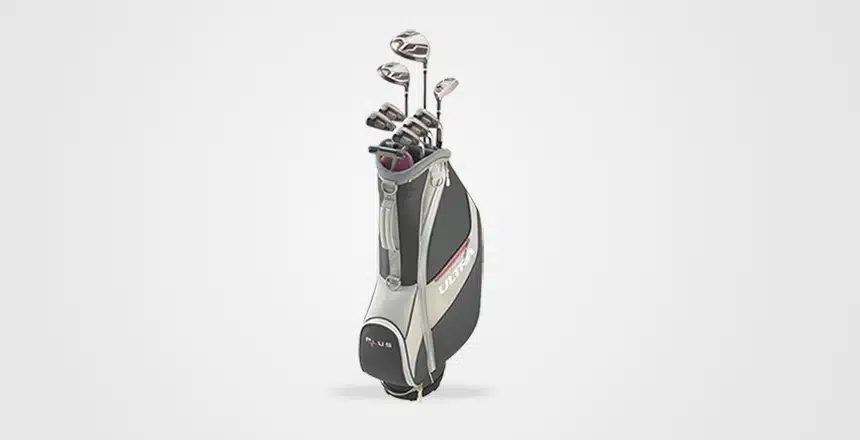 Pros
Available in 3 different styles and 2 different sizes (Regular and Petite)
Massive sweet spot, thus extra forgiveness
Very low CG placements equal greater accuracy
Sand wedge is "Easy Launch" to improve greenside control
Light, durable cart bag with shoulder strap and roomy pockets
Cons
Blade putter, not the most suitable for beginners
The packaged set options include Ultra, Ultra Plus, and Luxe. Although I would to mention that no matter which 'style' you choose, every complete golf club set here is a game-changer. You'll see that too once you start hitting that ball consistently!
All clubs have low CG weighting (center of gravity), so your shots launch high more easily and travel down the fairway long and straight, also very easily.
You get a high-loft driver, perimeter-weighted irons, sand wedge, and a lightweight, premium-quality cart bag. These golf clubs are suitable for better-skilled players as much as they are for women golfers well into their 'senior' years!
5. Callaway Golf 2022 REVA Complete Golf Set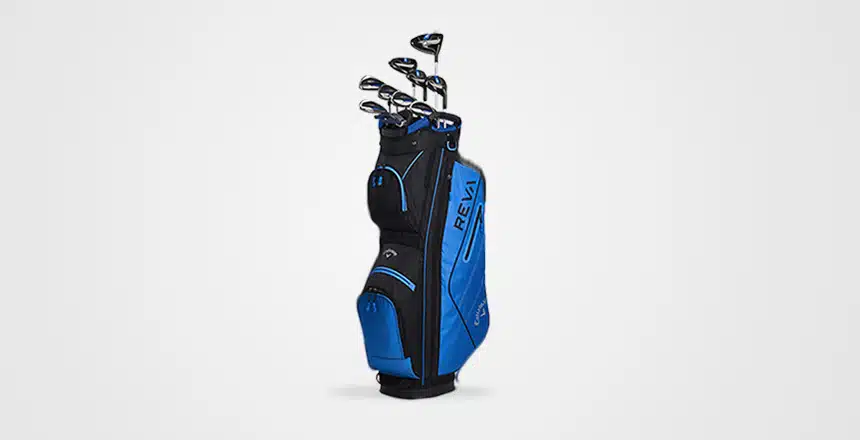 Pros
The driver is huge on forgiveness
Extremely forgiving, easier-to-hit hybrids and irons
Stroke Lab Putter improves control and speed
Cons
It's an expensive golf club set
The recent release – 2021 REVA by Callaway – is just the perfect deal for female golfers serious about the game. The driver, woods, hybrids, and irons are all engineered to maximize distance even if your swing speed is slow. The woods are well-optimized to make launch easier, so that means a higher ball flight more effortlessly.
On top of that, every single golf club is integrated with forgiveness to get your shots to fly longer and straighter more consistently. So if you're a high handicapper or beginner, you're most likely to appreciate the added forgiveness through the larger sweet spot, oversized clubhead, and, in the case of irons, the cavity-back design too.
And there's no way I'm leaving out the tempo-boosting Stroke Lab Putter the Callaway set is outfitted with. This is often a part of men's golf clubs and also those sets that highly skilled players use.
Overall, the Callaway clubs increase yardages and make way for hitting better shots down the fairway to lower golf scores.
6. Aspire X1 Ladies Women's Complete Golf Club Set – Best for 'Petite' Size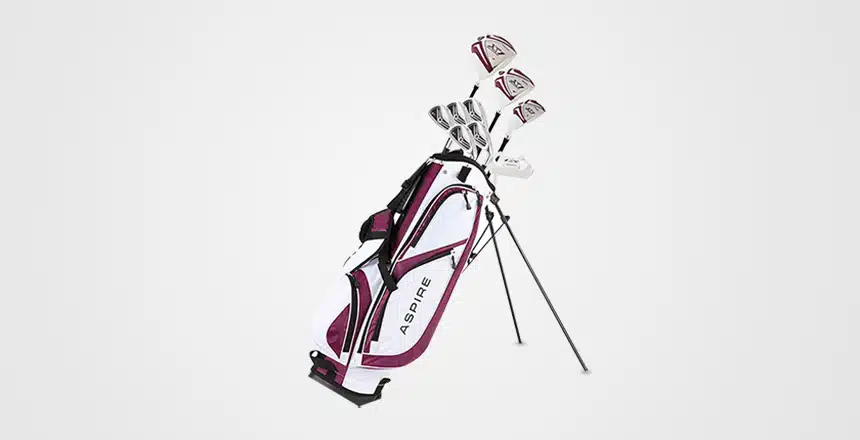 Pros
Longer carry and higher launch with woods and hybrid
All ultra-light graphite shafts for slower swing speed
Available in two sizes – 'Regular' and 'Petite'
Stand bag with a strap for easy, convenient carry
The 'Petite' or small size of Aspire X1 Ladies Golf Clubs is the most accurate for a shorter height. And not just that, these clubs are more than you could've asked for in the case of little to no golfing experience. Speaking of which, the set is built for mid-handicap and high-handicap players.
All shafts are lightweight graphite, meaning so much easier to swing. Lighter shafts, particularly with irons, create that perfect counterbalance weight when using heavier clubheads (i.e. those of irons). With lighter shafts, you can swing faster to increase speed and distance.
Perimeter weighting and superb quality here combine to help a great deal with feel and balance. The woods included are driver, fairway wood, and hybrid – all of which ensure that you can maximize launch angle despite not being a Tour-level player.
7. Precise M5 Ladies Complete Golf Set – Best for Low Budget and Value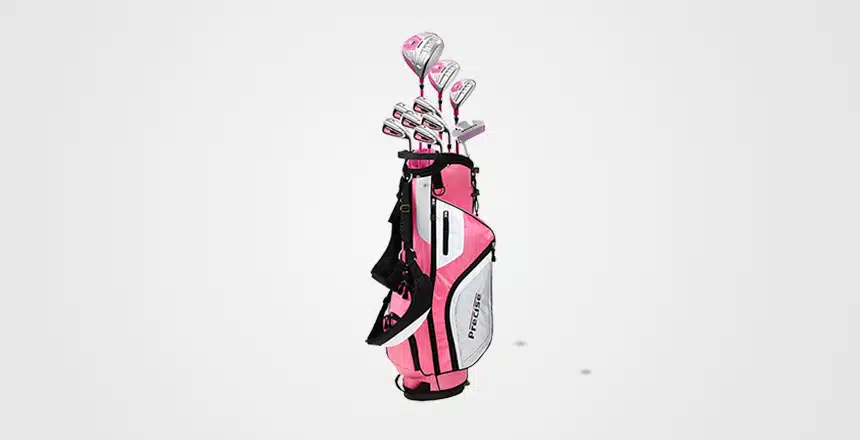 Pros
Large 460cc driver for longer drives
Lightweight graphite shafts, easy to hit
Mallet-style putter keeps putts from going off-the-line
Cons
No sand wedge
Only a starter set, not for intermediates or higher
A complete golf set for women like Precise M5 is so rare to come across. This one's not only the most affordable but also has a solid quality almost impossible to find with low-priced golf clubs. But it's a beginner/starter set, so not for advanced golfers!
It's actually an optimal choice for golfers who want to learn the game and, at the same time, don't wish to spend a fortune on clubs and balls .
Every major or minor base that helps beginners perform better is covered. For instance, the driver here has almost everything in common with the best drivers for beginners – legally-oversized 460cc clubhead that maximizes forgiveness, speed, and distance!
The set is accompanied by a spacious stand bag and also, as is expected, an accuracy-improving putter with an excellent aiming mechanism.
8. Confidence Lady Power III Golf Club Set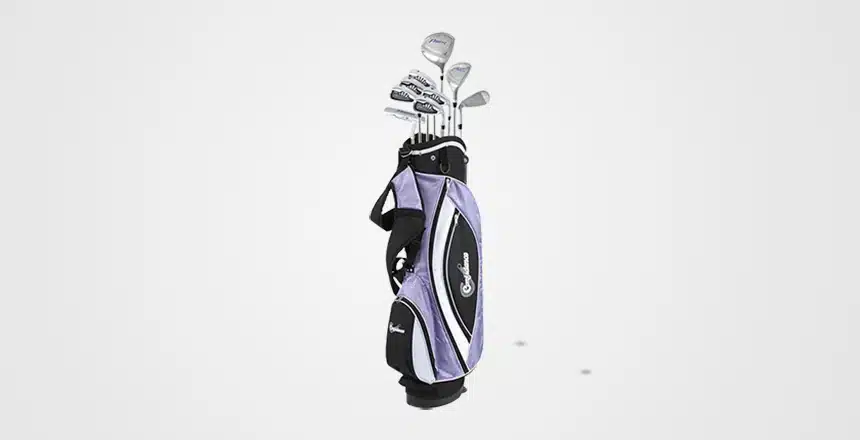 Pros
Very affordable, starter set of golf clubs
Easy-to-hit cavity-back irons
Hybrid included to replace tough long irons
Oversized driver head adds more mis-hit forgiveness
Stand bag with carrying strap and auto-pop legs
Cons
Don't expect "premium" or "extraordinary" quality
Blade putter – not so beginner-friendly!
These are real golf clubs indeed, the budget-friendly, beginner-friendly deal here might seem imaginary but the whole set is actually legitimate. Each club works in the sense that every golf club is designed keeping the beginner golfer in mind – oversized driver and hybrid that you can hit so very easily for generating long, straight shots just like that!
As for the irons, the cavity-back design takes care of not only distance but also launch, ball flight, and every other crucial aspect. Unfortunately, the putter has a blade design, which means you don't get that perfect beginner-friendly mallet-style forgiveness.
A golf stand bag is included, and it features automatic pop-out legs. And finally, the shafts are fitted with all-weather grips and Ladies-flex.
9. Believe Ladies Complete Golf Set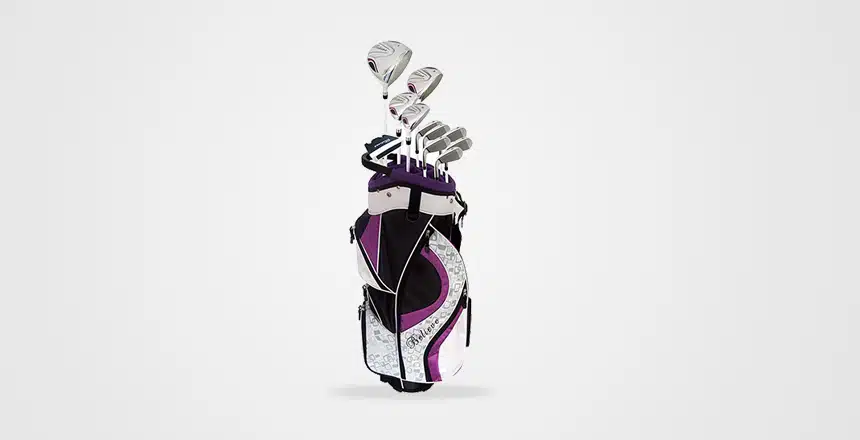 Pros
An affordable set of beginner-friendly golf clubs
Woods and hybrids are easy to hit
Wide soles on irons for higher launch
Mallet putter design, hence super-forgiving
The designer cart bag looks aesthetically pleasing
You have to believe the Believe Ladies Complete Golf Set if you're just starting your wonderful journey as a golfer and/or if you fall into the "petite-size" or "tall-size" category. The full set is very affordable and also high-performing for beginners.
The driver, with its large 460cc clubhead, helps you gain the extra distance to keep the game enjoyable despite a slower swing speed. Even the fairway wood (3-wood) is a complete delight to hit and launch. And two hybrids that you get in place of long irons, the former is so much easier to hit while the latter is so difficult even for advanced players.
Six wide-sole irons that get the golf ball to launch high with only little effort. And the cherry on the cake – a super-forgiving mallet-style putter for more stability and also a straighter putting stroke.
10. Majek Senior Ladies Golf Clubs – Best for Senior Women Golfers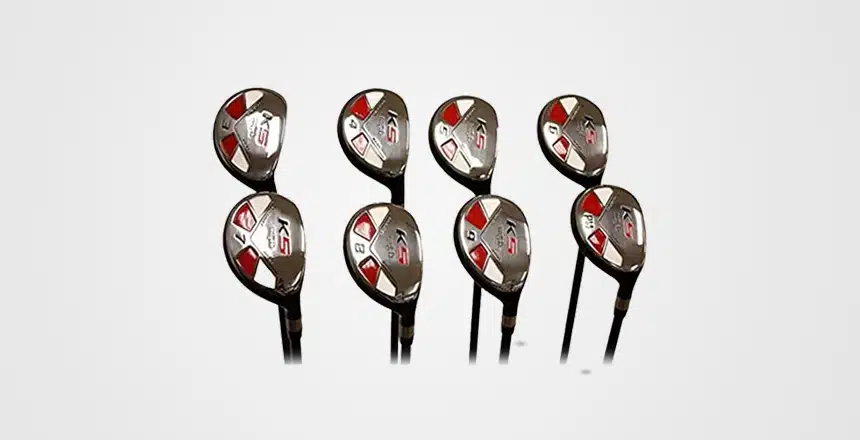 Pros
All-hybrid set for less strain on the body
Very lightweight, thus very beginner and senior-friendly
Great quality and low price
One of the top-ranked choices for seniors, for both those just getting into the game and those who've played enough golf to know the difference between good and bad equipment. Majek here is nothing but good, that's for sure!
These golf clubs, since they're rated the best for seniors, are so lightweight that even if you have arthritis, the clubs don't feel cumbersome to swing. On top of that, distance gains can be accomplished irrespective of how slow your swing speed is.
Getting greater power behind the golf clubs is possible, and so is getting your shots to fly straight, high, and long. All have a hybrid design, which is exactly what makes these clubs so lightweight and easy to hit. And of course, golf club shaft flex is Senior.
Frequently Asked Questions (FAQs)
What is the Difference Between Men and Women Golf Clubs?
Ladies' golf clubs have a more lightweight shaft i.e. made of graphite, while those for men are made of heavier steel. For the simple reason that the former is better suited for a slower swing speed and the latter is more able to handle a faster swing speed.
With women's golf clubs, even the clubhead and grip weight is on the lighter side.
And one more very obvious difference, women are comparatively smaller (in size and shape) than their male counterparts. That's precisely the reason why the shaft length of women's golf clubs is an inch or two shorter than those designed for men.
Likewise, larger sweet spots and higher lofts – both and more such key points help in making ladies golf clubs easier to hit and produce a longer carry distance.
How Much to Pay for Women's Golf Clubs?
There are so many value-driven, budget-friendly golf club sets on the market. But, at the same time, there are premium options too. If you're a budget-conscious and/or casual golfer, go with the former which costs anywhere between $300 and $500.
But if you really want to upgrade, then be ready to spend something between $1,000 and $1,500 for a full set of golf clubs.
What is the Best Ladies Golf Club Set for Beginners?
Straight to the point, the golf clubs should have a lightweight graphite shaft with Ladies-flex, so the clubs are easier to swing in order to increase speed and boost distance. It's also so much more advantageous for a beginner if the clubhead is oversized (460cc), hence a bigger sweet spot for all the mis-hit forgiveness that newbies absolutely need.
Woods, hybrids, irons, and wedges should be easy to launch too. For example, a higher loft angle on driver, cavity-back design on irons, etc.
And lastly, a set with a mallet-style putter also helps in that it's more forgiving in terms of providing greater stability and improving control and feel on the greens.
What is the Standard Length of Women's Golf Clubs?
43 inches is the standard golf club shaft length of women's golf clubs. This is an inch shorter than golf clubs made for men.
Irrespective of the type of golf club, the ones that are designed for women are always 1 inch shorter.
What Size Women's Golf Clubs Do I Need?
The standard or regular size/length of golf clubs for female golfers is suitable for those between 5'5" and 5'9". But then if your height is below 5'5", you have to choose the Petite version of golf clubs. In fact, these are more lightweight and, as a result, much easier to swing.
Last, Final Thoughts
You should feel confident playing your golf clubs, regardless of how good (or bad) you are on the course. And just to boost those confidence levels, there are beginner or starter golf clubs specifically crafted for women.
These feature lightweight graphite shafts, oversized clubheads, perimeter weighting, game improvement technology (for example, TaylorMade's distance-boosting, super-forgiving Speed Pocket), and more.
Even affordability is very important, but not at the cost of distance, accuracy, quality, etc. The great news is that your options include both premium and budget-friendly golf club sets, so it's all up to you if you want to take it light and easy or go for a full blowout!