What's expected out of TaylorMade irons – forgiveness, distance, and exceptional performance even on mis-hits. In short, golf clubs that appeal the most to beginners and high handicappers alike. And it's mostly for them that this TaylorMade SIM2 Max Irons review has been written.
With a top brand like TaylorMade, you can always expect advanced technologies and bold golf equipment that consists of newer models constantly outperforming their predecessors. And that's why TaylorMade's choice of words for their SIM2 range of irons is as follows… "Don't Just Want Better Shots, Expect Them."
So if you have old, outdated irons in your golf bag, it's time to replace them with something new and phenomenal – TaylorMade SIM2 Max – that combines forgiveness and distance (both in the same, equal measure) as well as feels, sounds, and looks good too!
TaylorMade SIM2 Max Review – Best Golf Irons for High Handicappers & Beginners!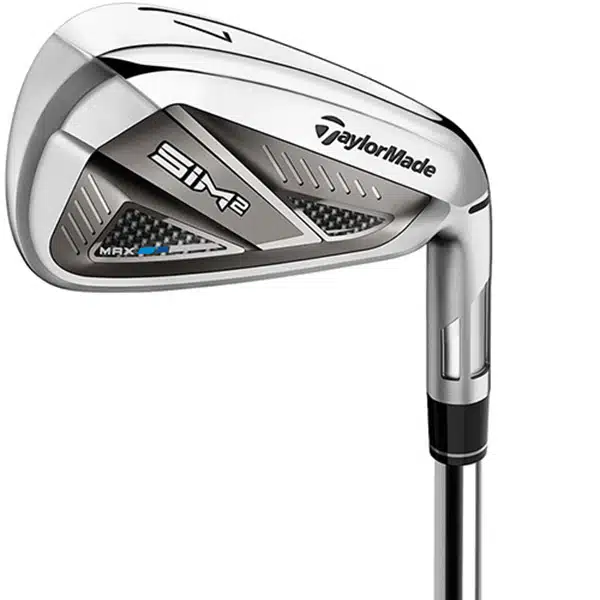 Better players benefit a great deal from TaylorMade's P-Series of irons. But not every golfer is of that caliber, right? So what about those high to mid handicappers who need more 'mis-hit' forgiveness?
For them, the brand launched their original SIM Max and also SIM Max OS. And after the success of these two came SIM2 Max, which shares a similar DNA as that of its predecessors.
But there is a major difference between SIM2 Max and the original SIM Max irons. And that difference takes the form of Cap Back technology.
TaylorMade's SIM2 collection of irons is equipped with a unique Cap Back design that, when combined with TM's commonly used Speed Pocket technology, further increases face flexibility for boosting ball speed and distance even more, even in the unfortunate cases of off-center strikes.
What to LOVE about SIM2 Max
Easy, better launch, ball speed, and distance
Straight ball flight with excellent consistency
Highly forgiving (hence, SIM2 'MAX') across the clubface
Smooth, buttery feel (not very heavy)
More visually appealing in comparison to the original SIM Max
Quite affordable
What to Dislike About SIM2 Max
Too strong lofts, thus limited workability
Not enough feel/feedback on shorter shots
Wear and tear shows relatively quickly
TaylorMade SIM2 Max Irons Specs – Complete Analysis & Review
1. FEEL AND SOUND
Generally, TaylorMade's highly recommended irons give off such a unique feel that is the epitome of consistency. So much so that you don't even need to keep your eyes open to identify the manufacturer of the iron you're hitting. If you're well-acquainted with the special "feel" of TaylorMade, you'll know blindfolded that it's a TM golf club.
So what's the feel like of the SIM2 Max model? It's somewhere between traditional forged (players') irons and modern cavity-back (game improvement) irons. On contact or impact, there's the solid, loud enough "snap" sound. The tone sounds mid-pitched with no jangly or rough edges.
Thus, expect a reasonably solid impact with a hint of that rewarding explosive-ness across the sweet spot. Although this should not be expected, which only makes sense, on mis-hits. Off-center strikes are accompanied by a slightly unpleasant tone (more of a muted sound) yet you can still very easily feel the exact impact location.
2. LOOKS
Modern-day game improvement irons – well, that's the best way to describe the aesthetics of TaylorMade SIM2 Max!
Thick top line and slight offset with a wide sole (that lowers CG to get the golf ball airborne and higher more effortlessly). The wide sole is wide enough for preventing digging yet not so wide as to stick out from the back of the topline during address.
As is the case with every TaylorMade SIM2 design, even this one features a more downplayed color. Carbon fiber on the cavity, a smack of blue, and various tones of silver. The color scheme seems more subdued or understated, in a good way of course because it tends to neutralize or balance out the technology-packed cavity.
When compared to SIM2 Max OS, what's similar is the size of the top line on both. However, the most discernible difference is the extra offset installed in OS. Then you have SIM2 Max OS's deeper cavity and wider sole as well.
3. ADVANCED TECHNOLOGIES
If you have a look at some of the best TaylorMade drivers, you'll notice how much the same technologies have been incorporated across all of them (of course with a few differences here and there). And the same can be said about TM golf irons.
SIM2 Max shares a lot in common with its predecessors, especially with original SIM Max irons. The only feature that's new in the former is the state-of-the-art Cap Back technology.
CAP BACK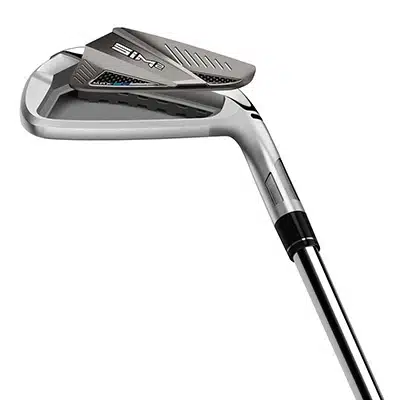 The brand new Cap Back design consists of a combination of super-lightweight polymers and high-energy stainless steel. And this sort of unique multi-material construction maximizes forgiveness, distance, and feel. Add to that the ultra-low placement of the center of gravity, hence higher launch more easily.
Cap Back is spread across the whole cavity design (the bronze at the back of the golf club? That's Cap Back for you!). It really knows how to increase rigidity and stability across the upper region of the clubface close to the topline.
Combined with TaylorMade's game-changing Speed Pocket technology, this adds to face flexibility in the bottom. The result? Greater ball speed and longer distance potential across the entire clubface, along with an improvement in feel and sound.
In simpler words, Cap Back takes the form of a "smart" sweet spot to enhance mis-hit forgiveness in the most vulnerable areas (i.e. in the heel's low and toe's high regions).
SPEED POCKET
This particular technology (Thru-Slot Speed Pocket) created by TaylorMade increases flexibility, boosts ball speed, and maximizes forgiveness. And this is very useful if you tend to hit your shots low or off-center on the clubface.
There's also the ultra-thin, 360-degree undercut construction of the face as well as a fluted hosel on SIM2 Max irons. Both of these features work together for lowering the CG to improve launch conditions.
ECHO DAMPING SYSTEM
A hollow-bodied construction built specifically for that traditional forged-like feel. Such a system in SIM2 Max features a completely encapsulated insert placed behind the clubface from the heel to the toe.
The insert is made using soft polymer where the HYBRAR damper material concentration is greater in comparison to the SIM2 range. Therefore, a more enhanced vibration dampening effect and a softer feel.
Across that face, multiple contact points are incorporated for absorbing harsh, unwanted vibrations without interfering with face flexibility.
INVERTED CONE TECHNOLOGY
TaylorMade's ICT consists of variable clubface thickness. And what this type of technology does is it expands COR (Coefficient of Restitution) for maximizing ball speed over a more massive impact surface around the sweet zone.
To use more straightforward language, Inverted Cone Technology in their SIM2 Max irons optimizes forgiveness each time you hit off-center.
4. PERFORMANCE FEATURES
FORGIVENESS
Which are more forgiving, SIM Max or SIM2 Max irons? Both are extremely forgiving golf irons indeed, particularly when it comes to delivering the maximum amount of 'mis-hit' forgiveness. But the latter does a better job because it has something that SIM Max doesn't, and that is Cap Back technology
Both models can retain ball speed, reduce dispersion, and generate optimal launch and spin in those common 'off-center' zones, no doubt about that. However, the most noticeable improvement in performance comes from the upper region of the clubface, which is the very territory of Cap Back but only in SIM2 Max.
So you see how this TaylorMade iron feels much more stable (and much less punishing) even in the case of poor ball contact.
DISTANCE
If you understand all about the degree loft of golf clubs, then you know why stronger-lofted irons are not preferred by most golfers. A stronger loft does indeed make it challenging for you to get the ball airborne easily.
So are SIM2 Max irons stronger-lofted? You don't need to worry about that simply because these golf irons have a lower center of gravity that, by default, promotes a higher launch.
As for ball speed as well as distance, expect nothing but a top-class performance from SIM2 Max by TaylorMade. To be more elaborate, expect your shots to explode off that clubface. And that's exactly why these irons are the top choice in the list of the best beginner-friendly and even senior-friendly golf irons.
Generous stopping power also makes an appearance into those greens, with a high enough spin rate for minimizing rollout sufficiently. Thanks to the mid-to-high launch!
Thus, no denying that SIM2 Max is longer than SIM Max. On top of that, you don't even have to deal with too little control and a lower trajectory.
TRAJECTORY / PLAYABILITY
Mid-high trajectory and mid-range spin with all the consistency you need – that's what you can achieve with SIM2 Max. These are game improvement irons after all, which means they have to be well-balanced in terms of performance.
Since the soles are not too wide (unlike SIM2 Max OS), playability (no matter the lie) is maximized. Although I would admit that SIM2 Max is slightly "grabby" when the lie consists of thicker grass.
Nevertheless, workability is solid in that you get a good amount of shot-making precision. And this particular benefit exists despite SIM2 Max not being players' irons!
As for the short irons in the set, these are favorably surprising and not excessively "clunky" as some assumed or expected them to be.
5. PERFORMANCE – INDOOR & OUTDOOR
INDOOR PERFORMANCE
When golf clubs are easier to hit and launch, you can and will be excused with just minimal effort on your part and, at the same time, gain EXTRA yardages. That's how great SIM2 Max irons are with their superb forgiveness.
Look forward to hitting as long as 150 yards with the 6-iron. And this distance can reach 160 yards as well if you actually produce a good strike.
What about the spin rate? The average is about 5,500 RPM, which is enough to boost confidence as far as holding a green is concerned (with an approach shot). Compared to long irons played back in the days, which would give one a spin rate under 4,000 RPM, these modern game improvement irons are certainly so much better.
OUTDOOR PERFORMANCE
No denying that confidence is a big part of the game with these TaylorMade golf clubs. Minus the worry of striking left, as might be the case with chunkier, more offset SIM2 Max OS.
Shaping your shots with SIM2 Max is also very easy enough. So now how about different scenarios played with these TaylorMade irons…
Using the 4-iron of the set, you can actually achieve a longer carry distance (as long as 160 yards), even in wet or damp winter weather conditions.
With the 8-iron, you can hit 130 yards downwind toward your next flag. Producing a slightly draw-biased ball flight is also possible. And so is landing this shot onto the green safely, which means distance control is not compromised along the way.
Within 85 yards into that 11th green – another scenario where TaylorMade SIM2 Max irons feel nice and stable to generate an easy spring on impact, thus a straight ball flight.
The only complaint here has more to do with turf conditions than anything else. Wet greens might stop the golf ball within 1-2 yards. Nonetheless, I won't deny that greater spin can indeed be produced with a more traditional or bladed iron outfitted with a weaker loft.
The stronger loft and added bulk of SIM2 Max, unfortunately, make it slightly more difficult to play for chip shots. Also, the larger clubhead doesn't seem like the most suitable, because of not being able to bring the golf club behind the ball, from a poor lie.
5. Price
TaylorMade irons have a considerably higher price tag. Especially the blade-style TM golf irons are more expensive because of the greater precision they are equipped to provide. As for brand new irons designed by TaylorMade, they cost anywhere between $700 and $2,000.
However, budget-conscious golfers are not willing to spend that kind of money. And that is why there are affordably priced models such as this version of TaylorMade SIM2 Max irons.
Moving On to the FAQs Section…
Are TaylorMade SIM2 Max Irons Suitable for High Handicappers?
SIM2 Max by TaylorMade is a most fitting choice for high-handicap golfers simply because these irons are finely equipped for boosting distance and consistency. As long as you select a shaft based on your swing speed, you're sure to hit more greens, despite a slow swing speed and/or high handicap.
What's the Difference Between SIM2 Max and SIM2 Max OS Irons?
No doubt, both TaylorMade irons are hugely forgiving plus both have the power to carry the ball farther and farther. But which of the two you should choose depends on whether you want to gain extra yardages and, at the same time, if you're well accustomed to a larger-sized clubhead at address? Here, let me explain.
TaylorMade SIM2 Max OS features the same advanced technologies as its SIM2 Max counterpart. Only the former is oversized, which means it's built with more girth for welcoming even greater mis-hit forgiveness. So the sole is wider and loft stronger. Plus SIM2 Max OS accentuates draw-bias.
That's why which of the two you pick is based on whether or not you're comfortable with an oversized head (of SIM2 Max OS of course) at address.
Are TaylorMade SIM Irons Suitable for Mid Handicappers?
Agreed that TaylorMade SIM Max appeals the most to high handicappers because of the high ball flight plus long distance it produces but even mid-handicap golfers can benefit from this impressive boost of performance, which includes a maximum level of playability or workability on any type of lie (thanks to the wide-enough yet not-excessively-wide sole).
The Summary
TaylorMade golf balls deserve attention. Even TaylorMade golf bags deserve a lot of praise and attention. And the same, no denying, can be said about TaylorMade golf clubs, such as, in this case, their SIM2 Max irons. So you know that the brand is definitely doing something right for golfers all over the world, and of all kinds (beginners, amateurs, pros, and low, mid, high handicappers).
As for SIM2 Max, these golf irons are highly forgiving. The irons get the work done FOR YOU, which means minimal effort on your part will go unpunished.
The best thing about these irons is not only that they're more forgiving but also that they have a more traditional forged-like feel, despite being modern game improvement (cavity-back) irons. Thus, better suited for mid-handicap and high-handicap golfers. All in all, SIM2 Max promotes a faster swing speed to ensure that your shots are high and towering.