For some reason, I just cannot get myself to actually describe a fairway wood. This particular golf club, even though created for simply just subbing in for the driver, has proven to be such a huge relief in the form of a 6-iron alternative. I guess that's how one would best describe some of the best fairway woods out there.
Moreover, not every fairway wood features the same loft. For instance, the lower-lofted woods come with a hotter clubface or larger clubhead while those with a higher loft angle have a shallower profile. Now how and why do these design characteristics matter is something I'm going to explain in this article.
At this point, you just need to know that fairway woods are not to be chosen lightly or carelessly. You don't get that many shots or chances with woods, unlike your driver, irons, and putter. This means that whenever you do, it better be ready to take on just about any challenge!
1. TaylorMade SIM 2 MAX Fairway – Best of the Lot!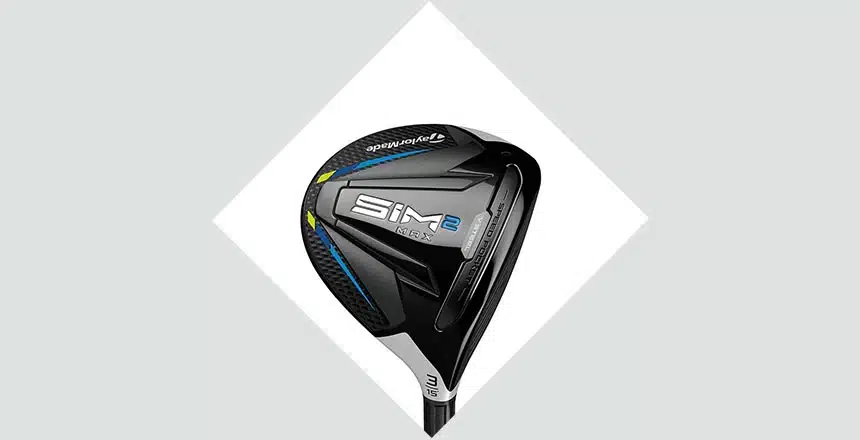 Pros
Explosive speed and distance off the face
Speed Pocket for face flexibility
High-launching shots, thanks to low CG
Very forgiving construction and technologies
Superb turf interaction and straighter ball flight
Cons
Restricted workability
Not equipped for low or mid launch
TaylorMade, in 2021, upgraded their SIM 2 MAX model to further enhance the very successful SIM line of golf clubs. This SIM 2 MAX Fairway Wood is now the most celebrated for its extremely forgiving and versatile characteristics.
So much easier to hit than before, and longer too because now you'll be averaging at least 20 yards extra in your carry distance.
To boost both high launch and forgiveness, TaylorMade designed a larger head with strategic CG positioning and precision weighting that deliver outstanding distance. The V-shaped steel construction hits two birds with one stone – further maximizes forgiveness and improves turf interaction.
Also, a high-strength steel Twist Face sits right where it's supposed for helping you overcome those natural tendencies of yours to mis-hit. Thus, increasing speed even on those shots that are hit low or off-center in the clubface!
2. Callaway Golf 2021 Epic Max Fairway Wood – Best of the Lot for Women!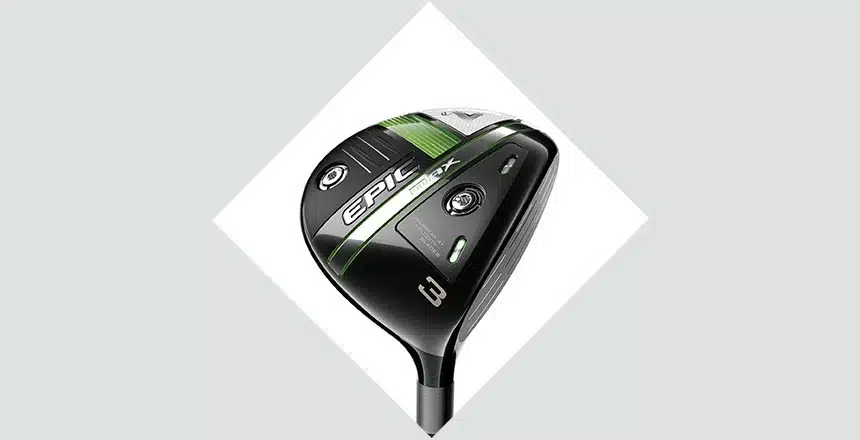 Pros
Easy-launch, forgiving fairway wood
Ball speed-boosting shaping/technologies
Adjustable weights optimize spin and launch
A.I. face, with high strength, sends the ball far longer
Cons
Draw-biased, hence limited playability
High-launching, thus does not pair up with excess spin
Ladies, this is just the golf club to include in your bag. The loft here is so much closer to that of the driver, hence achieving additional yardages on those longer par-4s and par-5s is not impossible or even difficult anymore.
Epix Max by Callaway features the kind of 'oversized' clubhead shaping that simplifies the launching-the-ball bit for you. Also thanks to the lower CG and shallower face for the same!
The brand, known for its game-changing technological advancements, has incorporated a new, improved Jailbreak system – Velocity Blades that stiffen the body to increase stability, so your ball speed receives the much-needed push.
And then there's the high-strength steel construction of that same clubface that offers both extreme flexibility and toughness. Combined with Callaway's Face Cup technology, this just transforms your consistency and speed game.
Each Epic Max face has unique craftsmanship through the use of A.I. for enhancing ball speed on both off-center and center strikes.
3. Cobra Golf 2020 Men's Speedzone Fairway – Best Mid-Range Fairway Wood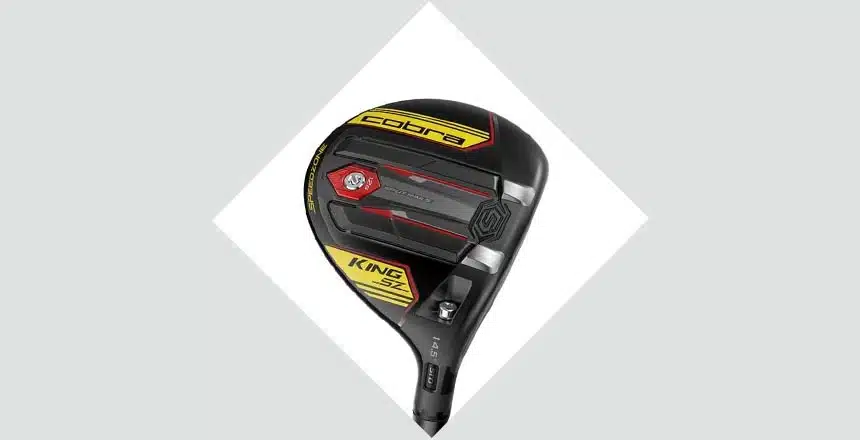 Pros
Higher launch, more ball speed, max. forgiveness
Effortless gliding action through any turf/lie
70-percent larger hot spot zone
Adjustability for deeper, lower CG
Cons
Not a sleek design
Does not reduce slice-producing side spin
This mid-range (not too expensive nor too cheap) fairway wood by Cobra is designed for gliding effortlessly and smoothly out of every lie. Thanks mainly to the Dual Baffler Rails that add both exceptional speed and stability through that turf.
Other power-boosting features infused into Cobra Speedzone include the Power Zone CNC-milled clubface for greater distance across greater points on the face, Flex Zone Hollow Split Rails that create a much, much bigger hot spot zone to also boost ball speed plus increase launch.
Also comes equipped with a lightweight carbon fiber crown, which features discretionary weight that you can move deeper and lower to adjust the CG placement accordingly.
4. Callaway Big Bertha B21 Fairway – Best for Beginners and High Handicappers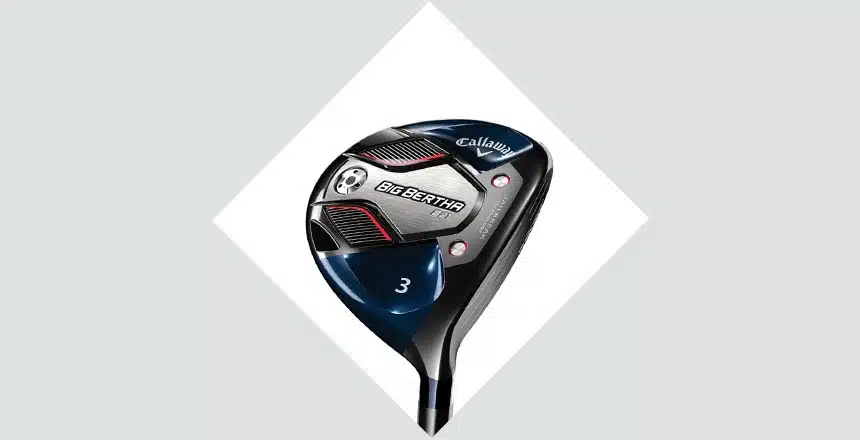 Pros
Easy-launch, easy-to-hit fairway wood
Oversized shaping ensures smooth turf interaction
Offset added to minimize slices
Jailbreak bars add stiffness for increasing speed
Lightweight RCH shaft perfect for slow swing speeds
Cons
Not easy to hit off the deck
Heavily offset, thus overdoing the shot is more likely
If this is your first purchase in golf, let it be Big Bertha B21 by none other than the great Callaway. You'll be hitting this fairway wood as long as the driver!
And the whole experience is sure to make you consider at least once switching all your long-game golf clubs to Big Bertha B21. They're the best of Callaway drivers and Callaway irons!
It's just what beginners and even high handicappers need to eliminate mis-hits, even though you have those common off-center tendencies.
Each and every Big Bertha B21 fairway wood is built with an oversized head, shallower face, and progressive shaft length. This is how smoother, more effortless turf interaction is made, along with consistent contact.
On top of that, you have the greater offset design for anti-slice performance, which means expect not only faster but also straighter shots.
Advanced Flash Face, designed by A.I., consists of a broader hitting spot to promote longer distances despite a slower swing speed. So there's no doubt that Big Bertha B21 golf clubs are easier to hit and even get the ball to launch higher. Hence, the best fairway woods for high handicappers and beginners.
5. Callaway Golf 2019 Epic Flash Fairway Wood – Best 3-Wood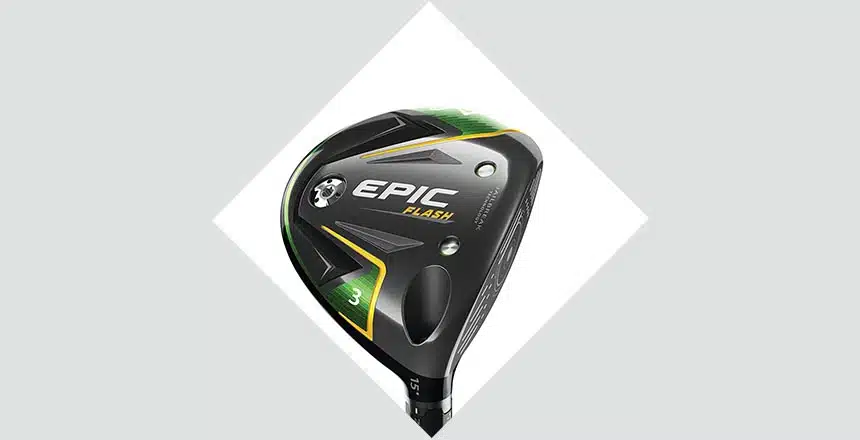 Pros
Ball speed automatically increases through Flash Face
Forged steel design also boosts ball speed
Jailbreak technology is another speed-boosting feature
Lightweight hosel equipped with easy-launch CG
Callaway's phenomenal Epic Flash fairway woods are all about groundbreaking distance (through exclusive Flash Face technology) and hitting straighter. ALL OF THIS no matter your swing speed and/or skill level! Meaning greater ball speed and longer distance are guaranteed.
Callaway Epic Flash is insanely forgiving and high launching for all those golfers who want more height. This fairway wood is also quite adept at accelerating speed across the entire face on both off-center and center hits.
And things just got even better in this 3-wood with a lighter, shorter Optimist hosel. As for that saved weight, it's very strategically used for repositioning CG to make launch easier for a longer-carrying, higher ball flight.
6. Titleist TSi2 Fairway Wood – One of the Best Fairway Woods for Mid Handicappers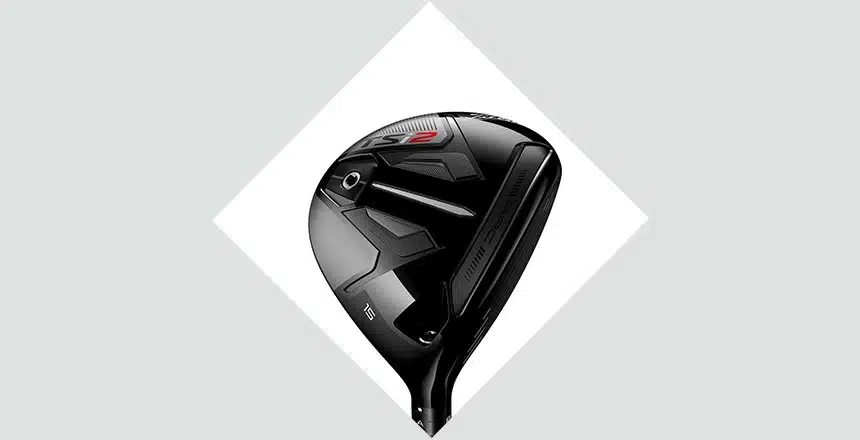 Pros
Classic shape and traditional looks/feel
Quite forgiving and launches high
Hosel adjustment – 5 different loft settings
High-speed Variable Face Thickness (VFT)
Non-slip pattern Golf Pride Tour Velvet grip
Cons
The more compact shape can be intimidating
In comparison to TSi1, Titleist TSi2 is not that forgiving but is enough for any mid-handicap golfer. The slightly smaller shaping, on top of that, is also quite capable of delivering the required mid-level workability.
You can hit long distances with sufficient mis-hit forgiveness even with TSi2, so don't doubt that even for a second. The Active Recoil Channel 4.0 ensures a higher launch and lower spin to add more speed and accuracy.
And this top brand's exclusive VFT face is also included for high speed, which combines with ARC to further max out ball speed all across that clubface.
7. Orlimar Golf Escape Fairway Wood – Best Budget Fairway Wood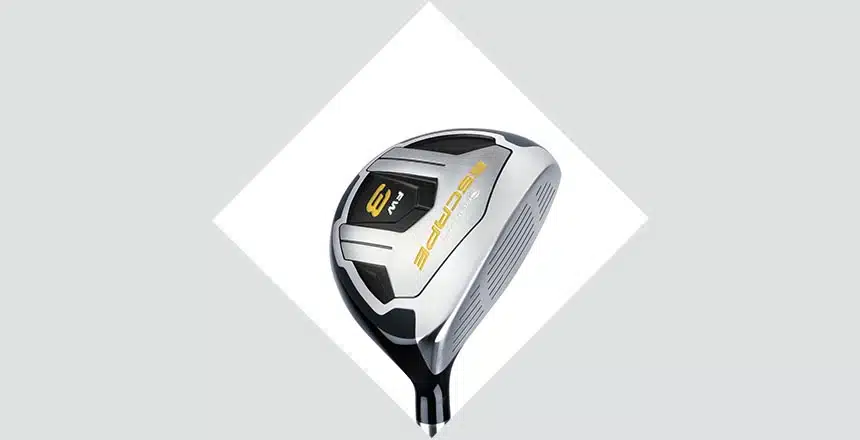 Pros
Oversized shaping and high launch
Such a broad range of lofts
Low CG extracts ball from a tight lie
Super-lightweight graphite shaft
Cons
Only made for slow swingers
Roll-out is not much
Orlimar made it to the list of the best fairway woods 2020 and also 2021. And now it continues to be a part of top contenders even in 2022, despite the super-affordable price tag. I think it's precisely because of the inexpensive cost that these Orlimar-manufactured fairway woods are so popular.
That and the feel, clubhead angle, and ease of use when striking the ball – all of these factors truly matter when approaching the green.
You just instantly know that the fairway wood is perfect for golfers with a slow swing speed and/or high handicap. So it really helps to lift that ball off the turf to get it high into the air. The ball flight is much like a high-lofted iron with a roll-out that's only minimal after landing.
But then the larger footprint, since it brings more confidence and accuracy into your game, is better in comparison to those irons and hybrids slow-speed golfers usually find difficult or uncomfortable to hit.
8. Callaway Golf 2020 Mavrik Max Fairway Wood – Best Draw-Biased Fairway Wood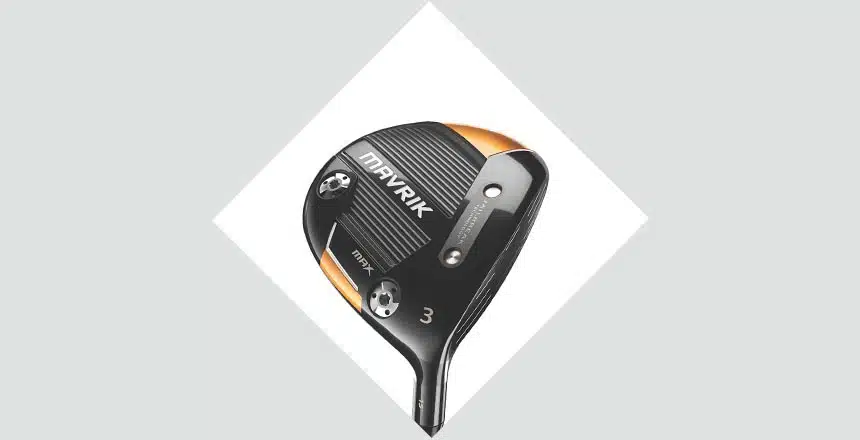 Pros
Draw-biased to square the face at impact
Lighter shaft and higher loft improve speed and launch
High-MOI design maximizes ball speed
Cons
Hard ball contact
Callaway-grade quality is lacking
The whole added benefit of using a draw-biased golf club is that its head, which has the CG located/shifted far enough toward the heel, generates a much straighter ball flight (so no more sliced shots!). This kind of club also features a lighter shaft, more upright lie angle, and higher loft – all of which are a part of Callaway Mavrik Max.
Mavrik Max fairway woods have been quite the rage because of their ability to produce just the right direction and distance. You can hit 200 yards just like that as someone new to the game of golf. Shortening par-5s is also possible with this one!
Callaway really knows how to design fairway woods that get under the golf ball to lift it off the ground and get it into the air. This must sound like such a huge relief if you're a high handicapper and beginner.
So feel free to utilize Mavrik Max from the fairway or tee to create high launch and mid-level spin, along with a smooth turf interaction (thanks to that progressive leading edge).
9. TaylorMade 2017 M2 Men's Fairway Wood – Best 5-Wood
Pros
Extremely forgiving with a huge sweet spot
Advanced shaping increases playability
Sound ribs and fluted hosel improve feel and sound
Speed Pocket boosts ball speed on off-center shots
Cons
Headcover not included
This is for left-hand orientation
Fairway woods, more specifically 5-woods are often overlooked but they shouldn't be because a good one like this might just save your long game. TaylorMade's celebrity M2 fairway wood design consists of a multi-material construction with low CG for high launch.
5-woods like these prove loud and clear that you don't need to use a 3-wood all the time. The golf ball pops right off its face to take on greater ball speed, higher trajectory, and reduced backspin.
And even when that perfect "sweet spot" contact is not made, ball speed reaches its maximum potential to travel the desired distance. Plus, the fluted hosel improves feel and sound as well without interfering with distance or the high-launch CG.
10. TaylorMade Rocketballz Fairway Wood – Best Tour-Range Fairway Wood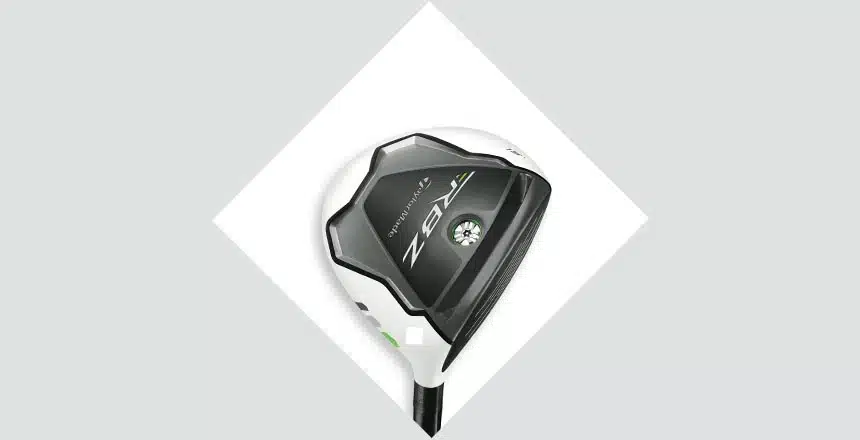 Pros
Speed Pocket for distance breakthrough
Low CG to launch higher with lower spin
Lightweight shaft, thus also for slow swing speeds
Larger head and white/black contrast – easy to line up
Cons
Signs of wear and tear show up quickly
Check out Tour pro Phil Mickelson hitting TaylorMade Rocketballz! You instantly know just how well engineered this fairway wood is when it comes to handling the fast speed, low handicap, and advanced skills of better golfers!
To be honest, not much needs to be said here except that this is a very advantageous golf club in that it produces a great deal of distance with the most remarkable ball flight and exceptional feel and sound. Even lining it up is super-easy because of the black-white contrast.
Chances are you're going to be using TaylorMade Rocketballz for many, many years simply because more distance just bombs off that clubface. And for the fact that it goes as far as the best TaylorMade drivers. While also producing a very straight ball flight, just like these top-rated TaylorMade irons.
11. Founders Club Fresh Metal Golf Clubs Fairway Woods – An Excellent Bonus Option At An Unbelievable Price!
Pros
Easier-to-hit long-iron alternatives
3 different loft options (18, 30, and 33 degrees)
High, accurate, consistent shots off the fairway, tee, rough
Slice-controlling offset design
Lightweight graphite shaft suits slow swing speeds
Cons
Lacks that 'explosive distance' factor
These are quite forgiving fairway woods designed for beginners and amateurs in golf. And for the same reason, they are also very affordable to buy.
No matter which loft configuration you select (18, 30, or 33 degrees), each one is extremely easy to hit and will get you the distance you desire.
Mis-hits are also sure to reduce drastically, which is another huge benefit if you're a beginner. The looks and feel are also very impressive and the fact that you can shape your shots left and right or hit them straight whenever you wish makes these fairway woods even more tempting to purchase right away.
Fairway Woods – What Are They?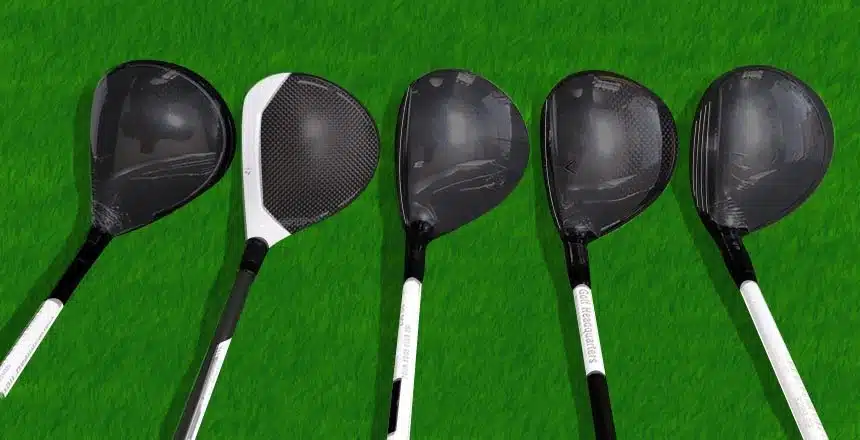 I like to call them very resourceful distance-oriented golf clubs. They're quite versatile off the tee, fairway, even light rough. Think of a fairway wood like a small-headed or miniature-sized driver except that the loft is slightly higher and face a bit shallower.
The clubhead volume of your typical fairway wood is anywhere between 140cc and 180cc. And that of regular drivers is either 440cc or 460cc. As is obvious then, fairway woods and drivers may look the same but their clubhead size/volume isn't.
Even the clubface is shallower in the case of woods. That explains why the CG, which is the center of gravity of the golf club, is lower. And with a lower CG, you can get the ball airborne more easily.
Furthermore, fairway woods' instinctive capacity to be a lot more forgiving in comparison to long irons is tempting even for Tour players. Even they then end up including 1-2 fairway woods in their golf club setup.
Fairway Woods – When to Use Them?
These are versatile golf clubs, right? The curved head and sole here bring tons of forgiveness into the picture both off the ground and off the tee. Meaning you can whip out your fairway wood when you don't want your shot to travel too far, which is what naturally happens with a driver. Or when there's the possibility of your tee shots straying in the wrong direction.
The higher loft of fairway woods enables you to hit the golf ball much more easily and even keep it in play. And this combination of high launch and low spin translates into your shots flying straighter too.
So don't think twice before using your fairway wood for reaching longer par-5 greens or simply for boosting distance or just positioning yourself right.
Fairway Woods – Which and How Many to Carry?
Now that depends! On what exactly? On your golfing skills/experience. Allow me to elaborate below.
If you're a newcomer, then you better be ALL in favor of fairway woods. Meaning include as many as possible. But then make sure that the distance gapping and loft settings between those clubs in your golf bag are correct.
Then it also depends on what type of shots you need to produce. For example, for a high-flying, soft-landing shot on the green or fairway, you should be using a fairway wood of course.
Even the presence of wind matters when it comes to deciding how many fairway woods to carry. For instance, when it's windy, the higher launch created by fairway wood is not the easiest to control. Certainly not as easy as when you use a driving, utility, or long iron!
In most cases, three total woods are more than enough. So this includes your driver, one solid, strong fairway wood (with a loft between 13 and 16 degrees), and then either another wood or hybrid (with a loft between 19 and 21 degrees).
As for 3 wood vs 5 wood, which is best for beginners? This common dilemma is solved right here.
Important Factors to Keep In Mind When Choosing Fairway Woods
1. Loft
You need a higher loft angle on your fairway wood if you struggle with getting the golf ball airborne, thus higher launch with the added benefit of greater backspin that converts into a straighter ball flight.
Conversely, choose a lower loft if your priority is nothing else but pure distance. Unlike stronger lofts, which give you higher launch plus more control.
2. Forgiveness
Now it's a given that larger clubheads dole out more mis-hit forgiveness. So make sure that your fairway wood head size is bigger if you're a more beginner-level golfer.
As for better players, forgiveness isn't such an important factor since they don't have a problem with generating more consistent strikes.
3. Adjustability
Are we talking about loft adjustability or moveable weights here? Both!
Adjustability is a must, in the first place, if you can actually benefit from tweaking the loft angle or sliding the weight.
Increasing the loft and moving the weight back helps in reducing a slice (since the clubface then closes and spin is added). On the other hand, decreasing loft and shifting weight forward produces a flatter trajectory.
This means adjustability can really help in fine-tuning or optimizing ball flight based on your natural tendencies.
4. Length
Even though there's a standard length of golf clubs, the length of your fairway wood depends on the length of your driver. To be honest, in most scenarios, it all falls within the standard range anyway.
Normally, fairway wood is 2 inches shorter in comparison to a driver. This means even woods can be labeled as the "longer" clubs in a set. And longer golf clubs, by default, are the best for boosting clubhead speed and distance. But not the best for when you desire more control.
So when 3-wood becomes too long to control, no harm done in getting the golf club fitted with a slightly shorter shaft. As long as you have that kind of extra money lying around for a professional club fitting!
5. Material
The first option is stainless steel, the most affordable and common material used. But then steel is relatively heavier, which explains the limited clubhead size. Many golfers prefer this type of compact profile/design of fairway woods with steel heads.
On the other hand, titanium is also common, since it's more lightweight, hence more preferred by those with a slower swing speed. Yet it's impressively durable in case you're wondering. Titanium-designed clubheads feature a deeper CG for pushing the trajectory higher. These too can be thin-profiled to provide better distance.
And now there's a third option – multi-material composite (carbon combined with either steel or titanium). This particular construction is ultra-lightweight and ultra-strong. The clubhead is larger, thus more forgiving. But then multi-material golf clubs are more expensive.
6. Shaft
Over the last two decades, the majority of fairway woods sold were graphite-shafted. No doubt, it's because graphite material is more lightweight than steel. And lightweight translates into easier for slower-speed or beginner/average golfers to swing.
Steel shafts, on average, weigh around 100 grams (perfect for more advanced or Tour-level players). While their graphite counterparts weigh anywhere between 50 and 75 grams only. So you see how gaining those additional yardages with the latter becomes possible even with a below-average swing speed. And you can achieve this without messing with consistency or feel.
Then comes the shaft flex – Regular, Senior, Ladies, Stiff, and Extra Stiff. And your golf swing speed decides which shaft flex is the most suitable for you. Generally, the lower your swing speed, the more flexible the shaft should be.
7. Versatility
Fairway wood, on its own, is a quite versatile club. Nevertheless, make sure that yours works well on the ground, off the tee, around the green, and from all kinds of lies. If it fits only any one particular area, it's time then to upgrade the golf club.
8. Looks
When you look down on that golf ball, do the looks of the club boost your confidence level or intimidate you?
Don't forget that fairway woods are not the easiest to hit, which is why they're often replaced by hybrids. So it's best to pick a model that feels and looks agreeable, no matter the lie or situation.
9. Value / Budget
You can get high-end, expensive fairway woods (manufactured by Callaway, TaylorMade, etc.) or more affordable yet high-performing models, such as the Orlimar Golf Escape Fairway Wood.
But then if the expensive lot costs more, does it mean that these golf clubs even perform better in the sense that they create even longer and straighter shots? Not necessarily. So not every high-priced model is worth all that money.
What Fairway Wood Is the Easiest to Hit?
A 5-wood has a comparatively shorter shaft than a 3-wood yet both cover more or less the same distance. And that's because the shorter shaft length of the former makes the golf club easier to not only hit but also control. So if you're gaining those extra yardages with your 3-wood as well, it's probably due to its more flexible shaft.
Should High Handicappers Use 3-Wood?
If you're a high handicapper who can generate a hefty clubhead speed, go right ahead with that 3-wood. But if your clubhead speed is slower, then using the 3-wood is only going to make the task of getting the ball airborne much more difficult. Plus, you're most likely also not to be able to achieve the desired distance.
A 3-wood off the tee is perfect for high handicappers but not so perfect for hitting from the fairway.
How Far to Hit A 3-Wood?
If you're a short hitter, then the 3-wood should travel around 180 yards. While long hitters can go as long as approx. 235 yards with the same golf club. This is the average 3-wood distance for men.
As for women, short hitters and long hitters cover 125 yards and 180 yards respectively.
What Degree Fairway Wood Is the Best?
The majority of golfers include the standard-lofted 15-degree 3-wood. But there are a few who opt for a stronger loft, either 13 or 13.5 degrees, to hit the farthest or they simply just prefer it off the tee.
What Is Better, Hybrid or Fairway Wood?
Hybrids, no doubt, are so much easier to hit and control in comparison to fairway woods. And it's all because of the former's shorter shaft. The latter, on the other hand, is the better choice if your goal is to just hit LONG from an easy or good lie or off the tee.
Why Is Low Center of Gravity In Fairway Woods So Important?
With a low CG placement, you get to easily launch that golf ball, even when the lie is NOT in your favor. All thanks to the compact shape of the clubhead, which smoothly glides through deep grass. These types of fairway woods can actually obtain maximum distance while also being easier to control.
So Then, What's the Final Say?
It's certainly not easy deciding which fairway wood or woods to incorporate in your golf club set. I'd suggest you figure it out based on your own skills, scope for improvement, or personal agenda. For instance, some golfers prefer the shorter shaft length of 7-wood. While others want a longer shaft.
One thing is well established by now that technology infused into fairway woods hasn't advanced as much as in the case of drivers, irons, and putters. So it's even more important to select your fairway wood with more intricacy and attention.