One can spot not only pro golfers but people from all walks of life on golf courses around the world. And while it's a given that not every one of them prefers or can afford to purchase a brand new set of sticks, there are enough of those who think that the idea of buying the best golf club sets is only logical and wise.
A set, in comparison to getting individual golf clubs, is a lot cheaper, that's for sure. And you also don't have to go through custom fitting, which can be both a nuisance and complicated process.
Then how about just picking a complete set that's specifically designed for beginners and high handicappers alike or for mid to high handicappers (both for men and women). Even packaged junior golf club sets are available!
Just make sure that the complete set of golf clubs is suitable for your swing speed, handicap, height, and other such essential parameters. Your driver, woods, hybrids, irons, wedges, and putter need to pair up the most accurately with your style of play. Otherwise, the whole thing goes for a toss.
Based on that, here are some top recommendations that may help to narrow down your search…
What Is A Standard Set of Golf Clubs?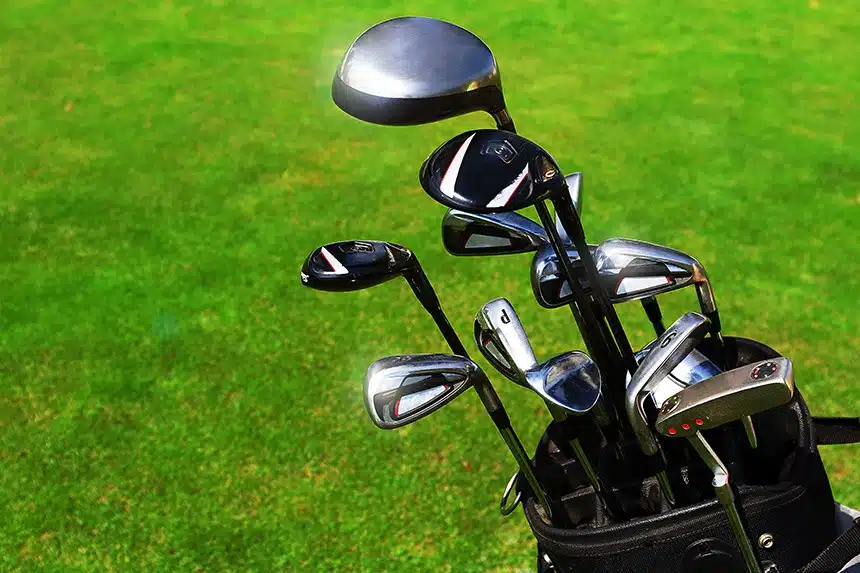 A complete set is made up of 12 golf clubs, at least that's how many pieces per set you usually get. 3 woods, 1 hybrid, 6 irons, 1 wedge, and 1 putter. But then are all of these clubs of use to every golfer? It has been widely accepted that THAT, in fact, is true. So you should be carrying at least 11-12 golf clubs for your every round of golf.
The golf driver is to tee off. The woods are for those long fairway shots that need to cover more than 185 yards. The irons are best for when you approach the green, which would be within a 175-yard distance from the flag.
As for how the irons are numbered – you have 3-iron to 9-iron, so there's a gap of 10 yards between one iron to the next. By that logic, 4-iron covers extra 10 yards in comparison to 5-iron.
And then you have the wedge that works for troublesome situations (for example, when your golf ball's stuck in long grass). Think of your wedge as the go-to golf club when closer to that flag.
Finally, the putter is what rolls the ball toward the hole as soon as the former is the closest to the latter.
Why You Need A Complete Set of Golf Clubs?
As opposed to purchasing individually, a full golf club set is uniformly structured so that every club works in accordance with the other. On the other hand, customized equipment is almost never properly blended, which invites too much unnecessary confusion. Unless you're a Tour-level player of course.
But if you're still at the starter level or even an intermediate golfer, you would definitely benefit more from golf clubs that work together. A wedge, for instance, will still be a wedge BUT then common factors like weight, shaft, and grip have a drastic impact on your experience as a golfer.
Another reason why complete sets of golf clubs seem to be the better choice for beginners and intermediates is that these are often the best in terms of cost and value as well. No denying that if you were to buy individual clubs, you're going to pay over $2,000. And that's a lot of money indeed when you can just as easily get a full set for less than half the price.
The Beginner's Guide to Buying A Full Set of Golf Clubs
1. Number of Pieces
Should you buy a 10-piece, 12-piece, 14-piece, or 16-piece golf club set? Well, first of all, the maximum number of clubs you're allowed to carry for Tournament play is 14. But for just casual golfing or training/practicing, any number of pieces is allowed. But then beginners don't really need even as many as 14 golf clubs.
Typically, the most important ones include – driver, fairway wood, hybrid, set of irons, wedge, and putter.
Naturally, all of these have a different loft angle and even function. So you should be choosing based on your performance level and also your individual preferences. For example, those new to the game cannot hit long irons, so they go with hybrids instead. Then you also have irons that can be used as substitutes for woods.
Another great example – pro-level golfers prefer having more wedges in their set. Maybe a lob wedge or gap wedge, which beginners and high handicappers have no use of since their main focus is getting more forgiveness out of the golf clubs they use.
2. Types of Golf Clubs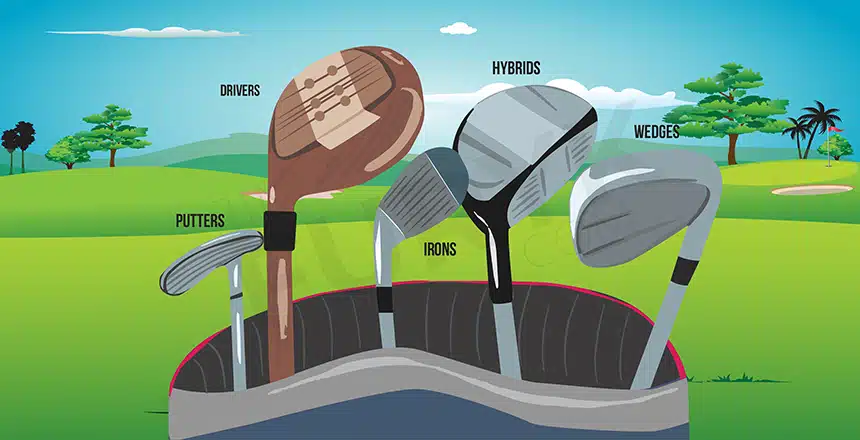 Here's a quick yet very descriptive breakdown of the different types of golf clubs, so you can decide which ones are for you.
Driver
Now made using steel, titanium, etc. as opposed to traditional wood, drivers have the largest clubhead of all. A driver, mainly, is a distance-boosting club because of its large hitting surface and graphite shaft.
If you're a beginner, then you would want that head to be of the largest legal limit. And that's 460cc. The larger the clubhead size, the more forgiveness you get on off-center shots.
Fairway Wood
The options here are 3-wood, 5-wood, and 7-wood. The numbers tell you all about the loft angle. So 5-wood has a higher loft than 3-wood, which means the former gives you a higher launch.
Fairway woods, for the most part, are also graphite-shafted like drivers. But then steel is not so uncommon these days.
You use fairway woods for, obviously, fairway shots. Golfers who struggle with hitting their drivers often choose these woods since the latter has a higher loft, thus generating a straighter, longer shot more easily.
Hybrid
The combination of iron and wood gives you a hybrid. It's shaped like fairway wood but the loft and length are like irons. This means hybrids are easier to hit yet they produce better distances. Hence, you can replace difficult-to-hit long irons with hybrids to increase both forgiveness and workability on your mis-hits.
Irons
Short-range, mid-range, and long-range shots are all covered by irons. The range includes 3 to 9 irons, along with pitching wedge and gap/approach wedge.
With irons, the clubhead features deep grooves extending across the face – from the toe to the heel and it runs parallel too. And what happens because of that is more control and spin are added to your every shot, which determines the height and length of the shot. So the higher the number on the iron, the higher the loft angle. Although this translates into a shorter carry distance.
In comparison to woods and hybrids, irons have a thinner, smaller clubhead for more short-distance accuracy. As for the different kinds of irons, here they are.
Cavity-Back Irons – Perfect for beginners and high handicappers, these irons have a lot of mis-hit forgiveness built into them through the large cavity.
Game Improvement Irons – These have a smaller cavity, thus less forgiving. They're actually quite popular among both the less skilled and more experienced groups.
Players Irons – Also called blades, these types of irons are engineered for professional players. It's the most difficult to hit indeed. But when you can and do, the 'feel' you get is boundless.
Moving on to scoring golf clubs.
Wedge
Wedges have a lot in common with irons, in terms of construction and appearance. What actually differs is the loft.
With wedges, you get a higher loft angle for more spin and accuracy than irons.
Then you also have the bounce angle. And when this is higher, it becomes much easier for the wedge to bounce off the ground.
Now here's everything you might want to know about the most common types of golf wedges.
Putter
The shaft material used for a putter is mostly steel with the clubface being either completely flat or almost flat. Of course, it's smaller in comparison to most of the pieces included in the set. A putter is used to roll the golf ball into the hole.
And the two types of putters are blade putters and mallet putters. The blade design is more traditional with a smaller head, which brings about better direction and distance accuracy. As for mallet-style putters, these, because of their larger head, are more forgiving. Therefore, they're more suitable for stabilizing impact to produce straighter putts.
3. Height
Golf clubs are obviously matched to height. You also have to take into account your wrist-to-floor measurement, which is the distance from your hands when gripping the club to the floor.
The standard length of a driver for men is 45-45.5 inches. And for women, it's 44-44.5 inches.
So if your height is above average, the average height of a male golfer being 5'9" and that of a female golfer being 5'7", then you choose Tall size golf clubs (+1"). And if it's below average, which mostly happens with women, then go for Petite ladies golf clubs (-1"). Otherwise, those of average height should stick to the standard length of clubs.
4. Skills
It's only logical to think that beginner golf club sets have to be the most forgiving. But then where does this 'forgiving' technology come from?
Large sweet spot
Perimeter weighting
Lightweight graphite shaft
Offset clubhead
Low center of gravity
Draw-biased design
5. Bag Type
On one side there's the standing upright feature, lightweight design, double shoulder strap for easy, convenient portability of a stand bag. And on the other side, there's the larger space and cart-friendly properties of a cart bag.
It's actually very simple to choose between the two. If you walk the entire length of the golf course, then choose a lightweight, easy-to-carry stand bag. But if golf carting is something you do, why not instead pick a cart bag!
6. Brand
I cannot tell you anything else other than trusting a renowned golf brand is a must. There's TaylorMade, Callaway, Cobra, Wilson, Precise, and a few more that have gained so much attention, popularity, and even loyalty over the years for their highly reliable equipment.
And this is even more important for beginners since they don't understand much of what technologies and features better serve them. So why not trust an already established and highly praised brand for landing the best beginner golf clubs!
7. Budget
Top brands, more often than not, sell their products at a higher price. There may be some affordable or less expensive choices too. But, on the whole, the price range offered to you by brands like Callaway, TaylorMade, etc. is a bit too high. So it's all up to you to decide whether spending over $500-$1,000 for a complete golf club set is within your budget or not.
There are many packaged sets that don't cost more than $300 even. However, these may be slightly less durable and less high-performing as well. At such times, keep in mind that if you have to buy these golf clubs individually, the cost can go up to $2,000. So, in comparison to that, $500-$1,000 seems like a good deal for a FULL set by a premium brand.
10 Best Complete Golf sets 2023
Make it more accessible to achieve a faster swing speed with these high-flight, long-distance golf clubs.
1. Callaway Golf Men's Strata Complete Set
What comes with the set – Driver, 3-wood, 4-hybrid and 5-hybrid, 6-9 irons, PW, SW, putter, stand bag, and headcovers.
Pros
Large sweet spot on driver, wood, and hybrids
Irons feature high flight technology for distance/control
Milled face putter softens the feel and sound
Very light, very durable stand bag with backstrap
Cons
No Callaway logo on the golf clubs
Grips seem slightly cheap
In my list of best golf club sets for beginners, Callaway Strata makes an appearance. And I'm 100-percent certain that this particular set is highly recommended by almost every golfing expert. This one has a 16-piece set composition where every club is perfect for beginners who need something that's ready-to-swing and affordable but from a renowned brand.
No need to learn in-depth what factors like smash, spin, launch, etc. mean. Callaway Strata takes care of all of that for all beginners as well as high handicappers. All golf clubs have an expanded sweet spot for immense mis-hit forgiveness.
Plus, these clubs are very easy and lightweight to swing because of the graphite shafts. Right from the driver (with its oversized, aerodynamic head shaping for high-flying, long shots) to the putter (with its precision-milled face that sinks more putts). [Read full reviews here]
2. Wilson Men's Complete Golf Club Package Set
What comes with the set – Driver, 3-wood, 5-hybrid, 6-9 irons, PW, putter, stand bag, and headcovers.
Pros
Driver features large sweet spot to cure mis-hits
Cavity-back irons, so they too are very forgiving
Low weighting on wedge and putter for more control
High-quality, lightweight carry bag with automatic stand
The best golf clubs for men are right here – Wilson Men's Complete Golf Club Package Set. First of all, if you hear any complaints about the driver denting, then please note that every single modern-day driver is built using hollowed thin metal. So it's only natural for this to dent when slammed into golf balls. The only way to keep your driver from denting is if you choose a traditional steel or wood driver.
Now that the major complaint has been addressed, let's talk about all that is great about these Wilson golf clubs. First things first, it's a reasonably priced entry-level set that comes with a lightweight stand bag. Since entry-level golfers are the target audience, difficult-to-hit longer irons and even sand wedge are not included.
What's included is an oversized driver head infused with aerodynamics for boosting clubhead speed and distance. Along with cavity-back irons to keep the ball flight straighter and also compel it to literally go a long way. [Read our full review]
3. Precise M5 Men's Complete Golf Clubs Package Set
What comes with the set – Driver, 3-wood, 21-degree hybrid, 5-9 irons, PW, putter, stand bag, and headcovers.
Pros
Oversized clubhead means a very forgiving driver
Well-hit shots even with hybrid and irons
Mallet putter equipped with on-point aiming
High-quality bag with storage and stand-up feature
Cons
You take some time to get used to the putter
Yet another very affordable yet premium quality set of golf clubs for beginners and those re-entering the game after a break of many years. So it only makes sense not spending a fortune, I get that.
The driver here, with its oversized 460cc head, is a remarkable golf club once it hits a good 250 yards. Even the 3-wood and 21-degree hybrid are crafted for producing such extensive distances.
And for the low price you pay, it's pretty shocking how even the irons are high-performing in that they also increase your yardages as well as straighten ball flight.
Sadly, there's no sand wedge and long irons, which are golf clubs you anyway would find very challenging to hit in case you're a beginner.
4. PreciseGolf Co. Men's Complete Golf Club Package Set
What comes with the set – Driver, 3-wood and 5-wood, 4-hybrid, 5-9 irons, PW, SW, putter, stand bag, and headcovers.
Pros
Large sweet spot on woods, hence very forgiving
Long and controlled shots hit with irons
Dual-compound, extra-comfort grips
Pitching wedge AND sand wedge – perfect for beginners
Super-functional, very lightweight stand bag
Cons
Blade putter, thus not a lot of alignment assistance
If you're taller than 6'1", you better get the Tall size of this PreciseGolf Co. Men's Complete Golf Club Set. Otherwise, the Regular or Standard size is also available. But the +1" certainly works for taller golfers, you can check out some more options here if you like.
Anyway, these are more than just okay when it comes to performance. And this is despite the affordability that beginners find the most appealing. You could be hitting a pretty good amount of golf balls right now using the driver that's included in the set. Its massive sweet spot lets you bomb off the tee!
The feel of each and every golf club is as close to perfect as feel can be. Woods are for high-flying, long shots, hybrid for substituting those frustrating-to-hit long irons, and sand wedge for escaping dreaded sand bunkers.
5. Cobra Golf 2019 Men's XL Speed Complete Golf Set
What comes with the set – Driver, 3-wood and 5-wood, 4-hybrid and 5-hybrid, 6-9 irons, PW, SW, putter, cart bag, and headcovers.
Pros
Lightweight graphite shafts for slower swing speed
Perimeter-weighted golf clubs stabilize/correct mis-hits
Cavity-back irons produce straighter, longer, higher shots
Premium quality Lamkin grips
Cons
Bag has no stand, shoulder strap, cooler pocket, and more
Finding high quality and, at the same time, forgiving golf clubs can be a nuisance. But that's getting more and more convenient now because of brands like Cobra and this Cobra golf set. This is also among the best golf club sets for intermediate players, or if you're transitioning from beginner to intermediate or from high handicap to mid.
The golf clubs, each one of them, are very easy to swing because of their lightweight shaft and head construction. And all beginner-friendly components are a part of the mix. Such as oversized clubhead (forgiveness), low, back/heel weighting (ball flight), and perimeter weighting (launch).
6. TaylorMade RBZ Speedlite Complete Set
What comes with the set – Driver, 3-wood and 5-wood, 4-hybrid and 5-hybrid, 6-9 irons, PW, SW, putter, cart bag, and headcovers.
Pros
Advanced aerodynamics for faster swing speed
Speed Pocket face flex enhances forgiveness
Perimeter-weighted irons produce higher launch
Spin-boosting wedges and high-stability mallet putter
Lightweight and highly functional cart bag
Cons
Mallet-style putters often feel off-balanced
Are we ready for one of the best TaylorMade golf club sets? Time for RBZ Speedlite then!
This starter-level set works for many, many years. As it should, to be honest, given the high price! But then you pay the extra money also for advanced technology with TaylorMade and for the fact that your performance improves drastically. As it should, once again, because of the oversized 460cc size of the clubhead.
This is also high MOI plus the clubhead features the brand's Speed Pocket technology. In simple words, Speed Pocket is equal to increased ball speed, thus longer carry distance.
Additionally, you get 3-wood, 5-wood, 4-hybrid, and 5-hybrid. All of which also cure or correct commonly hit off-center shots. On top of that, RBZ Speedlite's impressive technology is infused into the wedges as well. These have grooves of high volume for maximum short game spin, along with remarkable greenside control.
These ladies' golf clubs are certainly more flexible, lighter, and shorter, so you can get the most out of them to counterbalance mis-hits and slower swing speeds.
1. Callaway Strata Women's Golf Packaged Set
What comes with the set – Driver, 3-wood, 4-hybrid and 5-hybrid, 6-9 irons, PW, SW, putter, stand bag, and headcovers.
Pros
Large sweet spots, so mis-hits can be corrected
Aerodynamic clubhead shaping takes shots higher, longer
High Flight in irons improves control and distance
The putter has a milled face to enhance sound and feel
Lightweight stand bag with backstrap carry
Cons
No Callaway branding on clubs
How can Callaway Strata Women's Golf Packaged Set not make it to the list when the male version is such a great beginner-friendly choice for women!
Women golfers who are just beginning or are either re-learning the sport have a lot of good things to say about Callaway Strata. Such as the lightweight graphite shafts are so effortless and easy to swing. Such as the hybrids are incredibly helpful long-iron alternatives that boost confidence right when and where you need it the most.
Even the quality of these Callaway golf clubs is quite something else altogether in comparison to other similarly priced packaged sets. And the lightweight stand bag is very spacious with plenty of storage.
2. Confidence Lady Power III Golf Club Set
What comes with the set – Driver, 24-degree hybrid, 6-9 irons, PW, SW, putter, stand bag, and headcovers.
Pros
Extremely forgiving driver and hybrid
Irons hit straighter, longer, higher shots
Ladies-flex and lightweight graphite shafts
Very durable, very light stand bag
Cons
Blade putter, hence not the most forgiving
No sand wedge to escape sand bunkers
It's been more than 40 years that the brand has been manufacturing beginner-level golf equipment. So it's no surprise that the best golf clubs 2022 also include this Confidence Lady Power III Golf Club Set. It's got everything that a slow-swing female golfer deserves to have on the course.
The first HUGE assistance takes the form of the high-lofted (12 degrees), oversized (460cc) driver. Talk about correcting almost every mis-hit! Then there's the 24-degree hybrid that you can use in place of difficult long irons.
If you would guess that cavity-back irons are included simply because it makes more sense, your guess would've been right. With a cavity-back structure, what happens is you get additional forgiveness and distance despite being an "average" golfer.
Unfortunately, maximum forgiveness is not at its strongest with the putter since the design is traditional blade. But then the versatile hybrid i.e. rescue golf club and the large sweet spot of the driver are more than enough to earn positive feedback.
Golf club sets traditionally designed for youth are not only affordable but also well-suited for junior weight and height.
1. Callaway Golf XJ Junior Golf Set
What comes with the set – Driver, fairway wood, 7-iron and 9-iron, SW, putter, bag, and headcovers.
Pros
Graphite shafts perfect for slower swing speed
Ultra-lightweight golf clubs – easiest to swing
Very forgiving for clean contact + solid shots
Light, strong, beginner-friendly bag
Cons
Very basic set, nothing advanced
Now, how about a teenager-sized golf club set? This Callaway XJ Junior Golf Set is sure to arrive in excellent condition and each and every club is sure to feel and look great. The perfect packaged set for a kiddie golfer before he/she upgrades to the adult version. Good to go for 2-3 years easily!
Obviously, the golf clubs are super-lightweight with their graphite shafts. It would be really impractical for the brand to not make the clubs ultra-forgiving. Fortunately, Callaway is NOT an impractical golf club manufacturer, that's for sure. So the whole set is a lot more forgiving than you can imagine.
Even the grip of the putter feels good. But it's the driver that is the talk of the town because of its effectiveness as far as learning the game and achieving longer distances are concerned. Plus, there's the lightweight bag that is also a very practical addition with its solid stand.
2. PreciseGolf Co. Precise X7 Junior Complete Golf Club Set
What comes with the set – Driver, hybrid wood, 6/7-iron (one piece) and 9/p-iron (one piece), putter, stand bag, and headcovers.
Pros
High-quality golf clubs – thus highly wear-resistant
Well-balanced weight for an easy, smooth swing
Lift handle and backpack straps on stand bag (easy carry)
Cons
Not as light as they should be for kids
One of the best golf club sets for the money for junior golfers also includes Precise X7 by PreciseGolf Co. And they work out quite well despite the comparatively cheaper price tag. The supreme quality is also quite astonishing given how little you have to pay for this complete kiddie set.
Transitioning from a plastic variation to actual albeit very lightweight, very easy to swing golf clubs couldn't have been more seamless and effortless! Needless to say, they are going to feel slightly heavy in comparison to plastic. The point is that nevertheless they can be easily lifted to swing. Getting used to this new change doesn't take much time either.
From the driver and hybrid wood to the 9-iron and putter, this junior golf club set is crafted for improving distance as well as accuracy.
Conclusion
It's all a matter of what you want your golf clubs to achieve for you. There are just so many starter-level sets that are inexpensive, and thus perfect for those golfers who play for fun.
Then there are more expensive sets of golf clubs that come with more than just the basic pieces for meeting the demands of a golfer who wants to upgrade his/her performance bit by bit. For instance, the additional clubs would be 3-wood AND 5-wood built with a lower CG for extra forgiveness. This particular set is also most likely to include more hybrids and wedges. So you see how every set is carefully structured?
And one more thing – the size of the golf bag also depends on the price of the set. Meaning something more expensive shall include a larger-sized golf bag with more pockets and headcovers.