The Strata collection of golf clubs by none other than Callaway (a renowned brand indeed) is reasonably priced and beginner-friendly. Don't believe me? Check out my reviews of the best golf clubs for beginners and you'll see the Callaway Strata Golf Club Set review, among many others of course.
These clubs are perfect (and by that, I mean very, very forgiving, lightweight, and easy to hit) for those new to the game. Plus, they also suit your style of play and game as you progress.
The money-saving bit comes from the fact that Callaway Strata is available as not just a 16-piece set but it also has 12-piece and 14-piece versions. Fewer golf clubs mean a lower price!
No doubt, Callaway's a viable choice for a complete set that's cost-effective to buy. And on top of that, these golf clubs meet all criteria.
Callaway Women's Strata Plus Complete Golf Set – 14 Piece
Set includes: Driver, 5 Wood, 5 Hybrid, 6 to 9 Iron, PW & SW, Putter, Stand Bag, and 3 Headcovers
Strata Women's Complete Golf Club Set – 11 Piece
Set includes: Driver, 5 Wood, 5 Hybrid, 7 to 9 Iron, SW, Putter, Stand Bag, and 2 Head covers
Callaway Women's Strata Ultimate Complete Golf Set – 16 Piece
Set includes: Driver, 3 Wood, 4 & 5 Hybrid, 6 – 9 Iron, Pitching Wedge & Sand Wedge, Putter, Stand Bag, 4 Head covers
Callaway Golf Men's Strata Complete Set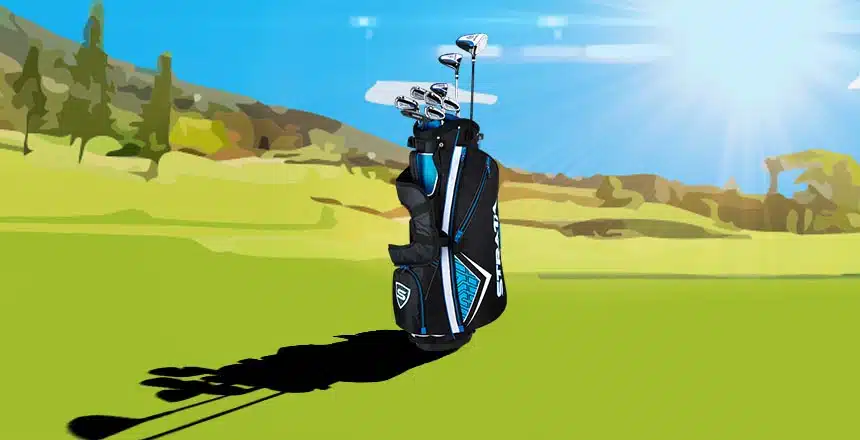 Would it matter if I said that my golf bag too is mostly an exhibit of Callaway golf clubs? Not Strata of course but they are all designed by Callaway – a reputable brand both beginner and Tour players can trust. So do other pros like Henrik Stenson, Phil Mickelson, Jon Rahm, Michelle Wie West, Georgia Hall, and many, many more.
SO WHAT'S INCLUDED IN THE SET?
Callaway Strata 12-Piece Set
A driver
Fairway wood – 3-wood
Hybrid – 5-hybrid
Irons – 6 to 9
A pitching wedge
A putter
Golf stand bag and 2 headcovers
Callaway Strata 14-Piece Set Also Includes
A sand wedge
And one extra headcover
Callaway Strata 16-Piece Set Also Includes
A sand wedge
Another hybrid – 4-hybrid
And 2 additional headcovers
Key Features
For a quick analysis of Callaway Strata golf clubs, here is their USP!
An oversized, very forgiving driver (460cc titanium head) with a flight-stabilizing and side spin-minimizing high 10.5-degree loft, huge sweet spot, and more lightweight graphite shaft.
The 3-wood is also graphite-shafted, hence so much easier to hit higher and straighter.
4-hybrid and 5-hybrid i.e. rescue golf clubs, also feature a graphite shaft for easier strikes.
As for the irons, 6 to 9, these are outfitted with a steel shaft, which is perfectly suitable for average golfers and fast-speed players. Both the large clubface and perimeter weighting of these irons improve trajectory and precision.
The same can be said about Callaway wedges.
Moving on to the Callaway blade putter, it's equipped with excellent visual alignment for draining more putts just like that!
And lastly, the shaft flex – uniflex – is also the most fitting choice for swing speeds that are both average and faster.
Pros of Using Callaway Strata Golf Clubs
Extremely forgiving, durable, and well-balanced driver that hits longer, straighter shots.
High-precision, very sturdy and forgiving irons produce exceptional ball flight.
Hybrids are the go-to golf clubs (instead of long irons) for a higher trajectory and farther strikes, just like woods.
In every iron and wood, the sweet spot is expanded for distance-maximizing mis-hit forgiveness.
Basic, comfortable-to-use putter with simple ball alignment feature.
Lightweight, spacious bag with plenty of pockets.
Cons of Using Callaway Strata Golf Clubs
Poor grip quality
Sand wedge not included in the 12-piece set
Steel, not lightweight graphite, shafts on hybrids
Distance gapping between hybrids and irons
Callaway Strata Driver
A regular-flex (although on the more flexible side, thus perfect for beginners), graphite-shafted driver, with its oversized 460cc head, is the most forgiving golf club in the whole set.
At address, a lot of that clubface can be seen and when you combine this with the oversized clubhead, you're looking down on a very appealing golf club.
More importantly, the massive head and sweet spot make your drives FLY, even when you miss that 'sweet zone' center.
Getting your shots to travel straighter on mis-hits is also possible with this Callaway driver, which isn't really that surprising considering all of Callaway's top golf drivers are like that.
Callaway Strata Fairway Wood
The loft angle of this 3-wood is 15.5 degrees – a higher loft indeed for producing more height on shots (especially on approach shots).
But, unfortunately, the size of the head, in this case, is smaller in comparison to the driver. Hence, off-the-tee shots with the fairway wood might take a while for slow-speed golfers (mostly beginners) to get used to.
Callaway Strata Hybrids
5-hybrid (or 4 and 5 hybrids since the 16-piece set includes two hybrids) – most likely to be your favorite! Simply because these golf clubs, just like the driver, are built with a huge, solid sweet spot.
But just like 3-wood, the clubhead size here as well is relatively smaller. So even the hybrids are capable of improving distance and trajectory on the fairway but not so much for off-the-tee shots.
Also, these Callaway hybrids are steel-shafted. In the majority of cases, beginner-friendly golf clubs come with more lightweight, thus easier-to-swing graphite shafts (and not traditional, heavier steel).
Regardless, getting you out of sticky situations is what happens with the 5-hybrid. Troubles like thick grass, bunker, behind the tree, etc.
Callaway Strata Irons
No denying that Callaway irons, in general, are hugely impressive. What with their thick topline construction that instills more confidence right when you need it the most i.e. at address! Thanks to the generous offset, which is perfect for reducing the slicing effect you may have been producing.
The 6-9 irons are all steel-shafted, with Regular-flex (most suitable setup for beginners indeed).
The irons, overall, are quite easy to play in terms of control and feel. The perimeter weighting on them is ideal for maximizing distance and improving precision. And even here the sweet zone is expanded for correcting mis-hits.
So each time you're within 100-150 yards, you really don't need to cringe anymore at the thought of using your irons.
Callaway Strata Wedges
The Callaway Strata 12-piece set comes with just a pitching wedge (46 degrees). This one's great with regards to gaining a good amount of height for short shots. Moreover, the PW feels super-comfortable in the hands around those greens.
But if you also want to experience the benefits of a sand wedge, then go for the Callaway Strata 16-piece set or the 14-piece version.
The Callaway-designed sand wedge is another remarkable golf club, no denying that. Particularly in the case of bunker shots and long-range chip shots.
Callaway Strata Putter
I would describe the putter included in the Callaway Strata golf clubs set to be not so desirable. And why that is – it's a traditional BLADE putter with no insert or milling. This means your putts are quite likely to slide right or left off the clubface if you're not a pro!
To tell for a fact, the best putters of all time have a mallet-style design, not traditional blade. So the putter scene is a bit disappointing.
But you can always purchase a heavier, more high-performing putter separately. As for this one, it is a good enough putter if you ask me because it can really survive full swings and even hit around 60 yards off the deck.
Callaway Strata Golf Bag
There's absolutely nothing wrong with the stand bag provided – it's lightweight, has lots of storage pockets, and of course the space inside the bag for properly storing/organizing golf clubs is more than enough.
For someone like an average or beginner player, a bag like this is just perfect in terms of how light and comfortable it feels.
The double strap system (padded straps by the way) makes the task of carrying the bag during your round of golf much, much easier. Although you can also fit this stand bag onto the golf cart if you like. Then there's the stand mechanism, which sets up as well as folds back very conveniently.
Not a waterproof golf bag but it comes with a rain hood at least!
Callaway Strata Women's Golf Packaged Set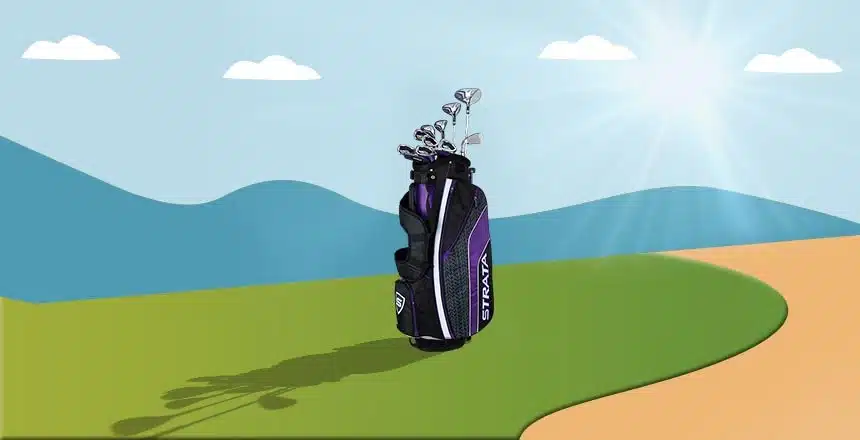 Women's golf clubs, more often than not, should feel easy and lightweight to swing. No wonder Callaway's ladies-version of the Strata set is also such a huge hit among female golfers!
So what's the difference between women's and men's golf clubs? The difference here, in the case of Callaway Strata, is that the clubs for ladies are even more lightweight, flexible, and forgiving, plus shorter of course since female golfers, on average, have a smaller stature in comparison to the standard of men.
By more lightweight, I mean graphite shafts (except the irons are still steel, just like men's). And by more flexible and forgiving, I mean Ladies-specific shaft flex instead of the Regular-flex.
Who Should Be Using Callaway Strata Golf Clubs?
The general opinion is that this particular set of golf clubs is the most fitting for beginners and high handicappers. It's undeniably a starter set, also because the Strata golf clubs price is quite affordable.
These clubs are high-lofted, which is just what first-time golfers need for ease of use and comfort. Furthermore, factors like an oversized clubhead, perimeter weighting, larger sweet spot, lightweight graphite shafts, etc. – they're all beginner-friendly (i.e. slow-swing-speed-friendly).
FAQs
Who Makes Strata Golf Clubs?
Are Strata golf clubs actually made or designed by Callaway? Nope, they're not. Callaway is only responsible for the distribution of these clubs.
But that doesn't mean you should become suspicious of the set's performance or quality. Callaway is a brand who makes sure that they associate themselves only with first-rate golf equipment.
Are Callaway Strata Irons Forgiving?
The thick topline of these irons gives one greater confidence at address, and so does the generous offset for anti-slice performance.
Then there's also perimeter weighting on them that, on its own, brings tons of forgiveness, precision, and distance into the game.
And it goes without saying that every Callaway Strata golf club, including the set's 6-9 irons, is outfitted with a huge sweet spot to offer lavish 'mis-hit' forgiveness.
Should You Buy the Complete Callaway Strata Golf Set?
The full Callaway Strata set is a great purchase if you're just getting into the sport, be it the 12-piece, 14-piece, or 16-piece version. It's a solid, reasonably priced choice too.
The golf clubs may not be the most technologically advanced but they're surely perfect to improve your skills and game.
What Are the Differences Between Callaway Strata Tour and Ultimate?
Strata Tour, as the term 'Tour' suggests, is for Tour-level players. Meaning this particular golf club set is more suitable for higher performance. As for Ultimate, that's more geared toward golfers who could use some 'extra' forgiveness and distance.
What Are the Differences Between Callaway Strata Plus and Ultimate?
Strata Plus (16-piece) includes only one hybrid, the 5-hybrid. While Callaway Strata Ultimate 18-piece set offers an extra hybrid, which means this set consists of a 4-hybrid and a 5-hybrid. Plus, an additional headcover, so that's 2 additional pieces included.
Is Callaway Strata Best for Beginner Golfers?
The 12-piece, 14-piece, and 16-piece options (great variety for sure!) of Callaway Strata are the best for new, beginner golfers. The quality, in comparison to other starter golf club sets, is certainly superior. Also, the price tag is reasonably affordable as well.
The design of the golf clubs is beginner-friendly and high-handicapper-friendly too. These clubs are easy and forgiving to hit off the tee and on long-distance approach shots.
What Are Some Alternatives to Callaway Strata?
If you're a beginner or average golfer, and you like to have options, then here are a few very popular Callaway Strata alternatives…
Closing Up…
A whole set that includes very forgiving, lightweight (graphite) shafted golf clubs is just the perfect choice for beginners and also high handicappers. To top it off, Callaway Strata is also a budget-friendly pick. No denying that it has some drawbacks as well, just like any other golf set or gear. Nothing is perfect, even technology has its limitations!
Overall speaking, Strata's 12-piece, 14-piece, and 16-piece sets are ALL superb in terms of quality, performance, and even versatility.
Everything – from the oversized (thus, extremely forgiving) driver head to the lightweight stand bag equipped with many pockets for convenient storage and padded, double straps for comfortable carry – screams VALUE FOR MONEY!