It's such a simple thing to want to buy one of the best golf bags with coolers. So let's keep it as simple as that if you think a golf bag like this is the most appropriate fit for how you like to play your round of golf (with chilled, refreshing summer drinks!).
The best part about these cooler golf bags is that they allow you to carry your own beverages and refreshments. So, in a way, you're actually saving a lot of money by purchasing a golf bag built-in with a cooler. Because then you won't be wasting unnecessary dollars on expensive beverages usually sold at the course.
And if you choose any one of the following, you get the 'cooler' functionality along with performance-driven and other comfortable, convenient features.
1. Bag Boy Golf Chiller Hybrid Stand Bag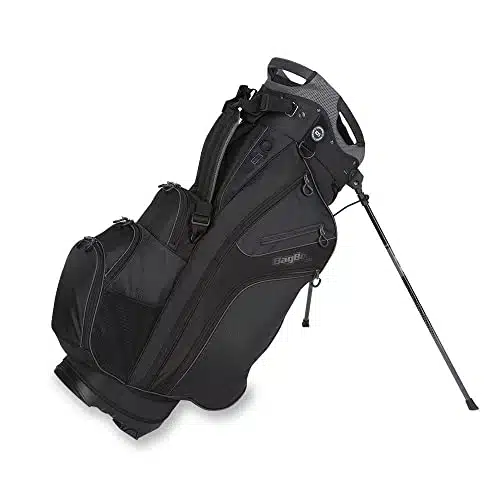 Pros
14-way golf bag with cart strap sleeve
Full-length, individual dividers with separate oversized putter well
Removable, well-insulated cooler pocket (capacity 6-12 cans)
Stand portability and zippered storage pockets
Cons
Carry strap slides off the shoulder
Putter well placed on the wrong side
Frankly speaking, Bag Boy Chiller is a highly recommended golf bag for many reasons – it's one of the best hybrid golf bags (for walking + carting), it's a stand bag (thus, more spacious than compact cart bags), and it's a golf bag with a built-in insulated cooler pocket.
The top is 14-way with full-length club slots or dividers. But let's get back to the cooler pocket, this pouch has the capacity to hold 6-12 cans to keep not only yourself but fellow golfers hydrated as well. It was one of the first few 'original' golf bags that came with an integrated, removable cooler.
Other features are very useful too, such as the stow-away single shoulder strap, cart attachment strap, oversized putter well, multiple storage pockets, and a few more.
However, the focus of attention, the cooler pocket, is a neat addition for storing your sandwiches, snacks, and refreshing drinks while your precious clubs are stowed away safely and securely in their individual slots.
2. Founders Club Premium Cart Bag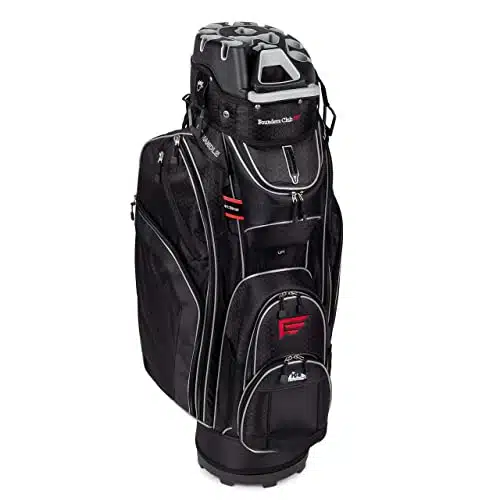 Pros
High-quality, lightweight 14-way top cart bag
Golf clubs don't rattle at all, even in the cart
Lots of storage space, even in putter slot
Many handles (sides, back, and one hidden in the front)
Well-padded shoulder strap and well-insulated cooler pouch
Cons
No full-length dividers
Bag is slightly taller (getting clubs out is a bit inconvenient)
Talk about value for money with this Founders Club Premium Cart Bag – one of the best golf cart bags equipped with an insulated cooler pocket. This pocket is large, which means bring on not just snacks but pack an entire lunch if you may. And yes, the insulation keeps your sodas and whatnot cool even after if you're 2-3 hours into your round of golf on the hottest day.
The bag's lightweight, so that's another huge advantage because this means that you can manage/handle it very conveniently. With a 14-way top (putter well included indeed), accessing the most used golf clubs is pretty easy. Besides, 9 zippered pockets, 2 mesh pockets, glove holder, tee holder, umbrella holder, and more.
And let me make it very clear right now that even though this is a lightweight golf bag with cooler, the quality has not been compromised. The sturdy base is large and reinforced and there are multiple handles (2 sides, 1 bottom, 1 rear) and a thickly padded shoulder carry strap that can be tucked away at your will and wish. Value for money indeed.
3. TaylorMade Supreme Cart Bag
Pros
15-way cart bag with 12 storage pockets
Well-constructed full-length dividers
Built-in handle enables easy maneuvering
Addition of a huge, insulated cooler pouch
Lightweight design with grab handle and carry strap
Cons
No double zippers on most pockets
A 15-way golf bag surely has a lot more to offer in terms of space and features. And the fact that this comes from TaylorMade's collection of golf bags means factors like quality, durability, design, etc. cannot be questioned.
The insulated cooler pocket, just by the way, is enormous and has drain ports. This bag is designed to offer such a lot of storage space (12 pockets in total), you're most likely to end up not using many of those pockets (but at least you have that option, right?).
Aside from the large cooler pouch, what I also really liked about this TaylorMade cart bag is its fade-resistant, UV-protected fabric. So the beautiful Blood Orange/Black color (4 other equally attractive color choices available too) stays brand new for the longest time.
4. Orlimar Golf CRX Cooler Cart Bag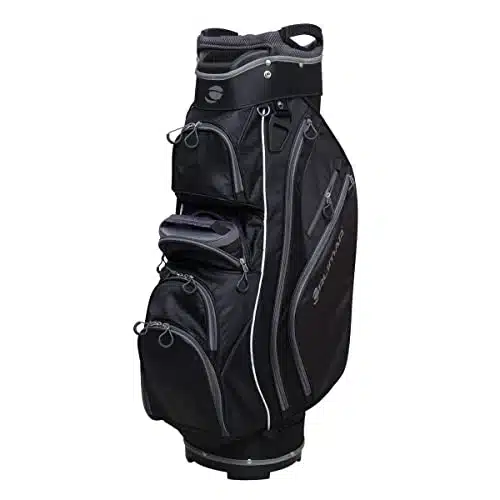 Pros
15-way cart bag with 9 zippered pockets
All dark color options, so dirt doesn't show
Insulated cooler can be removed to keep in fridge
Made of water-resistant dobby nylon material
Cons
Out of 15, only 3 full-length dividers
Not cart strap holder
A removable, insulated cooler carrier, now that's just what you need if you want to place the cooler in the refrigerator a couple of hours before you head to the golf course. This cooler can hold 6 cans, which I think is more than enough space for a built-in cooler.
Okay so this is a 15-way top golf cart bag but then only 3 dividers are full-length. That could be a bit of a problem if you prefer all of the dividers to extend all the way down.
Orlimar has mentioned that the separator top is graphite-friendly, but that doesn't mean steel shafts cannot be properly separated and organized. And extra points for the Velcro glove attachment, towel ring, scorecard sleeve, rain hood cover, and umbrella holder.
5. NFL The Bucket II Cooler Cart Bag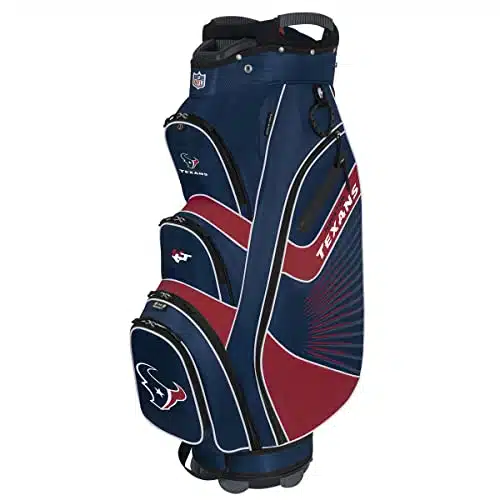 Pros
14-way cart bag with a very secure cart strap
Thermal-lined, insulated, huge cooler pocket
Super-light nylon design with molded rubber handles
Oversized putter well
Cons
Dividers are not full-length
Not very steady standing up
If you think this cart bag's cheap and a complete ruse, let me assure you that it's REALLY NOT. The Bucket II Cooler Cart Bag by NFL is a great product made of solid, durable nylon with a 14-way top. The dividers hold up pretty well, irrespective of how hasty or careless you are when it comes to pulling your golf clubs out of the bag.
The most attractive quality about this 14-way cart bag is its weight. Just a little over 5 pounds only! And you don't expect this kind of lightweight structure after you know that there are 14 dividers along with 8 zippered pockets. And this includes an oversized apparels pouch, rangefinder pocket, and a lot more.
What about the cooler pocket? The attached cooler can accommodate your beer cans to help you get through your whole round of golf without losing your "cool." And the pouch features a very neat drainage system, so all that excess liquid knows where to go.
And since it's a cart bag, you have the cart strap pass-through, which just means the bag can be secured to the cart and, at the same time, you will have easy access to the pockets.
6. MACGREGOR Golf Cooler 14-Divider Top Cart Bag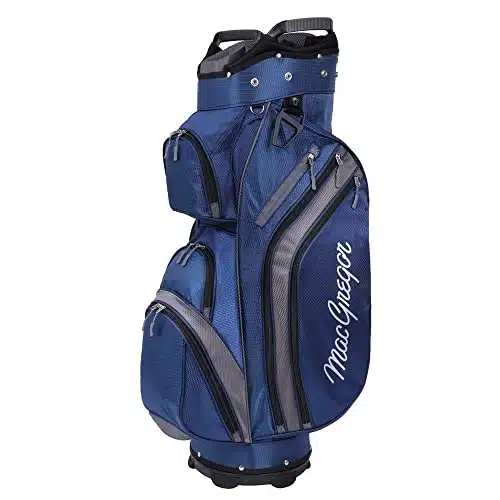 Pros
14-way cart bag with adjustable shoulder strap
Grab handles for quick maneuverability
Cooler pouch is well insulated and can be removed
Lightweight despite the number and size of pockets
Cons
Tends to fall over, cannot stand on its own
This is a huge competitor in the category of the best 14-way golf bags. And when you're dealing with 14-way, the most important factors to take into consideration include weight, durability, and how many pockets the bag has.
When not loaded, the golf bag weighs just a little more than 7 pounds (lightweight enough indeed). As for durability, it's a premium golf cart bag (excellent value for money). And it's got 9 storage pockets in total. The fact that it's lightweight despite so many pockets is pretty amazing if you're a regular golfer.
And let's not forget about the extra feature – the removable, insulated cooler pocket. To be completely honest with you, at such an affordable price, it is a big deal indeed that this 14-way cart bag is also outfitted with a cooler pocket.
7. Yovital 14 Way Golf Cart Bag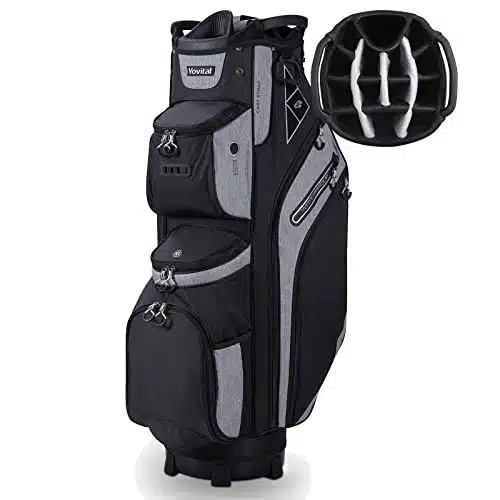 Pros
14-way cart bag with an integrated top handle
Fully insulated beverage and velour-lined valuables pockets
Front-positioned, large storage pockets (9 in total)
Large, stable bottom suitable for all conditions
Cons
No serious complaints so far
One slot for each of your 14 golf clubs from the set. It's lightweight with lots of room for extra storage. Speaking of which, the cooler integrated into the bag is also large-sized for those extra drinks you like to take with you to the golf course. Also, the draining out of the water from the insulated pouch is not a problem at all.
This Yovital 14 Way Golf Cart Bag serves more than just basic purposes. The bag holds up impressively well, despite the budget-friendly price tag. You can also use a push cart with this one. It fits perfectly and you're free to navigate hilly surfaces very, very easily.
You're going to get full-length 14-way dividers, so no club is to touch the other at the time of retrieval or storage. And what makes the experience even more memorable, in a way, is the huge base, which helps to keep the golf bag standing on its own without falling or tipping over.
8. Cobra Golf 2020 Ultralight Cart Bag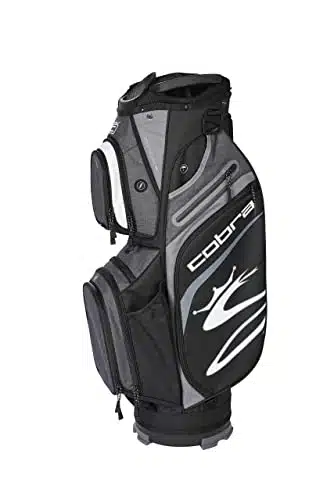 Pros
Extremely lightweight 14-way cart bag
Large (12-can capacity) insulated cooler pocket
Access to all pockets, despite cart strap pass-through
Cons
Dividers aren't full-length
Putter slot placed at the top (the wrong end)
You could be a brand new golfer like this brand new golf bag and still appreciate the design of this lightweight, user-friendly cart bag. It's so easy to carry because of the 5.3-pound weight.
Honestly speaking, the meager weight isn't even the primary factor here. The most impressive thing about Cobra Golf 2020 Ultralight Cart Bag is the insulated cooler pocket built into it. The drain holes are perfect for when you're carrying real ice. And why wouldn't you in case the weather conditions are unpleasantly hot and sunny, so hydration becomes a necessity.
And you know what, this insulated cooler pouch can actually accommodate 12 cans!
Cobra has outperformed even itself this time with its Ultralight Cart Bag that features a total of 13 storage pockets. And just look at that sporty Cobra logo emblazoned across the golf bag!
9. Tour Edge Hot Launch Xtreme 5.0 Cart Bags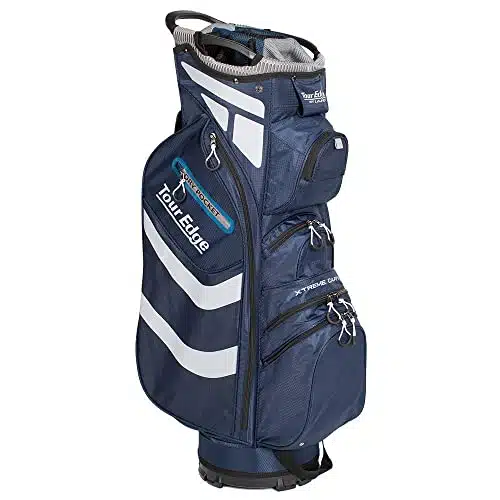 Pros
14-way cart bag with molded lift handles
Oversized, insulated cooler pocket
Velour-lined, waterproof dry pockets
Very large garments pocket
So lightweight, it's unbelievable (only 6 pounds)
Cons
Not setbacks, fortunately
It's actually a very basic-looking cart bag designed by Tour Edge for those seeking great value. First of all, it's made using highly abrasion-resistant and wear-resistant nylon. Nylon material is also a very lightweight option (bag weighs 6 pounds). And second of all, the cooler pocket (large and insulated) is perfect for refreshing beverages in hot weather.
For the money you spend on this 14-way cart bag, it's pretty great, with dividers or separators that keep your expensive golf clubs from banging together. Well-made and sturdy overall construction, that's for sure. And there's an individual compartment built into the bag for everything, including the cold or cooler compartment of course.
Extra lift handles mean loading the bag onto the cart and even unloading it from the trunk of your car is quite easy and convenient. Truthfully speaking, it's a must-buy!
10. Majek Premium Men's 14-Way Golf Bag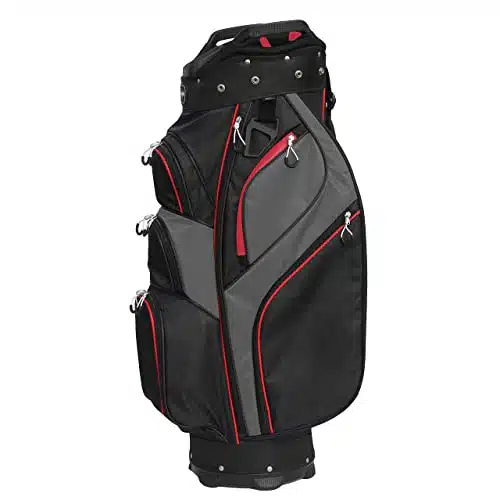 Pros
14-way cart bag with 9 zippered pockets
Padded carry strap and dual lift handles
Front-facing putter sleeve
Insulated, extra-large cooler compartment
Cons
Dividers are cloth and not plastic
Standing upright is a problem
Majek 14-way cart bag was designed for protecting graphite-shafted golf clubs, so that would be beginner-friendly golf clubs or ladies golf clubs (since these are all graphite-shafted, thus easier to swing). Whatever the case, if your golf clubs, for whatever reasons, are outfitted with a graphite shaft, this is the bag for you.
And it's got an extra-large cooler pocket, insulated of course, where your hydration and other beverages save you from the heat of the day during your round of golf. And everything about this cooler compartment is great, including those drainage holes.
The dividers are full-length but then they're made of cloth instead of plastic. So that may seem like a slight disappointment. But if you overlook this one minor drawback, you really appreciate how easy, lightweight the bag is to carry with handles at the top and bottom. And every pocket and golf club is super convenient to access!
Do I Really Need A Golf Bag With A Built-In Cooler?
Why not buy a golf bag with an integrated cooler pocket? Playing golf also means quenching your thirst, especially when the weather is hot and sunny. After all, a single round of golf takes hours to complete, so carrying water and other refreshments and even snacks of your choice is something that can be done.
And buying beverages from the carts available at the golf course is expensive. If you actually pay for that for 10 rounds of golf, it's practically the price of a golf bag cooler.
What Are the Benefits Of A Cooler In Golf Bags?
A built-in cooler compartment in golf bags means not having to spend money on purchasing a separate cooler pouch. These integrated, insulated cooler pockets very conveniently pack your water bottles, cans of drinks, etc., and keep them cool even in blazing heat outside.
Cooler pouches, more often than not, come with drain holes or ports, which allow condensation water to trickle out. So your precious equipment inside the golf bag and the bag itself don't get wet. And if these drainage holes are not included, the cooler pocket should at least be removable. So you can easily take it out and drain out the excess liquid.
Golf bags fitted with a cooler are great also because not every golf course allows you to carry drinks and food to the turf. And this is mainly because the club wants you to spend more money on their amenities and services instead. At such times, you can't carry a separate cooler bag, right? The solution then? A discreet cooler pouch or compartment built into your golf bag.
And these types of golf bags, at least in the majority of cases, are very lightweight (thus, easy to carry). Plus, they make sure your refreshments and beverages remain cold for the most part of your round of golf. Let's not also forget just how inexpensive they are as well.
Does A Cooler Make the Bag Heavier or Bulkier?
Even the best hybrid golf bag with cooler, Bag Boy Golf Chiller Hybrid Stand Bag, weighs only around 6 pounds. There are slightly lighter ones as well. Because these coolers in the form of insulated pockets are small and compact, thus they don't add any unnecessary or extra weight or bulk to the bag.
But then just because the cooler pouches are smaller, does that mean you get poor or limited cooling capacity? I don't think you need to worry about this at all because the insulation keeps your drinks cool enough for quite a long time.
What is the Storage Capacity of Built-In Golf Bag Coolers?
Generally, the capacity is six 12-ounce cans, which means you can fit in 6-8 cans easily. But then there are also extra-large cooler compartments built into some golf bags that accommodate around 12 cans. So you decide based on your personal preferences.
Conclusion
Golf bags may be all about branded logos, elegant colors, etc. But the most important features of a golf bag lie inside, in its dividers, compartments, pockets, and pouches. And among them, the insulated cooler pocket has become quite a critical element. It stores your refreshing drinks and keeps them cool, so you don't lose your 'cool' during your round of golf.
And there are plenty of lightweight, functional options to choose from – cart, stand, and hybrid! Plus, these can be affordable or slightly on the higher end because of the manufacturer being a top, more trustworthy brand.