Understanding the key basics of using a golf ball is a part and parcel of playing golf well. But you can't expect the same results from a golf ball for seniors versus for high swinging speeds. Finding the right set of golf balls for a slower swing speed without ruining your golf score is necessary.
So it goes without saying that you need the most skilled equipment to get you to land more effectively on the greenside without losing stability. These golf balls consist of compelling features that are best suited for the following expectations: soft feel, low spin, and great distance!
The golf balls have been designed to maximize driving distance and yet offer more forgiveness and softness for iron and wedge shots. This means you won't struggle anymore with gaining a few extra yards on the course.
With the best golf ball for seniors, the core technology and cover improve consistency, stability, and directional control. They are made in such a manner that takes away power from you for good. So you are allowed to focus on your style and tempo and work your way into your slower swing speed without worrying about mis-hits.
Having said that, let's read a bit in detail about what a golf ball should be like to be advantageous for a player above 50 years of age…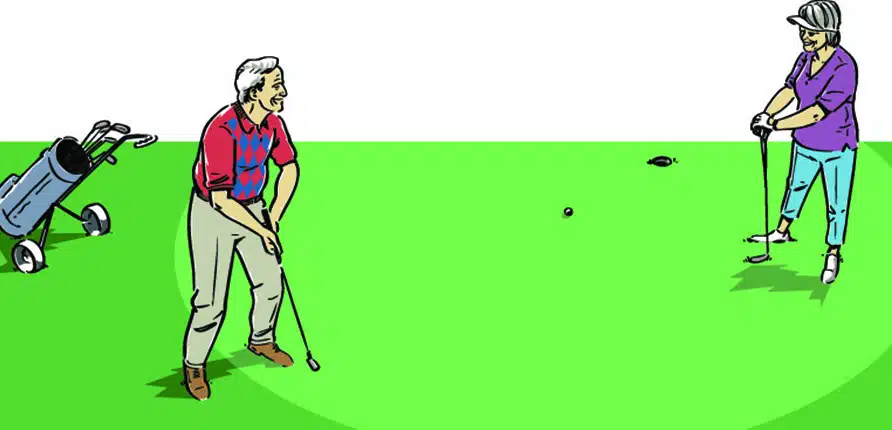 What Golf Ball Is the Best for Slow Swing Speeds?
I don't shoot in the dark (no pun intended of course); I'm very particular about the type of golf balls I use when playing both professionally and recreationally. And by type, as in what golf ball is the best for slow swing speeds, the answer is 2-piece and 3-piece golf balls.
It's the construction of the ball in relation to your swing speed that matters. Because multi-layered golf balls are harder to control when your swing speed is below average or declining due to age in this case. So it's extremely difficult to control a ball like that with a low-to-mid swing speed (between 75 mph, minimum, and 90 mph, average). And this means no distance gains are to be expected.
But with 2-piece golf balls, factors like spin, compression and feel are in the favor of a slow swinger. Also, senior golfers, because of their lack of strength and flexibility as well, find it much, much easier to hit 2-piece construction golf balls to increase distance along with achieving a straighter ball flight.
And if you're a senior player with a mid-range swing speed and/or mid-range golf handicap, then your game would surely benefit more from the 3-piece construction. This one is built with a combination of solid, hard core and additional mantle layer. With more power transfer, it also can travel farther with optimal spin and flight control.
Please note – don't make the mistake of buying 1-piece golf balls, even though they're the most basic and cheapest kind, because they're not supposed to be used on a golf course. On a mini-golf putting course, on the other hand, 1-piece is the way to go!
10 Best Golf Balls That Senior Golfers
1. Titleist Tour Soft Golf Balls
Pros
It goes the extra distance with low spin
Lightweight 4CE cover prevents excessive dragging
Softer feel around the greens
Strong urethane cover – perfect for long distances
Alignment markings on the ball are helpful
Cons
Low-spin golf ball not fit for short game performance
With a pick like Titleist Tour Soft, you can finally understand why even a minor upgrade in distance can make a huge difference. This gives you an extra 5 yards and more with a softer feel and more spin.
Relatively speaking, Titleist Tour features a stronger construction despite the 2-piece construction of the NXT Tour range. This is owing to its larger and firmer core that employs better drive that gives you extra yards off the tee box.
And here's the thing – Titleist Tour Soft doesn't demand you to exert much power from your end. It spins easily, moves fast, and thanks to the 432 dimples in a spherical tiled design, it tackles its own trajectory also effectively.
The 4CE cover maintains consistency in flight, which also maximizes productivity, especially for a senior golfer. This solves the significant concern that most older players struggle with – not achieving the desired distance. A problem-solving golf ball indeed!
2. Srixon Soft Feel Golf Balls
Pros
Super-straight flight
It stabilizes the way you approach the shot
Better control over distance and height
Softer 2-piece core construction increases the distance
It cuts through wind, thanks to the impressive 338 dimple pattern
Cons
Uniformity in distance/speed between balls is lacking
Less consistency over greenside spin
Srixon Soft Feel performs exceptionally well considering it's so affordable. Srixon offers a golf ball that's just as powerful as the likes of more expensive choices. I have used the latter, so trust me when I say that I KNOW that to be true. The inexpensive price tag does raise eyebrows with regards to its validity. But that feeling of doubt slowly dissipates once you learn how good it actually is!
So there is the FastLayer Core that truly seals the deal when it comes to faster and stronger transitions. It is from this feature itself that I also got a better distance off the tee.
It's a 2-piece construction with a lightweight design and soft feel. The core is slightly softer but it gets harder and firmer as it reaches the outer edges of the core. When you compare this to any standard 3-4 layered golf balls, the phrase less is more comes to mind.
Then I also found the compression rating of 60 great. And I think it's even more beneficial in this case as it offers incredible durability to senior players. The 338 dimple pattern, while improving trajectory off the tee box, also feels quite nice and comfortable.
3. TaylorMade Distance Plus Golf Balls
Pros
Controlled and low spin for longer distances
The aerodynamics of TaylorMade improve performance
Bright color design for better visibility for senior players
Supports slower swing speeds for straighter shots
Super-long shots (extra 4-10 yards distance)
Cons
Not every senior player prefers a harder golf ball
Lacks protection against permanent scuffing
Zero short game feel
Even though the TaylorMade Distance Plus has a slightly higher compression rating of 77, it is a firmer golf ball well-suited for senior players. The 2-piece construction is solidly built and falls within the standard medium compression rating. This does meet the expectations of senior players who demand lower spin and more distance for all kinds of shots. And it delivers distance for all the times you absolutely need it.
With the 342 Aero Dimple Pattern and low-grade aerodynamic design, TaylorMade Distance Plus does get stability and long distance right. And because it has a medium-rated compression, it has a stronger construction to prevent scuffing or premature wear and tear.
The design also features a unique Ionomer cover, which is TaylorMade's patented and unexampled cover design for golf balls. This is specific to the firmness rating of the golf ball, so the cover design doesn't overdo or undervalue the distance that this golf ball is capable of handling.
The alignment markings make it easier to assist in putting and hitting off the tee. And they also offer up ease of use and maximum productivity around the greens.
4. Titleist Pro V1 Golf Balls
Pros
Soft urethane elastomer cover improves greenside spin
More distance and an optimized feel from the ball
Bright yellow color for quick, long-distance visibility
Accurate short-game control that improves golf score
Good balance between spin and control off the tee
There should be no doubt about Titleist Pro V1 being one of the best for senior golfers. The careful engineering and attention to detail show the way the Pro V1 is built.
While the Pro V1 boasts of many incredible features, it stands out for one thing and that's consistency. You can expect great results from each swing with Pro V1. The difference between Pro V1 and its competitors is more amplified when you think of the penetrating flight and long-game spin.
The re-formulated 2.0 ZG Process core is solid and heavy-duty. As an avid golfer myself, I completely fell for the Ionomer high-flex core that complements the tough core to both stabilize performance and maintain speed.
You'd be surprised by how sturdily the ball holds up to long-term use. It can last for a long time without a single permanent scratch. And if you're a senior player with a fair share of experience with lightweight balls, you know how major an improvement this is.
Another improvement is made on the cover, which is a urethane elastomer cover with a more advanced dimple pattern. This promises everything a senior would generally expect with a high-end Tour golf ball. But the Titleist Pro V1 brings it down to comparatively affordable terms. Plus, custom alignment markings improve how you aim for the right speed and line.
5. Vice Drive Golf Ball
Pros
Quick off the tee with a longer roll
Dense and protective cover against windy/wet weather
The KIL (Keep in Line) putting line maintains stability and speed
Firm yet soft enough for senior players
Cons
Lacks durability for long-term use
Not very soft landing around greenside
After using my fair share of golf balls, Vice Drive feels a lot nicer, sturdier, and longer-lasting. The design and performance combined are suited more for the beginner than the pro-level player. And that's not a bad thing since this is rated for mid to low swing speeds.
Another interesting benefit of using Vice Drive is that these golf balls are perfect for wet and windy weather conditions. The core boasts of a softer feel but it's highly resistant to impact and scuffing. Thanks to the high-quality DuPont Surlyn cover with a longer roll and better cut resistance.
The 2-piece construction holds well against windy conditions. And it doesn't damage as quickly and easily as others. You can expect brilliant performance and stability from these balls for recreational games. Vice Drive golf balls, hands down, are also very affordable to lose and keep buying again and again.
6. Volvik Vivid Golf Ball
Pros
Sleek and textured matte finish for a cleaner aesthetic
Reduces side spin on faster drives
Bright yellow color is easy to follow
High forgiveness with softer core construction
Cons
The white color ball is not visible enough
I recommend the Volvik Vivid Golf Ball for a stronger and cleaner finish even during windy conditions. A few comparison tests and I found that this is one of those special yet affordable golf balls that do rival the performance of high-end golf balls.
The 342 dimple design is unique in that it ensures that the ball's flight is smooth, controlled, and more importantly, stable. During high winds, ball stability can be hard to achieve as there is a lack of consistency. So that's something you can strike off the list.
To combat such interference in performance, Volvik features Nano Bi High Energy technology for better resilience and control. It also comes in a bright color, so you can spot it easily across the greens!
I highly recommend Volvik Vivid to a recreational or senior player. If slower swing speed and a higher launch are on your list of priorities (without the high cost), this is the go-to golf ball for you.
7. Bridgestone E6 Golf Balls
Pros
Faster speed with long-distance compression
The cover reduces spin and controls ball flight
Ball flies straighter across the board
Cons
It doesn't spin as much around the greens
Bridgestone E6 keeps a senior player's expectations in mind with its sturdy and soft cover. It's designed for improving spin and control off the ball. A firmer core with 2-piece layer construction carries the ball exceptionally long on the greens and around it as well.
The quality of these soft-feel golf balls rivals the flexibility of superior, more expensive options. And they're certainly fit for what you need them for – low spin, soft feel, and better control over distance.
As someone with a mid to low swing speed, you don't have to struggle anymore to adjust to a 4-piece construction. The dual-layer construction of this one is simply perfect and solves all problems you've probably been facing with regards to a higher launch and stability.
The aerodynamic design also offers improved patterned resistance against wind and height. The extra softness of the core due to its stabilizing compression also accelerates speed while the seamless cover of the ball reduces impact and is more forgiving to launch.
8. Wilson Staff DUO Golf Balls
Pros
Softer and smoother texture
Ionomer cover maintains low spin for iron and wedge shots
Compression rating of 30 offers weight and flight consistency
Great response off the tee
Less spin and better control than its predecessor
How do the Wilson Staff DUO Golf Balls perform on and around the greenside? They have a nice and comfortable feel. And they are easy to control. But what I found most helpful about these golf balls is that they do offer a good degree of forgiveness to get the distance just right.
Nothing out of the ordinary and yet the Wilson Staff DUO combines stability and slower swing speed to produce impressive distance. The composite core technology makes certain of that fact, with an extraordinarily low compression rating of 30.
Traditionally, the lower price point of a golf ball is also coupled with the fact that it's a slow swing speed golf ball, for senior players. But Wilson Staff offers a lot more! Like improved spin control, responsiveness, and excellent alignment range. And all this makes it a foolproof pick for senior players who spend the majority of their time struggling with high spin when the flight is high.
Lastly, the low compression rating of the ball offers consistency where it's most required. And this is effective for all types of senior-level shots.
Buy Wilson Staff DUO when you want the ball to stop on the greens easily and quickly even if you aim higher and reach longer distances. It is specifically built for providing more control and flexibility on and around the greens. So you have nothing keeping you from achieving greatness in skill, despite your age.
Picking Golf Balls That Are Senior-Friendly
Of course, your swing speed should be the major deciding factor. But then that's not enough because it's your very swing speed itself that determines the compression, cover material, distance, and more.
Distance
There are many senior golfers who can still hit a long distance. But if you're not one of them, it's completely okay to switch to gear that compensates for the decline or lack of speed.
At the beginning of the article, I talked about golf ball construction. And I'm going to mention that once again over here since it's entirely accountable for distance.
2-piece and 3-piece golf balls are the best choices for seniors because they're easier to hit for a longer carry and even a straighter ball flight. Multi-layered golf balls are NOT for you.
Compression
This is another factor related to your swing speed and distance potential. And something that I've mentioned even in my reviews quite a lot. Low compression (below 70) is for slow swing speeds while high compression is more Tour-grade and pro-level (for faster swing speeds).
Now here's a little-known truth – golf ball compression rating is starting to not matter anymore. Many golf ball manufacturing brands are now using all kinds of different technologies. So it's not entirely impossible or unlikely for a 55 compression golf ball to perform the same as one with a compression rating of 70.
Take it from someone who has never really given much importance to compression yet I've managed to buy golf balls that complement my speed and style of play ALL MY LIFE.
Visuals and Visibility
Ball markings (visuals) are very important because they help with alignment. Alignment aids come in handy when putting comes into the picture, especially when you're already struggling with your short game.
Of course, you can draw a sharpie line using a marker on the golf ball; I've seen so many golfers, both young and old, do that. But then why not choose golf balls that feature excellent, accurate alignment aids!
And then you have visibility, which is going to be a concern if your eyesight is poor or if you simply want to quickly spot your golf ball in the rough. Bright-colored green, yellow, orange – these are highly visible.
Feel, Spin, Accuracy
Let's not allow distance to hog the field because the feel is equally important. Your golf ball may be able to fly LONG and even roll out long but what good is that distance going to be when not under your control. Imagine the ball bounding over the putting surface post-landing into a sand bunker located behind that green. Who wants that to happen!
I remember in my early years of golfing how much of a concern this was to me. But then came along soft-feel golf balls that my short irons hit with enough spin for holding the green. These also roll very neatly off the putter.
With regards to spin, low spin is the best for lowering your chances of producing hooks and slices. Then that, in turn, compels your shot to travel straighter with more accuracy. But I have often also bought high-spin golf balls whenever I didn't want the ball to interfere with my shot-shaping abilities.
Cover Material (Durability & Affordability)
In golf, distance balls have a Surlyn cover. They give you the least amount of spin and improve shot trajectory (boosting distance is a given).
Another reason why Surlyn is so popular is because of its amazing affordability. So if you're a beginner and/or senior golfer who ends up losing quite a few golf balls during gameplay, you know what's going to save you money.
The added benefit you get here is that Surlyn is a part of 2-piece and a few 3-piece golf balls (perfect for the slow swing speed of senior golfers). With Surlyn, expect a highly durable, wear-resistant, scuff-resistant outer shell but also be prepared for reduced spin control.
Urethane cover is mostly found on 3-piece, 4-piece, and 5-piece golf balls. The feel of urethane is much softer with more long-game and short-game spin. So you have to be an experienced golfer with a faster swing speed and low handicap to appreciate this kind of high-spin play afforded by urethane cover.
The biggest flaws of urethane – very expensive and not very durable, unlike Surlyn.
FAQs
What Are the Main Differences Between Regular and Senior Golf Balls?
There are Tour-grade golf balls – higher compression rating, firmer feel, more rebound effect – made specifically for golfers with a faster swing speed. But then most senior players have a slower swing speed, so that demands lower compression and softer feel for the same rebound effect. So that's a huge difference.
Another difference is the cover material; senior-friendly golf balls have more durable, more affordable, less spin Surlyn cover. But then Surlyn is guilty of offering a slightly firmer feel, which only with a softer core can reduce compression. Despite that, senior golfers prefer Surlyn because of its reduced spin and extra distance.
Then comes the color of golf balls. You know the golf ball is a fitting choice for an older golfer when it's bright colored. That means easy and quick to spot in the rough even if your eyesight is not its prime anymore.
What Golf Ball Compression Is Perfect for Senior Golfers?
A compression rating of under 70 is labeled as low. So senior golfers should keep this number in mind when buying golf balls. Low compression means the ball is easy to strike to make it travel long and straight with little spin despite a slow swing speed.
What Golf Ball Construction Is Best for Senior Golfers?
The most ideal construction for seniors who don't have the strength to swing hard and fast anymore – 2-piece golf balls.
These are distance-boosting golf balls with high-roll capabilities. And it's not a coincidence that 2-piece golf balls are also extremely durable (they're specifically crafted this way for beginners and seniors who tend to lose more golf balls per round).
What Golf Ball Goes the Longest the Most Easily for Seniors?
If distance gain is what's on your agenda, then choose Titleist Pro V1. Its Ionomer high-flex core increases speed and the golf ball can withstand long-term use. Then there are added benefits – penetrating ball flight, incredibly soft feel, long-game spin, and exceptional greenside control.
The Summary
Buying on a budget is also as important as increasing distance for many senior golfers. You may be losing too many golf balls per round, so you don't want to or can't afford to waste money. So it only makes complete sense to choose an inexpensive pack of golf balls that also go LONG and STRAIGHT.
Back in the prime of MY life, I used to take pride in spotting golf balls after driving them long. But that's not something I do now and that just means switching to brighter colored golf balls. They keep me from wasting my time during my round of golf plus they also make me putt better.