You can save quite a number of shots with a putter. It is a golf club of paramount importance after all. You now see so many brands minimizing the head shape of their putters and instead they're dedicated more toward improving factors like feel, roll, and looks of their more compact collections.
But then, what are the best putters for the game of golf?
Selecting the best putter brands, to be honest, is a very easy thing for me to do. But then narrowing down to their best, most highly recommended, and top-rated golf putters is a tough job indeed.
And you know, there's a very valid reason for that – some players prefer the traditional blade putter while others feel more confident using mallet-style putters. And then you can also pick a putter based on your putting stroke – an arced stroke or the straight-back-straight-though putting approach.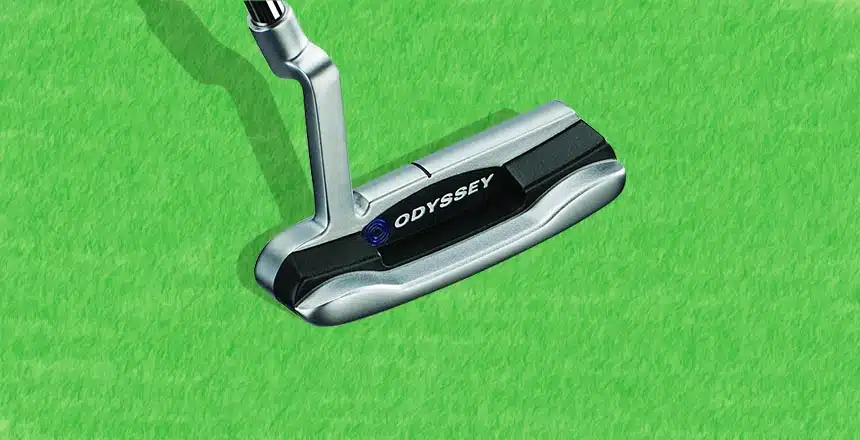 1. What Is Your Putting Stroke?
You either have an arc putting stroke or you use the straight-back-straight-through putting stroke. It has to be one of the two!
But why is this so important to know? Because the putting method you choose has a huge impact on the kind of putter you should be buying or using. Your putter just has to match YOUR putting stroke approach.
So how do you go about identifying which of the two it is?
Here's a very useful and effective drill for doing that. You'll need a putter, golf ball, and 2 alignment rods to proceed forward.
Place those alignment sticks opposite each other (parallel, with a distance slightly wider than the putter head between them). And they ought to point toward the target.
Now place your golf ball between these alignment rods.
Time to do your regular backswing motion BUT right before finishing that stroke, pause and check the position of your putter in keeping with the alignment stick closer to the feet.
If the putter's hanging over that alignment rod, you have an arc putting stroke.
On the other hand, if your putter's between those rods directly (just like during address), then you're more inclined toward using the straight-back-straight-though approach.
Now here's how both putting stroke methods work…
Arc Stroke
This particular stroke, naturally, makes the arc shape – where your putter is slightly inside to open the clubface on its way back and then you close the face on your way through. Thus, creating the 'arc' shape.
So what type of golf putters are the most suitable for an arc stroke? That would be blade putters, simply because they're equipped with greater toe weighting that leads to the clubface squaring up at impact.
Straight-Back-Straight-Through Stroke
As for this method, the whole path of your backswing plus follow-through is straight.
And if your putting stroke is like this, you're most likely to benefit from a mallet-style putter. This one's face-balanced, hence well-equipped to promote that 'straighter' stroke.
So which of the two techniques is better? Honestly speaking, there's no one "right" method here, it all depends on which of the two you feel the most comfortable executing. And once you've established that comfortable, consistent putting stroke, make sure that the putter you use matches your putting style.
2. Putter Head Design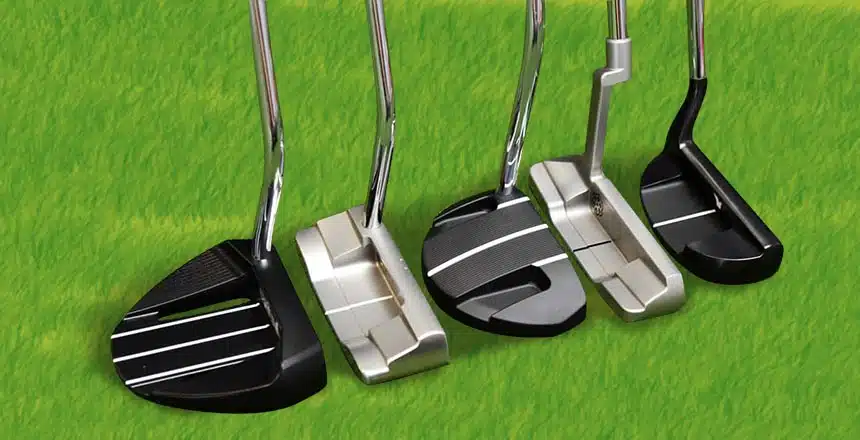 Since we spoke about your putting stroke, it's only logical now to discuss the many, important differences between the different types of putter head designs – blade, mallet, and high-MOI.
Blade Putters (Toe-Balanced)
The traditional shape of golf putter, blade design, even though the oldest, is no more the most common since now advanced technology has given rise to more forgiving putters.
Blade or muscle-back putters (just like the blade or muscle-back irons) have a very simple structure. But it's simple only if you know how to hit the sweet spot consistently. Thus, blade putters are preferred by scratch golfers and low handicappers.
These are toe-hang or toe-balanced putters that let you open the face and close the face quite easily during the swing. And once again, this kind is the most fitting for golfers who have an arc putting stroke.
Just so you know, there are 5 different types of toe-hang designs…
FULL TOE HANG – The putter toe here, when hung naturally, points directly toward the ground. Most commonly added to heel-shafted blade putters.
3/4 TOE HANG – Small and short hosel blades are outfitted with the 3/4 toe-hang style where the toe is pointing downward by around 75 degrees.
1/2 TOE HANG – The design of 1/2 toe-hang blade putters (plumber neck hosel) hangs by around 45 degrees.
1/4 TOE HANG – This type is spotted on both blade and mallet putters. And the toe hang, in this case, points downward by around 25 degrees.
FACE BALANCED – Face-balanced toe hang can be a part of mallet putters and blade putters. Such a design has the clubface pointing directly upward when it hangs naturally.
Mallet Putters (Face-Balanced)
More suitable for the straight-back-straight-through putting approach, mallet putters (also known as face-balanced putters) are definitely more forgiving than blades because of the larger head and bigger sweet spot.
With a face-balanced putter, you open the face less on your backswing and you also close the face less on your follow-through. Now you understand why a mallet putter works the best for those with a straight-back-straight-through stroke?
High-MOI Putters
These types of golf putters are not like the mallet-style version. The clubhead weight is heavier than mallet or blade. They are the best putters for high handicappers because of their more forgiving head design.
But then we've often spotted PGA Tour players also choosing high-MOI over traditional blade or modern mallet. And in my opinion, it's because the clubhead shaping here offers assistance with both the arc and straight-back-straight through putting strokes.
3. Putter Neck Design
With putters, steel shafts are more common since they give you a more consistent, solid feel. But where/how does this shaft connect with the clubhead (i.e. hosel) differs.
Short Hosel – Putters with a short hosel (toe-balanced to some degree) are more likely to allow you to guide your putts using the head. That's why it works the best for the arc-shaped putting stroke.
Double Bend Hosel – Mostly, face-balanced or mallet putters (for straight-back-straight-through stroke) are built with a double bend hosel. And this produces the least amount of rotation throughout your putting stroke.
Plumber Neck Hosel – When your putting method is a mix of both straight-back-straight-through and arc, then choose the traditional plumber neck design (typically, these putters consist of 1/2 toe hang).
Center Shaft Hosel – The putter shaft has no bend in the center of the clubhead in this case. More commonly a part of face-balanced putters, which means those with a straight-back-straight-through approach benefit the most.
4. Putter Shaft Length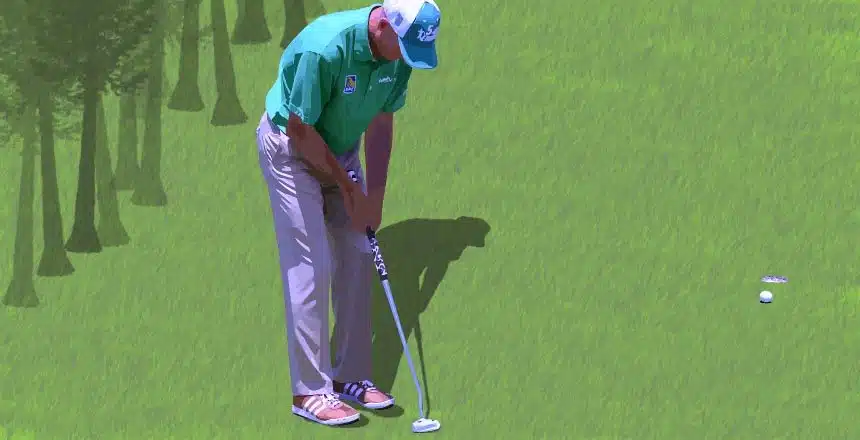 Putter length is just as important as determining your putting stroke and then based on that, deciding which putter head to pick. An incorrect length is just going to mess with your golf posture.
Speaking of which, not every golfer has the exact same posture, right? There are slight variations for sure. Some golfers stand more upright while some are more hunched over. So depending on what YOUR golf posture is (along with arm length, eye position, etc.), you should be getting the correct putter length.
The ultimate goal is to keep your eyes either a little underneath or over the ball at address.
5. Putter Weight
It refers to how the putter is balanced, meaning weight has a lot to do with the center of gravity of the golf club.
Keeping that in mind, blade-style putters, since they're toe-balanced, are toe-heavy, so it's easier to close that toe during your putting stroke. And then there are mallet putters, which are face-balanced to suit the straight-back-straight-through technique.
Another bonus option is a counter-balanced putter. These are well-balanced heavier putters that consist of either extra shaft weight or extra shaft length.
However, setting aside everything, putter weighting (given that it's non-adjustable), in the end, is a more important factor for only advanced golfers.
6. Putter Grip
Does the size of your putter grip really matter? It does of course BUT not in the same way as the driver or iron. A wrong driver/iron grip size means squaring up that clubface is going to be a true challenge. And if not that, then the face tends to close too soon.
On the other hand, it's NOT important or compulsory for the grip size to match your hand size with a putter. In this case, the size of the grip is more concerned with what feels good and comfortable while also performing well.
Thus, thicker grips pave the way for minimal use or interference of your arms and hands with the putting stroke. So only those larger shoulder muscles are then responsible to perform the task at hand. Hence, a midsize or jumbo putter grip is bound to benefit your game.
Many golfers with small hands also use a larger grip size, which means there's no problem here at all. In fact, there are quite a few branded putters equipped with a stock 'jumbo' grip. After all, as I already mentioned earlier, a thicker grip does hand out more stability, both during your putting stroke and at impact.
7. Putter Lie and Loft Angle
Putter loft decides how the golf ball rolls. Too little or too much loft results in either hitting down or up on the ball during impact. The golf ball, at such times, gets airborne. And that, in turn, inevitably causes it to go off-target for the whole length.
In most scenarios, putters have a loft of 3 degrees to 5 degrees.
As for putters' most common lie angle, the standard seems to be 70 degrees (with the heel and toe touching the turf).
8. Putter Alignment
Alignment markings are crucial, and no golfer (no matter how skilled or experienced) can ever downplay this particular fact. Because clear alignment lines lead to correctly and accurately lining up that putter with the golf ball.
Once again, irrespective of how confident you are about your putting skills, a thing like 'forgiveness' matters even with the putter. 'Mis-hit' putts are more common than you'd expect. So that small alignment line or marking covering the head of the putter allows you to find the sweet spot i.e. center of that clubface.
Also, with putter alignment aid, lining up the golf club correctly becomes possible. So your ball starts on the desired target line since you're going to be setting up square to the target because of the alignment feature. Therefore, draining or sinking more putts!
9. Pricing and Value
Technology is constantly improving, which means newer materials are continually being used for putter heads. So the price of putters has now become a very urgent matter.
Generally, the price range starts from $100 and goes up to $400 or higher.
Now I'd also like to add at this point that you shouldn't let the price tag of putters rule over your decision-making process. And that's because, even though premium putter models perform better (and this includes boosting your confidence levels), there are plenty of inexpensive options too that offer great value. Now I know that what putters do is just propel the golf ball toward the hole. But not every putter does this in the same manner. So if performance seems more important in comparison to feel or looks, your choices are certainly not limited, even if you're buying on a budget. Rather spend that extra money on another golf club!
1. Best Choice, Even for Budget – Pinemeadow Golf PGX SL Putter
Pros
Plumber neck (offset) hosel – more forgiving putting stroke
Two-ball alignment sinks more putts
Very comfortable grip
Cons
Paint tends to chip off quickly
Some prefer a larger, fatter grip
Here's one of the best putters of all time, the Pinemeadow PGX SL Putter. Well-suited for casual golfers, beginner golfers, and even those more skilled in the game of golf.
But it's surely the average (or below) players who seem to benefit the most simply because with this putter, they can line up their shots so much more easily. Thanks to the top alignment markers as well as the comfortable handle (Pinemeadow Spider Grip for a firm, shock-absorbent feel).
I strongly believe that no other putter out there can beat the price/value of this one.
2. Close-Second for the Price – Wilson Staff Harmonized Putter
Pros
Putter features feel-improving face insert
Grip's vertical seam also improves feel
Easy alignment with horizontal lines
Oversized grip size improves putting accuracy
Cons
Considerably heavier
Very dull ball strike feedback
Certainly a part of the list of the best putters 2021 for the money, Wilson Staff Harmonized is even this year's finest affordable pick. One testing session at the putting green and you'll never want to go back to any other previously used putter.
It dramatically improves your putting game with its excellent balance that works well with both hard and soft golf balls.
The heel/toe weighted head shape plus plumber neck hosel give you all the mis-hit forgiveness you might need to make solid contact with the ball. Top that off with the horizontal alignment aid lines and your setup automatically becomes more accurate.
3. Best for Distance Control – Ray Cook Golf Silver Ray SR500 Putter
Pros
Well-balanced putter with offset for straighter strokes
Deep charcoal gray for a more glare-free setup
Mid-sized, soft paddle grip improves feel
Cons
Paint chips quite easily
Misaligned grip
Practice enough with this Ray Cook Silver Ray SR500 Putter and you'll see just how exceptional it is in terms of being well-balanced, so your shots come right off the clubface and the ball simply rolls on line in the direction of that cup.
The glare-minimizing charcoal gray effect, along with the dark undertones and bold lines, definitely improve alignment. And the head is slightly heavier but this is a quite common occurrence given that a heavier head, by default, generates a more accurate and solid stroke that, in turn, gives you distance control.
And most importantly, this putter reduces the number of strokes per round. Shouldn't that reason enough to buy it!
4. Most Forgiving Putter – Odyssey Golf 2021 White Hot OG Putter
Pros
Odyssey's popular White Hot insert
High-performance, precisely fitted shaft (2 options)
Improves speed, accuracy, feel, and sound
Cons
Might be too short for some
This classic-shaped White Hot OG Putter by Odyssey offers great forgiveness. Even the looks are pleasing on just the first impression. The plumber neck hosel, with slight toe down, is sometimes preferred over its face-balanced counterpart. So if that's your thing too, expect nothing but an incredibly solid impact feel.
The game-changing White Hot insert, it goes without saying, is the best part since it provides forgiveness all across the clubface. So if you struggle with consistency as far as your putting strikes are concerned, rest assured knowing that golf balls, no matter which ones, are sure to come off each time.
5. Best High-MOI Putter – Titleist Men's Scotty Cameron Phantom X Putter
Pros
High-MOI putter for more consistent speed
Aesthetically pleasing with accurate visual guides
Inspires confidence through precision-milled face
You're now looking at a high-MOI putter, the Scotty Cameron Phantom X model by Titleist that has been a favorite among many Tour players in golf.
But what's so great about high-MOI putters in the first place? More stability during impact, which means more speed emanating from the clubhead. And when this enhanced speed is transferred into the ball, the inevitable outcome is a better roll without too much sliding or skidding off the face.
Also, this putter has quite an impression-worthy appearance. And the masterful putter combines alignment-promoting acute angles as well to upgrade your putting performance.
6. Best for Proper Setup/Alignment – Odyssey Red Ball Putter
Pros
Mallet-shaped putter maximizes forgiveness
Integrated, easy Red Ball alignment aid
Very comfortable shaft angle
Cons
Deterioration happens rather too soon
Here's the thing with Odyssey putters – they're quite shockingly lightweight, forgiving, and also easy to roll. With them, mis-hits don't get severely punished, which means they're the best when it comes to eliminating consistency struggles.
As for the Odyssey Red Ball Putter, this club very effortlessly enables lining up your putts consistently. And to consistently line up is crucial if you want to showcase some really good putting skills.
The clubface here produces exceptional sound and feel, both of which control distance. So no more having to spend $500 to purchase one of the greatest putters ever designed.
7. Best Standing Putter – Autopilot S7K Standing Putter
Pros
Free-standing putter with a perfectly angled shaft
Looks are a mix of modern/traditional blade design
Standard putter length (34 inches)
Smooth feel, great balance, and distance control
Standing putters are supposedly built for helping with alignment. So does that really happen with this Autopilot S7K Standing Putter? Oh yes, it does! You'll soon understand how the clubhead of the putter makes sure that your golf ball starts in the perfect, right direction.
Alignment, after all, is the main difference between an amateur golfer and a Tour player. The former struggles when it comes to aligning the face of the putter appropriately to the target, unlike the latter (irrespective of whether you're using a blade or mallet putter).
The solution then takes the form of this S7K putter that stands all by itself, even on sloped surfaces. So if alignment is your weakness in golf, this one-of-a-kind putter is certainly worth a try.
8. Best Mallet Putter – TaylorMade Spider Tour Black Putter
Pros
More forgiving, twist-resistant mallet putter
High-MOI design for greater stability and speed transfer
Pure Roll face insert improves distance control
Cons
Not the best for average golfers
What about the TaylorMade Spider series of putters is so good? First of all, I think you'd really like to know that these putters are highly twist-resistant at impact. And you know what that translates into, don't you? More mis-hit forgiveness, which is very useful for when faced with longer putts.
Speaking of longer putts, the unique Pure Roll slotted face – a part of every Spider putter that ranks among the best TaylorMade putters of all time – tracks better in the case of putts that are longer lined in comparison to other brand blade, milled face putters.
The Spider Tour, as the name suggests, is best for Tour play. So it surely looks visually appealing, with its streamlined clubhead. And one last thing, this TaylorMade modern putter's SuperStroke GTR 1.0 Grip is perfect as it occupies the mid-point between too small and too big.
9. Best Adjustable Putter – Cobra King 3D Printed Putter
Pros
Multi-material design for high MOI (max. stability)
Oversized blade-style shape improves distance control
Loft adjustability to match different putting strokes
Lamkin Smart Grip, so you can track putting stats
Cons
The oversized clubhead is not for every golfer
For way more consistent and dependable performance, you just have to give this Cobra King 3D Printed Putter a chance to outperform not just the putters you've used so far but also its same-brand predecessors.
The well-balanced feel, the ability of the putter to re-position off-center hits in the right direction, and the inclusion of more clubhead adjustability – all these characteristics are responsible for the success and popularity of this model.
It's the weighting adjustability that stands out in particular. Because when you get to adjust those weights of your golf clubs, you can really get them to work as per your needs and preferences.
10. Best for Feel/Feedback – Cleveland Huntington Beach Soft 4 Putter
Pros
Speed-optimized for speed/distance control consistency
Super-soft feel and pure roll at impact
Crisp, accurate feedback
Cons
No oversized grip, unfortunately
If your old putter has really started to look and feel worn out, then don't twice before upgrading to this Cleveland blade-style Huntington Beach Soft 4 Putter for men. The first few uses are enough to establish your faith and trust in this one. And how does that happen? Multiple strokes will be saved!
The putter is so widely popular for its butter-soft feel, which suggests that you come to know very easily how the golf ball responds or reacts off the clubface with each stroke. And this is irrespective of the length or distance of your putts.
The deep milling of the face is also quite a noteworthy characteristic as it really helps when it comes to acquiring distance control.
11. Best for Indoor Use – Pinemeadow Golf Regular Black Zinc Style Putter
Pros
Well-balanced putter easy, quick to line up
Classic blade design with high-quality manufacturing
Smooth and controlled putting strokes
Perfect for home or office use (indoors)
Cons
Not the best sound or touch
Pinemeadow has this super, super affordable offering for indoor putting practice sessions as well – their Regular Black Zinc Style Putter. Overall, it's a solid golf putter, no doubt about that.
To be straight with you, just don't expect too much with regards to sound and touch. However, the feel of the putter is the most important factor and so is the feedback – both, in their own way, tell you how the putter reacts each time you miss the center. In that context, you have nothing to be wary about (meaning it meets those requirements).
The zinc construction is the very thing responsible for the solid, soft feel at impact. And of course, there's the alignment aid too, along with a standard steel shaft and standard putter grip.
12. Best for Senior Golfers – Mazel Tour GS Men's Golf Putter
Pros
High-MOI putter, thus very forgiving on mis-hits
CNC-milled face improves stability
Low CG placement produces more fluid putting strokes
Advanced alignment lines for better accuracy
Cons
Paint will chip fast and in many places
On the list of the best putters for seniors, this Mazel Tour GS model always makes an appearance, even though a little late. It feels just right if you ask me, and I am a senior golfer myself now.
The weight of the clubhead is what I liked the most about it. Plus, there's the solid feel as well upon striking the ball. And somehow, the putter also rolls that golf ball much straighter.
But the primary reason why this one's the most fitting choice for senior golfers is that the putter features high-performance polyurethane grip, which has excellent shock-absorbent, anti-slip properties. So no stinging pain or any such discomfort to be felt, no matter how hard or fast you swing!
Frequently Asked Questions About Golf Putters
What Is the Proper Putter Length for My Height?
The length of putters, needless to say, varies from one golfer to the next. So the correct length FOR YOU is one that lets your eyes get over the ball during address. Meaning you should be looking down that target line of yours. If that happens, your putter is perfect for your height.
As for what is the standard putter length, that would be 34 inches. You could go shorter i.e. 33 inches or longer i.e. 35 inches, but anything shorter or too longer is only going to mess with your posture and putting game.
But it's not just your overall height that needs to be taken into consideration, the length of your arms also matters. Because if your arms are very long, then you should be compensating with a shorter putter shaft. The same applies to those who tend to excessively bend over the ball.
Based on general guidelines.
32 inches if your height is below 5 feet.
33 inches if your height is between 5 feet and 5 feet, 4 inches.
34 inches if your height is between 5 feet, 5 inches and 5 feet, 10 inches.
Over 35 inches if your height is above 5 feet, 10 inches.
Once again, this just takes overall height into account and not other equally important factors, such as your posture, arm length, and eye position.
Are Mallet Putters More Forgiving?
Mallet or face-balanced putters are definitely a lot more forgiving than blades in that they prevent mis-hits (through more room on the clubface). Thus, much fewer three-putts!
Meanwhile, blade putters demand consistency. This means hitting on the wrong side will unavoidably result in a second putt that's much longer.
What Is A Standing or Stand Alone Putter?
It's just unbelievable that technology like this has made an appearance in the game of golf!
A standing putter doesn't require you to hold it for it to stand up. Meaning the club stands all by itself, even on sloped ground. So if you have alignment, stroke path, accuracy, etc. troubles, then a stand alone putter is surely worth your time and money.
Should You Get A Fat Grip for Your Putter?
How to grip a golf club properly is something that not many golfers seem to care about. But it's even more imperative to know this with a putter because the correct amount of grip pressure here will drain more putts.
For putters, avoid the death grip and instead keep the pressure on a 3-4 level out of 10. The aim is to keep the grip frim enough yet not so firm that the head rotates and/or you can't feel that grip. Too tight and that unnecessary, extra forearm tension affects not only face rotation but also your tempo and stroke.
What Are the Best Putters for Beginners?
If there was a definitive answer to this commonly asked question, things would be so much easier. But, sadly, there isn't. Simply because it all depends on how confident you feel using a putter. For some beginners, that confidence boost comes from toe-hang blade putters while some prefer using high-MOI putters.
But the general notion is that beginners need to pick a putter that offers some mis-hit forgiveness. In that case, avoid the blade design and choose the more forgiving mallet-style putters.
What Is the Most Forgiving Putter?
This would be a mallet putter, no doubt about that. And the reasons are that mallet putters are larger (i.e. bigger sweet spot for better consistency), with a heavier clubface. The extra weight is properly redistributed to the other zones of the clubhead, which increases putting stroke stability. And this weight along the perimeter also improves balance.
Moreover, the clubhead weight minimizes the unwanted twisting action throughout your stroke. And finally, mallet putters feature alignment aid for improving accuracy as well.
Are Expensive Putters Worth It?
Not going to lie to you – expensive putter models do indeed help a great deal but that's just one part of the process. No matter which putter you buy, it will not and cannot cure bad strokes.
In the end, what actually matters the most is if the putter suits your putting technique. It should have alignment markings to instill more confidence in you, it should feature the correct clubface, it should be built with the right loft and lie angles, etc. Price, in this case, takes the backseat.
What Putter Is the Best for Average Golfers?
One that 'feels' right and comfortable when you're standing over it!
Now, this could be an older model or a more recent, advanced version – there's no single right answer here!
In the majority of cases though, average golfers pick high-MOI putters since these minimize inconsistencies in the putting stroke. Plus, the high-MOI putter design reduces twisting on mis-hits. So the face is kept square, which allows you to sink more putts.
And Finally, the Conclusion!
What golf club is it that you use to hit the most number of shots during a round of golf? The putter, right? Nevertheless, it's often neglected. And if this sounds like an exaggeration, which it certainly isn't, then it's at least safe to say that we often think more about purchasing our next golf drivers than we do about our golf putters.
With the right putter for YOUR putting style, you can achieve the ball roll you actually desire. And I know that choosing this "right" putter for yourself can be confusing and maybe even a long-drawn process, which is why I've curated such an in-depth buying guide for you.
Blade or mallet putter, as long as it inspires more confidence and feels comfortable, then just go ahead with it. Although it's the latter that has, time and again, proven to be a lot more forgiving than the former (so just remember that!).