It's no exaggeration that Odyssey (Callaway golf company) designs the best putters that always end up ranking among the top contenders. Some of the best Odyssey putters have been used by pro golfers like Phil Mickelson, Michelle Wie, Tom Watson, and so many more. So they are manufactured to meet the standards and demands of Tour champions and players.
Even I have an Odyssey putter in my golf bag!
So let's get to talking about the phenomenal, modern technology the brand employs to craft game-changing features such as those Stroke Lab shafts, Triple Track alignment, etc. And this can be done only through Odyssey putters reviews.
1. Odyssey Stroke Lab Black Putter – Top, Best Choice!
Pros
High-MOI design helps with off-center strikes
Multi-material shaft makes the putter very, very forgiving
Enhanced sound and firmer feel through the new insert
More putting consistency with Hi-Def Alignment feature
Cons
Too lightweight if you prefer a heavier feel
A putter that helps you lower those golf scores the most effortlessly and quickly – Odyssey's Stroke Lab Black Putter!
The firm feel is responsible for providing the much-needed distance control most golfers look forward to. As for the putter head, this features a balanced design from the heel to the toe. Speaking of which, weight is redistributed into the perimeter of the head to make way for better putting stroke balance.
Plus, it's a compact-shaped head that ensures centered contact with the golf ball.
Moreover, accuracy is this guy's middle name! And if you select the stiffer shaft flex option, the kind of response and feel you get is also quite exceptional. No denying that performance-driven technologies are infused into this one, so you can make more and more putts more and more easily.
2. Odyssey White Hot Pro 2.0 Putter – The Runner-Up Pick
Pros
White Hot insert dampens vibrations
Well-balanced weight placement for greater forgiveness
Solid contact and increased accuracy, thanks to alignment aid
Insert is laser-milled for consistency in roll and performance
Cons
Classic putter design, hence very simple-looking
Slightly firmer insert
This putter is like one of the most legendary personalities in the game of golf. Odyssey White Hot Putter, this 2.0 version, is easily the most popular pick indeed. The brand here has successfully managed to make this 'heel-to-toe balanced' putter, a difficult design to get right, a favorite among many pro golfers.
Clean design, oversized or standard grip, contrast alignment aid, laser-milled White Hot insert, and heel/toe weight placement – ALL of these features combine to take care of crucial aspects of your putting game. Such as feel, sound, tolerance, consistency, responsiveness, forgiveness, and accuracy.
You could be a male or female high-handicap golfer and still notice improvements in your short game with the Odyssey White Hot putter.
3. Odyssey DFX Putter – Best Putter At Great Value Price
Pros
Softest DFX insert for a smooth feel/roll
Black finish with white contrasting alignment
High-performance Oversized and Pistol grip options
Cons
Heavy putter, not for those who prefer a lightweight design
The DFX Putters by Odyssey are popular because of the inclusion of the softest insert that helps improve putting performance. This DFX insert technology is softer in comparison to the renowned White Hot insert, which means expect the smoothest feel as well as roll on those greens.
The soft feel, needless to say, is the best part. Even the balanced weight is a truly remarkable trait in the case of Odyssey DFX.
On top of that, the combination of black head and white alignment aid also drastically helps with putting.
4. Odyssey Golf 2021 White Hot OG Putter – Best Blade Putter
Pros
Iconic White Hot face insert
Classic blade putter, thus easier to control distance/speed
Tour-proven Stroke Lab shaft
Exquisite-looking silver PVD finish
Cons
Some find the insert too soft
The White Hot OG series of Odyssey putters includes this traditional blade-style model with heel/toe weighting. Just so you know, blade putters, in comparison to mallet putters, can be heavily relied on when it comes to imparting greater accuracy and distance control (on those longer putts of course).
The weight distribution here is also tilting more in the direction of better 'feel' precision. So if you're a golfer who's putting is more feel-driven than sight, this classic blade, Anser-style White Hot OG Putter is designed for you.
Think of it as a combination of Odyssey's old White Hot insert and modern technology. Even the visual attraction looks more pleasing and "aesthetic" because of the new, rich silver PVD finish.
5. Odyssey Golf 2022 Eleven Putter – Best Mallet Putter
Pros
High-MOI putter, therefore highly forgiving
Multi-material Stroke Lab shaft improves stroke consistency
Confidence-boosting shape
Super-light TPU sole insert enhances feel and sound
Alignment options – plain head, Tour Lined, and Triple Track
Mallet putters feature high MOI to bring more stability into the game, right at impact. Greater speed transfer takes place, as a result, between the clubhead and golf ball. In turn, this increased speed transfer produces a better roll with minimal sliding or skidding of the clubface.
Odyssey's Eleven Putter might as well be tagged as the most forgiving putter simply because of its extremely high MOI. And also because of the lightweight and heavyweight construction, which ensures a well-balanced putting stroke.
Also, you get to choose what sort of alignment aid you want – the options are plain head, Triple Track lined, and long Tour Lined.
6. Odyssey Golf 2022 Tri-Hot 5K Putter – Best for ALL Types of Golfers
Pros
Lightweight Stroke Lab shaft offers a lighter feel
Deeper, further head weights increase MOI
More stable, stiffer shaft for improving consistency
Solid feel through White Hot insert
The classic blade head shape of Odyssey's Tri-Hot 5K Putter consists of different sorts of materials that increase stability. Steel, aluminum, and tungsten (clubhead construction) push the MOI higher, over 5,000 i.e. 5K. And with higher MOI, the resistance to twisting also increases, which implies that your off-center strikes shall be saved.
The slightly oversized visuals of this new version certainly instill more confidence in you. And the fact that the brand has incorporated its classic White Hot insert means the sound and feel are also truly exceptional.
Furthermore, the counter-balanced weight distribution improves not just your swing tempo but also accuracy and consistency.
7. Odyssey Tour Authentic 2-Ball Ten Putter – Best for Tour Players
Pros
Tour-proven, legendary Triple Track alignment system
Soft feel off the clubface
Extremely forgiving with a sleeker design
Adjustable weighting means more consistency
Cons
Feel can be too soft or light, thus not for every stroke tempo
Now here's the best Odyssey 2-Ball Putter with its phenomenal, tech-advanced features. And these innovations have already been proven on the turf by the likes of Jon Rahm.
It's not a part of the company's original concept. Regardless, the easy alignment and stability through the thick white Triple Track sightline upgrade the putter to Tour-level.
The long-putt forgiveness is a non-optional matter, which is just what you need to hear if mis-hits are a part of your putting as well. Even the perimeter weighting makes it all better in that it compels the golf ball to hug the turf at just the right time, so it doesn't skid or bobble off the line.
And of course, let's not forget that Odyssey's Stroke Lab shaft is included too for increasing stability and, ultimately, boosting consistency.
8. Odyssey Golf 2022 Ten Putter – Best for Beginner & Amateur Golfers
Pros
More forgiving, sleeker head shape
2-Ball system improves alignment
Lighter, stiffer shaft enhances stroke consistency
High-performance, speed-driven insert
Cons
Triple Track head is useless without Triple Track golf balls
Slightly hollow sound
An Odyssey mallet putter, in fact one of the best Odyssey putters 2022, that works to elevate your performance with regards to producing consistent strikes. So if you struggle with those, turn your attention to and spend your precious money on this Odyssey Ten Putter, the 2022 version.
First of all, just look at that 2-Ball alignment system! You're surely going to learn how to correctly line up your golf ball, which means the clubface will square at impact.
And secondly, this is a mallet-style putter – highly forgiving on its own!
9. Odyssey Golf Stroke Lab Women's Putter – Best Odyssey Putter for Women
Pros
Tour-proven insert helps sink more putts
Elegant, premium black PVD coating
Instant forward roll with White Hot Micro Hinge
Lighter Stroke Lab shaft, hence easier to swing
Cons
No complaints from Tour or amateur golfers
There's a reason why this Odyssey Stroke Lab Putter is such a popular choice among LPGA Tour players. Its 2-Ball version even made it to the list of best women's putters 2022.
As for the current model, you instantly know that the putter has been built for women working toward holing more putts. And it's all because of the revolutionary Stroke Lab shaft technology.
When you compare Odyssey putters with this one, you'll see that there aren't many differences. Except that the shaft here is lighter in comparison to conventional steel, which works great for women golfers.
Plus, the grip is slimmer, thus more female-friendly. Even the putter shaft length is shorter for women. You just have to understand putter length (why it matters, how to measure it, etc.).
And lastly, we have the White Hot insert feel that improves the sound as well. The Micro Hinge technology incorporated into this insert makes sure that the forward roll is loaded with control and speed.
What Matters the Most with Odyssey Putters
1. Head Design – Blade or Mallet?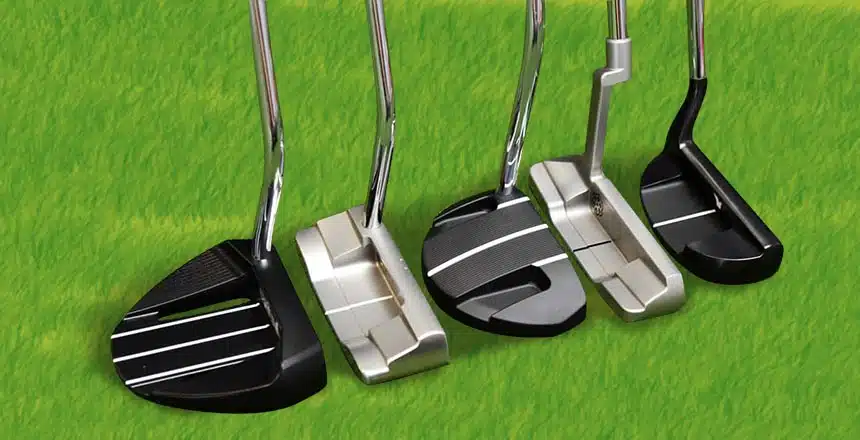 Is it a classic blade putter or the more modern mallet-style putter? Both options certainly have their own ups and downs. Blade is more compact in comparison to larger mallet putters. By default, larger here means a bigger sweet spot, which translates into greater putting consistency off the center of that clubface.
On top of that, mallet is often differently sized and shaped. For example, there are mallet putters with most weight in the face. So, because of that very reason, the mass is redistributed to the other areas of the clubhead in order to add more stability to your putting stroke.
Another instance would be the putter weight running along the clubhead perimeter. This design is surely more balanced than blade putters. Generally, with mallet-style putters, weight installed into the clubhead is very, very helpful in that it resists unwanted twisting throughout your stroke.
Even those who have alignment troubles choose the mallet design since it consists of just the alignment aid you need for lining up those putts.
As for traditional blade, these types of putters are a lot less complex, design-wise. So they seem to work better in the case of players that create an arc-shaped putting stroke.
Read more: Blade vs Mallet Putter – Which Type Is Right For You?
2. Feel – Soft or Firm?
This could mean the feel of the impact and/or the feel of the putter itself in the hands.
When the sound at impact is more muted instead of loud, then you know feel is more on the softer side instead of feeling firmer.
The firmer feel, on the other hand, most times at least, is a putter with either no grooves or one with shallow grooves. Because, in these scenarios, the sound at impact just cannot be squandered. So a firm feel works better if the golf ball has a soft feel, and vice versa.
Also, adjustable-weighted putters obviously have an effect on how the putter feels. A fitting example would be heavier putters producing a smoother putting stroke. But if your stroke is more bumpy, then go for a more lightweight putter. Although, even in this case, top-rated heavier putters might just minimize your 'jerky' technique.
3. Different Types of Putter Grips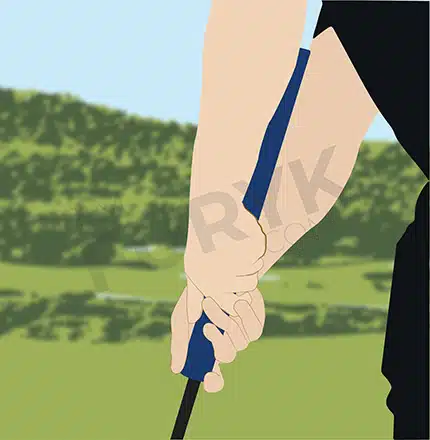 How to grip a golf club falls in the category of basic golfing skills, doesn't it? Because if your hands can't connect with the club the right way, then your whole connection with your golf club gets jeopardized. So make sure that a comfortable grip is installed on the shaft of the putter. This means factoring in the weight, size, and shape of the putter grip.
Typically, putters come with tapered grips for max. control and this is something that pro golfers actually prefer. And I can understand that since these conventional grips give off the much-rewarding original feel. As for the size, you can always opt for a larger grip – that's all your choice.
Moving on to non-tapered grips i.e. SuperStroke putter grips. These are better for reducing the effect your wrists and hands have on your putting stroke. Therefore, in come better distance control and a more simplified putting motion.
And then there are counterbalanced grips, much like non-tapered except that the integrated weight cartridges here offset the putter head weight. Thus, creating a more drastic pendulum effect, which results in the golf ball hitting so much closer to your intended target.
4. Correct Shaft Length & Material
Simply said, the shaft is supposed to be sitting flush (flat, plane, level, etc.) to the turf. And you're positioning your eyes straight over that golf ball. So do these Odyssey shafts follow the rule? Odyssey putter lengths included are 33 inches, 34 inches, and 35 inches.
The putter shaft can be customized too if you like by half-inch alterations between 32 inches and 36.5 inches. But only 0.5-inch increments? Isn't that too little? Well, your stance with the putter is a natural standing posture, which means your eyes are also positioned down by half an inch, which can be of great help in terms of performance.
So we spoke about shaft length, now how about shaft material? Does the graphite vs. steel shaft comparison matter here too? Why not!
If your swing speed is slow, go with graphite. Otherwise, steel shafts are perfect for fast-speed players.
5. Looks & Alignment Aid
The whole concept here is to gain confidence through the putter's aesthetics. Confidence on those greens can really make or break your short game performance, that's for sure.
Following that logic, blades don't help with any alignment issues. Yet they're popular because of their superiority in areas such as feel, and now even forgiveness (thanks to modern technology!).
Nevertheless, mallet putters will and do have a lot to offer when it comes to alignment assistance. This alignment guide is set in place for the sole purpose of helping you visualize your targeted putting line toward and into the hole.
And a brand like Odyssey has not held back at all. Their innovations with regards to alignment aid are simply phenomenal – large, thus enabling you to aim at your intended target more accurately, particularly in the case of mallet head shapes. For instance, the Triple Track alignment system of mallet-style Odyssey Golf 2022 Eleven Putter.
6. Budget & Value
Price is an important factor when buying golf clubs. But let me make it clear to you at this point only that not all premium-priced equipment offers premium quality and craftsmanship. There are some really high-performing budget drivers that are just as competitive as their more expensive counterparts. Likewise, even cheap golf balls will provide max. playability.
In the same way, there are a few Odyssey putters that give you excellent value and, at the same time, they're not very high-priced either.
Budget-friendly options in the case of Odyssey-manufactured putters or any other brand are built to propel the golf ball in the direction of the hole – that's the whole point anyway, isn't it? It's just that different putters do the same thing in a different manner.
What I'm trying to say is that if factors like feel or appearance matter more than performance, you may have to spend a little extra. But if only performance is the priority, then low-cost putters are perfect for getting this basic job done.
Who Manufactures Odyssey Putters?
The parent company of Odyssey and their putters is Callaway Golf. Callaway acquired (purchased the assets of) Odyssey Sports Inc. in the year 1997.
Are Odyssey Putters Worth Buying?
One look at the report created by Golf Digest of the 2020-2021 PGA Tour season and you're instantly enticed, for the right reasons of course, into purchasing an Odyssey putter. The classic, iconic putters manufactured by Odyssey have time and again proved that the brand is serious about putters and putting performance.
Okay but let's keep Tour players and their performance aside, is Odyssey a good putter brand for beginners and high handicappers too?
Once again, the classic, iconic shapes of these putters (for example, their mallet putters with excellent alignment aid systems) are packed with the most favorable combination of feel, distance control, forward roll, and, no doubt, lots and lots of forgiveness as well.
How to Tell If Your Odyssey Putter Is Real and Not Fake?
Look for the serial number, which should be found behind the hosel. It's supposed to be engraved at the back there. Anywhere else and the putter is not real Odyssey. And the same applies when the engraving is not professional-looking or is uneven.
Is Odyssey 2-Ball A Good Putter?
The 2-ball crown alignment aid designed by Odyssey has surely passed the stage of just gaining momentum, the Odyssey 2-Ball Putter is already a hugely popular choice among high-profile Tour players.
Even the Odyssey DFX Putter features this legendary 2-ball alignment guide, which makes the club, at every point of your putting stroke, feel well-balanced. And that equals consistent roll, minus any skidding, skittering, hopping, etc.
What Type of Putter Is the Best for Average Golfers?
That one has to be the Odyssey White Hot OG Putter (where OG stands for 'Original Gangster'). It's a Callaway classic putter with the blade-style design, White Hot insert, and multi-material Stroke Lab shaft that deliver a good level of feel, weight balance, sound, and overall putting performance for mid-level golfers.
So What Should Be Your Odyssey Putter?
The winner on the list is Odyssey Stroke Lab Black Putter. Its high MOI design, exceptional feel, and skip-free/skid-free forward roll are the highlights of the show. No denying that the brand has designed a clean, clear sightline for better alignment, hence more putts sinking into the hole.
In general though, Odyssey's White Hot face insert has become the benchmark against which all putter technologies are measured. Even Odyssey's own new innovations!
This insert is so highly appreciated for its soft feel that does nothing but benefits your short game drastically. While Odyssey's game-changing visual aids increase putting accuracy like no other.