The best hybrid golf bags are more recent discoveries in the golf gear market, so they're not like traditional cart or stand bags. But, in fact, a very practical combination of the two.
With a hybrid bag, you get to strap it to your golf cart and you can just as easily carry it using the straps. Very practical indeed.
Some of these bags are also designed with a stand, so you can set them down securely and safely on the turf for easy and quick retrieval/storage of your cherished golf clubs. But the whole point of a hybrid is that you can carry it at your will or simply just attach the bag to a push cart or golf cart.
So let's get to know a little more about these hybrids (including top reviews) after this quick, informative table.
What's A Hybrid Golf Bag?
A golf bag that consists of carry as well as cart features. So that's one hybrid bag but with the best features of two different bags. So it can be strapped onto the golf cart when you don't want to or feel like carrying the bag.
You should find out what your golf course regulations are. But then whatever they are, this is a hybrid bag, right? Meaning you can do either with it – carry or cart the bag! It's an appropriate choice for both kinds of golf courses, the ones that allow only carry and the ones where your only option is to use the cart.
Should I Buy A Hybrid Golf Bag Then?
To be frank with you, there are many reasons why a hybrid bag actually works. And that's why more and more golfers are choosing hybrid. And these are golfers who prefer walking the course. Or at the time of 9-hole golf or during winters when using a cart is not allowed.
That's the best part about a hybrid, that it has BOTH features (carry + cart), so you can decide to make use of either based on course regulations or your personal needs and preferences.
1. Titleist Hybrid 14 Golf Bag – The Winner!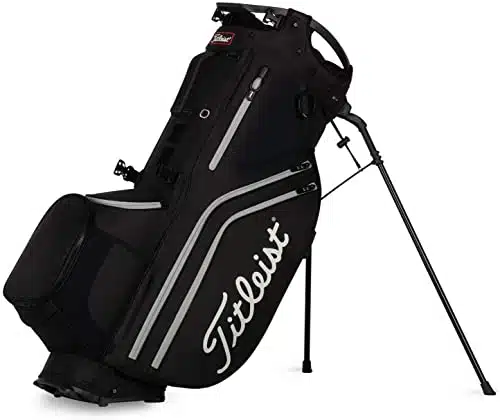 Pros
14-way stand + carry bag
Double, dual-density foam straps
Easy-access cart strap tunnel and sturdy stand legs
Plenty of spacious accessory pockets
You can get into the longest, most heated debate with ANYONE about whether or not this Titleist Hybrid 14 Golf Bag is the best of the best pick, and you'll walk away from that confrontation a winner. Just like the product! Titleist is among the most prominent golf brands, which only adds to the credibility of the whole thing.
About this hybrid bag, it's got a 14-way design that's perfect for those actually looking for a stand bag. The fact that it's a hybrid as well is just a bonus! So no need anymore to go through the trouble of shifting your golf clubs from stand to cart because this one bag includes both.
Moving on, the double foam straps are nice and thick (dual-density foam) for extra comfort at the time of carrying the bag. And then even the stand legs are pretty sturdy despite their lightweight construction.
The hinged bottom (added stability), Tour-inspired handles, cart strap tunnel (easy access), and the mere 6-pound weight of the bag are reasons why this is the best hybrid golf bag 2021.
2. Bag Boy Golf Chiller Hybrid Stand Bag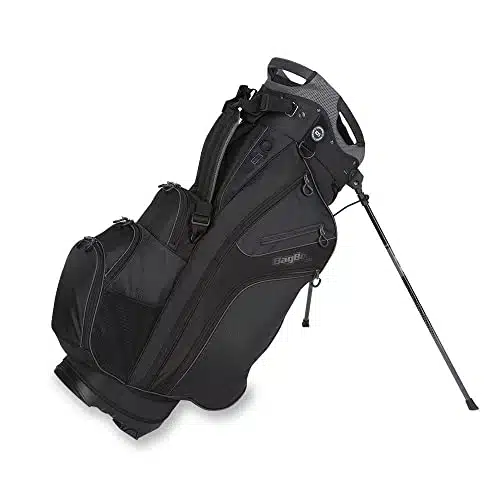 Pros
14-way cart bag with stand portability
Lockable, slide-resistant stand legs
TOP-LOK system ensures easy cart attachment
Insulated cooler bag (removable)
Putter well is oversized for jumbo grips
Cons
Single, not double, carry strap (not aligned properly)
The next one may not be from a brand as renowned as Titleist but it certainly is the best in terms of affordability without compromising crucial factors like quality, construction, value, storage space, and things like that. Bag Boy Golf Chiller Hybrid Stand Bag holds up pretty well, no matter how many rounds of golf you're into.
You can actually remove the shoulder strap, which has a hidden strap sleeve for cart use, to add your own backpack-style straps to the bag.
But what seems to draw the most amount of attention, apart from the fact that this is a hybrid with 14-way 'full-length' dividers, is the TOP-LOK system – the perfect mechanism (patented by the way) for cart attachment.
Rest all is also pretty sturdy, durable, and lightweight (weighs only 6 pounds). You get a total of 8 zippered pockets, and this includes the oversized putter well.
3. Tangkula Golf Stand Bag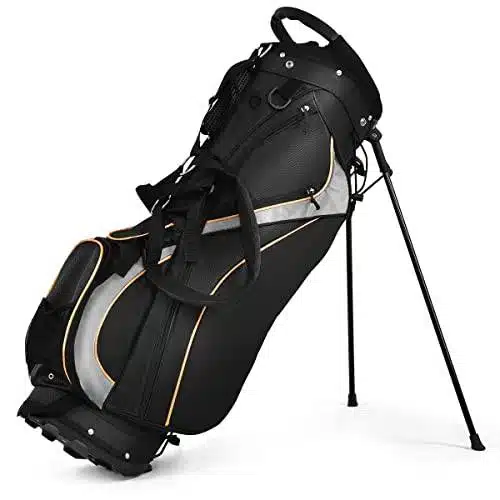 Pros
Lightweight 8-way cart/carry/stand bag
420D nylon adds water and wear resistance
Backpack shoulder straps with side carry handle
7 very accessible zippered pockets
Cons
Compact golf club compartments
Very limited shoulder strap adjustment
The Tangkula Golf Stand Bag is a fairly new product for me to actually comment on its endurance really. But all I'd like to mention here at this point is that it's been quite well received as one of the best waterproof golf bags. And that's all because of the 420D nylon construction, which does bring into the experience impressive wear resistance too.
This is an 8-way golf bag with very accessible dividers and storage pockets. A lightweight bag as well because the weight is only 5 pounds.
As for what makes it a hybrid, there are shoulder straps (backpack-style) and the bag can be easily strapped onto a golf cart. On top of that, a conveniently-placed side handle also enables quick grab-and-go. Plus, of course, the vertical, steady aluminum-made foot support.
If you really want to know what I think, this is just the ultimate durable, high-quality hybrid golf bag waterproof construction and a good-looking cart/carry bag that you can upgrade to without spending a huge sum of money.
4. Nike Golf Air Hybrid Stand Bag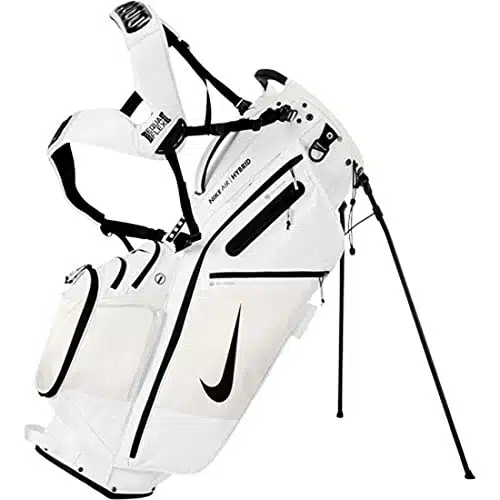 Pros
14-way stand bag with cart strap-through
Weighs only around 3 pounds yet fits in all 14 clubs
Stand legs made of light, wieldy aluminum
Full-length dividers with 14 storage pockets
Rain hood also included
Cons
Nike achieved perfection, so no complaints
You may think that this Nike Air Hybrid is an exorbitantly priced stand bag but it's really not, it's actually cheaper than Titleist. So you get the cart + carry convenience here at a reasonable price, and with stand legs made of sturdy, high-grade aluminum.
And this sturdy aluminum construction is also super-lightweight. If I'm not mistaken, the bag weighs only 3 pounds. Thus, just the best for golfers who simply don't like the idea of lugging heavy bags during their walk between holes on the course.
Nothing stands in the way of comfortable carry, and the proof of that re-appears in the form of dual straps that feature Nike's exclusive Adjustable Equaflex Max Air technology, which ensures maximum comfort. The strap is also detachable by the way, and you also get strap-through convenience for cart attachment.
And please note – this stand bag may be the most lightweight option on the list but it can still hold/manage a full set of 14 golf clubs.
5. Izzo Golf Versa Riding/Walking Hybrid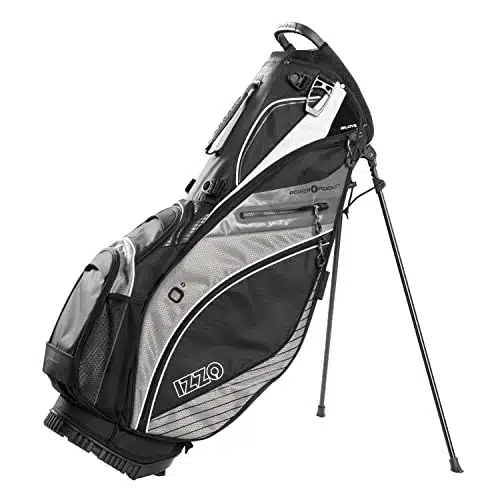 Pros
Real lightweight bag with very stable stand mechanism
Extra storage space with 11 individual club dividers
Comfortable crossover carry strap and cart strap pass-through
Magnetic closures, insulated cooler pocket, etc.
Cons
Golf club holders are not full-length
What is a hybrid really? It's a golf bag that features a stand system and offers carry convenience. But what's extra special here is the 'extra' storage space it's built with, which comes from its cart side. So the perfect combination of stand, carry, and cart indeed.
To make things even more likable here is the superior quality of the bag, superior without you having to spend big bucks unnecessarily.
You get 11 individual club dividers, comfortable single-strap carry, carry-to-cart functionality, heavy-duty and durable nylon construction, and more than enough storage pockets (one of them is actually a magnetic pocket and one water-resistant and velour-lined and one insulated for your refreshing beverages and a few more).
6. TaylorMade FlexTech Stand Golf Bag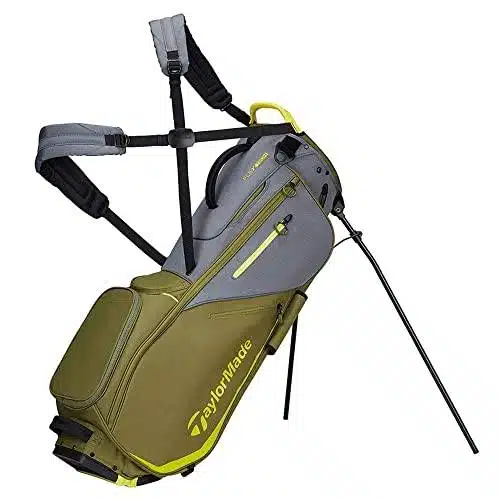 Pros
5-way stand bag with cart attachment strap
Self-adjusting, padded carry straps
Full-length dividers with 11 integrated storage pockets
FlexTech stand keeps the clubs inside standing, not angled
Just the balanced construction you'd expect from something so lightweight, TaylorMade FlexTech is an extremely sturdy and light 5-way golf stand bag that is very easy, comfortable, and convenient to carry.
The pillow-like shoulder padding in the strap system, which is self-adjusting just so you know, along with the exclusive FlexTech stand mechanism along with the cart strap pass-through – all combine to craft an experience like never before on the turf. Hybrid bag technology at its best, no doubt.
The hinged bottom keeps away from scrunching at all times once those legs are extended. Hence, more space for your precious golf clubs. Plus, you can fit the bag very neatly in your golf cart in case riding that day is the option you've chosen.
My most favorite part with TaylorMade's FlexTech golf bags, now and always, is the collapsible base and smooth release of the stand mechanism. Because, at the end of it, it's all about protecting your TaylorMade irons and the other clubs from damage. The ease of use and hybrid functionality is just a bonus!
7. OGIO 2021 Woode 8 Hybrid Stand Bag
Pros
8-way stand bag with foam, dual shoulder straps
Full-length dividers and 9 front-access pockets
Quick-access, snap-type golf ball pocket
Cons
Just a tad heavier
Thin plastic handle
You will seriously fall in love with this Ogio hybrid golf bag with its 8-way dividers, front-facing pockets, and double, molded shoulder straps. The divider system, even though not so great for jumbo putter grips, is the perfect place for club organization. These are full-length, spacious enough dividers I'm talking about here.
As for the easy-access pockets, they're the snap-type, which means easy, quick retrieval/storage of your valuables, accessories, etc. Additionally, the top/bottom ball holders are simply the best in terms of functionality, storage space, and wear resistance.
And then there's the double shoulder strap that self-balances, so carrying the bag feels like a comfortable experience. Being a hybrid, the bag is already quite convenient but the fact that OGIO designed it this way makes it even more ergonomic to use during your round of golf.
8. Sun Mountain 2021 Men's 14-Way Golf Stand Bag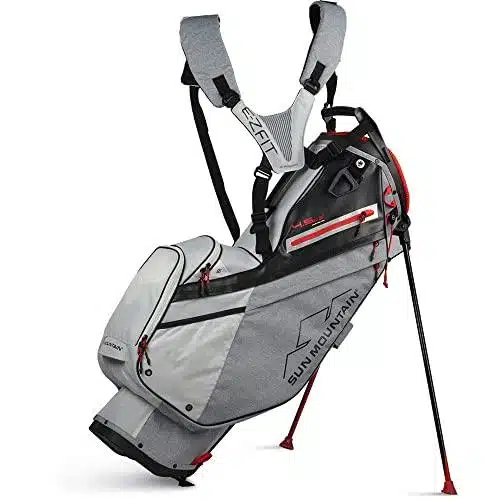 Pros
14-way stand bag with individual, full-length club slots
Stand legs feature slip-resistant foot pads
You can adjust the double straps very easily
Elastic loops fasten stand legs in 'cart' mode
It's really impossible to curate a list of top hybrid golf bags 2021 and not include this 14-way stand bag by Sun Mountain.
Just like every other bag designed by the brand, even this one's just perfect. The handles seem to be placed right, the zippers seem to be very smooth and durable, the stand seems to pop out the most effortlessly, and the dividers are all full-length and that's very convenient for a full set of 14 golf clubs.
A thing like even the handle is ergonomically designed with its comfort grip. The strap system consists of Sun Mountain's exclusive E-Z Fit technology. These dual straps can be adjusted very easily to create a customized fit for more comfortable carry. They feature a 3-layered technology along with easy-carry grab loops.
And since it's a hybrid, you get stand legs. Made using high-tensile yet lightweight aluminum, these legs are equipped with slip-resistant foot pads. And once again, since it's a hybrid, the brand added to the mix a cart attachment strap as well.
And this cart strap pass-through is placed at the back of the apparels pocket, so there's no interference of any kind with accessing the pockets when the bag's secured to your cart.
9. MACGREGOR Golf Hybrid Stand/Cart Golf Bag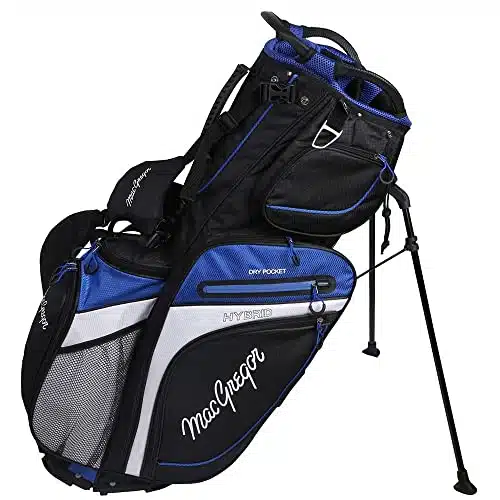 Pros
14-way stand/cart bag with front-access pockets
Double shoulder straps and double pop-out legs
11 storage pockets offer abundant storage
Cons
Internal pockets are squished when the stand is activated
Not the best quality or first-rate stability
When I say 'cheapest of the lot', you know I also mean it's got fewer features. To put it plainly, this hybrid is a very simple yet very functional, lightweight, and quality stand/cart bag with 14-way individually-lined, full-length dividers.
And let me just take a moment to talk about storage pockets. There's the beverage/water bottle holder, umbrella and rain hood holder, apparels pocket (large enough to hold your rain jacket or a sweatshirt), and golf balls pocket (max. 15-ball capacity).
I think you might also appreciate the side top pocket, it's moveable and Velcro-secured. So you can fasten the cart strap pass-through in the most convenient manner. And by convenient, I mean not having to move the bag around, so the pockets still remain easily accessible.
On top of that, dual shoulder straps are removable too in case you want that convenience as well when in 'cart' mode. That said, everything about this hybrid is truly, completely 'hybrid', and that matters the most considering how darn inexpensive this bag is.
10. Frogger Golf Function Stand Bag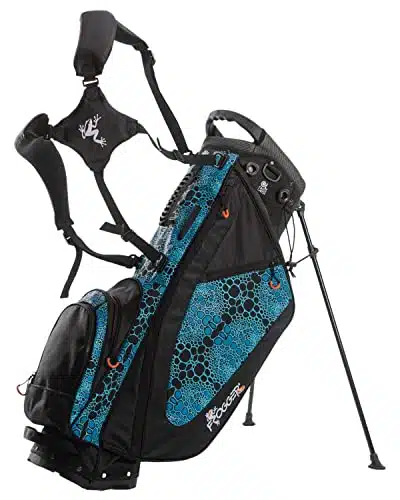 Pros
Very lightweight stand bag
2 Latch-It receivers for valuable golf accessories
Back padding + double shoulder straps for comfort carry
Cons
Inner lining comes apart very soon
Not the most reputable brand
Everything about this hybrid bag is built just about right – with its lightweight design (under 5 pounds), high-quality materials (Tour-proven), and full-length dividers.
A very lightweight golf bag that makes you look like a Tour pro on the course. And it's got quite a lot of room for your golf clubs and extra items. Perfect for walking from one hole to the next during your 18-hole round of golf!
Ergonomic double shoulder straps, breathable back padding, stand system, and cart attachment strap – all about function!
A unique feature here presents itself in the form of the brand's Latch-It Ecosystem. Magnetic latches ensure that your expensive, important devices are instantly fastened, detached, and reconnected to a cart, bag, belt, etc. Now you know why this bag is so highly recommended!
Complete Buying Guide On Hybrid Golf Bags
Hybrid Design
A hybrid golf bag is not a 'hybrid' if it doesn't have cart and stand bag functions. It can be the most lightweight, feature-packed, or spacious, if the bag comes with no pop-out stand legs and cart attachment pass-through strap (and cart-friendly bottom), it's no good as a hybrid.
Dividers
Hybrid-type bags are also available in different sizes. This includes the 5-way, 8-way, and 14-way options (with 'full-length' dividers, that is non-negotiable) I have reviewed in this article. Now how many dividers you should be choosing depends on how many golf clubs you carry.
With a larger capacity i.e. 14-way dividers, you can place each golf club in its individual slot. Naturally, the greater the number of dividers, the more organized and protected your golf clubs will be.
To learn how to organize a golf bag effectively, check out our guide on how to organize a golf bag.
But then there are many golfers who don't prefer this kind of configuration. For them, they would simply just store all of their clubs in the least number of compartments to keep things simple.
Weight
It is a hybrid after all, right? One-third stand, one-third cart, and also one-third carry. The last one implies that a hybrid is supposed to be lightweight, hence easy, convenient, and comfortable to carry for less strain on the back.
That is why most top-rated hybrid golf bags are no heavier than 5-6 pounds. Some are as light as only 3 pounds, and that would be Nike Golf Air Hybrid Stand Bag.
Construction / Durability / Waterproof
All these three crucial factors are interconnected. For example, many hybrid bags are made using nylon. More specifically, 420D nylon, which is a highly water-resistant and wear-resistant material. So if the golf bag is constructed using nylon, matters like waterproofing and durability are well taken care of.
So does that mean polyester is no good? Golf bags built with 1800D polyester as well are tough, lightweight, and waterproof.
Carry Strap
It's better if the golf bag is equipped with dual or double shoulder straps. Even better if these straps are padded, so the whole carrying experience feels more comfortable and less strained.
There are some hybrids that feature self-adjusting carry straps (TaylorMade FlexTech). Just when you thought the experience couldn't get any more comfortable!
Backpack-style shoulder straps, dual-density foam straps, etc. – there's no shortage of choices when it comes to the carry strap of hybrid golf bags. It all depends on what you prefer but a carry strap is a must if you want the 'hybrid' experience to be 100-percent authentic and satisfactory.
Pockets
A hybrid is the combination of a stand bag (meaning pop-out legs) and a cart bag (meaning 'extra' storage space). And the latter comes in the form of enough pockets for your valuables, accessories, clothing, beverages, etc. The more, the merrier in this case.
Also, these pockets should be front-facing, thus easy and convenient to access (even when the bag is strapped onto the cart via cart strap pass-through).
Value for Money / Price
Hybrid golf bags can cost as little as a hundred-something dollars and as high as over $400-$500. The more expensive ones are usually from top brands like Titleist, TaylorMade, etc. But then that doesn't mean the more affordable options are useless in terms of quality, durability, and functionality. Keep in mind that brand value is not everything that matters.
The most important thing is that the manufacturer provides value for money. If the hybrid is a mix of both stand and cart, made of tough materials, lightweight to carry, with full-length dividers, enough storage pockets, and a sturdy stand mechanism, you then don't have to concern yourself with what "brand" you're buying from.
Hybrids, even though more recently introduced, certainly give conventional stand, carry, and cart bags a run for their money. Because a hybrid golf bag consists of integrated stand legs that work on rough ground as well and sufficient space for golf clubs, balls, etc.
As for stand bags, they just feature pop-out stand legs. And with cart bags, you only get 'extra' storage but without the stand. So you see how hybrid offers the best of both worlds without you having to "compromise." And if that wasn't enough, these bags are also outfitted with comfortable carry shoulder straps.