It's always good news to know that you're going to play golf, right? But then sometimes damp weather can be the bad news that overshadows the good. Fortunately, in these kinds of sticky situations, golfers can now wear the best waterproof golf shoes. And THAT is just great news, isn't it?
Playing golf in the rain is always a tough task to accomplish even for some of the best players out there, irrespective of the greens being more receptive and softer. But then the last thing you need in an already challenging scenario is your shoes giving you a hard time as well.
So no more sloshing, slipping, or any discomfort even! It's time you put your best "waterproof" foot forward!
Why Buy Waterproof Golf Shoes?
Why not buy waterproof golfing shoes! I mean they're great for protection, traction, stability, and preventing potential injuries.
Their Outsoles Are Grippy for Some Serious Traction
The uppers are made of waterproof leather, correct? But that's not the only reason why so many golfers are spending money on these kinds of golf shoes. Another very compelling reason is that the shoes can handle all sorts of unfavorable weather.
If the pair is spiked, then you get that much-needed "extra" grip when playing on soft turf and wet grass. And if these spikes are soft plastic, even better because that way you can make easy adjustments based on the turf conditions. And of course, the spikeless kind is more suited for when it hasn't rained in a long, long time.
They Keep Your Feet Dry, Warm, and Comfortable
To be honest, it doesn't necessarily have to rain for the greens and even the walking paths of the golf course to be damp. Ever heard about water sprinklers? Of course, you have! Also, water hazards are everywhere it seems. So all the more reason to own a pair of waterproof golf shoes anyway.
Even if the sun is shining bright, walking through shallow puddles is going to get the feet all wet and cold. And who wants to feel that when those same feet can remain dry and warm, thus super comfy in a pair of waterproof golfing shoes.
They Prevent Foot/Ankle Injuries
Keep discomfort aside for a second here, since that's not harming you physically. But what might harm you instead is accidentally slipping because the walking path was damp. Then there's also the possibility of your foot sinking into soft, wet turf and, as a result, twisting the ankle. Hence, the need to put on traction-boosting waterproof golf shoes.
Typically, these types of shoes are also outfitted with adequate arch support to minimize foot fatigue. Your feet, ankles, knees, lower back, overall body posture, and golf swing can really benefit just with a solid pair of golf shoes that are built to be waterproof.
Key Factors When Buying Waterproof Golf Shoes
1. Waterproof Material
Are the golf shoes 100-percent waterproof? If Gore-Tex is a part of the construction, then you get the most reliable waterproof performance.
Leather is also a very effective waterproof material that feels comfortable as well. But then the only problem with leather golf shoes is that they're expensive and not budget-friendly like synthetic golf shoes.
Nonetheless, synthetic or leather, no material here, in this case, is fully, completely waterproof. However, top, renowned brands combine advanced materials (waterproof Gore-Tex membrane) and different features (naturally waterproof rubber soles) for boosting the shoe's waterproofing properties.
2. Comfort and Fit
Gore-Tex waterproofing, on its own, adds comfort to the whole experience by keeping your foot warm and dry.
Other comfort-related factors include cushioning/foam in the insole and midsole, proper arch and heel support, and the correct fit of course.
Make sure you measure right and get the perfect fit, not one size up or down. After all, you are going to be not just playing golf in them but also walking around 6 miles during your round of golf. So always check every brand's specific size guide before buying to select the most accurate size.
3. Traction and Grip (spiked vs spikeless golf shoes)
These golf shoes have to perform i.e. grip damp or wet surfaces the most effectively, only then does foolproof stability become a part of the experience. No matter how slippery, unfavorable, or difficult the conditions are.
And when you get that kind of solid traction and grip, you can swing to the best of your abilities. Now, this is where spiked golf shoes come into the picture. Spikes, no doubt, deliver better, more traction, grip, and overall stability.
Some of these spiked golf shoes have removable cleats too. And one more thing, opt for plastic cleats or spikes over metal because the latter is banned since it damages the turf.
But that doesn't mean spikeless golf shoes are no good as far as traction is concerned. In the spikeless kind, make sure the pair features a good, reliable outsole traction pattern. Spikeless golf shoes are indeed more lightweight, flexible, and comfortable. But then for traction, spikes definitely are the better choice.
Spikes or no spikes, the golf shoes should offer enough sole flexibility. The sole should be able to comfortably mold or conform to the natural shape of your foot to maximize support when bending, flexing, etc. during your golf swing.
4. Price
I'm certainly not going to sugarcoat the truth here. So let me just be straight and honest with you, golf shoes advertised as waterproof, at least the best ones, are indeed expensive. The upside to this is that one pair, if it's really good, will last for many, many rounds of golf. On top of that, these golf shoes are also quite exceptionally wear and weather resistant.
Spending $200 for a great pair of waterproof golf shoes is never a waste of money. Seriously! So don't go for cheaper alternatives if you can help it because these are only going to wear out sooner than you can imagine. And then again you'll have to spend money on a new pair in just 6 months or so.
15 Best Waterproof Golf Shoes 2023
1. Adidas Men's Tech Response Golf Shoes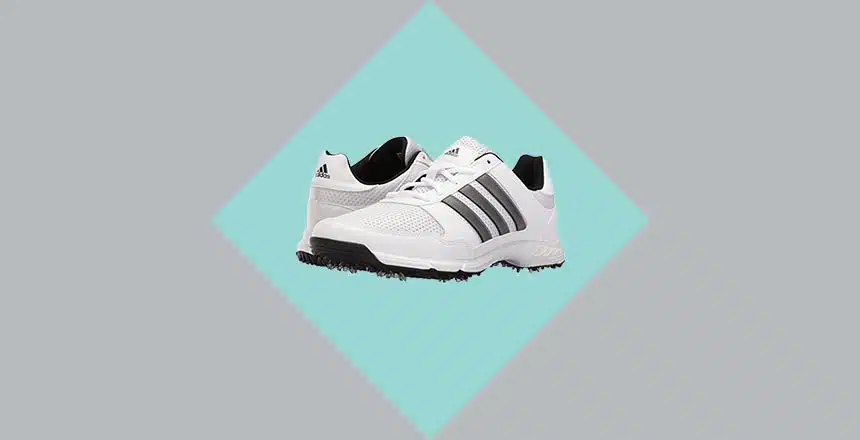 Pros
Lightweight, comfortable CloudFoam sockliner
Breathable, cushioned insoles
Outstanding traction through plastic cleats
Adidas Tech Response is a spikeless design built for superior comfort and stability through its low-profile construction and super-light, soft, generously cushioned EVA midsole. The mesh uppers are also quite breathable, so your feet remain comfortable and dry even under pressure. And how it grips those fairways and greens is just truly remarkable!
Adidas uses softer, flexible materials, so the shoe conforms to the foot the most comfortably. And these are plastic spikes with small-sized rubber knobs for some really good traction that supports your full golf swing.
2. New Balance Men's Minimus Tour Waterproof Spiked Comfort Golf Shoe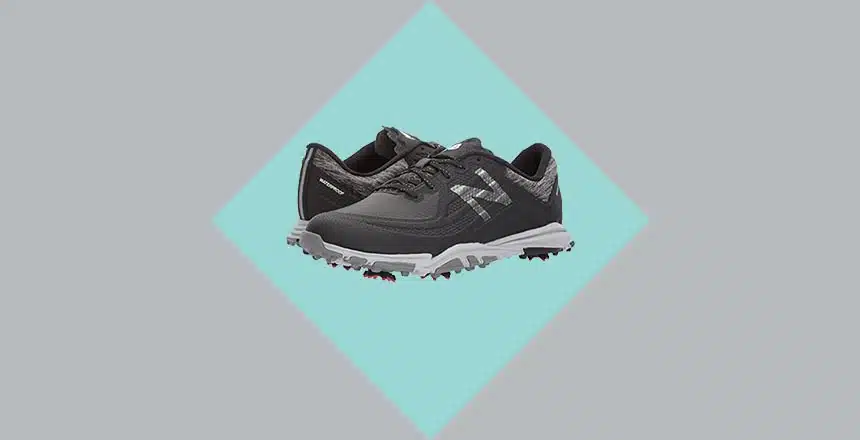 Pros
Waterproof, light uppers with great support
REVlite midsoles are highly cushioned and responsive
Soft cleats and rubber outsoles offer a solid grip
Cons
Spikes are prone to coming off easily
Surely the best soft spiked golf shoes built with waterproof uppers that feature the brand's exclusive super-lightweight FantomFit support. These golf shoes provide a very natural fit and feel, which is actually mainly because of REVlite midsoles that are packed with tons of cushioning.
As for ultra-light FantomFit, this further enhances fit and that's how and why the shoes are true to their size.
While all this is happening at the top in the uppers, the bottom i.e. the rubber outsoles, which are incredibly flexible and feature New Balance's NDurance technology, take care of traction and stability to make sure your swing is on the right track and in control, no matter how wet or muddy the turf.
3. Skechers Go Golf Men's Torque Waterproof Golf Shoe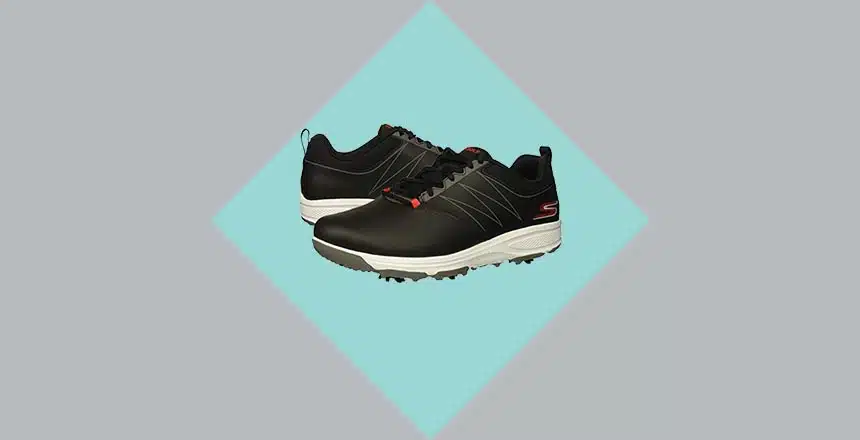 Pros
Truly waterproof with H2GO waterproof shield
Molded rubber grip bottom with SoftSpikes
Very responsive, lightweight cushioning
Cons
Narrow toe box
They start to wear out soon
A modern take on the traditional golf shoe, Skechers Go Golf Torque is extremely comfortable and flexible right away on the first use itself. Highly recommended for their special H2G0 waterproof shield protection too!
Then there's Goga Max technology infused straight into the shoe's footbed for high-rebound, shock-absorbent cushioning and overall foot support. The midsoles in here are also quite dense with their equally responsive cushioning.
And thanks to SoftSpikes, you get great traction on wet grass and slopes!
4. Adidas Men's Climaproof BOA Golf Shoe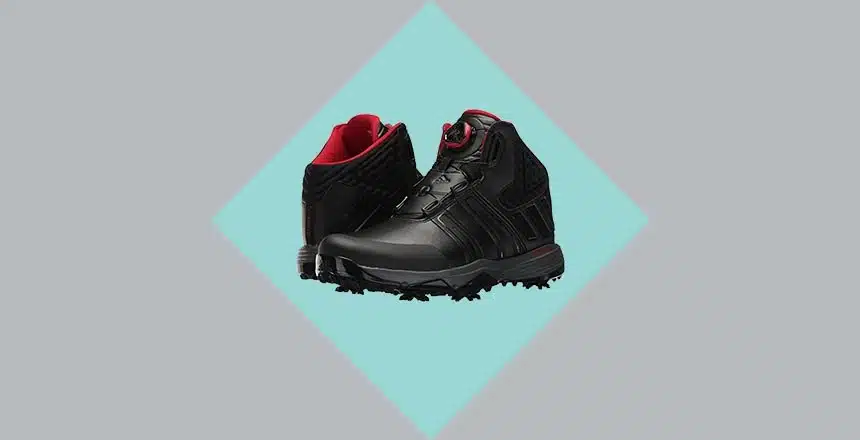 Pros
BOA tie closure – perfect fit and easy on/off
Soft tongue and collar add comfort
Bounce foam, energy return, cushioned midsoles
Light leather uppers with weather/water-proof protection
Cons
Can feel a bit too stiff initially
Not every golfer prefers the high-top design
If this is your first pair of golf shoes with the phenomenal BOA closure system, it's surely going to be love at first sight. And I mean it. The first wear itself feels super comfortable, warm, and, most importantly, completely waterproof.
Why choose BOA though? Because this technology hands out the most accurate and comfortable fit, better than traditional laces. It really knows how to lock in that exact fit of the shoe. And then BOA is also highly praised for its outstanding durability.
And yeah, we're talking about Adidas here, so expect nothing short of extra, comfortable cushioning in all those areas of the foot where you need that kind of high shock absorbency.
5. ECCO Men's Biom Cool Pro Gore-Tex Golf Shoe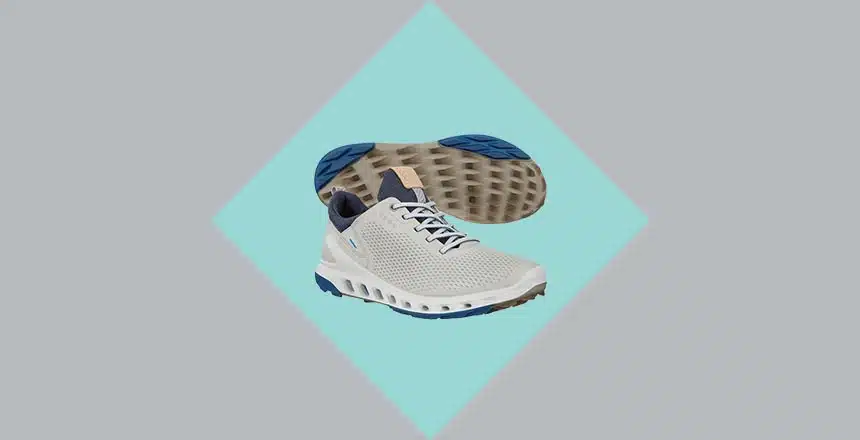 Pros
Gore-Tex waterproof construction
Natural Motion technology prevents foot injuries
Uppers made of very durable, strong YAK leather
Rotational support and stability with Tri-Fi-Grip
These are expensive golf shoes and they have every reason to be. First of all, the shoes are equipped with Gore-Tex technology, which makes them fully waterproof and also fully breathable. Talk about your feet remaining dry, warm, and comfortable throughout your round of golf!
And the tread pattern of ECCO Biom Cool features the brand's very own and very effective Tri-Fi-Grip that makes sure maximum rotational support, stability, and durability are never compromised, no matter what.
And then another reason for the expensive price tag takes the form of extremely strong YAK leather uppers. And the golf shoe fits just as expected!
6. Nike Men's Roshe G Tour Golf Shoes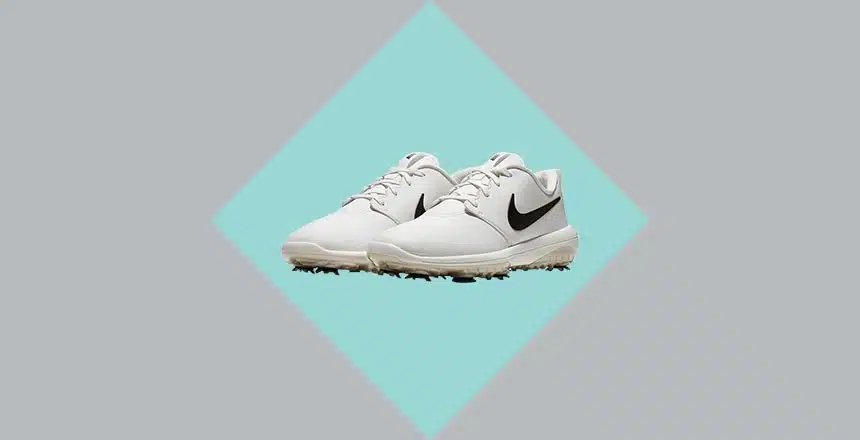 Pros
Very comfortable golf shoes with waterproof uppers
Plush, cushioned midsoles for comfort and support
Traction-enhancing, removable spikes
Cons
Slightly narrow construction
Here's the thing about removable or replaceable spikes, they enhance lateral stability since they grip more into the turf during your swing. And this is irrespective of soggy ground, wetter climate, etc. The grip of Nike Roshe G Tour's spikes is quite unprecedented.
These waterproof, comfortable, and stable golf shoes are highly recommended just for the mere fact that the manufacturer is none other than Nike. The plush cushioning, the grippy traction, the lightweight comfort, and even the traditional style, all combine to make your every game of golf more performance-focused.
7. New Balance Men's 574 Greens Golf Shoe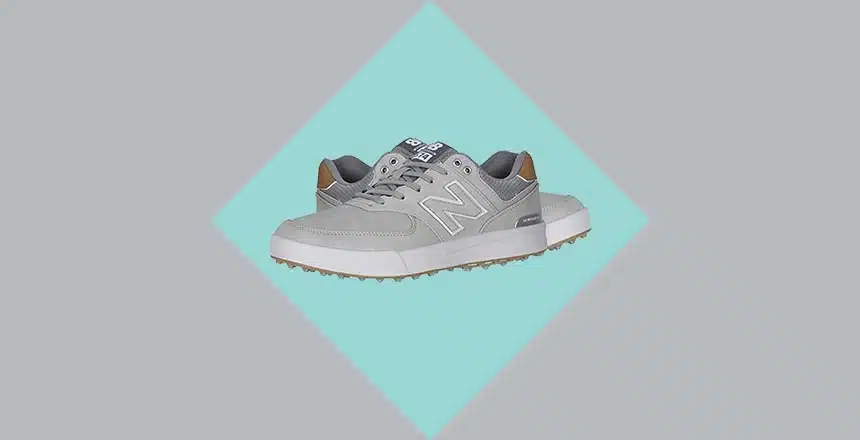 Pros
Highly cushioned, extra thick insoles
Waterproof uppers made of leather and mesh
Solid, stable NDurance rubber outsoles
Cons
A bit too narrow for wide feet
Yes, the shoes are waterproof because of the inclusion of the combination of mesh and microfiber leather in the uppers. But what matters more here is the ultimate comfort of these New Balance golf shoes. The polyurethane sockliner in them is extra-thick, so your feet feel nice and relaxed.
At the same time, the spikeless rubber outsoles support every flexible movement, thanks to New Balance's NDurance technology. The nubs in the outsoles are made using harder rubber, thus more durability. And you also get all the arch support you need in case you have fallen arches or weak ankles.
8. New Balance Men's Sweeper Waterproof Spiked Comfort Golf Shoe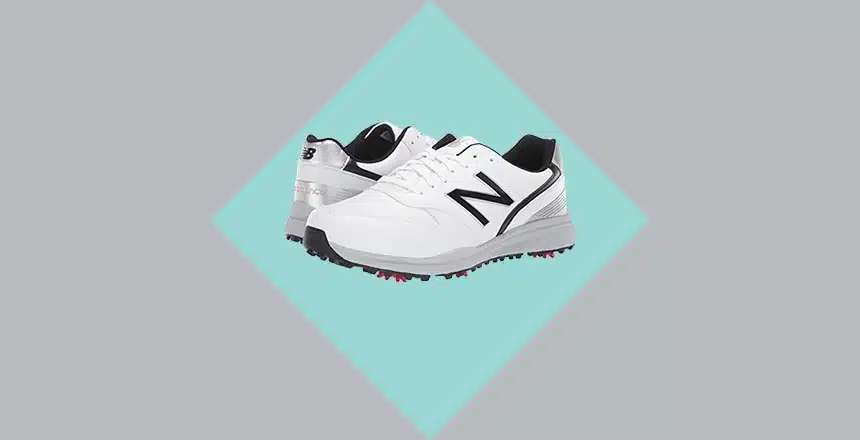 Pros
Cleat system made to grip both dry and wet ground
Made of waterproof leather uppers
Densely cushioned midsole and insole
Very durable rubber compound in high-wear zones of outsoles
Cons
Too shallow heel depth for some
Sole at the toe front comes apart too soon
Since the previous New Balance pair does not accommodate wide feet the most comfortably, I thought I should do justice to the brand by now reviewing one that does take in wide feet and make them feel incredibly comfortable. So that pair would be New Balance Sweeper Waterproof Spiked Comfort Golf Shoe.
These are the best waterproof golf shoes for walking and playing golf like a pro. Never narrow or tight around the sides or at the top, the shoes contain some extra width to make your wide feet feel comfortable. The really flexible and soft construction also guarantees comfort.
And here are the brand's three most important features. The first is highly responsive REVlite midsoles, the second is incredibly durable NDurance rubber outsoles, and the third is ultra-soft foam-cushioned insoles. And waterproof they are with microfiber leather material uppers!
9. Adidas Men's Codechaos Golf Shoe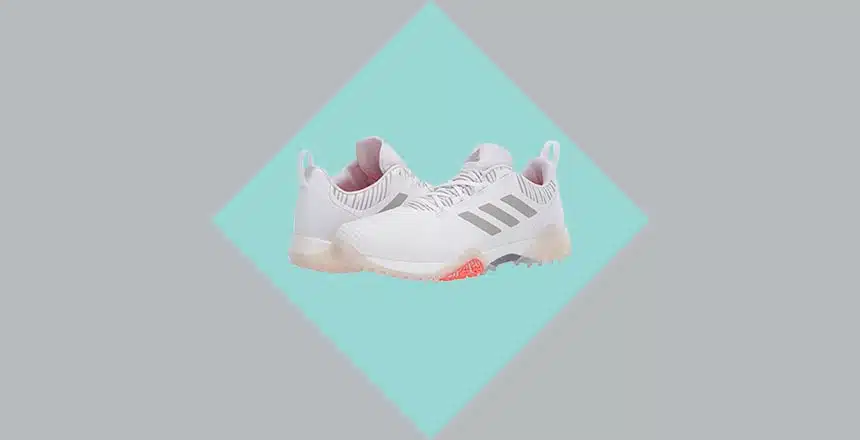 Pros
Water-protective membrane on breathable uppers
TRAXION outsoles grip well on slippery surfaces
Highly responsive midsoles
Very lightweight and stable feel, even though spikeless
Cons
They stain very easily
Too soft, thus not enough support
First-class traction, even without spikes!
These spikeless Adidas Codechaos Golf Shoes are as grippy as golf shoes with spikes. They are Tour-grade golf shoes that give you a great level of traction to never ever compromise your performance on the turf. And the traction is so solid that even on tile, asphalt, and linoleum surfaces, the grip is really, really strong.
In comparison to leather golf shoes, these synthetic ones are certainly more breathable, flexible, and comfortable. As a pair of waterproof and breathable golf shoes, they outperform just about any other pair within the same category.
10. Zakey Waterproof Men Professional Spikes Golf Shoes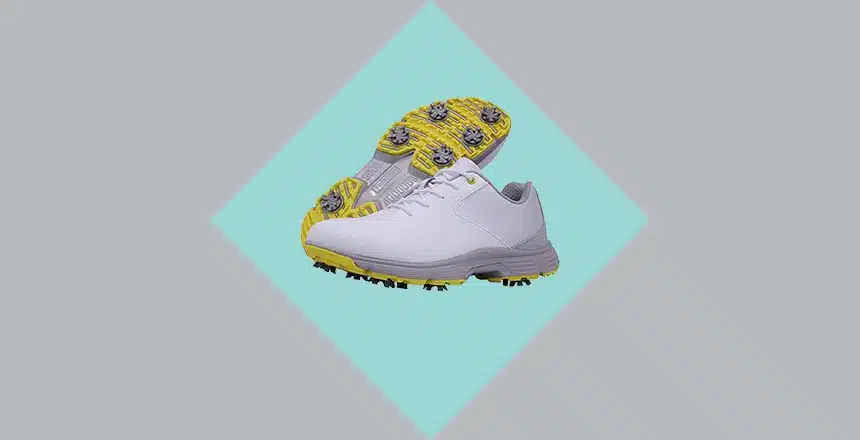 Pros
Breathable, waterproof, anti-slip golf shoes
Great plastic spikes for traction (and removable too)
Easy and quick to clean off mud and stains
Cons
They feel hard and look cheap
These do not have that ridiculously expensive price tag put forth by Adidas, ECCO, and other such top brands. Zakey Waterproof Spikes Golf Shoes are among the best waterproof golf shoes under 100.
The fit is best described as true to size. And the shoes feel super comfortable to wear while both playing golf and walking on the course.
And the spikes can be easily removed and replaced. The tool for installing spikes is also provided by the way.
As for traction, the shoes are designed with anti-slip rubber outsoles that grip even soggy turf while also keeping your feet dry, warm, and comfortable the whole time.
11. Skechers Women's Drive 4 Spikeless Waterproof Golf Shoe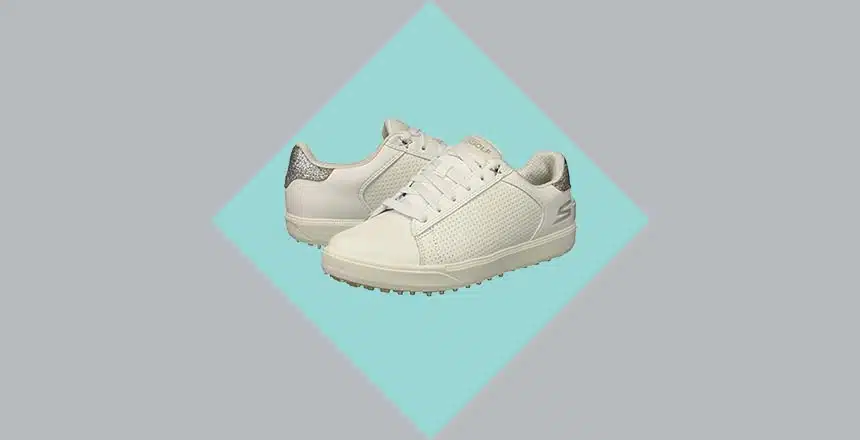 Pros
Ultra-light foam-cushioned golf shoes
H2GO waterproof shield protection
Breathable, moisture-wicking Dri-Lex lining
Added grip through rubber traction plate
Cons
Narrowed toe area (better size up!)
Why should men have all the fun, right? Female golfers too can now put their best "waterproof" foot forward. And Skechers Women's Drive 4 makes that possible. If there can be golf drivers and even whole sets of golf clubs for women, then why not golf shoes!
This spikeless pair is more than just fine in terms of grip and traction, so no need to be even the least bit regretful for not choosing spiked golf shoes. And why that is, all thanks to Skechers for its Goga Max technology for high-rebound cushioning and its durable rubber outsole plate for fantastic traction.
12. Skechers Go Golf Men's Elite 4 Waterproof Golf Shoe
Pros
Extremely light, flexible spikeless golf shoes
Waterproof shield and high-rebound cushioning
Easy to clean up mud, dirt, stains, etc.
Now meet your average golf club distances when damp turf conditions or even when foot troubles stand in your way. Once again, Skechers doesn't fail to amaze us with its high-rebound Goga Max insole, H2G0 waterproof shield protection, and lightweight Ultra Flight cushioning.
But this men's pair of golf shoes also feature GripFlex. This is Skecher's very own spikeless TPU outsoles that present the grippiest traction. And the shoes feel so comfortable because of the abundant, light, responsive, high-performance cushioning, that no foot pain, soreness, fatigue, etc. is to interfere with your golf swing.
13. FootJoy Men's DryJoys Tour Previous Season Style Golf Shoes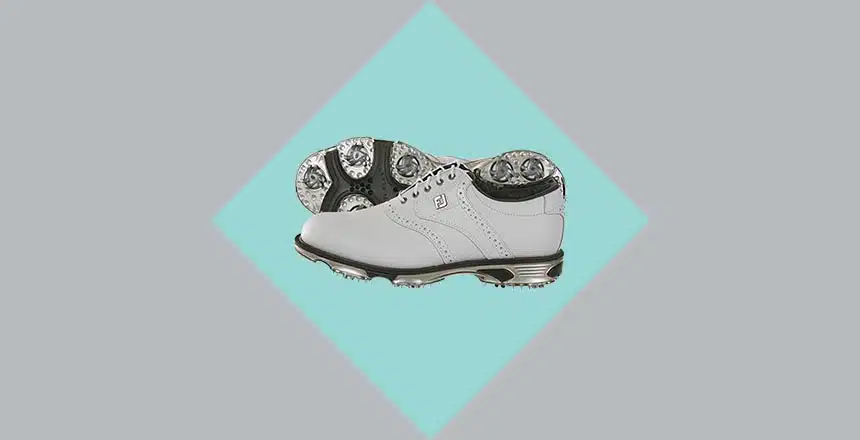 Pros
Super-comfortable, SoftSpikes traction golf shoes
Thicker, lightweight footbed for extreme support
Preferred by Tour players for their grip and stability
Cons
Squeaky shoes
Poor quality complaints are common
Lots of things to like about FootJoy's DryJoys. Such as the extreme yet lightweight cushioning of the footbed, thicker and shock-absorbent insole, OptiFlex stability pods in the outsole, and Tour-proven SoftSpikes for traction.
The shoes, from the very first round itself, feel incredibly comfortable. Meaning no break-in period is needed for these. And they fit true to size. But the most important thing is that DryJoys are really waterproof, so no more accidentally slipping on muddy or steep-inclined surfaces.
14. Callaway Men's Coronado Golf Shoe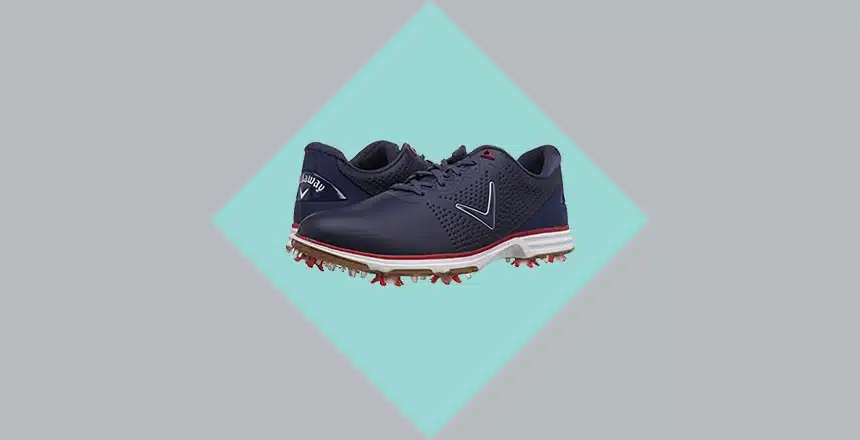 Pros
Spikes really dig and grip into the ground
Waterproof for wet and breathable for hot weather
Very soft, supportive, and comfortable to wear
Cons
Callaway, surprisingly, hasn't prioritized quality control
We all know that leather golf shoes are better in terms of waterproofing properties than synthetic ones. But then synthetic is more affordable, lightweight, and flexible, right? In that case, Callaway has come up with a pair that's made of synthetic material but with microfiber leather waterproof Opti-Dri uppers.
Coronados are definitely waterproof. And you'll see it instantly when you play a round on wet, soggy ground on a rainy day. The grip of the TPU outsoles is simply outstanding, you get great traction and even the best underfoot feel. And then there's the Opti-Vent mesh liner to wick away heat and moisture.
What else is missing? Opti-Soft EVA midsoles that take good care of your feet through soft cushioning to support your every natural foot movement at the time of your golf swing.
15. FootJoy Women's Pro/Sl Golf Shoes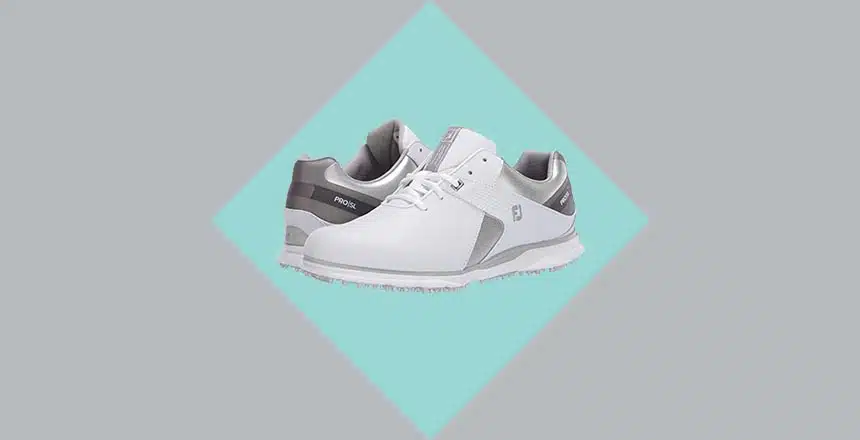 Pros
Waterproof, durable leather uppers
Lots of stability and cushioning (Fine-Tuned-Foam)
Laser Plus (comfort, cushioned) fit
Cons
Quite stiff leather uppers
Low handicappers and serious golfers need something more stable, more dependable, and more high-end, right? One look at FootJoy Women's Pro/Sl Golf Shoes and you know how suitable they are for professional play.
Performance uppers built using waterproof, durable chromoskin leather. For stability on wet turf, there's the perimeter-weighted outsole. And for superior comfort, there's a thicker insole that wraps your foot in a well-cushioned, highly supported manner.
The best part, no doubt, is the outsole pattern covered with quite a few mini protrusions for just the balance your highly trained golf swing deserves on post-rainy ground or dewy mornings.
Frequently Asked Questions
What's the Difference Between Waterproof and Water-Resistant Golf Shoes?
Water-resistant golf shoes will keep your feet dry when the ground and weather conditions have light moisture. But when there are actual puddles, heavy rainfall, etc., water resistance does not prevent your feet from getting wet. These shoes, at such times, do get soaked, unfortunately.
As for 'waterproof' golf shoes, they feature some kind of technology or layer that actually blocks water from getting absorbed or soaked. Such as ECCO's Gore-Tex or the H2GO waterproof shield of Skechers.
How Long Can You Expect Waterproof Golf Shoes to Last?
With top brands, their golf shoes' waterproofing capacity stays intact for anywhere between 2 and 4 years. That's the typical lifespan of golf shoes that are waterproof. For example, New Balance offers a 2-year waterproof warranty.
What Are the Most Comfortable Waterproof Golf Shoes?
New Balance Men's 574 Greens Golf Shoes are the most comfortable, no doubt. All because of the inclusion of the extra thickness of the polyurethane sockliner and also the flexible rubber outsoles.
The sockliner keeps your foot well-cushioned and comfortable. While the outsoles, equipped with NDurance technology, consist of hard rubber nubs that support fallen arches or weak ankles.
Are Spikeless Golf Shoes Good for Wet Conditions?
To be honest, the traction pattern in the outsoles is what decides how suitable the golf shoes are on wet, slippery, or soggy ground. Nevertheless, spikes do indeed offer greater lateral stability than shoes with no spikes, particularly when the turf is wet.
But then spikeless golf shoes, at least the best ones, feature special tread or outsole patterns/technologies that are just as grippy as spikes.
Can I Waterproof My Golf Shoes?
You can waterproof your golf shoes with the help of a waterproofing spray. Follow the directions outlined by the manufacturer of that product. Allow the shoes to dry completely first and then take them out.
However, using this kind of waterproofing spray does cause permanent damage to materials like synthetic mesh, so it's highly advisable to avoid doing that and just instead purchase a brand new pair of waterproof or at least highly water-resistant golf shoes.
Which Golf Shoes to Buy Then?
Playing golf in wet or damp conditions is not such a bad idea you know. Early mornings are usually dewy and then you also have those water hazards on the course. So things can get unavoidably slippery for you and your feet. Therefore, owning a pair of comfortable waterproof golf shoes is a must for every dedicated golfer.
Waterproof function, comfortable fit, leather uppers, cushioned insoles, grippy outsoles, arch support, soft (and maybe even removable) spikes, and a sporty and elegant style – ALL of these factors can and have indeed been embedded into a single golf shoe. That's why we choose brands like Adidas, Skechers, FootJoy, Ecco, and the like.