The modern golf industry has made it so much easier for all kinds of players to buy the most fitting golf clubs, and this includes wedges like the best lob wedge. Choosing lob wedges in comparison to picking something more generic like the best golf drivers of all time can be slightly more difficult and also confusing.
However, the thing with wedges is that, surprisingly, they're not all that different from your other types of golf clubs. Even with wedges, you should opt for the cavity-back design if you're a beginner or high handicapper.
Additionally, you also need to take into consideration spin technology. Because with lob wedges, maximizing spin is a must! You also have to select the most suitable bounce and grind options to enhance distance control. And of course, a lot of this has to do with how you play and what your handicap level is.
So if you're a beginner or high handicapper, you may want to choose your lob wedge the most carefully!
Our Process of Evaluation – How Do We Test?
The ultimate goal is to evaluate different models from different manufacturers. The way we go about it is we make sure that every major and little aspect is covered during the testing/evaluating stage. After all, only golfing experts can tell the difference between a good wedge and one that's going to empty your wallet for nothing!
For instance, if the manufacturer of a golf wedge claims that its wedge is infused with advanced technology bound to transform your bunker performance, then it only seems necessary and logical to test out this game-changing technology from all possible lies.
With regard to lob wedges, each one is assessed the most intricately for delivering consistent feel, distance control, and spin. You should be able to strike full shots the most effortlessly – the whole process of evaluation is centered around this.
On top of that, looking for differences in dispersion and flight was also a part of the comprehensive testing of these lob wedges.
What Factors to Consider When Buying the Best, New Lob Wedge?
1. Bounce Angle
To put it simply, wedges with a low bounce setting (2 degrees is the lowest) are better suited for tight lies and hard fairways. On the other hand, you have a high bounce angle (18 degrees is the maximum), which works for bunkers and softer turf conditions.
So which bounce angle should you choose? Well, that depends on what your angle of attack is, along with the kind of shots you hit around the greens and how firm the fairways are.
2. Distance Gapping
Knowing average golf club distances is very, very important. So don't underestimate the helpfulness of measuring your wedge yardages. This way, you understand how frequently you find yourself in-between in terms of distance or loft gapping. That should be useful when it comes to deciding whether or not you should be carrying extra options like the lob wedge.
3. Grooves
The sharpest grooves – that's exactly what you should be looking for!
Even though grooves are quite strictly regulated nowadays, you still have to take this particular feature into account. Because you want to make sure you're using the most advanced technology and design.
In short, the groove shape and milling process ought to be fairly new, so you don't have to worry about dirt, water, etc. getting in the way during impact. And when these sorts of unwanted elements are kept away, you can finally create more spin and also improve control.
4. Finish
It only makes sense to prefer a dark finish since it helps in minimizing most of the glare from the sun. So don't think twice before buying a wedge with black PVD or copper finish – these are indeed gaining more and more popularity.
5. Spin Rate
You can't purchase a lob wedge and not think about spin. It's the spin rate of the lob wedge that controls every aspect related to the shot, this includes stopping the ball, shot height, and the overall outcome. Spin is even more crucial in the case of lob wedges because these types of higher-lofted wedges hit the golf ball higher in comparison to the others.
The spin produced is only a result of the clubface coming in contact with the cover of the ball. The clubface grooves, to be more specific, generate friction during contact, which increases spin capacity.
Also, in case you didn't know, Tour players oftentimes play unused wedges at tournaments because these have the sharpest grooves. And with the sharpest grooves, generating greater spin is inevitable.
6. Feel and Balance
Notice the shape, weight, and balance of the lob wedge to size up its feel. The wedge is supposed to have a heavier sole for the purpose of keeping the golf club lower to the ground. Through the sole, solid contact is established – meaning it's the sole that travels through sand, high grass, and turf.
As for balance, it has more to do with how the wedge responds and feels during impact. When balance seems off, it's mostly because the toe or hosel hits the turf first as opposed to producing a uniform, clean divot. Clean contact with your lob wedge is a priority, especially in the case of sand and high grass. Only a wider sole is able to cut through such obstacles and, at the same time, provide a well-balanced feel and response.
Highly Recommended Lob Wedges In Golf!
1. Callaway Golf Mack Daddy 5 JAWS Wedge – Top Pick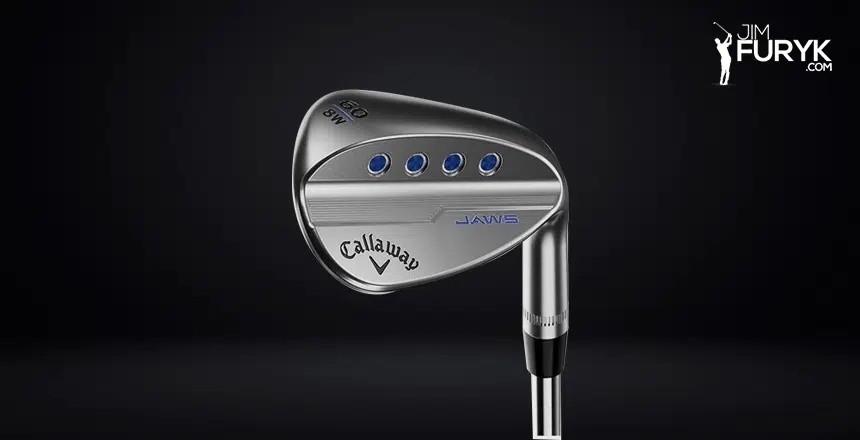 Pros
raditional-shaped lob wedge, also very forgiving
Looks very exquisite with an exceptional feel
Options for bounce, grind, loft, shaft material, and hand orientation
Cons
Leading edge not long and straight enough for easy alignment
One of the best wedges you'll ever come across, Callaway Mack Daddy 5 JAWS is capable of generating a predictable rollout. Using this, you're most likely to become more confident when it comes to pitching/chipping around those greens and even for short shots.
This model has been designed by Roger Cleveland, which should explain why it looks the way it does. The shaping of the lob wedge is responsible for its super-awesome feel as well – it's buttery soft because of the mild carbon steel clubhead.
The diagonal score lines present between the grooves ensure that Mack Daddy 5 comes off as a lob wedge that produces the most amount of spin. Just choose the grind and bounce settings based on your strengths and weaknesses and play this Callaway wedge to make the golf ball stick on the green, even the very fast and hard ones.
2. Callaway Golf 2019 PM Grind Wedge – Best for Single-Digit Handicappers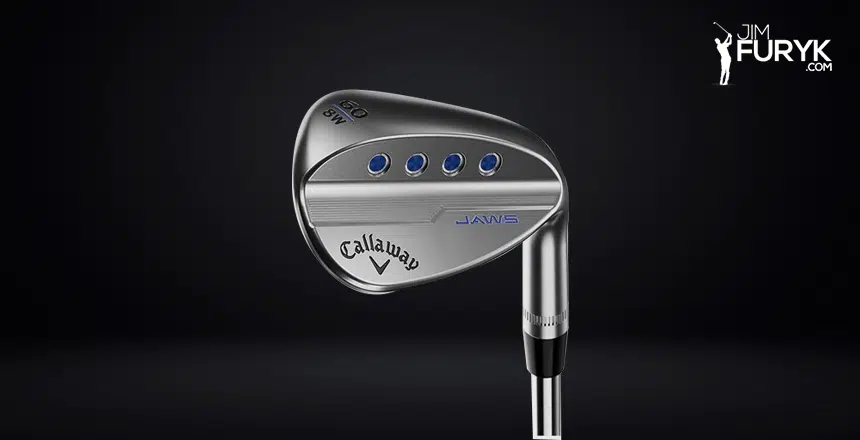 Pros
High-spin lob wedge with increased offset
Unprecedented trajectory control, thanks to high toe
No matter the lie, clear-cut contact is made
Cons
Not built for beginners and high handicappers
One of the most advanced wedges designed by the brand, Callaway 2019 PM Grind Wedge has been brought into the limelight all because Phil Mickelson, who has bagged six major championships in his professional career, helped in shaping the wedge. This is the personification of short game innovation!
The spin created by this 56-degree loft, alloy steel shaft lob wedge is unreal. Even the part related to control around the green is superb. Once more, this Callaway-made wedge too features Groove-in-Groove for additional spin on your pitch and chip shots.
Higher toe and more offset, on top of that, mean trajectory control on both partial and full shots. And lastly, the grind sole setup allows you to make clean and crisp contact from all greenside lies.
3. Cleveland Golf Men's RTX 4 Wedge – Best for the Sharpest Grooves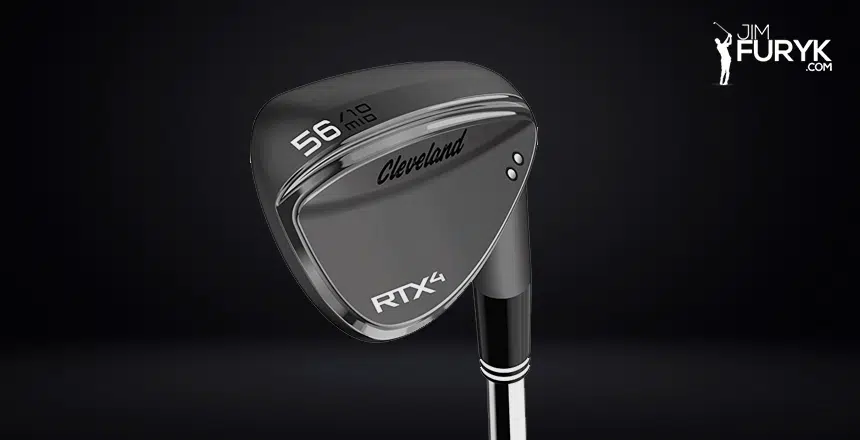 Pros
Muscle-back wedge perfect for distance control and feel
Non-glare, super-durable black satin PVD finish
Several grind options to choose from
Sharpest grooves with aggressive face milling
Cons
Tighter clubface width not fit for high handicappers
Cleveland RTX 4 features 4th Gen Rotex Face Technology, which has the sharpest grooves (Tour Zip) for infusing into your shots the highest level of spin. So if you're a professional golfer who wishes to adjust or customize his/her short game performance, turn to Cleveland without any hesitation.
Terrific control paired with high spin – that's the beauty of RTX 4. It's actually a muscle-back wedge, hence more suitable for low handicappers and more skilled golfers. And this muscle shaping is relatively new where every loft angle setting adjusts progressively on X-axis and Y-axis. That has a lot to do with enhancing both the feel as well as distance control.
It's the perfect lob wedge for shallow attack angles. Plus it works like a dream on tight, firm turf conditions!
4. Mizuno T20 Golf Wedge – Best for Distance Control and Feel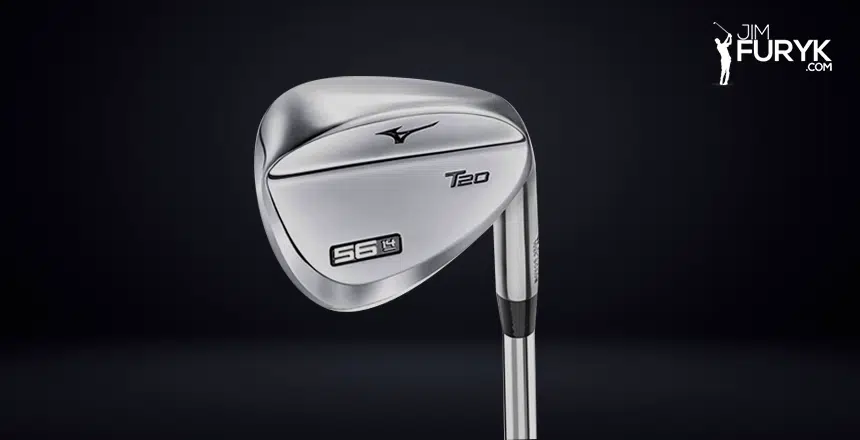 Pros
Micro grooves are laser etched to maximize spin
Increases spin even on mis-hits
Grain flow forging for a solid, soft feel
Cons
A bit distracting thicker topline
If you thought the previous pick was the best for feel and distance control, then the current one – Mizuno T20 – is even better! What earns this wedge that sort of reputation is Mizuno's special Grain Flow Forged technology.
To add to that, there are the shallower, wider grooves that optimize spin (meaning produce maximum spin) across the clubface. Even control is more than just satisfactory with this Mizuno wedge. And now that you know the supply of control is abundant, a confidence boost is sure to get the golf ball to grab on at the right time for aggressive play.
Choose the loft and bounce settings based on your current situation, but no matter what you pick, these forged wedges offer that perfect level of firm feel around the greens.
5. Lucky Gold 60 Degree Lob Wedge – Best for ALL Types of Lie
Pros
Flashy gold appearance
Milled face and sole design work for all kinds of lie
Buttery feel due to milled clubface
Forged design for better accuracy and consistency
Cons
The trajectory may be slightly lower
A wedge like this can be the best lob wedge for beginners, best lob wedge for high handicappers, and best lob wedge for seniors. The fact that you can play Lucky Golf 60 Degrees from just about any lie is proof of how easy it is to hit, be it pitch shots, flop shots, bump and runs, etc.
The feel and look of Lucky wedges never seem to disappoint. The buttery soft and smooth feel is the result of the forged clubface design. As for the face milling, you get that perfect single-hop-and-then-stop effect on your regular shots.
Spot-on distance, mis-hit correction, visually appealing stock grip, and the ability of the bounce and sole to square the clubface at impact – all of these factors make room for playing all types of shots the most easily.
6. Cleveland Golf CBX 58 RH Wedge – Best Lob Wedge for Beginners and High Handicappers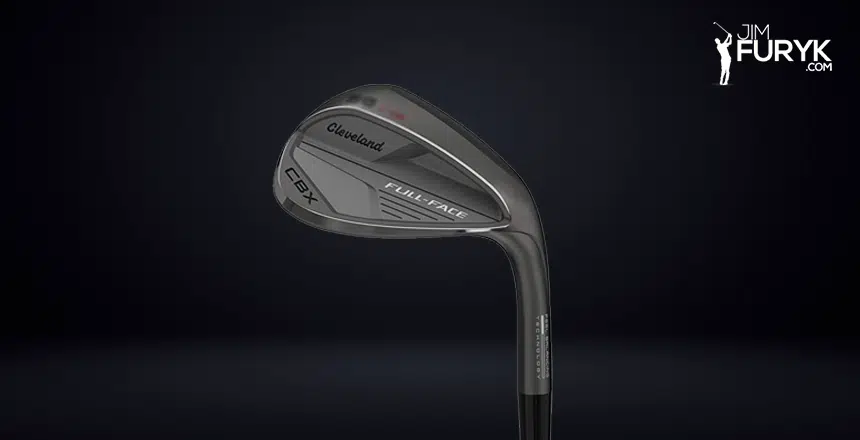 Pros
Laser-milled, Rotex tech face maximizes spin
High toe and low sole for smooth, solid, seamless contact
Tour Zip Grooves make the wedge more versatile
Very forgiving, thus perfect for beginners
Cons
Workability is not the easiest
If you've been keeping up with the latest technologies in golf, then you probably might know how huge the CBX2 by Cleveland was. And now stacking up on that same success is the full-face version – Cleveland CBX Full-Face 58 RH Wedge.
No matter where on the clubface you hit, the spin rate is bound to be higher!
Furthermore, the well-optimized center of gravity ensures even greater mis-hit forgiveness.
What also matters here is the C-shape sole that you can hold accountable for all the relief from the toe and heel of this golf club. Simply put, those dreaded duffs are reduced to a large extent, so you can play your short game with confidence.
7. TaylorMade Milled Grind Hi Toe Raw Wedge – Best for Maximizing Spin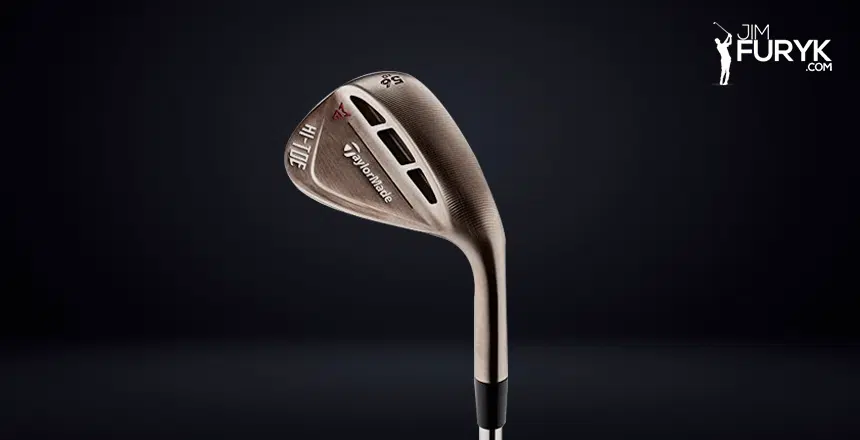 Pros
Thick-Thin design optimizes CG to improve flight
Soft feel and solid click on impact
Great looks with copper finish
Precision-oriented, thanks to the Milled Grind
Cons
The copper finish starts to peel off too soon
There are so many things to mention when it comes to TaylorMade's Milled Grind Hi Toe Raw Wedge. Firstly, the RAW clubface, in this case, is the most phenomenal in that it adds spin like no other. And I'm talking about consistently high spin!
Since we're discussing spin, let me also bring to your attention that this high spin is also brought about by the center of gravity placement. The special Thick-Thin (thin topline and thick redistributed mass at the top of the spin) design raises the center of gravity. And when that happens, you automatically get higher spin more consistently.
Then there's the Milled Grind sole, which is also responsible for increasing consistency. The versatile nature of the grind is also quite remarkable because it allows you to open the grind while also keeping the leading edge close to the ground. In simple language, no digging even when the turf conditions are wet.
8. TOURMAX Golf Men's T250 Lob Wedge – Best for Off-Center Hits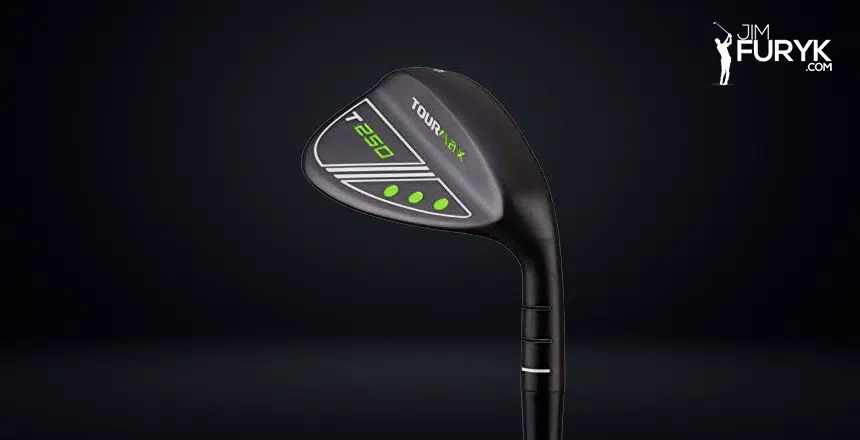 Pros
Cavity-back wedge enhances off-center forgiveness
More forgiving, wider sole grind
60-degree loft angle launches the ball high for soft landings
Cons
No customer feedback to be found
Straight to the point, this lob wedge features a deeper cavity-back design. When comparing cavity backs and blades, one gives you more forgiveness and the other, more control.
Now it's the job of the cavity-back structure to increase the accuracy of your shots, even when they're mis-hit. So it's nothing but an immense relief that TOURMAX T250 has a deeper cavity back.
The high-lofted wedge (60 degrees) here has more mass placed behind its sweet spot. So you don't have to worry about tight shot dispersion. It's a great way, if you ask me, for improving your short game performance.
9. Titleist SM8 Tour Chrome Wedge – Best for Tour Performance
Pros
Traditional chrome finish – durable with glossy accents
Path control and distance improvement
Different loft and grind options cover every lie
Spin gets a boost through perfect face slot design
Cons
Not as popular as the others
Now, how about a traditional chrome finish wedge with glossy accents? The brand is Titleist after all, so expect the quality to be unmatched. The chrome finish itself is incredibly durable and tough, hence ideal for those who are very particular about their golf clubs looking spick and span.
In areas of performance, Titleist SM8 Tour Chrome Wedge features a progressive center of gravity that ensures better trajectory control and distance. This CG is pushed forward to increase the MOI – improvement in stability and feel indeed!
You can choose from the broad range of loft and grind options. Titleist gives you that freedom!
What Titleist also provides is cut-to-the-edge face slots that somehow manage to maximize spin and control. So being a lob wedge and all, Titleist SM8 doesn't let you down in terms of producing max. spin consistency.
10. TaylorMade MG1 Chrome Wedge – Best Lob Wedge for Mid Handicappers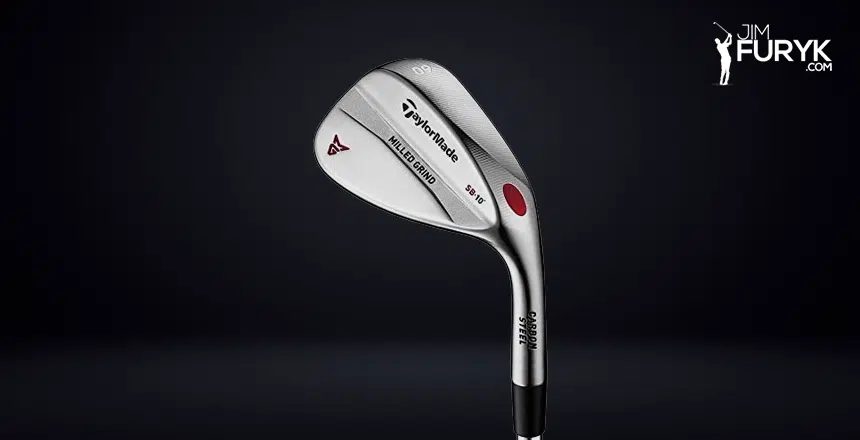 Pros
Milled grind sole improves turf interaction
Shard edge radius on grooves increases spin rate
Precision, optimized weighting for rounded-off balance
Cons
It catches rust rather too early.
Exceptional performance and stunning looks – words that best describe the MG1 Chrome Wedge by TaylorMade. This wedge is designed with a milled sole grind that works really hard to promote proper turf interaction on a more consistent basis.
As for the grooves, expect nothing short of razor-sharpness. And you know exactly what this means, right? A lot of spin!
The center of gravity is optimized to deliver all the forgiveness needed for correcting the distance and accuracy of your off-center strikes. The optimized CG location is the outcome of the weight port repositioning 10 grams of mass, and that also positively affects the spin rate and launch angle.
Frequently Asked Questions About Lob Wedge
When to use a lob wedge?
A lob wedge is used for when you're within 50-60 yards from the flag and want that shot to get as close as possible more consistently. Just think of the time when there were no lob wedges! How almost impossible was it then to hit the ball close to a flag right the other way of the sand trap!
In a situation like this, you could've only succeeded by hitting the shot high enough and creating excessive backspin so the golf ball stops quickly. Enter lob wedge, with its high (60-degree or more) loft, and no need for you to go through such unnecessary trouble anymore. Because of the higher loft angle, the ball is certainly going to fly higher by default.
The shot doesn't travel too far and, at the same time, stops quickly too.
In that case, reach for your lob wedge whenever you want the trajectory to be high with a soft landing. And never when a lower-lofted golf club works just fine i.e. when there's ample of green that needs to be played.
Also, when you decide to include a lob wedge in your set, you have to eliminate a golf club (cause you can carry only 14 clubs in total). Most players who opt for the lob wedge replace it with a difficult-to-hit long iron or a hard-to-use wood.
What is the loft angle of a lob wedge?
Lob wedges are usually 62 degrees, 60 degrees, or 58 degrees. Based on your golf club set, you can pick the loft angle that suits you the most. In the majority of cases, golfers typically go for 60 degrees since this particular loft angle seems to fit into most sets.
What is the best lob wedge degree?
The traditional lob wedge loft angle is 60 degrees indeed, but it could also be 58 degrees or 62 or 64 degrees.
If hitting too many flop shots is the goal, it's better to select a lob wedge with a higher loft.
See more: 58 vs 60 Degree Wedge – Which Should the Average Golfer Play
How do you know a lob wedge is good?
Does it instill confidence during address? If your lob wedge inspires confidence when you have to hit a host of short game shots, which means generating lots of spin, then it's good enough. This suggests that it's all about personal preferences instead of there being an "ultimate" or the "greatest" lob wedge.
Which lob wedge is the easiest to hit?
A lob wedge (with the most common 60-degree loft angle) becomes the easiest to hit when it's got a combination of high MOI and cavity-back design. Such a wedge is highly forgiving and also consistent, irrespective of off-center shots.
How to use a lob Wedge?
The instructions and rules are pretty simple …
1. Keep Your Stance Open
You start with a slightly open stance, so your hands and shoulders have the freedom to move. With an open stance, you're also making sure to create an out-to-in swing path needed for lob shots.
2. Use Your Shoulders and Not Your Wrists
Do not make the rookie mistake of getting your wrists over-involved in the process. Much like the putting grip, even when you hit lob shots, keep your wrists from becoming overactive.
You probably know by now that lob wedges, because of their higher loft setting, automatically add more height to your shots, so no need to do that using your wrists anymore. Otherwise, you're only just welcoming inconsistency into your short game.
3. Proper Weight Distribution
By proper, I mean your weight, at least 60-percent of it, should be on the left foot and side of the body at the time of address (on the left if you're right-handed and on the right if you're left-handed). Throughout that shot, maintain the weight this way.
Should beginners and high handicappers use a lob wedge?
If your golfing skills have not yet developed, then it can surely be both challenging and frustrating to hit a higher-lofted lob wedge. Regardless, you need to understand that just because your swing speed is slow or handicap level high doesn't mean a lob wedge would be a useless golf club in your set. Rather you just have to use the wedge differently.
What helps, in such scenarios, is choosing a lob wedge that doesn't force you to keep your stance open. Instead, you need one that requires a square stance.
If you're a high handicapper, you might also want to know that cavity-back wedges are more suitable for you since they are extremely forgiving while the blade-style has very little mis-hit forgiveness. A high-handicap golfer needs a lob wedge (thanks to the extra loft) for playing those very demanding sand bunker shots.
What to use a 60-degree lob wedge for?
The typical lob wedge, 60 degrees, is used when launching the golf ball high and also getting that shot to land softly. For instance, to hit the ball over sand or water and have it stop quickly on the green.
The EndNote
You don't have to be a Tour player or low handicapper to play lob wedges anymore. Back then, off-center forgiveness was not something built into these higher lofted wedges. However, now the construction has changed. In fact, lob wedges now have not only become a lot more forgiving, but they also impart a good amount of spin just like that!
Distance control, spin control, and forgiveness – all these factors have been incorporated into modern lob wedges. And these aren't just the cavity backs, even a few blade-style wedges hand out a small amount of forgiveness for mid-handicappers.