Shopping for anything means having to choose a certain shape, size, etc., even if it involves different types of golf bags. When it comes to golf bags though, there are only a few most commonly used designs, such as stand, cart, Sunday or carry, and travel bags. But in this article, I've decided to discuss all sorts of golf bags currently available on the market.
If you don't know the difference between any two kinds of golf bags, it's completely alright because nobody really talks to you about that. So all the confusion is only common and logical. Just bear in mind that the first thing you must know is the number of golf clubs you're going to carry in the bag you're about to buy!
Finalizing this is and should be your first and foremost agenda, which will determine what type of golf bag you ought to be purchasing. Otherwise, your golf bag on the course during your round of golf might just end up being a nuisance and totally inefficient and non-functional.
Speaking of which, you must also know how to organize a golf bag, no matter the number of dividers or clubs in there! This way, you can make the most of that golfing product, which acts as a BFF on the golf course, by keeping it well-organized and your valuable golf clubs and other possessions safe and sound.
4 Most Common Types of Golf Bags
1. Stand Bags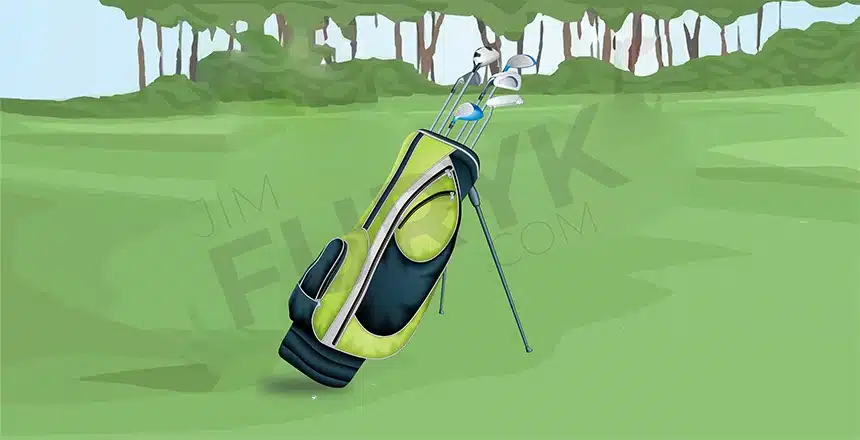 'Stand' means the golf bag is outfitted with a stand in the form of retractable legs, two of them. The legs, as you can probably guess, keep the bag standing in an upright position or any other way too. These legs extend out for ensuring the golf bag remains stable and allow easy access to your clubs.
Golf stand bags, typically, are very lightweight, hence easy and comfortable to move from one place to another. They also fit very easily on golf carts.
Another piece of great news is that stand bags, since they're so commonly used, are manufactured by top brands like TaylorMade, which designs some of the best golf bags (stand, cart, and carry).
PING is another very reliable brand for stand bags. These golf bags feature padded, front-adjustable shoulder straps, proper and neat club organization, comfortable carry straps, cushioned zones, golf ball pockets, and so much more.
Then Titleist is also another exceptional brand for golf stand bags that are unbelievably lightweight. This is just the news for players who walk the entire length of the golf course. And the superb lightweight design doesn't come at the cost of anything; the bags still have all important features, even rangefinder and water bottle pockets!
Stand Bag Pros:
More lightweight than other commonly used golf bags.
Very easy and comfortable to carry.
The stand keeps the bag stable, even on slopes.
Ergonomic features like a cushioned hip pad.
Shoulder straps designed backpack-style for even weight distribution.
Stand Bag Cons:
Retractable stand legs susceptible to damage if frequently used.
Comparatively, the storage space is not very generous.
2. Cart Bags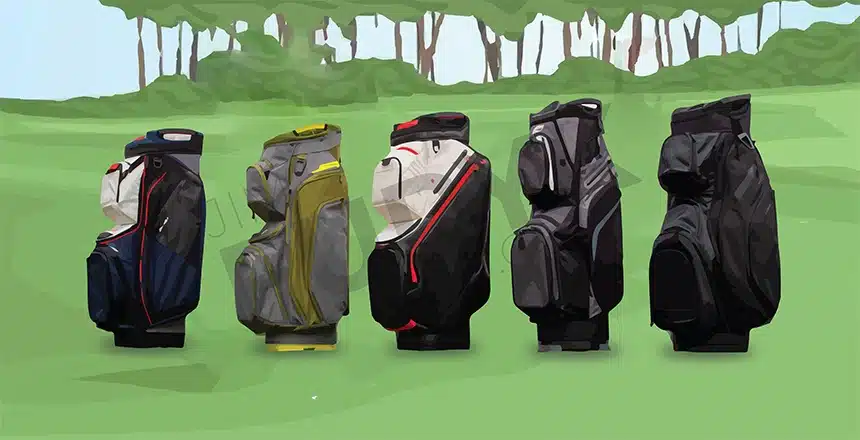 The name itself suggests that cart bags are used when your game of golf involves pulling, pushing, or riding a golf cart. They're specifically designed (sized and shaped that is) for that particular purpose.
You can consider golf cart bags as a combination of stand bags (their practical functionality) and staff bags (their professional or Tour-grade sophistication). They're just the hybrid bag you might be looking for!
Sun Mountain golf bags, the cart-style ones in particular, are a hugely popular option. They're available in many different colors and are also lighter in comparison to modern-day cart bags. And if you choose canvas material instead of traditional leather, then the golf bag will be even more lightweight.
Once again, Titleist also offers extremely functional cart bags, but these have a more conventional design. For example, a golf cart bag with 15-way dividers, easy, built-in cart strap attachment, plenty of storage pockets, moderately lightweight design, etc.
Cart Bag Pros:
Easy accessibility of golf clubs.
Compared to staff bags, cart bags are lighter.
Anti-slip base or bottom for safe, secure cart use.
Perfect for senior golfers with mobility limitations.
The smaller size also allows easy mobility.
Cart Bag Cons:
Not as lightweight as stand bags.
Comes with just a single shoulder strap.
Not the best for golfers who walk the course.
Requires a golf cart, which incurs a rental fee.
3. Carry or Sunday Bags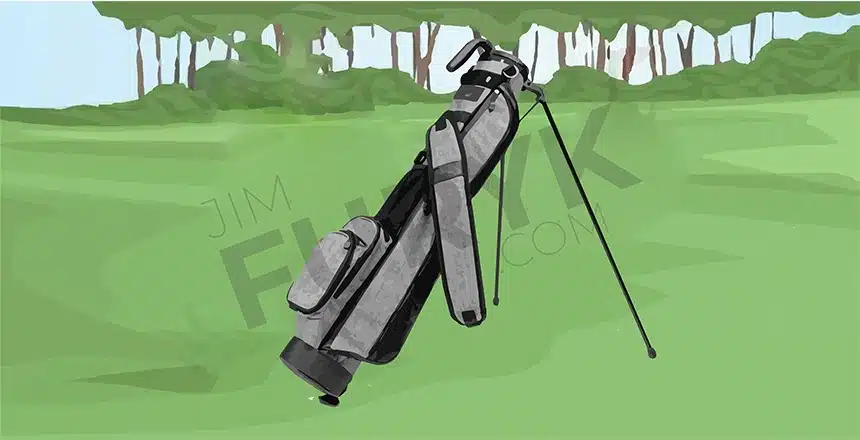 You only need to check out these top Sunday golf bags to realize just how comfortable and multi-functional they are. So the next time you wish to walk from one hole to the next during your round of golf but, at the same time, you also don't care for retractable stand legs, then the carry or Sunday golf bag is for you. Provided you carry with you only a few golf clubs!
These types of golf bags are the most suitable for practice, short game, and, of course, Sunday golfing sessions. You'll find both classic styles and also more modern designs manufactured by renowned brands such as PING, Sun Mountain, Titleist, and the like.
Carry golf bags are built with a double-strap system instead of just a single shoulder strap. Thus, convenience and comfort are maximized here!
Sunday Bag Pros:
Very, very lightweight and minimalist.
Best for walking the golf course with only a few clubs.
Classic-style golf bags that increase play pace/speed.
The carry straps ensure comfort and convenience (no shoulder or back pain).
Easy access and perfect for practice sessions.
Sunday Bag Cons:
Storage space is limited.
Carry straps instead of backpack-style straps.
No retractable stand legs.
Only 2-way top dividers in most cases.
4. Travel Bags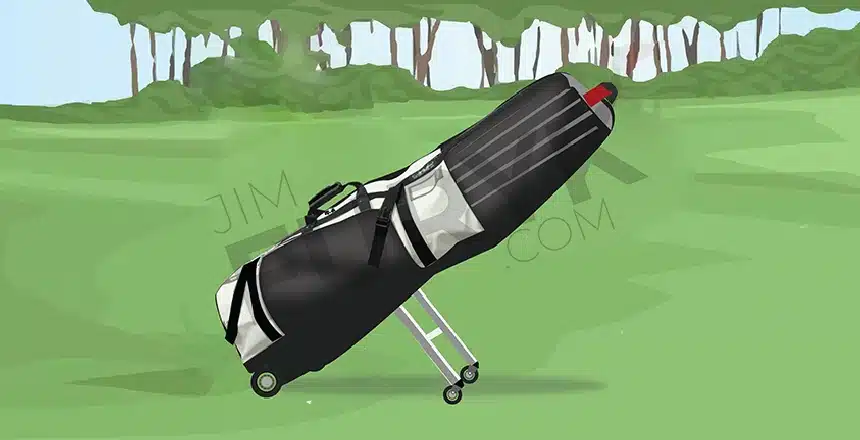 The best golf bags can also be travel bags, which are the perfect solution for when you're traveling with your invaluable set of golf clubs. These types of golf bags are designed with a proper amount of padding for protecting your precious golf clubs when they're being handled by airport authorities.
There are two different kinds of travel golf bags:
Hard-Case Travel Bags
These are highly durable because of the hard case of course. They have heavy-duty latches as locks. The top cover or external shell is hard and heavy. Plus, there are integrated skate wheels to make way for easy, effortless transit.
What's not to like, on the other hand, is the heavy and bulky design and maybe also the expensive price tag,
Soft-Case Travel Bags
Needless to say, these travel golf bags are more lightweight and convenient to carry than their hard-shell counterparts. Extra padding is installed for making up for the lack of a hard case for adequate protection.
In-line skate wheels are a part of these bags too, which ensure smooth, quiet wheeling at airports, parking lots, etc. The handles are well-padded for comfortable carry, external pockets are designed for any additional storage, and they're cheaper to buy.
The biggest drawback, naturally, is the lack of hard-shell protection.
Other Types of Golf Bags
Tour Bags
These are full-blown, large-sized, high-quality golf bags that can have a weight of over 10 pounds. In that case, Tour bags may be the heaviest of them all. Normally, Tour players are spotted with these types of bags on the golf course, especially during professional Tour events.
There is a lot of room in this golf bag for accommodating a complete set of 14 clubs, along with gloves, balls, tees, and more.
However, because of the large size and heavy weight, Tour bags are not the most comfortable or convenient for when walking the golf course. Any attempt at doing so is most likely to cause unwanted, unnecessary injuries.
This is why there are professional caddies for Tour players. Because of the former, the latter doesn't need to bother himself or herself about all that additional weight.
But if you're an amateur or recreational golfer, you do not need to purchase a hefty-priced Tour bag.
Pencil Bags
Incredibly lightweight, pencil bags are the thinner, more lightweight version of golf stand bags. The 14-club capacity remains unchanged here, despite the slimmer design.
You can easily store a pencil bag in the trunk of your car or inside a locker. And of course, walking from hole to hole with a pencil bag over your shoulder (with the help of its shoulder carry strap) is more effortless.
The only problem I, and most golfers, have with pencil bags is the lack of any rain protection.
Waterproof Bags
Speaking of rain protection (above), there are waterproof golf bags too! So now you can go golfing even when the weather is not so much in your favor.
These bags can handle a little bit of rain and damp weather/turf conditions. They are lightweight, no doubt, and also look very stylish (vibrant colors available).
Which Golf Bag Should YOU Buy?
One-size-fits-all – there's no such option when it comes to golf bags. The fact that multiple shapes and sizes exist is proof that not every bag is suitable for ALL golfers. You should be picking a golf staff bag, cart bag, or one of the best Tour golf bags based on how many clubs you're carrying, how often you golf, what is your budget, and so on.
In most scenarios, Tour-level or professional players go for Tour bags. They even get Sunday or travel bags for their practice sessions and/or when flying to another golf course in another city.
But I would recommend beginners to also buy a Sunday bag, or maybe one of the best stand bags. Golf stand bags accommodate less equipment and they're so much more lightweight to carry.
You have to take into consideration your budget as well. With that in mind, once again, stand bags seem like a more affordable choice. Golf cart bags are larger-sized to fit in more clubs, thus more expensive too.
Then you have Sunday golf bags for quick, easygoing, or casual practice sessions.
Stand bags may be the more comfortable, lightweight, and convenient choice for first-time golfers or when walking the course, they are not allowed on some golf courses. At such times then, your next best option is a cart bag or a staff bag.
Can You Walk With A Cart Bag?
You can, but it's highly recommended to not walk the whole round of golf with a cart bag. Simply because these types of golf bags are pretty heavy. Some of them weigh over 10–12 pounds, which unnecessarily leaves you feeling tired, fatigued, or exhausted by the end of and sometimes even during your game.
Can Golf Stand Bags Be Used On A Trolley?
A stand bag can be placed in a trolley, but you need to keep in mind that they're not like golf cart bags. Meaning the former will and does not have the same highly functional, reliable, and appropriate strap system as that of the latter. Cart bags are specifically designed for cart/trolley use, while golf stand bags aren't.
What Is the Standard Size of Golf Bags?
Typically, the diameter of golf bags is 10 inches. But then how tall or big your bag should be depends on how many and what type of golf clubs you carry. However, even in the case of carrying conventional clubs, no golf bag is more than 50 inches tall.
Conclusion
I hope that now sifting through all the multiple choices of golf bags has become easier and less confusing for you. Take into consideration every popular or common design's pros and cons, and then decide.
Remember that options are aplenty, so you do get the opportunity to pick a golf bag that fits your needs, preferences, and bill.
And, no matter what, always go for a reputable manufacturer or brand because they're sure to use top-quality materials that take care of longevity, functionality, comfort, and the like!