Launch monitors, and there's no doubt about it, have truly changed how golfers get custom fitted these days. The onset of this particular technology/gadget has transformed the way players also practice.
And when you're using one of the best portable golf launch monitors, you get access to a sea of information and data that, at one point, was just impossible to attain. If you're an amateur golfer, I'm sure you would agree with me.
Speaking of being an amateur golfer, you should really be proud of yourself right this second for wanting to buy your own personal launch monitor – your dedication to playing the sport is certainly through the roof. After all, this golf accessory does indeed bring you closer to understanding your launch angle and ball flight. And it does make you practice golf more effectively!
So how about getting to know everything about launch monitors…
1. PRGR Black Pocket Launch Monitor HS-130A
Pros
Easy-to-read screen for all data
Precise algorithms produce details instantly
Captures ALL shots without having to readjust
Lightweight and portable indeed
Cons
Does not show hooks/slices
Complaints about inaccurate readings
An indispensable, value-driven pocket trainer, the PRGR pocket launch monitor is quite straightforward to use, plus the whole well-made design adds to the ease of use. With it, you can get a pretty neat picture of what your swing speed is and what your distances are with your every golf club.
On that driving range during practice, the device is accurate. And of course, it has a compact, lightweight footprint (smaller than an iPhone).
More importantly, you can attain the right kind of data without having to use Wi-Fi or your phone. The Doppler Radar does all the tracking of information – ball and swing speeds, carry and total distances, 'smash' factor of every club, etc. In fact, it can also be put to use for other sports, like baseball (measuring pitch speed) and tennis (measuring shot speed).
The bang-for-your-buck bit is also quite exemplary. For the money you shell out to purchase this black pocket-friendly launch monitor, it outperforms all the others within the same price range.
2. FlightScope Mevo Portable Personal Launch Monitor
Pros
Very accurate launch monitor for detailed parameters
Automatic video clipping for uninterrupted use
The customizable interface adds a personal touch
Pocket-sized for both outdoor and indoor practice
Cons
Not the most accurate to calculate the total distance
Setting it up isn't the easiest task
FlightScope urges you to 'practice with purpose' with their Mevo Personal Launch Monitor as it's got a portable 3D Doppler Radar system too, and lightweight design of course. The radar technology is responsible for measuring 8 very useful parameters. Namely, clubhead and ball speeds, spin rate, carry distance, smash factor, apex height, flight time, and launch angle.
Once you download the brand's Mevo app, you can unlock all that is important to know for tracking progress, viewing real-time data of each golf club, and recording/viewing data-overlaid videos. And let's not forget who has used FlightScope Mevo – Bryson DeChambeau.
The video capture function, in particular, is the best part as it brings to light your swing flaws. That means you can correct those mistakes with a more profound understanding. And the device is so small it fits right into your palm.
And surely the part where Mevo lets you save/upload/share your practice sessions on Facebook, Instagram, and Vimeo is a very attractive additional feature.
3. Rapsodo Mobile Launch Monitor
Pros
Real-time, instant video feedback
GPS locations of where shots land
Active Tracer tracks every shot shape (draw, fade, straight)
Cons
Setting it up is no easy task (vague instructions)
Limited video playback
No spin rate measurement
Rapsodo is often compared with FlightScope Mevo, but I'll get into the comparison bit later. First, let me tell you a little about setting up Rapsodo Mobile Launch Monitor. Unfortunately, the instructions concerning that are not all that clear. To make calibration easier, you have to hold this device more than the mentioned 4.3 inches from your phone.
What's also slightly disappointing is including your swing in video at the time of setting up this launch monitor. Once again, you should move the device farther than the suggested 8 feet behind the golf ball (luckily, no worries about accuracy there).
But then once you finish setting it up, the part where the gadget captures data and also lets you sort that data in multiple ways is simply extraordinary. So let's compare that to Mevo by FlightScope.
With Rapsodo, the ball flight path is marked with a red line (this includes draw, fade, straight, etc.) while Mevo doesn't do this. With Rapsodo, you can get a GoogleMap-like image for course or range along with the exact GPS location of where your shots land. Mevo, once again, doesn't do this. But then Mevo gives you height and spin rate but Rapsodo doesn't.
In terms of a user-friendly interface, the software installed on Rapsodo is better as it provides you with the opportunity to sort all the information by column. And you can track the average club distances. Mevo's software is not quite there yet.
So if I take all those factors into account, Rapsodo emerges as the clear winner with its better software, sorting of the stats in many ways, cloud service, and lots more.
4. Voice Caddie SC200 Portable Golf Launch Monitor
Pros
Doppler Radar Sensor provides accurate data
Spot-on carry distances with Barometric Pressure Calibration
Target and Random modes help zero in on yardages
Remote included for bend-free setting adjustments
Extremely easy to use and very lightweight to carry
Cons
Loft calibration is a bit tricky (loft options not enough)
Voice Caddie gives you 3 modes with its SC200 Portable Golf Launch Monitor – Practice Mode, Target Mode, and Random Mode. So you get a WHOLE LOT of data, all kinds of data, to change the way you play. Swing speed, ball speed, smash factor, shot distance, total shot count, and more (this is all a part of the Practice Mode).
With Target Mode, you can set your target distance, take your shot, and then the device measures (on a scale from 1 to 10) your level of accuracy. Along with providing other useful stats of course. And with Random Mode, those target distances are set at random to, once again, put your accuracy and consistency to the test.
A very handy, small, light remote control is included too that fits very easily in the pocket. You can use this little thing for adjusting settings the most conveniently and quickly.
So it's pretty obvious that Swing Caddie SC200 is an advanced model (very reasonably priced as well) outfitted with all the right features. Such as voice output for distance, instant feedback through an LCD screen, distance adjustment based on atmospheric pressure, etc.
The device performs just like it's been advertised by Voice Caddie. Most importantly, all golf clubs register, which means no more confusion about which clubs to carry.
5. SkyTrak Personal Launch Monitor
Pros
High-speed photometric technology for accurate readings
Very useful variety of parameters measured and displayed
Easy and quick to set up; made for smaller spaces (indoors)
Cons
Shot delay is longer (2-4 seconds, not 0.5 seconds)
Less accurate when used outdoors
The performance of SkyTrack's launch monitor is also quite competitive with its accurate readings, spin and direction matching with your ball flight on the golf course, and its hassle-free connection with an old PC as well. Even the setting up part is super quick and easy.
Okay so, once again, I'd like to bring into the picture Mevo for the purpose of comparison since both models are very portable. In fact, SkyTrak here is Golf Digest approved as well, just like FlightScope Mevo. But it's the former that's more suited for indoor applications. That's probably because SkyTrak has a limited space requirement. No doubt, it's the better choice for reliably reading putts and chips.
Now it's pretty clear that this one's a more fitting choice for a home setup. Once you get past that, you're sure to appreciate many things here. Such as the photometric technology to give you real-time, instant 3D shot reports as well as ball flight analysis.
You get to play different courses plus there are many mini-games to make your practice sessions more fruitful (with options like Longest Drive, Targets, and Closest to the Pin). As far as my opinion goes, I think it's a great portable launch monitor you can use anywhere as long as you pair it up with a device via the integrated Wi-Fi.
6. oice Caddie Swing Caddie SC300 & SC300i
Pros
Quick, clear data with Doppler Radar Sensor
Very good app connectivity and spin rate included
Huge LCD screen for easy-to-read, instant feedback
Distance voice output and adjustable loft options
Remote makes switching between clubs super-easy
Cons
Not the most varied data
Doesn't show hooks/slices
It may be the upgraded model to its predecessor SC200 (reviewed earlier), hence more expensive BUT it's still quite an inexpensive alternative when compared to the high-end launch monitors available today. Voice Caddie's Swing Caddie SC300 produces accurate readings for your ball speed, swing speed, carry distance, and more.
It even takes into account atmospheric pressure when measuring your distances. On top of that, there's the latest technology of Doppler Radar for tracking ball flight the most accurately. Just position the device around 12 feet behind the golf ball and that's about it.
The lightweight, portable golf accessory here is perfect for frequent driving range practices/visits. It's like your very own home simulator if you ask me!
Compared to Mevo, Swing Caddie SC300 has a larger body without being bothersome at all. Also, Mevo doesn't pick up swings, but SC300 does. Moreover, its app is very easy and simple to use as well.
If you don't believe me, then go ahead and ask any other elite, senior Tour golfer who has a low golf handicap. Even they will tell you just how close the results are that are produced by this highly recommended and competitive pocket-friendly (despite the comparatively larger size) launch monitor for golf.
7. Ernest Sports ES12 Portable Launch Monitor
Pros
Doppler Radar calculates accurate measurements
Instant readings of distance and ball speed
Easy setup with pre-loaded clubs
Video analysis and practice session analysis included
It can keep a track of as many as around 2,000 swings
Cons
No loft options/adjustability
Slightly fussy Bluetooth connectivity
Who knew there would be launch monitors specifically for high handicappers as there are explicit golf drivers for the same. Actually, this ES12 Portable Launch Monitor by Ernest Sports is a great choice for high AND mid handicappers.
Dialing in your golf club selection is a part of the job description of ES12, and it lets you do that very easily. But it's on wedge shots that this device seems like the most helpful.
For example, dialing in the most intricate distances is just superb in this case. So practical is this whole experience that you end up shaving strokes off your short game – that's how high handicappers benefit more from the ES12 launch monitor.
And obviously, it's well made, reliable, and affordable too with the ability to measure all essential parameters like ball speed and distance. Even setting it up is incredibly easy. And the fact that the device is smartphone-sized means it fits right into your pocket or golf bag.
8. Garmin Approach G80 Handheld Golf GPS + Launch Monitor
Pros
Doppler Radar tracks swing tempo, ball speed, distance, etc.
Easy switching between GPS and tracker
Light and compact design with long 15-hour battery life
Color, sunlight-friendly touch display
Cons
Slices and mis-hits are not properly measured/analyzed
Inconsistent radar accuracy
This one-of-a-kind Golf GPS and Launch Monitor by none other than Garmin is a combination of the best of both worlds. And what makes it all better is the not-so-expensive price tag; if you go to buy each individual unit, the cost is sure to be high!
Garmin Approach G80 is a model abundantly praised by all types of golfers. If you've just bought a whole new set of clubs or maybe just a set of new golf irons more in tune with your declining swing speed, which means these irons hit longer by default, then you need to know all 'distances' of those clubs. That's where G80 comes to the rescue!
You might seriously want to consider opting for this one as it's a golf course GPS plus launch monitor, even though you can only attain distance and speed readings (but then that's all that ultimately matters really).
G80 is spot-on accurate on that driving range provided you don't mis-hit or hit too thin. The launch monitor performance is worth each and every penny in terms of serving its purpose.
Moving on to the GPS, unmistakably it's crisp, clear, and shows yardages in the back, middle, and front of the green, along with giving you the carry distance over hazards. All thanks to the 2D display (full-hole). You also get the slope function by the way, so that means accurate distances for shots uphill and downhill.
You simply cannot deny that this is an excellent GPS and solid launch monitor for accurate yardages and ease of use.
Firstly, Why Buy A Launch Monitor for Golf?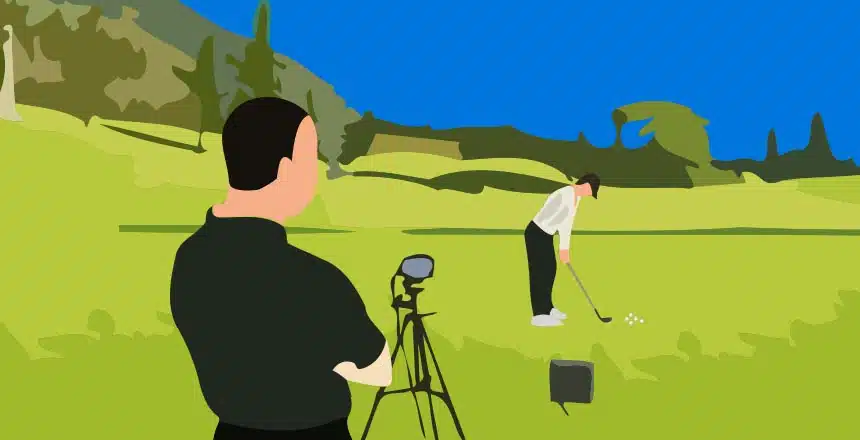 So let me provide you with not one, not two, but as many as FIVE reasons why a launch monitor can really be very, very helpful to a golfer.
For Instant Feedback
Getting the right numbers is as important as getting them fast; nobody likes to wait till the next lesson for finding that out, agreed? Timely feedback is essential. After all, why delay finding out whether that gap between the clubface direction and path is too large or not.
Because if it is, then the whole spin axis gets jeopardized, which means you have to try hard to straighten that path for reducing side spin. Enter the technology of launch monitors to bring the real nature and culprit of your "flaws" to your attention sooner.
For Measuring/Improving Your Swing
How do you go about improving your golf swing if you don't even know what you're doing wrong in the first place? Are you swinging from the outside or inside? What's the launch angle of your irons and driver? You know not, right?
Other questions, important questions include – what's the average spin produced by your wedges? How about the compression rate of the golf ball when hit with the wedges? Are you generating too much or too little long-game spin with your driver? It's all so overwhelming to answer, isn't it?
But it gets comparatively easier and more streamlined when you bring into the picture a launch monitor. This handy little device gives you all of these readings and measurements after each shot – instant, accurate feedback with all useful analytics for making much-needed adjustments.
Speaking of making those potential golf swing adjustments, you can even experiment with a few changes with the help of a launch monitor. Hitting a solid shot, controlling the curve of the shot, controlling the start line even, etc. – all of these adjustments the launch monitor allows you to make in multiple ways (with different settings).
For Testing Different Golf Equipment
Trying out a new golf club shaft or driver loft? In that case, wouldn't it be better if you test it out using your launch monitor in order to first understand the new, experimental equipment? Because not all shafts produce the same spin rate. Likewise, not all lofts deliver the same launch angle or distance.
When it comes to trying out new stuff, golf balls are also a part of that. And so are wedges.
For Measuring Speed Gains
Your swing speed is bound to increase if you're incorporating the most effective strategies for doing so on a more regular basis. But then what are these speed gains? How much is your speed actually improving over time? 8-10 mph or more or less over the course of a few years?
Knowing the answer to that surely feels very rewarding because then it means that your hard work is really paying off. A golf launch monitor with its phenomenal radar sensor that's put in place precisely for calculating parameters like your swing speed, ball speed, and more.
For Working the Ball Both Ways
The feedback you attain with a golf monitor includes clubface or swing path analysis. This means useful feedback that paves the way for required adjustments to hit slight draws or fades. And that's just amazing if you tend to work the ball both ways instead of hitting a single-shaped shot.
Now, How to Pick A Really Good Launch Monitor?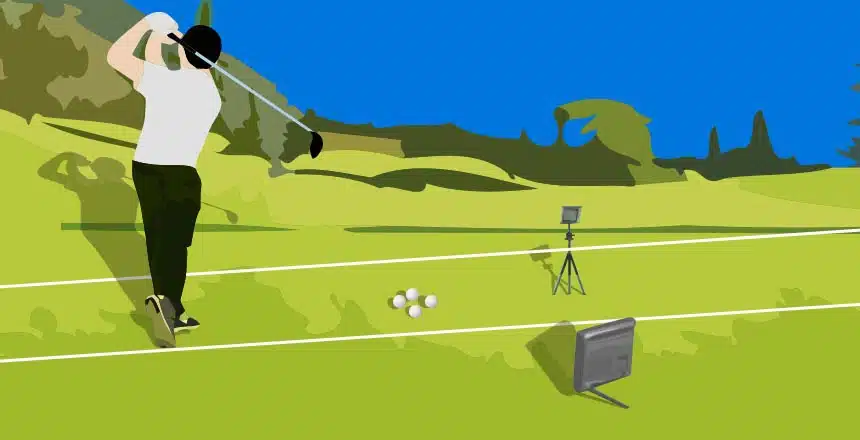 Feel less confused and overwhelmed with the following points of consideration…
1. Radar/Camera
When it's a radar-based working system, the first thing that comes to mind is Doppler Radar. This particular technology uses microwaves, I mean it bounces these microwaves off the golf ball (the object). So it sends waves continuously and receives their reflections to track the ball movement or flight through the air.
As for the camera, that is a camera-based golf launch monitor, it's outfitted with a high-def camera for measuring ball data during AND after impact. Of course, with cameras, you cannot expect complete ball flight measurements but you can achieve more accurate spin and axis tilt readings.
Another notable drawback of camera-based launch monitors – if the quality is only sub-par, then the device might not be able to work flawlessly in all light/reflective settings.
2. Parameters
Essential parameters are pretty much covered across all launch monitors, be it affordable ones or the high-end models. It actually all depends on what you want to view. However, it's only logical to assume that the more inexpensive and portable launch monitors have a limited set of parameters to offer.
So what are the key metrics? These include ball speed, carry distance, and total distance. Expect such parameters from each and every launch monitor. But for a more thorough evaluation (such as smash factor, angle of attack, flight time, apex height, spin rate, etc.), the number of options you get to choose from reduces.
3. Size + Weight (Portability)
This article is all about 'portable' launch monitors, which means the size and weight of these devices need to be compact and light. So they can easily fit into your pocket or golf bag.
The ideal size should be pocket-friendly, hence portable. The ideal weight should be not more than 10-15 ounces. But if you want to buy something even smaller, then please note that your options might get even more limited.
4. Accuracy
Accurate measurements are a must. And for that, I have already talked about the Doppler Radar system. This technology gives you real-time, accurate parameters, along with precise algorithms. Now it's a given that the portable models, strictly comparatively speaking, are not as highly accurate as the costlier ones. But then Doppler Radar might change that.
So you don't just need essential parameters, you actually need accurate essential parameters.
5. Features
What kind of features does your launch monitor come with? For example, how does it show all your data? Can you store and even organize this data?
At such times, if the launch monitor has a smartphone app you can access for sorting it all out, then expect a genuinely straightforward and seamless experience. Because with these apps, you can view the data in multiple ways.
Another thing you may want to check with is whether or not the portable launch monitor is compatible with your simulator software.
Naturally, what features are included and how they're useful to you is based on what you need the launch monitor for. So there's no one right answer here; it differs from golfer to golfer.
6. Ease of Use
Time wasted on the golf course costs real money, so no golfer wants that. Better if the launch monitor is easy to use; meaning no complex and time-consuming connections, configurations, etc. The part of setting it up, calibrating your golf clubs, collecting data, viewing data, organizing data, and all that should be quick and easy, even for noobs.
7. Type of Use – Outdoors or Indoors
If you want one for exclusive indoor use, then it would be a wise and smart decision on your part to purchase something that's more budget-friendly. There are plenty of affordable models out there that require a limited space (approx. 8 feet of distance) before the golf ball strikes the target net.
This type of device is also a very suitable choice for reading your putts and chips the most reliably.
On the other hand, you have full-fledged, outdoor-use launch monitors as well with no space restrictions.
But then if you desire both outdoor and indoor use, one such launch monitor that comes to mind is FlightScope Mevo. Made for both settings, this portable personal launch monitor makes use of metal dots for improving tracking. On top of that, it has very well-executed video features too.
8. Tablet/Smartphone Apps
Garmin doesn't need an app, so doesn't Voice Caddie simply because these two have designed self-contained launch monitors. But then there are also those that require an app for better communication between the device and the user. With an app, a launch monitor like this automatically becomes more useful and convenient to use.
However, if the app is full of hassles and just not simple to navigate, then what's the point! Therefore, to avoid confusion, frustration, and waste of time, make sure the app has a very simple layout and interface.
9. Budget
The price range for golf launch monitors at the moment starts from as low as $200 and can reach as high as $2,000. Obviously, there are more expensive, fully-featured models that cost thousands and thousands of dollars.
How Do Launch Monitors Improve Your Game
Coming from a Senior-level Tour professional, a golf launch monitor as an accessory can really show you your strengths as well as weaknesses. After all, this device does produce a large amount of data, and most of it is essential data. Such as carry distance, clubhead speed, spin rate, etc. Essential, instant feedback indeed!
They can improve your game in that you become more aware of how often and how much you're hooking/slicing your shots. This way, the scope of improvement intensifies since you get to know exactly what's causing these "bad tendencies." Even with readily available distance numbers and swing path insights, you can dial in your golf clubs accordingly.
As a Tour professional, I have relied plenty of times on my launch monitor to polish my golf swing. On the other hand, amateurs around me have used it mainly for improving their overall game.
Moreover, the fact that a portable device like this can be just tucked into your pocket makes it even more enticing to buy and use this particular golfing accessory to your advantage wherever you go.
How to Use A Launch Monitor
Here's a complete beginner's guide for using a golf launch monitor for outdoor practice. You can indeed make your outdoor practice sessions more productive by actually viewing your ball flight.
As for indoor use, all you need is a golf net and golf mat to begin!
Wrapping It Up
Portable or personal launch monitors are turning out to be the best tools at every average or amateur golfers' disposal. Agreed that you have to shell out some fancy money, but then those who want to improve and can afford spending dough on a technology they know is going to bring them plenty of good luck are saying all great things about the device.
Although brands still need a few years before they can really perfect the "accuracy" of their launch monitors. And also maybe include some more parameters and data points, so you can dial in exactly what you have in mind for upgrading your skills.