You don't really have to be a Tour player to know that not every golfer has the same swing. Naturally, there are all kinds of golf swings but they all do seem to have one thing in common. That would be correct alignment along with aiming, stance, setup, and more. And this is precisely why training aids like the best golf alignment sticks are so popular.
You're most likely to spot golfers using such invaluable tools at the driving range of just about every course. After all, using these sticks is so simple and straightforward – you just place them on the ground in a parallel position to the target and get properly aligned. In fact, even storing and carrying them in a golf bag is very convenient.
And they may all look one and the same but there are some slight differences, even though not noticeable at first, between them. So time for getting to know these differences through the following top recommendations!
1. SKLZ Golf Alignment Sticks – Top Choice
Pros
Set of 3 alignment sticks for versatile training drills
Made of lightweight, super-durable fiberglass
9 rings ensure proper, precise setup and alignment
Rubber material safety cap at one end for protection
48-inch length fits perfectly inside a golf bag
Cons
Only 1 high-visibility yellow stick
Coming from a brand that manufactures some of the best golf training tools, SKLZ Alignment Sticks rank as the toughest in terms of durability, wear and tear, resistance to damage, or whatever you call it.
Made of lightweight fiberglass, each stick features 9 rings at the center to get that perfect alignment (setup + ball position) every single time.
The best part about it all is that these fiberglass alignment rods (48-inches in length, thus golf-bag-friendly) are highly versatile. You can use them for working on your golf swing path, putting stroke, and short game. And kudos to the company for including safety caps too!
2. Tour Sticks Golf Alignment Stick
Pros
2 alignment sticks perfect for many practice sessions
46-inch length, same as that of a golf driver
Rubber safety cap and carry case included
UV-coated, bright colors for max. fade resistance and visibility
Tour Sticks, among the first few original alignment sticks that entered the golf market, are incredibly handy when it comes to different types of training drills. These 2 rods (46 inches in length, pretty much the same as your driver length) are UV-coated for max. fade resistance.
And various color options are available, so you can control the level of visibility of these alignment rods based on your personal needs and preferences.
But most important of all, your game will benefit from the time you start using them because utilizing the sticks in countless ways is possible. Plus, they're tough, which means they shall stay with you for the longest time.
3. Billisa Golf Alignment Sticks
Pros
Set of 2 training tools available in bright colors
Length is 48 inches, thus perfect to fit inside golf bag
Both sides have rubber ends (storage tube is also included)
Cons
No instructions are provided by the manufacturer
These alignment sticks by Billisa are listed among the most reliable ones, and some say even most affordable. With the help of these two 48-inch-long, high-visibility practice rods, you can actually improve your golf swing mechanics. And these very golf alignment sticks pros use too!
Aligning your body properly with the golf ball right at address, identifying that target line prior to hitting your every shot, and adding more consistency to your swing – all of this can be worked on the most easily.
On top of that, hassle-free storage and carry. Thanks to the 48-inch length that perfectly fits inside the golf bag.
4. GoSports Golf Alignment Training Sticks
Pros
Pack of 3 sticks with a foldable design
Long enough and bright enough
Pointed tip, so the stick stays in the ground during practice
Cons
A bit too lightweight and flimsy
3 foldable alignment sticks – 48 inches in length and neon color is perfect for high visibility against the grass and all kinds of surfaces.
But what I really liked about these is that the design is foldable, thus compact for easy, quick, convenient storage in just about any type of golf bag.
And the fact that 3 practice rods are included, and just not 2, means you can work on more than only a single area or weakness of your golf game at the same time. For example, one stick for ensuring proper alignment and one for getting the swing path right.
5. SHAUN WEBB GOLF Alignment Sticks
You'll love these 3 alignment sticks when working on target aiming. Just set up the rods in front of the net (so you know where you're aiming) and you'll see how you strike them often enough.
And to make your practice sessions even more practical and valuable, the alignment sticks are red-colored, thus highly visible. They also hold up very well against repeated hits, which means no worrying about the sticks splintering after direct hits. The fiberglass construction is plenty durable that way.
They may not be foldable but the storage tube ensures that the rods don't stick out of the golf bag. And lastly, those pointed ends can be covered up by caps to prevent any accidents.
6. Golf 4 U Golf Alignment Training Sticks
Practice basic alignment, hit the ball straight, find your swing plane, and improve your takeaway with these Tour-grade alignment sticks. Although the length here is 38 inches only, shorter in comparison to the longer models (but some say this seems more manageable and practical to use, store, carry, etc.).
The alignment caps included are also quite nice in terms of making the whole experience more convenient and hassle-free.
As for performance factors, the 2 training sticks make way for immediate alignment improvement in positioning at all key points of a golf swing and during putting.
And last but not least, these alignment rods are affordable and offer the best value for money because you can use them for multiple drills.
7. PrideSports Golf Alignment Stick
Very bright yellow color, so you can focus more on aim, direction, and your training and less on the sticks blending in with the grass.
PrideSports Alignment Sticks are the fully extended 48-inch version that will indeed stick out from the top of the golf bag. In that case, why not fold them up for easy storage/carry since that's an option as well.
And of course, the sticks come in handy when on that driving range!
8. CHAMPKEY PRO Golf Alignment Sticks
Champkey-manufactured golf grips and golf alignment sticks are surely one of those very few great-value products that are suitable not just for beginners, amateurs, and recreational or occasional golfers but also for Tour pros.
These 48-inch long fiberglass training sticks, in particular, are specifically made for all kinds of practice drills – short game, full swing, and putting.
And they fit right into your golf bag just like your other clubs. As for the pointed end sticking out, just cover it up with the rubber safety cap. When in use, this very pointy end is supposed to dig into the turf and hold that angle of shaft you need.
Buying Guide – Important Factors with Alignment Sticks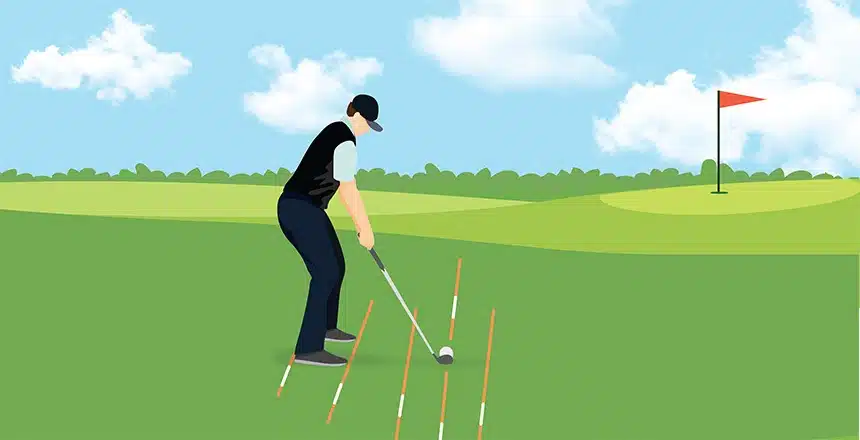 1. Material & Durability
If you've read through the reviews, then you know what the most common material is. That would be fiberglass – lightweight yet tough in terms of wear resistance and structural strength. Plus, it's cost-effective too.
The material needs to be strong and sturdy enough to stay upright when in use i.e. when the stick is inserted into the ground. And fiberglass does that really well, along with not breaking or bending when hit with your golf club.
2. Functionality
Are the alignment rods adjustable or T-shaped? If you're using these kinds of sticks, then you get tons of versatility or functionality. Meaning they can be used in multiple ways for multiple training drills (ball positioning, chipping, putting, and more).
3. Safety Features
The very first one that comes to mind immediately takes the form of a rubber cap for protecting the pointy end of the alignment stick. So when your non-foldable or non-collapsible sticks are stored in your golf bag, their pointy ends don't pose a threat. You can just cover them up with the protective rubber caps provided by the manufacturer.
Caps, also known as storage tubes, also make sure that these sharp ends don't poke holes in the headcovers or scratch your precious golf clubs.
Another safety or extra feature can be a carry case for the set of alignment sticks. So you have a separate space altogether for more convenient storage.
4. Length
The common range for the length of alignment sticks is between 44 inches and 48 inches. 48 inches indeed is the most common since it offers the perfect view or visual for your swing. In comparison to 48 inches, your body can overpower shorter sticks during the golf swing, which means it gets more difficult for you to then focus on what matters the most.
5. Number of Alignment Sticks In A Set
The more, the merrier! And 2-3 sticks in a set are what you generally get.
But why do you need more than 1 alignment stick anyway? Well, more than 1 paves the way for working on more than just one thing, such as both your stance and golf club alignment.
6. Price
If you're going to be using alignment sticks at the driving range all the time, then it's best to purchase a set you know has been rated high in terms of quality and durability. And this may have a slightly higher price tag.
On the contrary, if only occasional practice sessions are to be expected, it's totally okay then to buy something cheaper.
Frequently Asked Questions (FAQs)
How Many Alignment Sticks to Buy?
Just a single alignment stick (placed between the feet pointing in the direction of the ball) is perfect for checking the golf ball position but two sticks seem to be better. You can place the first stick along the toe line (just left of the target) while the second one is placed perpendicular to that first stick (aimed at the ball).
The 2-stick approach is preferable since it creates a more consistent golf ball position and target line more easily.
How to Practice Golf Using Alignment Sticks?
It's very simple and straightforward to understand. Lay the alignment stick on the turf, and make sure it's in alignment with the target (meaning it's placed in front of the golf ball). Then you step up to the ball (looking down that target line) and make sure your body is over the stick.
As a result, your feet are aligned correctly with your target and that opens the door to more accurate shots.
Needless to say, alignment sticks are training aids, right? In that case, golf training aids can be used in more than just a single manner. So there are different ways to use alignment sticks as well for different purposes.
What Is the Whole Point of Using Alignment Sticks In Golf?
How can alignment sticks really help a golfer? Well, if you struggle with aiming right, then helping to improve aim is the whole point of you using alignment sticks. You can also work on developing proper ball position and swing plane/path. Just lay the sticks down flat as visual aid or stick them into the ground to guide your swing.
Do Tour Pros Carry Alignment Sticks?
It is a rare occurrence indeed but then that doesn't mean pros don't use alignment sticks at all. They too, just like amateur golfers, with the help of alignment sticks, improve the alignment of the clubface and body at address.
In fact, professional golfers carry one of those alignment sticks equipped with a magnetic-type end that attaches itself to the clubface.
Summing It Up…
There's no way alignment sticks are a fad. You see some Tour players carrying them for the same reasons as beginners and amateurs!
With this sort of alignment aid, you don't have to fry your head over alignment during practice. At the same time, you can also use these sticks to work on your basic golf setup. Along with getting the ball position, ball flight, and swing plane right!
And to be honest, purchasing alignment sticks to fix or improve the very foundation of your game is much, much cheaper than actually taking professional golf lessons for the same. And, lucky for you, the former has turned out to be an effective approach too!