Dirt on golf balls often gets dismissed as a part of playing the game. While that may be true, but neglecting to clean mucky golf balls means you're messing with its performance abilities.
And how do you imagine that happens? Well, dirt, mud, etc. stick to the surface, and naturally these unwanted, external particles increase the weight of the golf ball. Even though this weight may only be minimal, it still has an impact on flight and trajectory.
A golf ball, on its own, is a very tiny piece of gear, so even a little bit of extra, unnecessary weight added is sure to affect its predetermined flight path.
Now here's what can be done – you can buy the best golf ball cleaner and washer. As a matter of fact, some of them can also be used during your round of golf.
1. Swiss Ascent Golf Ball Washer Cleaner
Pros
Cleaning bristle brushes are fully functional
Portable with nylon strap and plastic carabiner
Can be easily fit into golf cart cupholder
Cons
Using the cleaner is a bit awkward
It leaks a little bit
I have used plenty of bristle brush golf ball cleaners, so I can tell you that this one's from the higher end of the spectrum, which means it's a comparatively more expensive model. But then with its heavy-duty, high-quality bristle brushes, you can sort of overlook and even justify the higher cost.
There are three pretty serious brushes against which your golf balls are rigorously cleaned. And I use the word 'rigorous' because the cleaning process is so much better than just using a towel or any other cloth for making golf balls shine.
And with the nylon strap as well as a carabiner, the cleaning product can be carried to the golf course as well. Just clip it onto the strap of your golf bag!
2. Clean Flight Premium Golf Balls Washer/Cleaner
Pros
Very tough, multi-variable internal brushes
Long-lasting portability strap
30ml cleaning solution also included
Cons
Slightly heavy/bulky design
For whatever reason, golf course ball washers are unavailable. In such a scenario, you may think you have to make do with a temporary solution to clean your golf balls. But then the Clean Flight washer is not a makeshift fix in any way. This one's the real deal because it can get the job done, which is cleaning dirty, muddy golf balls, better in comparison to course washers.
And it's better because of its highly variable hex brush cleaning system. This particular feature and the rest of the washer are well designed. So it can hold up for a good many years if you're careful about proper handling.
It's also better because the product comes with a soap cleaning solution (30ml bottle).
And of course, it's a portable cleaner with its travel-friendly strap and carabiner.
3. Club Clean Kraft with Bracket Kit
Pros
Single washing chamber with quick draining
Made of tough polypropylene and textured lid
Universal mounting bracket
Cleans club heads AND golf balls
Cons
Not the easiest to mount/install
Collecting golf balls that other players have left behind – is that something you do? Why you have this fetish in the first place is none of my business really. But it is my concern to review the best cleaners/washers for those discarded, lost dirty golf balls you love collecting so much. Enter Club Clean Kraft.
A new cleaning solution like this is certainly better in that it completes the cleaning process in less than half the time than normal washing with any scrub brush.
But here's the tricky part – the cleaner comes with a bracket kit (universal mounting bracket) that consists of screws/nuts for attaching the portable product to your golf cart. So there's a bit of an effort you have to make for that. And even after you do that, you don't really get a very solid attachment.
4. Twister The Golf Ball Cleaner
Pros
Easily twist the top part to work the brush
Scrubbing bristles eliminate muck and mud
Made of durable plastic
Attaches to bag and fits in cart cupholder
Cons
A tad heavy for a golf ball cleaner
Take a bit of an effort to work
A convenient, easy-to-use cleaner designed with scrubbing bristles, Twister The Golf Ball Cleaner is a one-of-a-kind product that doesn't cost a lot. And its 'twister' washing mechanism is a patented feature by the way.
Made using durable plastic, this cleaner very efficiently washes off dirt and muck caked on your golf balls during and after your every round of golf. Although you may have to put in some elbow grease for the twisting/cleaning action.
You get a hook for portability, so attaching the cleaner to your golf bag is quick and easy. More importantly, the bristles on the brush are long enough and also durable enough to perform an adequate cleaning job.
5. BallBrite The Ultimate Portable Golf Ball Cleaner
Pros
Patented neoprene design; washer-friendly
Locks moisture inside for an entire round of golf
Remains dry outside, so you can carry it in your pocket
Hook attached for clipping onto golf bag
Cons
No bristle brush, thus not like the others
Not very generously sized
A true life-saver for the most soiled golf balls! BallBright is actually a very popular on-the-go cleaning solution that even I have used for more rounds of golf than I remember. It works fantastically, it's not at all cumbersome to use, and it clips straight to your golf bag.
The new golf balls you may have just bought that specifically cater to your needs, for example distance-boosting golf balls for seniors, are sure to look sparkling clean and their shiny appearance well-preserved.
BallBrite here is indeed a market-leading product when it comes to polishing and cleaning used, dirty, mucky golf balls. It's quite unlike the other models I've reviewed so far; for one thing, it's made using neoprene fabric (highly durable indeed).
All you have to do is add some water to make BallBrite wet at the beginning of your round. And this cleaner remains wet throughout, so you can clean how many ever golf balls you like. In fact, you can even clean your irons with it!
All thanks to the special moisture-lock technology that keeps the insides wet and outsides dry. And since the outer surface is dry, feel free to stow away BallBrite right into your pocket (on-the-go, easy-access cleaning).
6. ProActive Sports Green Go Pocket Ball Washer
Pros
Small, pocket-friendly size
Waterproof, microfiber material – wet inside, dry outside
Can be laundered in the washer
Cons
No hook or clip for attaching to golf bag
Why use a towel when you can just easily get this very affordable, lightweight, and waterproof cleaner! It's microfiber-lined to clean golf balls used for more than just one round of golf. Even if you use this washable microfiber liner two days in a row, meaning wet it only once in those two days, even then the cleaner gets the job done flawlessly.
The small size is perfect for pocket storage. And since the material is waterproof, the outside keeps dry throughout. A lot of moisture gets trapped inside without causing any leaks.
You can get another spare piece if you like; although I don't think that would be necessary because of how well-made it is. You just know it's going to last for a very, very long time!
7. Ballzee Pocket Ball Towel
Pros
Pack of two at an extremely affordable price
Moisture-lock scrubbing action on the inside
The outer shell stays dry, does not leak
Cons
Pocket-friendly size, thus no hook/clip
Just too small
This clam-shaped golf ball cleaner/towel doesn't let you down when all you want to do is a simple thing – scrub off all the debris, mud, and dirt from your golf balls. That's what the inside of this towel does while the outside surface/shell remains dry.
It's a very affordable and easy-to-use cleaning solution that requires no mounting bracket or anything of the sort. You can wash the product itself for multiple uses of course. And since it's lightweight, carrying it around in your pocket seems like no big deal.
Even though I have been a professional golfer all my life, I have never had to resort to licking my golf balls clean. Although I do happen to know a few who still do that, and it's both funny and almost gross to watch fellow golfers indulge this "cleaning" whim.
But then you don't have to tread in that direction, especially with compact-sized, travel-friendly cleaner/washer towels like these for the muddiest of golf balls.
8. 10L0L Golf Ball Washer
Pros
Heavy-duty, long-lasting bristles on brush
Easy, quick installation with no mounting bracket
Tethered push-in plugs make draining easy too
Very durable all-plastic design
Cons
Not a very popular option
Did you ever think that washing dirty, muddy golf balls would NOT feel like a chore? If you didn't, then maybe try using this easy-to-mount (on just about any golf cart) cleaner. Irrespective of how much dirt there is caked on those golf balls, this awesome setup gets them all cleaned up and shiny in no time.
And when I mentioned easy-to-mount earlier, I meant it. Because there's no need to deal with any mounting bracket or anything. With the built-in, already-drilled mounting structure, all you have to do is attach it quite effortlessly to a flat surface on your cart.
Enough about mounting, what about the cleaning part? For that, the bristles of the brush are strong enough to scrub away what shouldn't be sticking to the golf balls and even club faces. And after the washing part is done, the tethered plugs (they push in of course) allow draining to also take place very conveniently.
9. Cosmos Portable Pocket Golf Ball Washer
Pros
Outer part remains dry while inner material is wet
Small enough to fit in your pocket
Large enough to clean golf balls and irons
Cons
Complaints about the quality are common
Such a clever design and such an affordable product – this combination is not so commonly found. I know that it may seem like an exaggeration to praise a thing as simple as a cleaner/washer for golf balls but then it's something we golfers use ALL THE TIME. Be it at home or during a round of golf.
This portable little pocket-sized washer works like a dream when it comes to making golf balls subjected to muddy or wet conditions shine like new.
Plus, the fact that it doesn't leak makes matters even better. More often than not, these kinds of "pocket" washers do leak, but not this one. Provided you don't put too much water in the pouch, just enough to dampen its inner lining.
And yeah, this pocket cleaner for golf balls can be clipped to a bag, unlike others that come with no such attachment tool.
10. Frogger Golf Amphibian Wet/Dry Golf Ball Towel
Pros
Made of highly absorbent cotton/polyester
Inner layer, once soaked, stays wet for long
Easily attaches to bag/belt because of the hook
Exterior tabs keep what's outside dry
Forget about all the others and simply just get this cotton + polyester Wet/Dry Golf Ball Towel. No chambers, no pouches, no kits – just a plain, simple towel for cleaning your golf balls because you're obsessed with clean golf balls (don't worry, I am too!).
The towel is specifically made to be highly absorbent and also easy to use of course. Now you must be thinking why not just carry any towel to the turf. Well, you can try and you'll soon realize that keeping that towel wet consistently throughout your round of golf, particularly towards the end when you have to wipe the ball clean right before putting, is difficult.
But with this handy, small little golf ball towel, you soak it once, and then that dampness remains for as long as 9 holes.
Why You Must Clean Your Golf Balls?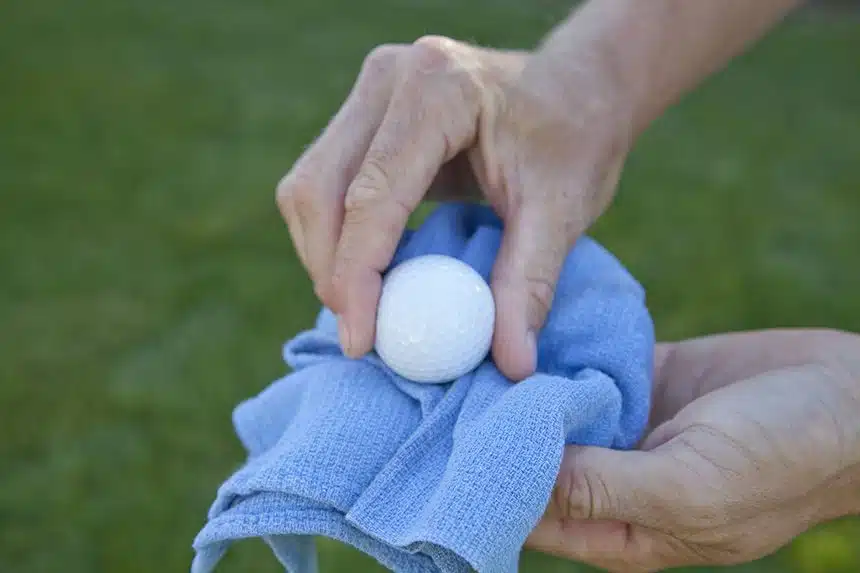 It's actually very common to not give any attention to what your golf balls look like when you're busy playing your round of golf. We often tend to focus on the "more important" stuff, such as the first tee shot, long iron shot, pitch from thick rough, bunker shot, flop shot, and on and on. So cleaning dirt off the golf balls is the last thing.
Now it may be common and all but that doesn't mean this habit should be encouraged. Let me put it this way – golf balls caked with mud and dirt DO NOT FLY the way you want them to. Distance, ball flight, etc. are sure to get compromised along the way. But just the simple act of cleaning/washing these golf balls can give you the intended flight path.
With dirt, what really happens is resistance increases while the ball is cutting through the air. And when there's more resistance, there's a loss of distance. And what adds to this mess is also not being able to make clean golf ball contact with your club. This further interferes with flight, distance, and even how the ball rolls.
Now, what exactly does a dirty golf ball look like? It's not always going to appear dirty. There can be dirt and debris hidden in that dimple pattern as well. Mud, dirt, and other such particles can easily be lodged into those cramped spaces, which are supposed to be free in order to do their job (dimples are indeed responsible for ball trajectory control).
How to Choose A Cleaner/Washer for Golf Balls
Pocket or Container?
Both are portable cleaners but the pocket type is more common. The design consists of pocket-shaped and sized fabric that you have to add water to so it remains damp throughout your round of golf. The outer surface manages to stay dry, which keeps your pocket (because that's where you carry/store the cleaner) from getting wet.
No doubt, this option is easy to carry, compact, and does a really good job of making your dirty golf balls shine like new.
Moving on to container washers, these are basically chambers or cups with brushes installed inside. What you have to do is put the golf ball in, shut the lid, then twist the whole thing to get the brushes to move inside for scrubbing off the dirt.
Compared to pocket cleaners, these types of washers occupy more space, but then they're more functional at effectively cleaning mucky balls. And some of them need to be mounted or installed with the help of screws, nuts, etc.
Different Materials Used
With pocket portable cleaners, the outer material has to be waterproof with the inner lining being soft and durable. Only this kind of construction keeps water from leaking out. For the outer material, waterproof, rubberized neoprene works best as it doesn't let moisture slip into the exterior part of the cleaner.
Nylon is also used for the pocket exterior, although it doesn't remain dry all the time.
On the other hand, the interior should consist of microfiber lining because microfiber has this natural tendency of being highly water-absorbent. It cleans while also making sure your precious golf balls do not get scratched or damaged due to the cleaning process.
And then you have the portable container washers for golf balls that are mostly built using easy-to-clean, durable plastic.
How Big or Small is the Size
Naturally, pocket golf ball cleaners are more portable, compact, and travel-friendly. Plus, you can clean more than just one golf ball at once. Unlike the container or cup type of washer, which accommodates only a single ball for cleaning at a time. And it cannot be fit into your pocket.
Instead, it comes with a hook or clip of some kind that you can use to attach the cleaner to your golf cart. Some, on the other hand, have to be properly mounted, with screws and nuts and all.
Convenience of Hook, Strap
With the pocket design, all you have to do is place the product quite conveniently and comfortably into your pocket and forget about it until you have to clean golf balls. And sometimes these options are also equipped with a hook to attach it to your golf bag or belt loop.
And it's just obvious that the other kind, container-type washer, is designed with a strap or hook for easy, quick access.
Convenience of Cleaning
Cleaning might seem like a bigger nuisance with pocket-style cleaners? Well, not really if the inner lining is made of a fabric with antimicrobial properties. This material keeps away bacteria responsible for bad odor. So no germs and foul smells stand in the way when you're handling the golf balls.
As for container golf ball washers, since they have brushes placed inside the cup, the cleaning part becomes much easier and more efficient.
Cleaning Golf Balls – How to Get It Done?
No need to spit on them and then wipe them clean on your pants. That's just not how it's done; this is how you do it with the help of a ball washer (either your own or the one installed at the tee box)…
What You'll Need
Golf ball washer
Clean, dry towel
Dirty, muddy golf ball
Instructions
Place the dirty golf ball into the slot inside the washing cup or chamber after you pull up the lid.
Then the next step is to pump up/down or twist (depending on the design of the golf ball washer). The water filled inside and built-in brushes perform the duty of scrubbing every piece of mud and dirt off the ball.
Once that's done, pull up the lid and take the golf ball out and wipe it clean using a fresh, dry towel.
Other Tips for Cleaning Golf Balls
Get to Know the Rules for Using A Golf Ball Washer
Do you know when to use the cleaner/washer during your round of golf? Because if you end up cleaning your golf balls at a time when it's not permitted, that would be a stroke unnecessarily added.
Carrying a portable washer is convenient indeed but you should understand when's the right time to use it during your game.
Avoid Putting Too Much Water
How much water is to be added to the pocket-style cleaner for golf balls? Around 2 tablespoons are more than enough. Anything over that and your cleaner is sure to leak.
Use the Golf Ball Washer Even At Home
You will be using this product when on the golf course, that is during and/or after your round of golf. But then it can be put to use at home as well. For instance, how about cleaning golf balls at home right before you head to the turf for your next round.
Cleaning Golf Balls – FAQs
Can Golf Balls Be Washed In the Washing Machine?
When it comes to cleaning many golf balls, your washing machine is the most effective tool you have at your disposal. It's so much better than having to wipe and scrub them manually with a cloth or towel. So you can let golf balls wash loose in the washer.
As for what to use, any mild dishwashing liquid or dish soap works just fine. For deep cleaning, you can add vinegar, undiluted bleach, or ammonia. Just don't mix chemicals because that might destroy the coating and overall quality of the balls.
Can I Use A Portable Golf Ball Washer Instead Of A Towel?
Replacing a towel with a proper portable washer/cleaner for golf balls is a great idea. But then keep in mind that you might still need that towel for wiping the ball after it has been washed.
The towel can come in handy for cleaning your golf clubs as well during your round of golf. After all, not every golf ball washer accommodates clubheads.
What Type of Golf Ball Washer Is Best for Very Dirty, Soiled Balls?
It's the container-style washer that scrubs away the heavy caking of mud and dirt on golf balls. All thanks to the inclusion of brushes in these types of cleaners that literally scrub off all the debris from the very dimples of the golf balls.
Can Pocket Golf Ball Cleaners Be Machine-Washed?
You'll have to check with the brand to see if the pouch is machine-friendly or not. But whatever the case, avoid putting these pocket cleaners inside a dryer unless you want them to get damaged.
Time to Sum It Up…
See, here's the thing, and it's a very simple thing to understand – buying a cleaner/washer for your golf balls depends on how effective the product is. Some of them make use of dishwashing liquid. For some, you have to spend a little more time and effort. And then there are those that just clean dirty golf balls the most easily and quickly.
All in all, the washers and cleaners I've shortlisted in this article are very easy and convenient to use. And almost every option is lightweight and compact for easy carry/access.
And for those who have a golf cart, you can even get one mounted on it because this kind of kit comes with additional features (clubhead cleaner included too). The ultimate goal is to regularly clean your golf balls, so the way they fly doesn't get compromised.