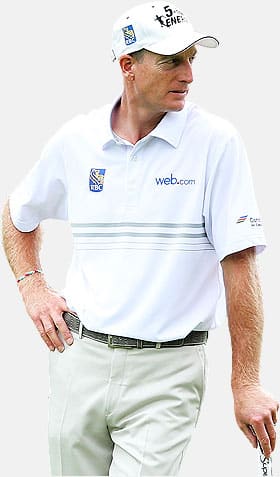 One of the PGA TOUR's most recognizable and talented golfers, Jim Furyk was born on May 12, 1970 in West Chester, Pennsylvania. It seems like Furyk was born to play golf; his father Mike as an assistant pro at Edgmont Country club, and young Jim was raised into the game. Jim Furyk's only golf instruction came from his father; and many note that might account for his unusual—yet effective—swing. In addition to Edgmont Country Club, Mike Furyk also served as head pro at Uniontown Country Club.
Jim Furyk took that homegrown golf talent to play at the University of Arizona in Tuscon, where he was an All-American twice. He also led the Wildcats to their first (and thus far only) NCAA title in 1992. That same year, Furyk turned professional and the rest, as they say, is history. He joined the PGA TOUR in 1994 and has won at least one tournament each year between 1998 and 2003.
His streak took a little bit of a hit in 2004 when Furyk missed three months due to surgery to repair cartilage damage in his wrist. He soon came back into top form finishing a career-high second on the money list in 2006. Furyk truly hit his stride in 2010, winning a career-best three tournaments on the PGA TOUR that year. The most notable victory was the season-ending Tour Championship. That victory earned him the 2010 FedEx Cup. His stellar performance in 2010 won him both the PGA Player of the Year and PGA TOUR Player of the year.
Career Highlights
16-Time PGA TOUR Champion Including:
2003 U.S. Open
2010 TOUR Championship
2010 Transitions Championship
2010 Heritage
2x Grand Slam of Golf Champion (2003, 2008)
3 International Victories
2010 Fed Ex Cup Champion
2010 PGA TOUR Player of the Year
2010 PGA of America Player of the Year
15 Consecutive US National Teams
9x Ryder Cup Team Member
7x Presidents Cup Team Member
4th on the All-Time PGA TOUR Career Earnings List
One of just three players to finish inside the Top-15 of the
Fed Ex Cup Standings in each of the first four seasons of the Playoff
6th Player in PGA TOUR history to shoot 59 – second round 2013 BMW Championship
Jim Furyk's trademark looping golf swing and his deliberate approach to the game have earned him nicknames like "The Grinder" and "The Businessman." His father Mike Furyk encouraged his son's unusual swing; he didn't want to change what felt natural and comfortable. History has gone to show that Furyk's swing has been a great asset to his success on the PGA TOUR.