Golf can seem like an intimidating sport to try for the first time. From the outside looking in, it can seem like there are tons of stringent rules to follow before stepping onto the golf course. And when you see pictures and videos of women golfers in long shorts and plain shirts, it's hard to think otherwise.
But it's time to end the stigma. While most golf courses have a dress code that all golfers must follow, you can be a bit more creative than you think. Nowadays, there are tons of women golfers hitting the course in stunning outfits that are both functional and compliant with the course's rules.
So, in this article, we'll look at some of the most important things you need to know about the ideal female golf attire. That way, you won't have to worry about driving 30 minutes to the golf course only to be denied entry.
Read on to learn more.
What Is the Dress Code for Women's Golf?
Every golf course will have its own dress code that guests and golfers need to follow. Granted, some courses are related to their rules and don't require strict compliance, while others may not even allow you on the course unless you're wearing the right clothes.
Generally, the dress code varies from course to course. The more high-end golf courses tend to be stricter, so if it's your first time playing and you don't want to be refused entry because of the wrong attire, you might want to try out the municipal course instead. While municipal courses still have dress codes, they tend to be a bit more laid back in implementing them.
That said, the best way to learn what to wear when playing golf at any course is to call them and ask about the dress code. This allows you to get a clear description of the rules and what you should wear, and it also shows the course that you respect their rules.
In the past, the dress code for women's golf was strict and restrictive. However, things are a bit different now. While some rules may be outdated on some golf courses, most modern courses allow a bit more freedom with how people are allowed to dress.
But just to be safe, always ask the course beforehand to avoid any misunderstandings.
What Are the Rules for Proper Women's Golf Attire?
As mentioned earlier, every golf course has different rules for what golfers can or can't wear at the course. However, here's a quick guide on some of the appropriate choices for women's golf attire that will adhere to most of the rules on different courses. But again, if you want to be sure, there's no harm in calling the golf course to ask.
Tops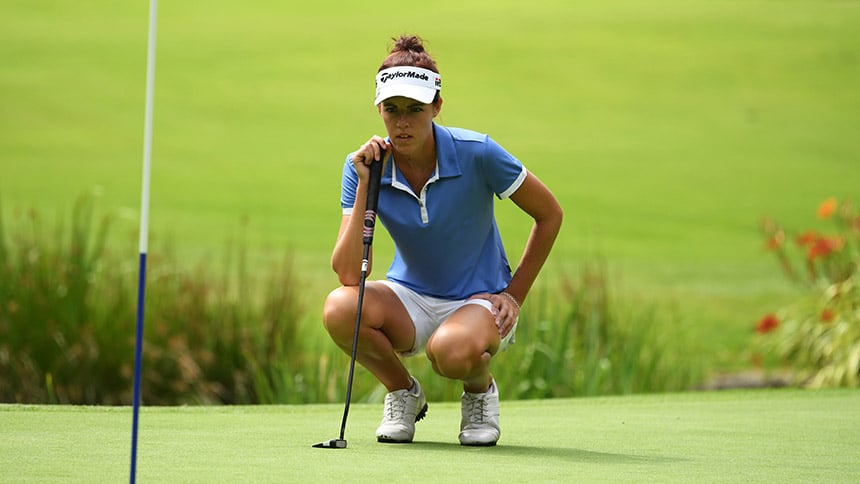 The general rules for women's tops on golf courses are that polo-style shirts, crewnecks, and turtleneck shirts are allowed and encouraged. While most courses won't be too strict about what shirts you can wear, it's a general rule that you cannot wear halter tops, tank tops, t-shirts, strapless tops, and other similar garments that are not allowed on the golf course.
The safest and easiest choices for tops are khakis and polos. But if you want to spice things up, many high-end brands offer stylish golfing shirts that allow you to express yourself while still abiding by the course rules.
Bottoms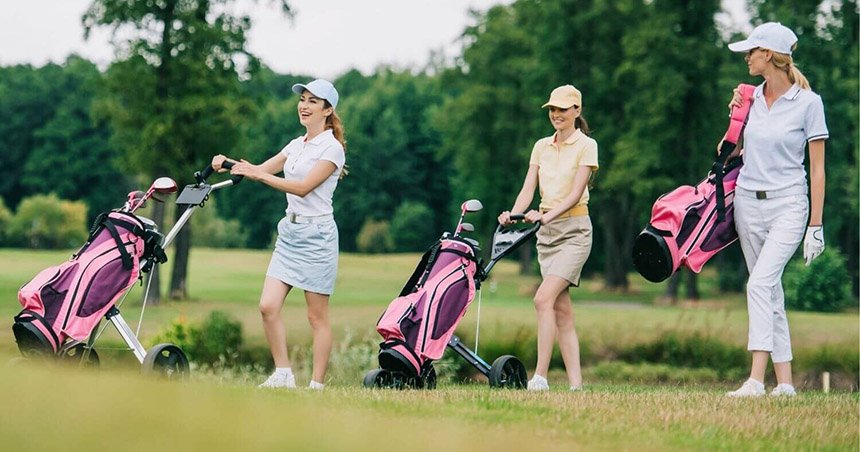 There are many choices for women when it comes to bottoms for golf. It's common to see either shorts, slacks, or skirts on female golfers on the course, which are generally accepted by most courses. There are even some brands releasing golfing dresses like Adidas and Nike. While some golfing dresses will be allowed, it's important to consider the length and the fit as some courses might not allow you to play based on the length and fit of the dress.
Many women golfers say that it's time for the dress code to be rewritten. And for the most part, this is true, as many golf courses still pay too much attention to the skirt, short, or dress length and require them to touch the knee. While you can get away with shorts and skirts slightly above the knee, make sure that it isn't too short, as some golf courses will not allow people to play if their bottoms are too high above the knee.
A good rule to follow is wearing something you deem appropriate for visiting a golf course. If you feel something is a bit too short or inappropriate for the venue, it might be safer to choose something else.
Outerwear
Jackets and sweaters are allowed on most golf courses, and in the winter, they can be absolutely necessary. However, make sure to choose comfortable jackets and sweaters that allow you to move so that you won't have a hard time on the golf course.
Shoes
Most golf courses require all players to wear golf shoes. On top of that, the spikes on the shoes have to be soft, meaning they can't be made of metal. There are many options for golf shoes on the market, so it isn't hard to find something that fits your style and is also comfortable on your feet.
Headware
If you're playing on a sunny day, you want to keep the sun out of your eyes and off your skin. To do this, we advise wearing a cap or visor. Golf courses allow golfers to wear caps and hats while golfing, especially if it's to take away the sun from their eyes and protect their skin.
It's pretty common to find golfers wearing high-quality designer caps on the golf course. This is one of the areas where golfers can express themselves the most. There's a wide array of designs and styles on the market right now, so you can easily choose a fabric that feels nice and complements your entire golf look!
Accessories
Using accessories is your best bet if you're looking to spice up your golf look a bit. In fact, in most situations, the accessories are the best part of a women's outfit because there are so many options available!
We've already talked about hats and visors. These are staples in any golfing attire, which is why you can really find any type of design you want. But if you want to go above and beyond, you can choose a nice designer belt, a watch, or even a great head covering that serves a dual purpose!
Another popular golf accessory is a pair of sunglasses. Golf is really fun on a sunny day, but if you want to protect your eyes, then sunglasses are a must. There are tons of other options available as well, and most golf courses won't be accessories for golfers, so you have a bit more freedom here.
What Are the Things to Consider When Buying Clothes for Women's Golf?
If you're hitting the golf course for the first time, it can be really tough to figure out which clothes to buy. But here are some things to consider when buying clothes for women's golf that will make it much easier for you to choose the right clothes.
The Course Dress Code
The first thing you want to consider is the dress code. Again, every course has its own dress code. So, it might be helpful to call the courses you plan on playing on and ask about their dress code. That way, you can shop around the dress code while still following your tastes and preferences.
Knowing the dress code before shopping makes it much easier to find the right clothes. On top of that, it saves you the hassle of driving all the way to your local golf course only for the manager to tell you that you can't play because you aren't wearing the right clothes.
Comfort
Aside from the dress code, it's very important to find comfortable clothes when golfing. Remember, golf is a pretty physical activity. Aside from swinging the club, you're going to be walking around a lot, so you don't want to feel uncomfortable.
Additionally, it's best to dress for the climate. While golf skirts and shorts can be very comfortable, you won't be as comfortable when on the golf course if you live in a cold area. And if you wear a sweater on a hot golf course, you might end up heating up when playing.
So, aside from your personal preference, you have to consider the climate of the area and how you can be comfortable while playing. That way, you can really unlock your game on the course.
Functionality
Golf is a sport. So, even if the clothes are a bit more "formal" than other sports, you still need to be able to move in your clothes. That's why we recommend getting lightweight and breathable clothes when playing golf so that you don't unnecessarily restrict your movements.
Style
Lastly, you want to feel and look confident on the golf course. And since many courses are a bit more progressive nowadays and allow for more self-expression when people dress up for the course, you have a lot of freedom. Many modern golfing shirts come in various colors, prints, and designs that would be a great fit on the golf course.
That said, whenever you choose the style of shirts, shoes, or bottoms for golf, make sure to return to your first trip. While you should be free to express yourself, always make sure that you're following the rules. Nothing can be more annoying than driving all the way to the course only to have to turn around because of your clothes.
Clothes You Shouldn't Wear When Golfing
Even if most courses now have rules and regulations for golf clothes, there are still some things that most golf courses won't allow. So, to be on the safe side, here are some definite donts that you should keep in mind when choosing your next golf outfit:
Do not wear ill-fitting shirts, shirts that are too long restrict movement and look sloppy
No halter tops, tank tops, spaghetti tops, and similar shirts
Don't wear denim or leather jackets when golfing
Don't wear denim, cargo shorts, or bottoms that are too short
No sweatpants
No miniskirts or booty shorts
No beanies or fedoras
Don't wear shoes that aren't made for golfing
Don't wear accessories too long that could get tangled when swinging
FAQs
What Should Women Wear to Golf for The First Time?
When golfing for the first time, it's best to wear comfortable clothes that allow you to move. Again, some courses will have dress codes, so while you want to be comfortable and mobile, you still want to follow the rules.
Are Skirts Required for Female Golfers?
Skirts are not required for female golfers. Nowadays, women can wear slacks, shorts, skirts, and even golfing dresses to the course. However, it's still important to check the bottom length and fit rules before heading to the course.
Do You Need Proper Shoes for Golf?
Most courses require golfers to wear golf shoes when playing. However, many courses also require soft spikes which aren't made of metal to keep the grass in the best condition possible.
What Golf Outfits Do You See in the Winter?
Winter golf outfits are similar to regular golf outfits. However, these outfits tend to cover more skin to keep the players warm. So, you can expect to see long-sleeved shirts, jackets, and slacks when golfing in the winter.
Can Female Golfers Wear Pants?
Yes, female golfers can wear slacks on most courses. However, most courses don't allow jeans, sweatpants, and other similar clothes on the course.
Can Ladies Wear Leggings for Golf?
While all courses have their own dress code, most courses will not consider leggings appropriate golfing attire. Slacks will usually be your best bet if you wish to wear pants when golfing.
Conclusion
Figuring out what to wear when going to the golf course can be hard. Some courses have archaic and strict rules, while others allow more self-expression when it comes to what to wear. But if you have any doubts when it comes to what to wear, the best thing to do is call the golf course and ask about their dress code
That way, you show the course that you respect their rules while also ensuring that you don't wear something that will get you sent home!